25 Awesome Concept Cars Pushing the Limits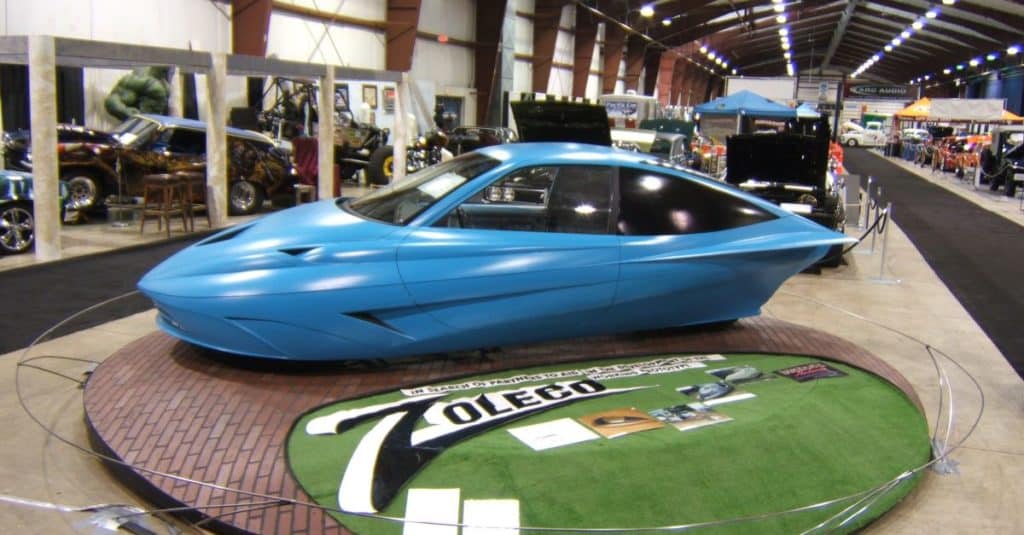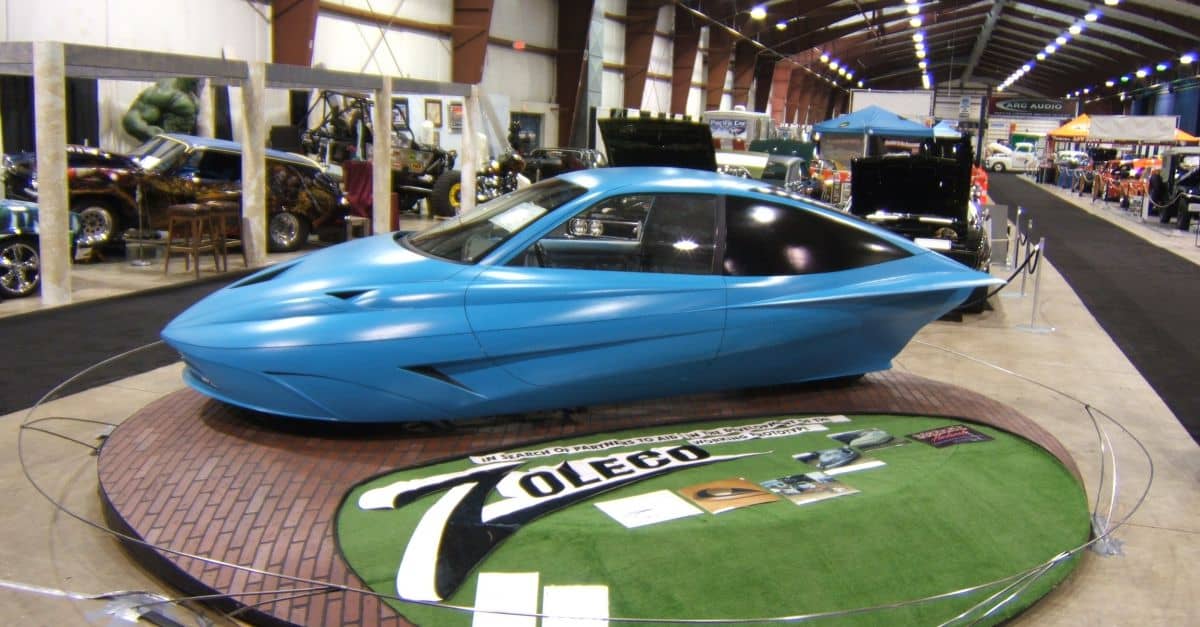 test test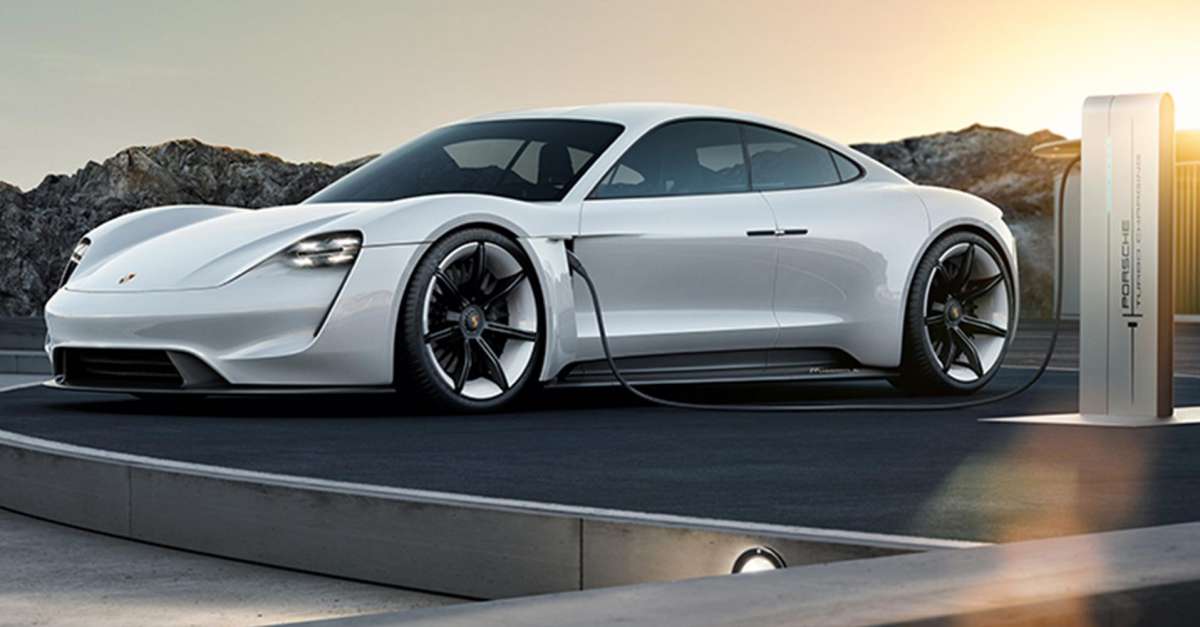 25. Porsche Mission E
This is Porsche's first all-electric concept car, and easily the most stylish to be on the market within the next five years. The Porsche Mission E includes a cutting-edge interface with eye-tracking technology, much like the pilot targeting system on an F-35 stealth fighter.
A camera in the dashboard detects when the driver is looking at a specific instrument, say the radio's station seek button, and allows them to control it with just a blink or eyeroll. The coolest feature though is the dashboard-mounted holographic display that allows the driver to control most of the car with just a set of hand gestures.
In addition, the safety mirrors on each side are replaced by safety cameras that also include night-vision. Naturally, the Porsche Mission E Concept gives great mileage and can handle 310 miles on a single charge.

The Paraton-e
This is not yet another hybrid motorcycle-car, but also a solid shapeshifter. Designed by Frederik Dallmeyer, the clever design morphs its exterior frame depending on the size of the driver and speed of the vehicle or road conditions. The Paraton-e shrinks and compacts as needed to weave through city traffic, just like a motorcycle. Conversely, it can widen its base to give a more comfortable long-distance ride.
In motorcycle mode, the Paraton-e pushes the driver's seat forward and reclines it in car mode. Combined with its hybrid engine, the Paraton-e would be incredibly eco-friendly. The biggest drawback at the moment of Dallmeyer's design is the one-seat limitation. A larger variant would be much more popular.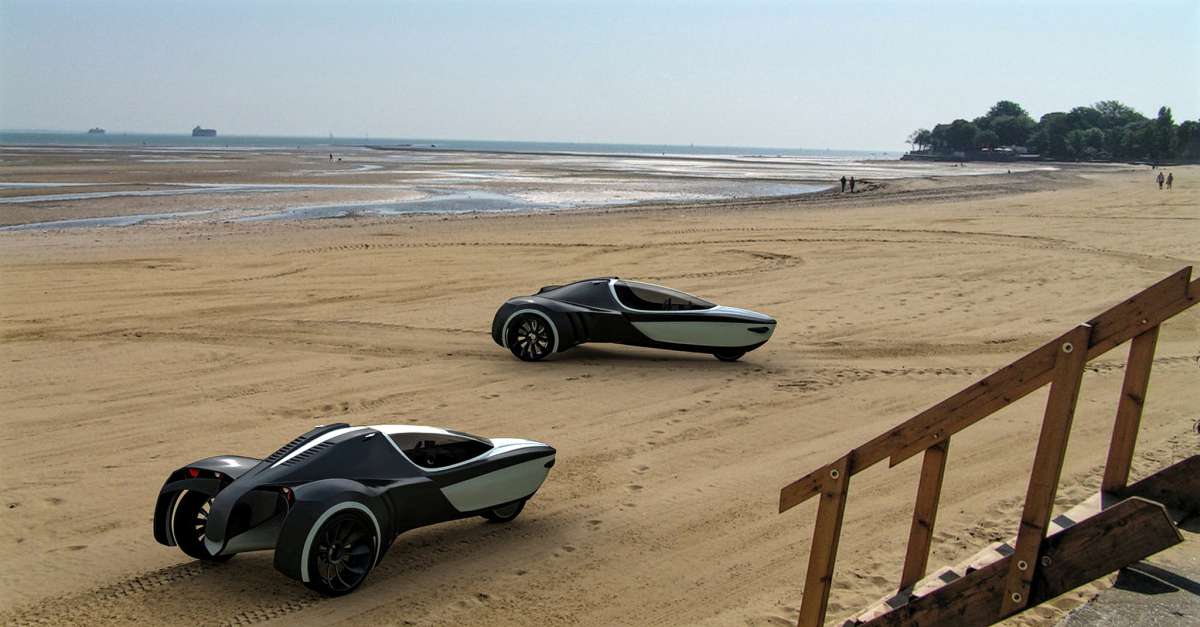 23. The Manta Concept
Of all the hybrid boat/cars every proposed, the Manta is likely the most practical. It sure is one of the most stylish. This odd vehicle boasts the street performance of a typical compact car with the incredible water speed of a jet ski, and all at what the designers hope will be an affordable price for the common person. The lightweight Manta can also be constructed mostly from off-the-shelf components, which helped it win the Michelin Design Challenge in 2011 for most revolutionary car design.
While clearly not the ideal vehicle for running errands, you wouldn't need to rent a separate craft when you head down to the beach. Transitioning smoothly from land to water operations without preparation, just the flick of a switch, the Manta is also rugged and light enough to drive on loose-packed sand beaches. All of which makes it the perfect sports car for the weekend.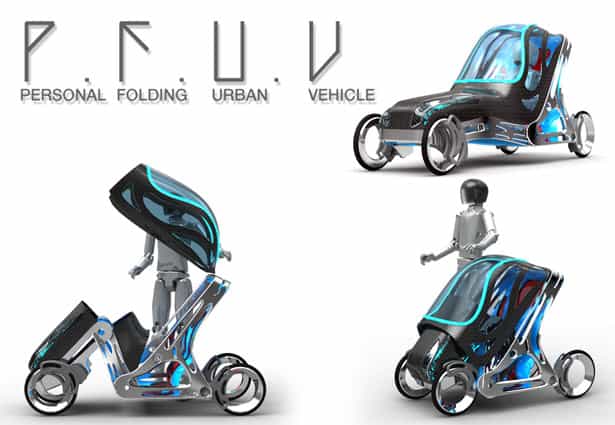 22. Personal Folding Urban Vehicle
While the PFUV concept will likely be difficult to market, especially to hardcore gearheads, this suped up stroller could revolutionize inner-city transportation and parking. Eduardo Díaz Tostado's design seats only one and is fully electric, but can be folded when parked. Much like buggy's at a grocery store.
The P.F.U.V. concept car would measure only 30 percent longer than a typical bicycle, with the electric motors mounted between the wheels. The idea of a folding car isn't groundbreaking, but no other electric vehicle on the drawing board takes the concept to such a major extreme.
21. The Nissan Panorama
The Nissan Panorama is designed with the passenger experience as its foremost objective. This hybrid electric vehicle employs an incredibly expansive window network, including two upward-swinging transparent doors. Riding in comfort and enjoy the most comprehensive near 360 degree field possible, the Nissan Panorama completely reengineers the riding experience.
All four seats can also be swiveled to face the center when parked or in autonomous driving mode, and a small mini-fridge comes standard. The transparent ceiling also serves as a massive media display screen.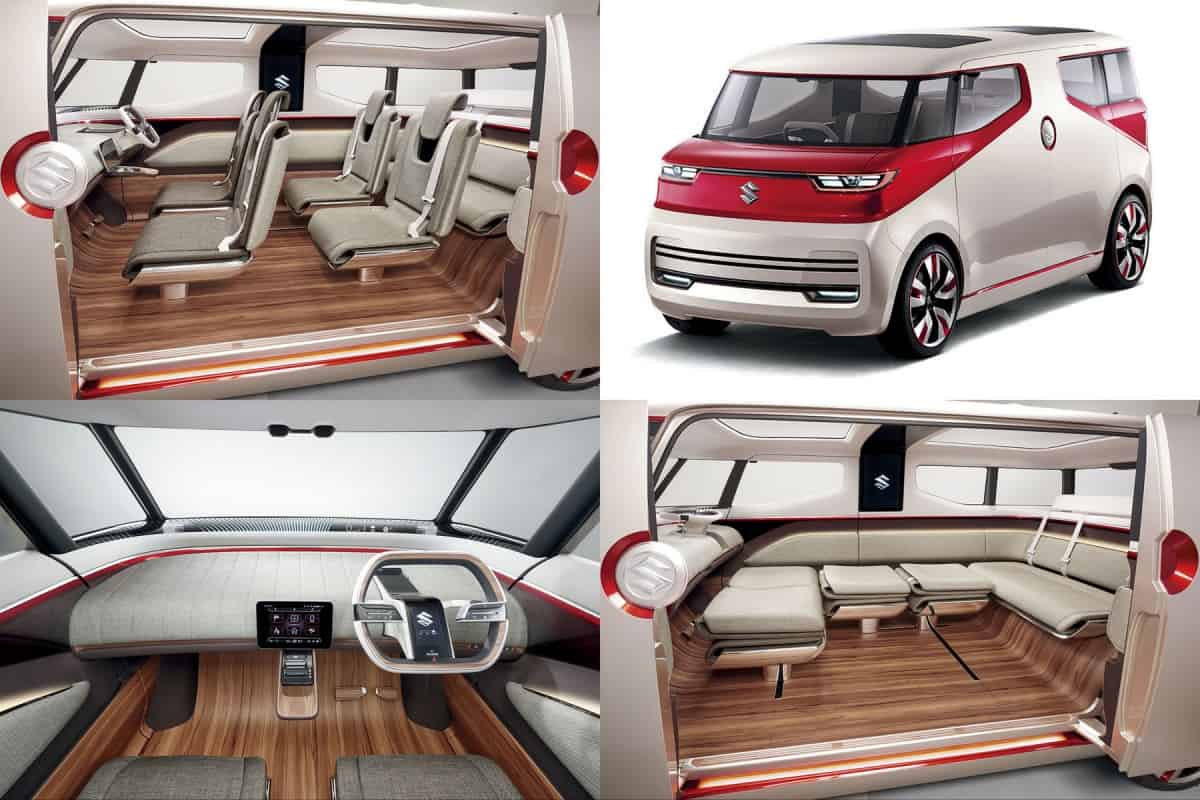 20. The Suzuki Air Triser
The Suzuki Air Triser focuses on passenger comfort, regardless if the final vehicle is under manual or automated control. This unique mini-van design includes three rows of seats, all of which can be rearranged into several different configurations at the press of a button.
The entire passenger compartment, including front seats, can reortient as an L-shaped sofa in Lounge Mode, rotate to face each other in Conversation Mode, or even fold down into a large bed in Relaxation Mode.
The vehicle also has a large, built-in entertainment display inside on the car's center pillar that's wi-fi enabled and compatible with most handheld devices, computers and video game consoles.
19. Volkswagen Electric Car
While Volkswagen's newest electric car is not the most exciting visually, big things come in small packages. The iconic "people's car" manufacturer is pegging their company's future on a new class of high performance, but affordable electric rides for the masses. In the near future, Volkswagen plans to build an entire fleet of scalable EV's from this design that match most compacts and full sedans in both performance and price.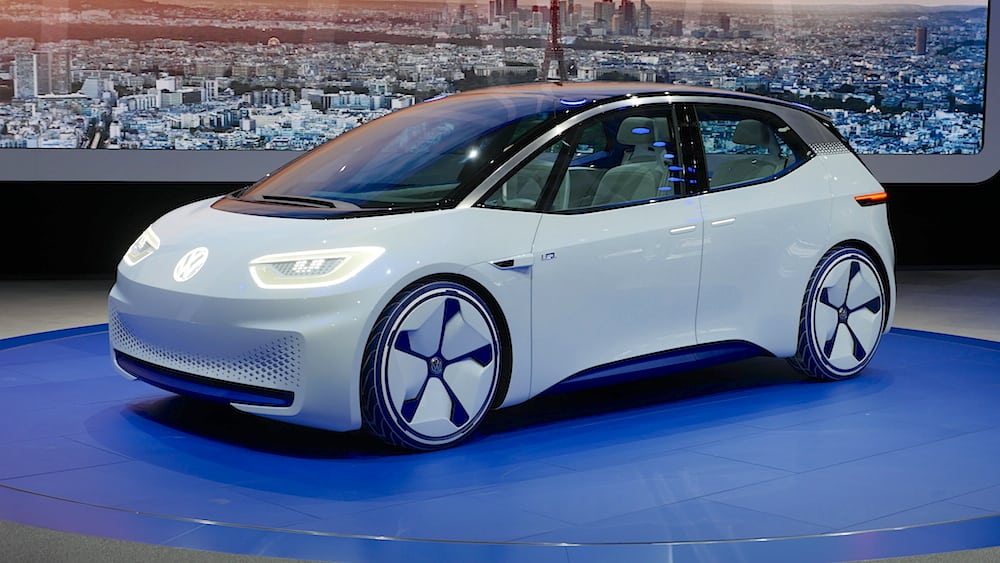 Volkswagen's Modular Electric Drive (MEB) platform sits beneath the I.D.'s body, which is designed from the outset as a battery-electric skateboard chassis. This dedicated EV platform allows the wheels to be pushed to the corners, leaving pleasantly short overhangs front and rear, and its rear-mounted electric motor affords greater room for the front wheels to turn more sharply than with a front-mounted powertrain.
As a result, the I.D. has a turning circle of just 32.5 feet. The tiny Smart Fortwo still has it beat with its 22.8-foot turning radius, but the Volkswagen is more than four and a half feet longer and rides on a 108.3-inch wheelbase (that's 4.5 inches longer than the Golf's). Other performance metrics include a claimed sub-8.0-second zero-to-60-mph time and a top speed of 99 mph. Volkswagen indicates that battery size and motor performance could be cranked up or down for better acceleration or additional range. Charging can be handled via a typical plug connector or, in the future, by means of an inductive charging pad theoretically capable of supplying an 80 percent charge in 30 minutes.
18. Two Gyro EV
The bane of fuel efficiency efforts isn't inventing smoother engines, but avoiding traffic congestion. If you've ever been stuck in traffic anywhere in the developed world, you've surely noticed that hardly any of those big cars clogging the roads are full to capacity. Sadly, this inefficient use of automobiles is just one of those societal quirks that can be changed.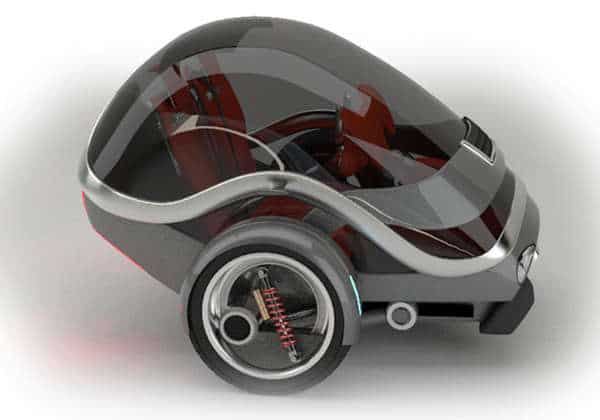 So if we can't change people's driving styles, we can at least change what they drive. The Two-Gyro EV aims to create the most compact two-seater car ever. This clever design can even elevate vertically to help alleviate parking congestion as well.
The cutting-edge insect car needs only a pair of wheels, but they do provide full gyroscopic movement. This feature affords an agility that is particularly useful in rigid and high-density environments such as close-packed city streets.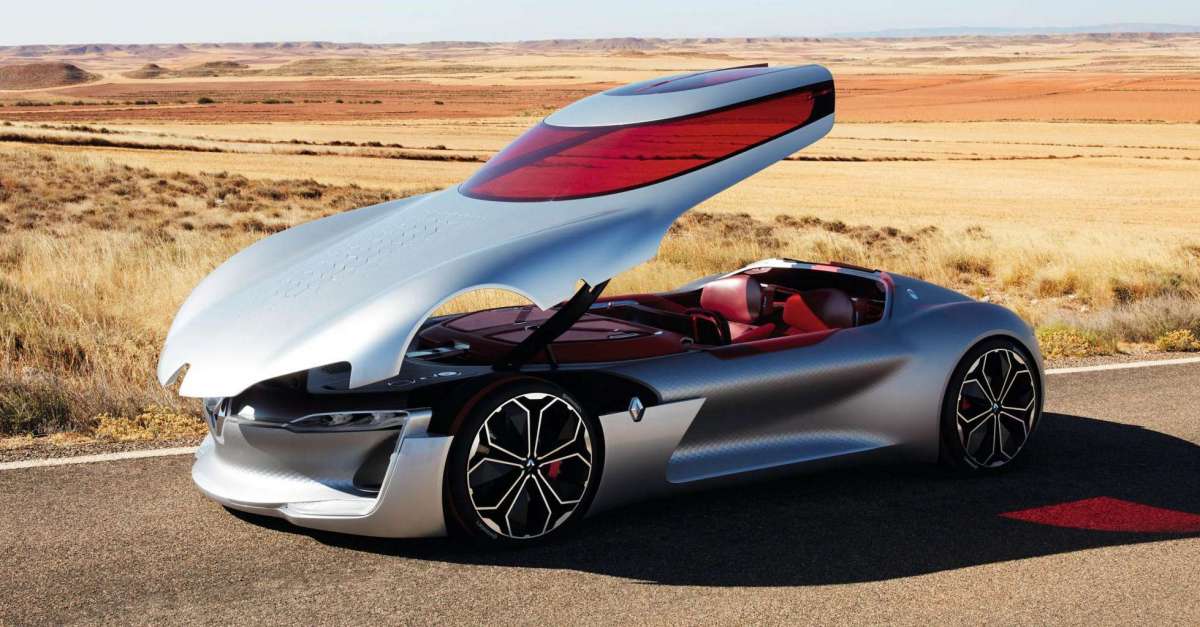 17. Renault Trezor Concept Car
This sleek looking car is Renault's vision for a Grand Tourer car with both an all-electric powertrain and autonomous driving capabilities. It's appearance is certainly intriguing, taking styling aspects from that of a classic GT. The honeycombed bonnet of this concept car can open and close, a unique feature guaranteed to get gear head's attention. Another feature worthy of attention? The Trezor's engine. It's taken straight out of the Renault e.dams, which just so happens to have won the manufacturer's Formula E Team's world title. If you're wondering what that translates to, try 100 kps in under four seconds. Whether you choose to drive this beast in neutral, sport or autonomous mode, you'll be sure to have fun and look good doing it.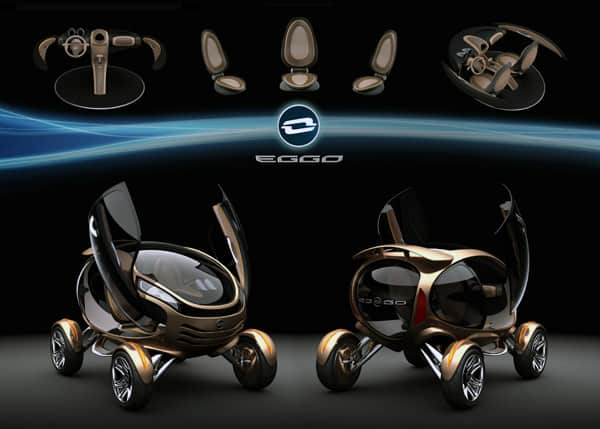 16. The Citroen EGGO
This sci-fi video game vehicle might fare poorly when fighting aliens, but should still be incredibly popular with the youth of the future. Despite the egg shape, the Citroen EGGO is still a hatchback with three doors. Most importantly, it's 100% electrically powered. In fact, each wheel has its own dedicated electric motor, with supplemental power supplied by rooftop solar panels.
The Citroen EGGO can only carry two passengers, but they'd ride in style in its futuristic beige interior. The EGGO has been designed for use in urban areas, but its raised suspension suggests that it might also be able to go off-road every now and then.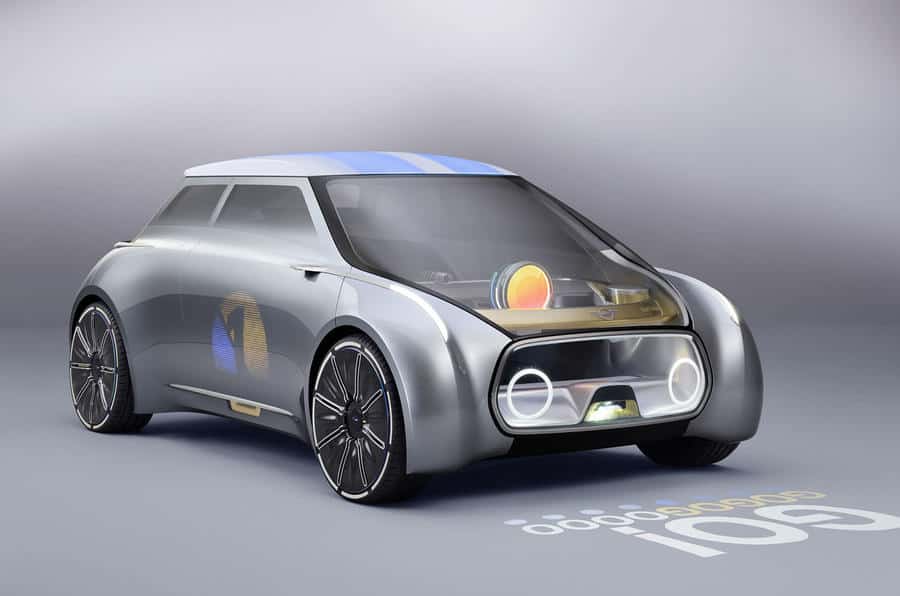 15. BMW's Mini Vision Next 100
Ever the visionaries, BMW also has a Mini Vision Next 100 program. This designs envisions a future where ride sharing is the order of the day. New riders are met by custom lighting when they take the Mini for a ride. One of the many ways they will optimize the passenger experience is to let the steering wheel slide to the center of the dashboard whenever operating in autonomous mode.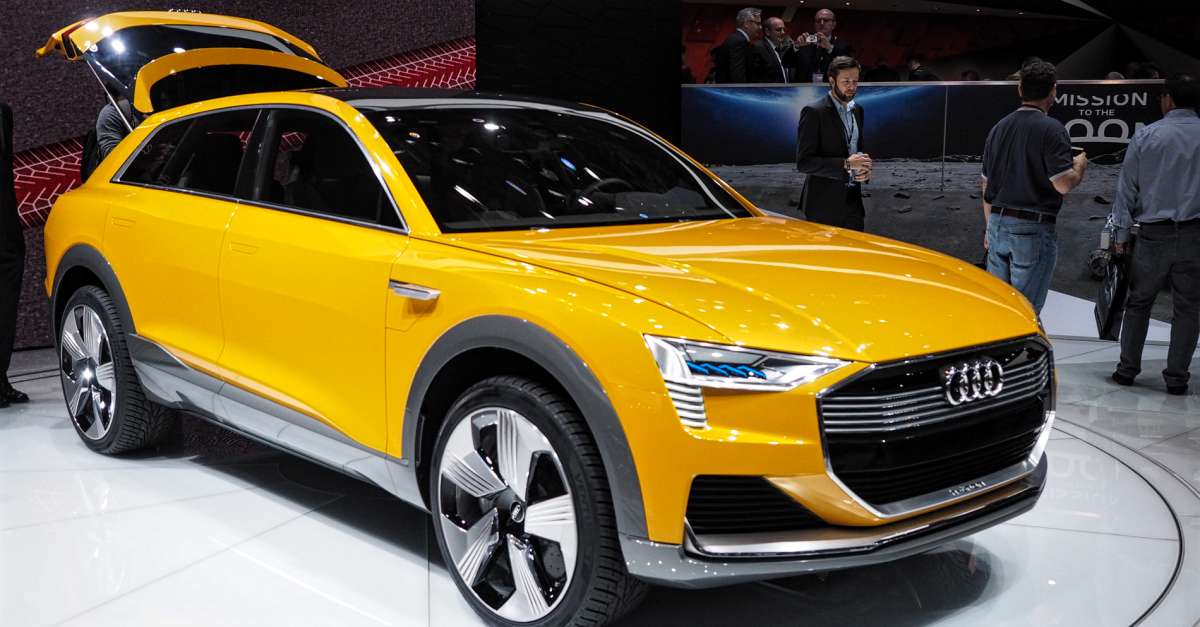 14. The Audi H-Tron Quattro
Going way beyond hybrids or even electric vehicles, Audi's hydrogen powered SUV is really revolutionary. This concept car envisions a future where customers prefer the enhanced performance of hydrogen engines over even the most powerful batteries. One of the most impressive stats for this concept car is its 372 mile range on a single first-generation hydrogen powerpack charge. The SUV also provides torque and horsepower equivalent to its petrol powered peers. It can even roar from 0 to 62 miles per hour in just 7.1 seconds.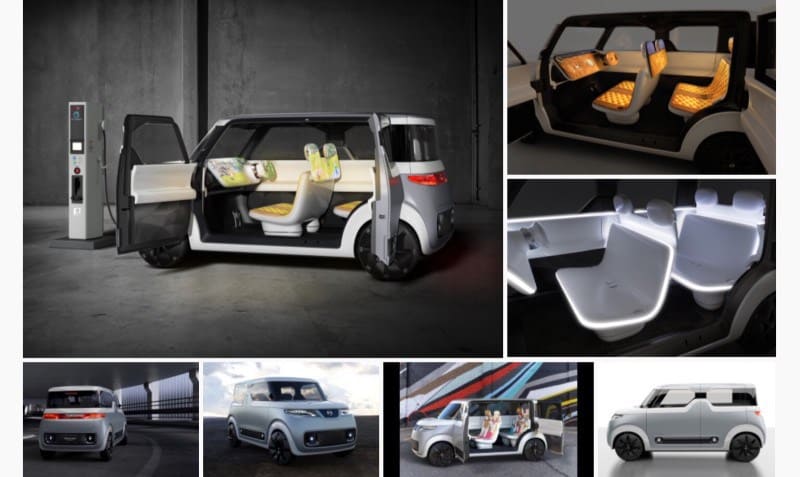 13. Nissan's Teatro for Dayz
The newest Nissan concept car is more than just a hybrid mini-SUV. Besides semi-autonomous driving, perhaps augmented by full auto someday, the Nissan Teatro boasts an extensive lineup of exotic interior luxuries. The coolest feature are the hi-def and bendable displays covering almost every surface inside. This goes way beyond a simple DVD player built into the back of a headrest. The system would allow riders to completely customize the interior with whatever wallpaper design they like, or convert the entire dashboard into a video screen.
12. BMW's Vision Next 100
Drawing heavily from the same concepts as the Rolls-Royce vision, BMW offers drivers the option of taking manual control. The manufacturer clearly understands the importance of not depriving Germans of their speed limitless authobahns!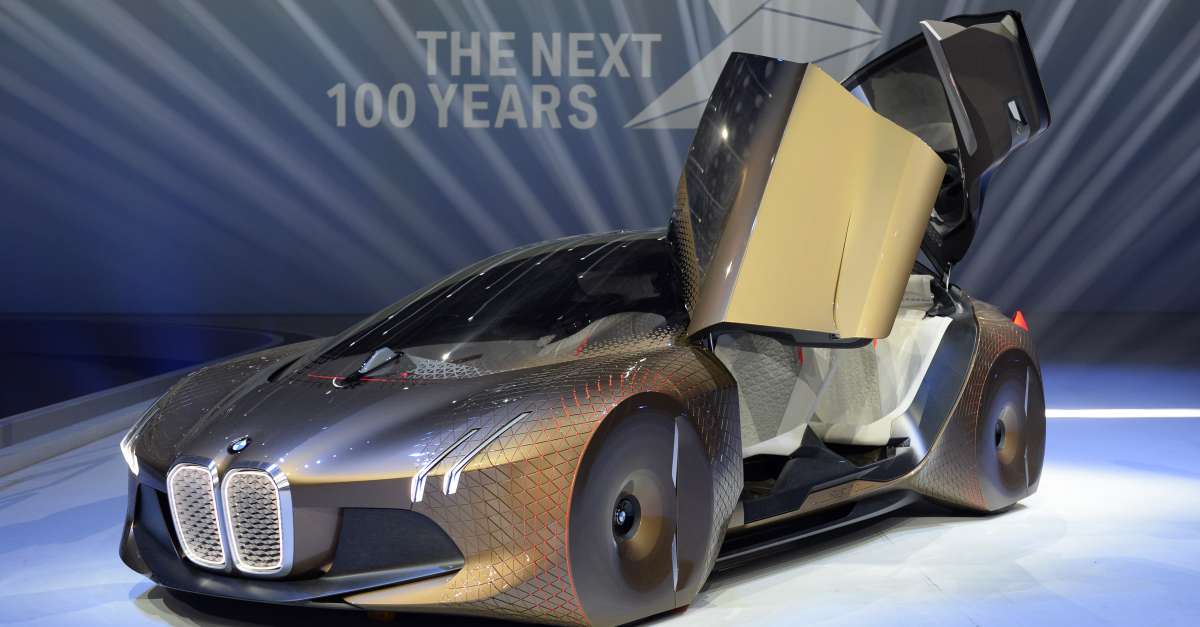 While not as decadent in autonomous mode, the BMW Vision 100 comes with hot toys like upward swinging doors and wheels seamlessly integrated into the car's body. Most useful though, the windshield includes a fighter jet style heads-up display in place of a traditional dashboard and navigation center.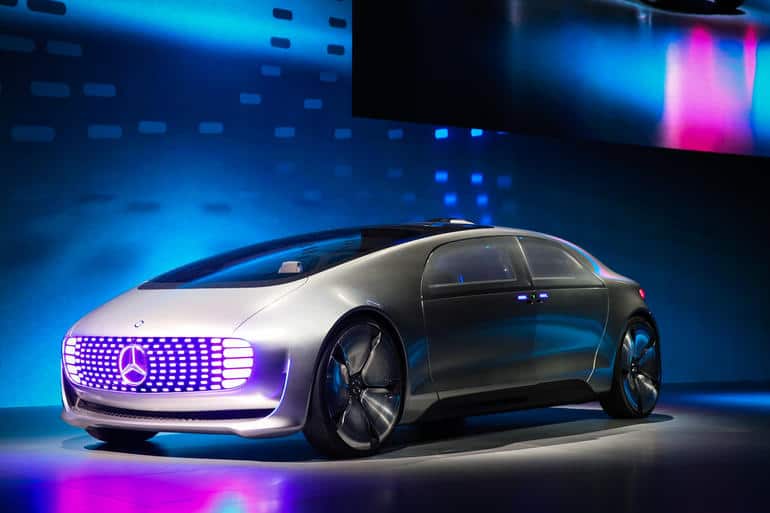 11. Mercedes F015 Luxury in Motion Concept Car
This futuristic concept car from Mercedes does not disappoint. With its decidedly dynamic silhouette and spacious interior, it has the ability to please car lovers of all types. Drivers will be able to choose from manual or autonomous driving modes. Once inside the car, the seats can rotate to create a face to face seating arrangement and six high-res display screens cover the back, front and sides of the vehicle. Of course, the technology within the car will be second to none with interactive gesture and eye tracking. The F015 seeks to be a relaxing retreat for those lucky enough to call one their own one day.
10. Zoleco Eco Car
The sci-fi Zoleco is a homemade eco-car from Canadian DIYer Zoltan Bod. Bod's unique car isn't electric, hybrid or even hydrogen powered. It's just carefully crafted for maximum fuel efficiency, and even hits a jaw-dropping 151.1 mpg fuel rating. The Zoleco achieves this by massively cutting down on weight and drag, allowing it to gracefully slice through any wind resistance.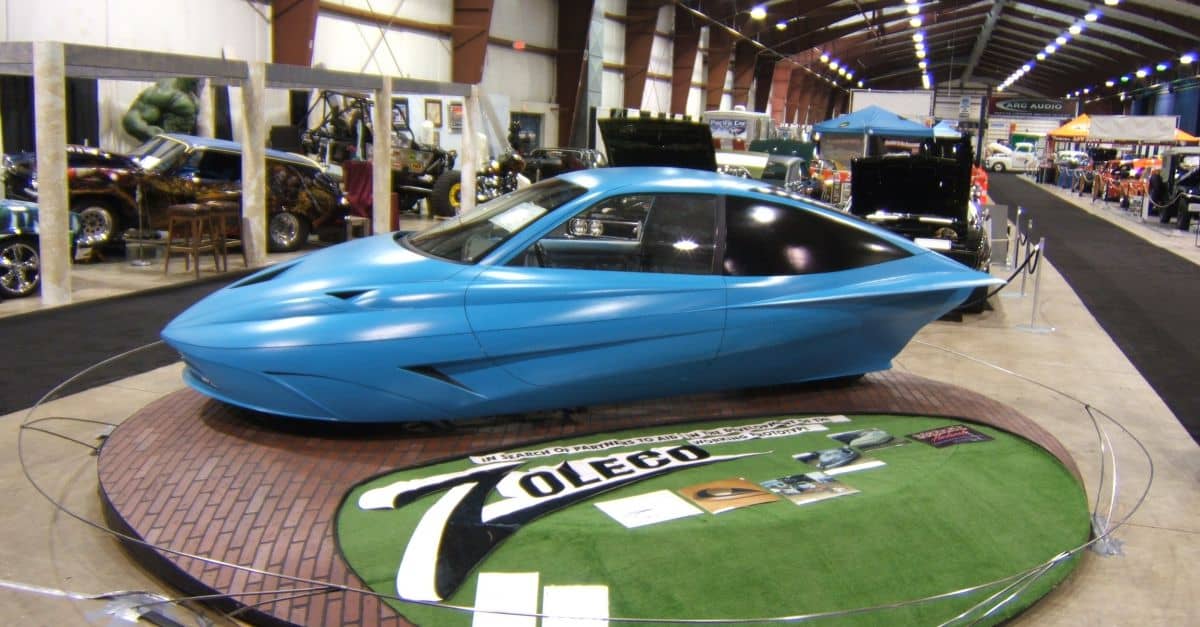 Unlike most eco-cars with strange shapes, Zoleco is actually designed to be comfortable for its occupants and can seat four. The Zoleco's lightweight body and unique design require very little engine power to propel the car. Bod estimates that a mere 8.2 horsepower would be enough to sustain the car at 65 mph. Bod is also planning on further developing his eco-car with possible plans to sell home-build kits.
9. Gemini Combining Car
This Gemini concept car will fulfill all your transformer fantasies. The core component is a two-seat pod, about the size of a trike. It's only powered by two wheels, but the advanced electric motors provide the same performance as most current subcompact cars. The rear electric wheel is detachable from the Gemini and can be sent off as an automated shopping cart or entertainment center.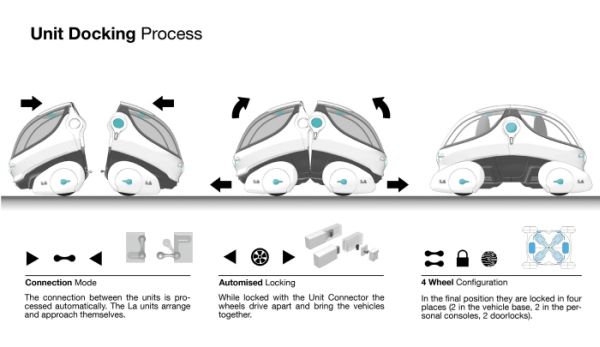 The Gemini's coolest feature is that two cars can seamlessly combine to form a full size sedan. In the four-person setting, only the driver is facing forward. The other three passengers face each other, which is supposed to make travel more intimate and conversation easier.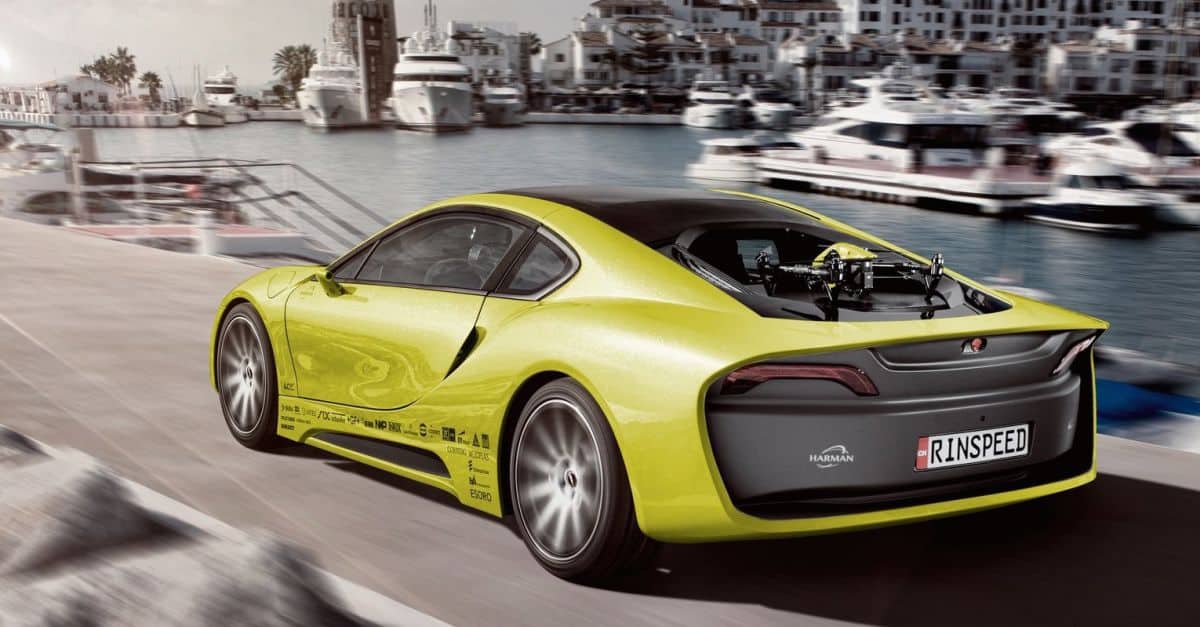 8. Rinspeed Ʃtos
The Rinspeed Ʃtos concept car is designed to accomdate all kinds of future teach. It even comes with its own personal drone and landing pad, as well as several different types of power ports. Plus, the hybrid engine has a much larger battery than the car requires, giving plenty of spare juice to power futuristic accessories.

Most impressive, the drone is integrated into the vehicle's control panel. Operated by interior touch displays, the quadcopter can run errands or scout ahead, then find its way back to the car. All completely automatically.Like many other concept rides, the Rinspeed Ʃtos comes with an optional driverless mode. In this case, the steering wheel will retract back into the dashboard when not in use.
The Rinspeed Ʃtos also comes standard with a personal artificial intelligence system, similar to Siri, that's able to learn your preferences and make proactive decisions based upon adaptive learning.
7. Mercedes Shapeshifter
Mercedes has crafted the most ambitious shapeshifting concept yet. This car's entire exterior body, covered in "smart" materials, realigns itself dynamically and in real time to maximize aerodynamic efficiency. For example, when the vehicle exceeds 50 miles per hour, extra fins in the front and back protrude out and adjust to the perfect angle to account for head and crosswinds.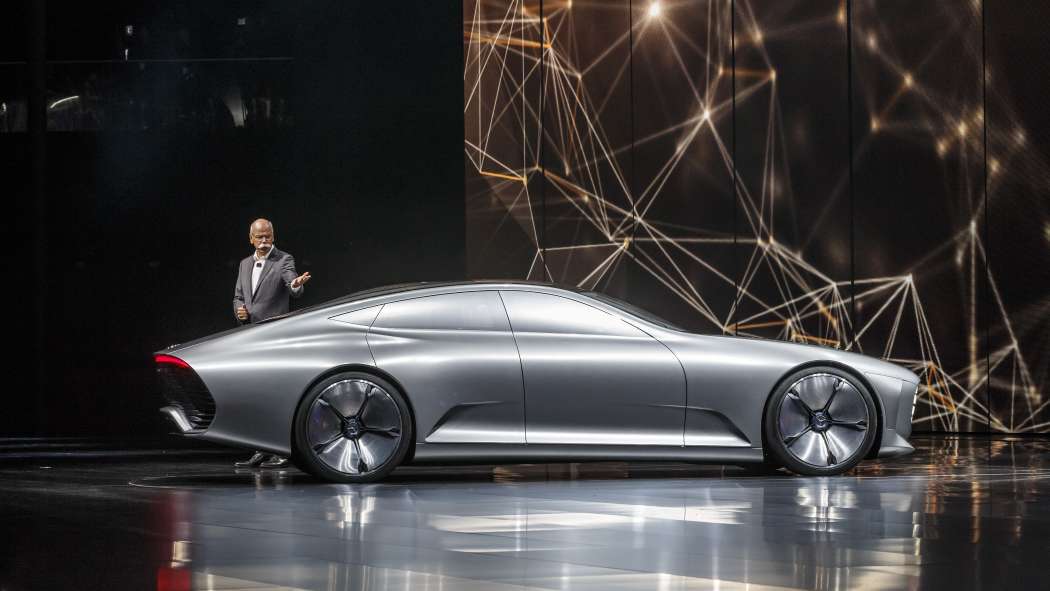 The net result helps the car handle safer and be more fuel efficient at any speed. Just as important, the latest Mercedes concept car also includes an extensive wireless networking system, which lets it communicate with other cars and identify traffic jams, accidents, construction or police activity well in advance.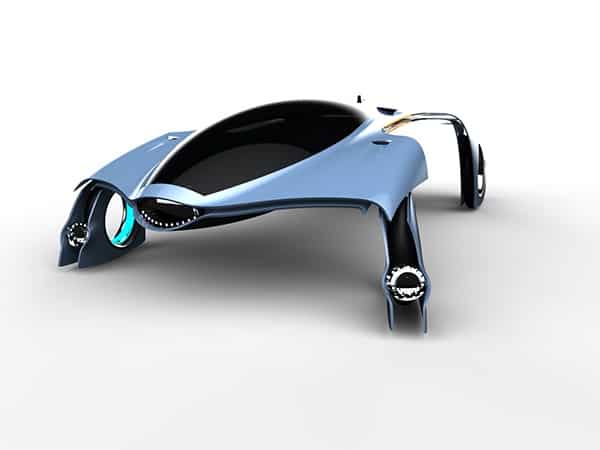 6. F-Whale
Consumers get so wrapped up in horsepower and torque that we often forget just how important aerodynamics are to maximizing a car's speed. The wild F-Whale by Gary Gu puts the auto's form first and foremost, leaving the powerplant really as an afterthought. Which is just as well, because the F-Whale cuts through highway wind resistance as gracefully as a fish through water. Regardless if powered by some twin-turbo V12 or a simple electric motor.
In the same way, the F-Whale by Gary Gu is only a concept car, but one which strives to be an ideal land variant of any orca whale. Its slick, bowed body cuts through the air, while even the driver's cabin is reduced to a smooth and flat shape.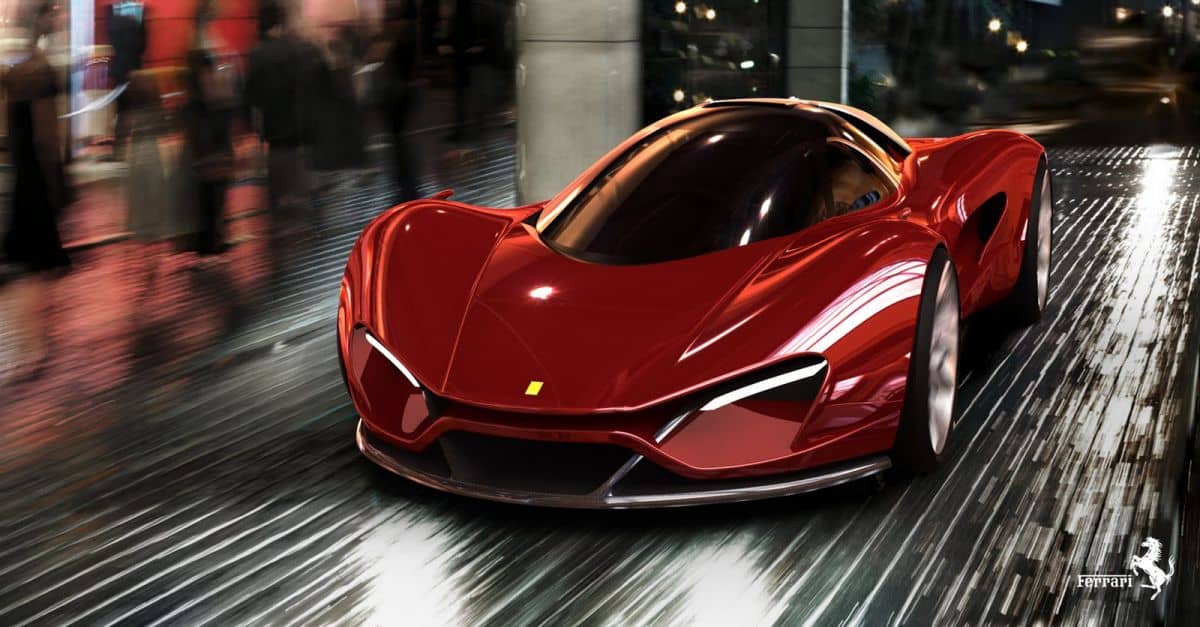 5. The Ferrari Xerzi
Samir Sadikhov's Ferrari Xerzi is a wild hypercar. The Ferrari Xerzi seats only one lucky driver, but inside a jet-like cockpit. The Ferrari Xerzi was the premier car of the 2011 Ferrari World Design Contest. The vehicle's odd name is derived from a local wind on the western side of the Caspian Sea.
The Xerzi also generates additional power by an onboard wind turbine at high speeds. These twin propellers can power all sorts of future accessories. Interestingly, the Ferrari Xerzi's roof also features a small wing that functions either as a rear spoiler or an air intake to help cool the engine at high speeds.
4. Volkswagen Aqua Curvy Hovercraft
The Volkswagen Aqua Curvy Hovercraft is more than just a hybrid boat/car. This clever concept is designed for all types of off-road terrain, while still providing incredibly efficient performance on normal roads. The Volkswagen Aqua Curvy Hovercraft can float, hover over anything, with incredible control.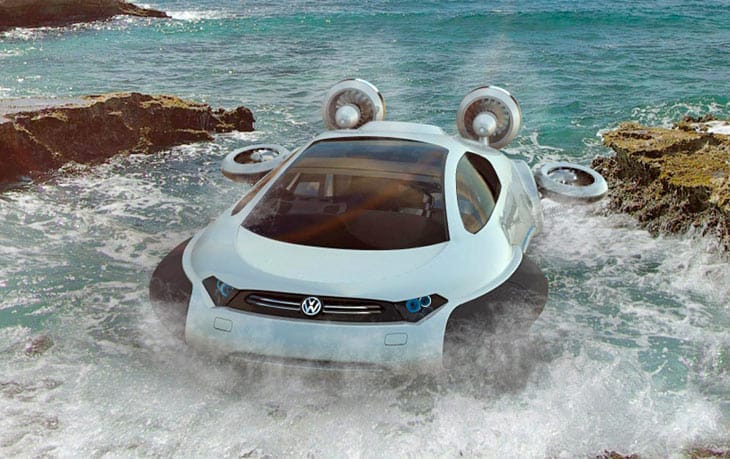 Whether you feel like a quick spin over snow banks or a jaunt at the beach, this car can do it all. The Aqua Hovercraft is equipped with four electric motors, powered by a hydrogen fuel cell.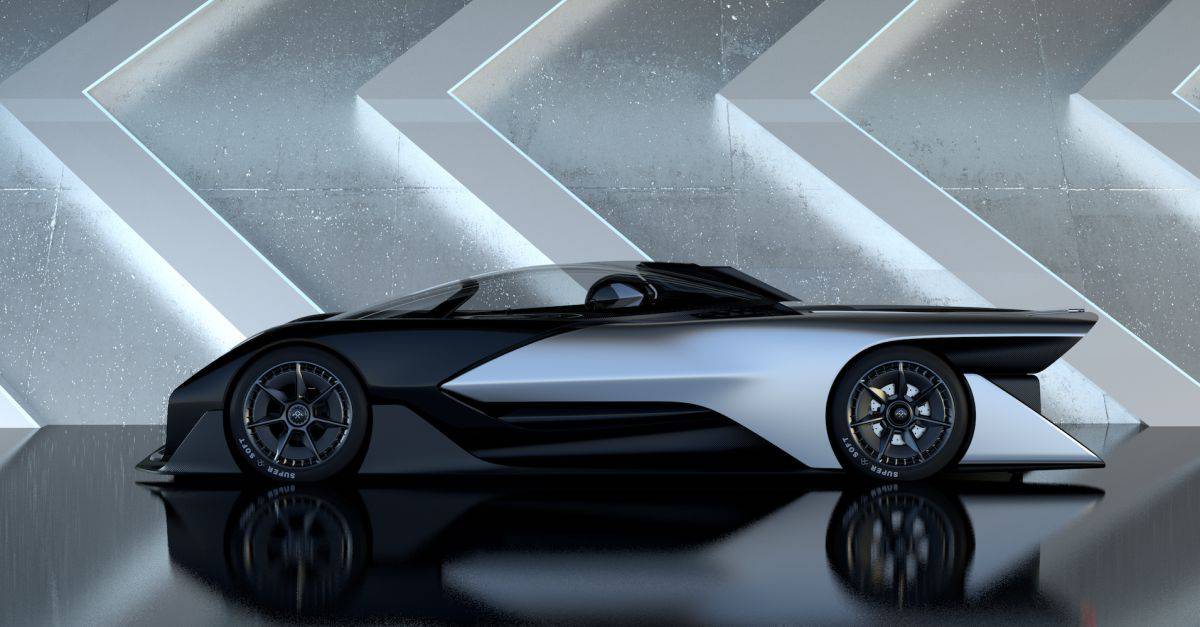 3. Faraday Future
The small start-up, Faraday Future, has made a big splash with its Batmobile concept car. The sleek vehicle features an impressive adaptive learning AI suite, which learns the driver's weaknesses and adapts accordingly. The fly-by-wire controls, for example, could apply extra pressure to brakes or tamp down on acceleration, as needed. Faraday's design is also optionally autonomous and practically a supercar, with a top speed of 200 miles per hour.
2. McLaren JetSet
Following in the new trend for future cars, the McLaren JetSet is the first of many vehicles designed for solo passengers. Despite its futuristic lines, this urban scoot-about will essentially serve the same market as current mini-compacts. Carefully optimized for fuel efficiency, low parking profile and navigating congested traffic, the JetSet will strike an incredible balance between form and function.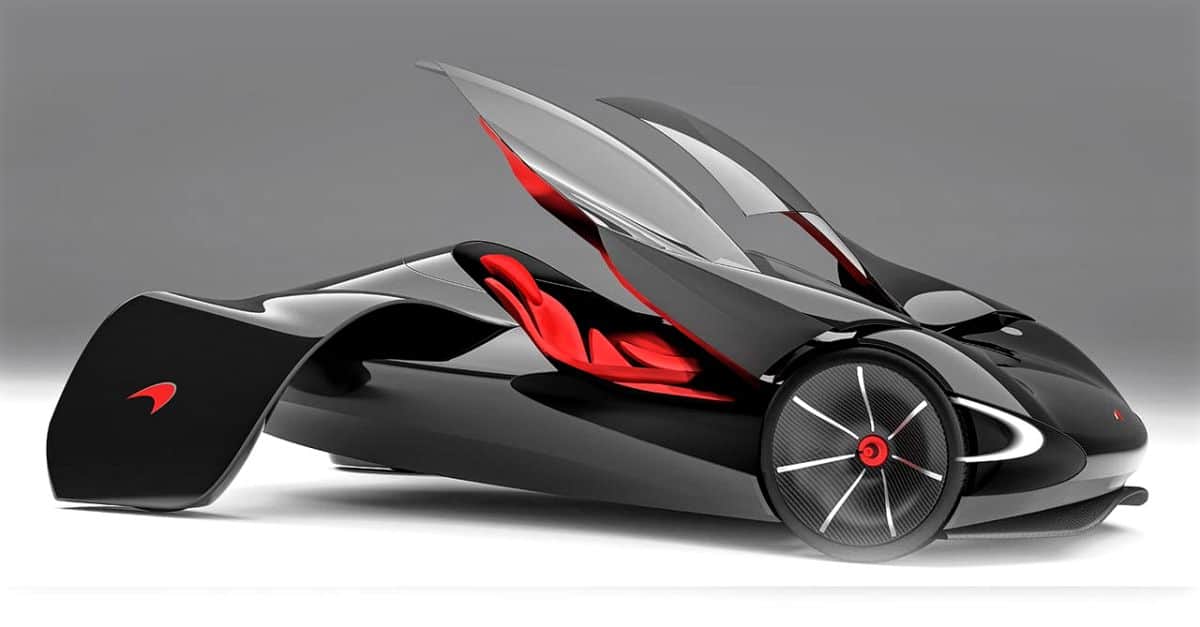 One of the most striking features is the dipping roof, which curves gracefully down the rear. This design helps slice through wind resistance and maximizes speed. Just as cool, the sleek wing-ish rear fenders not just protect the back wheels but significantly reduce drag. Whether as a downtown commuter ride or a fun weekend flitter, the McLaren JetSet has something for everyone.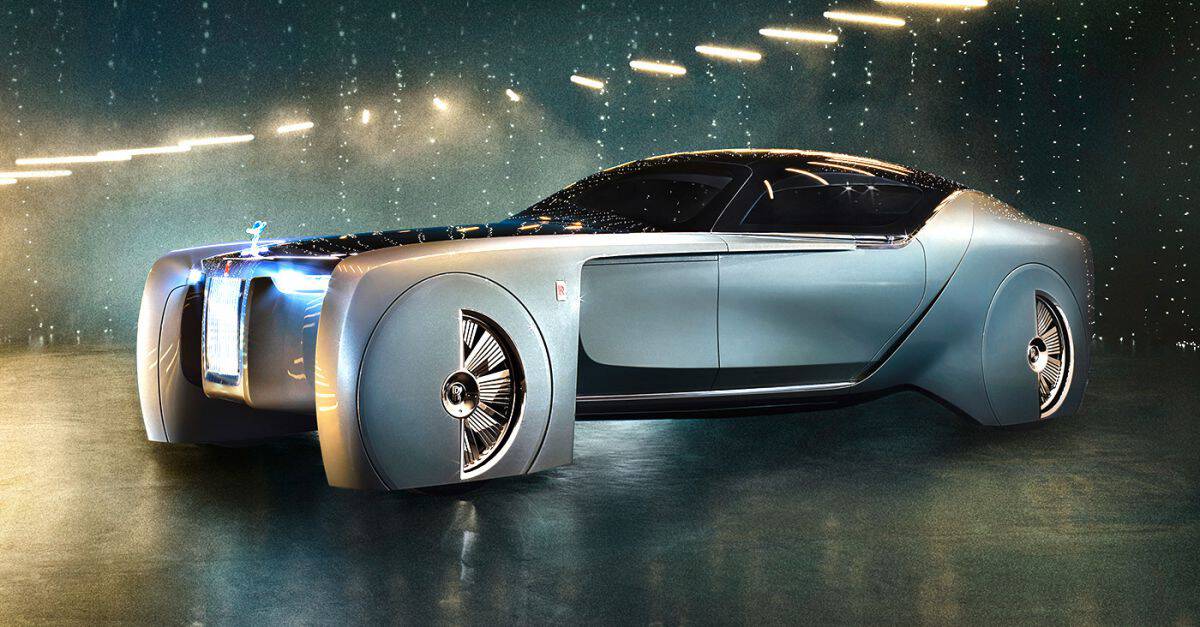 1. The Rolls-Royce Vision 100
At number one, we have this incredible concept from Rolls Royce. As you would expect from Rolls Royce, their future ride will be as luxurious as it is practical. One of the first post-modern supercars, this will be completely autonomous. Like many of these upcoming cars, there won't be any front seat nor even access to a steering wheel. Instead, passengers will lounge in the massive back seat area. One complete with a silk sofa to fit two people comfortably and all the amenities you'd find in a stretch limo.