50 Best Orange County Choppers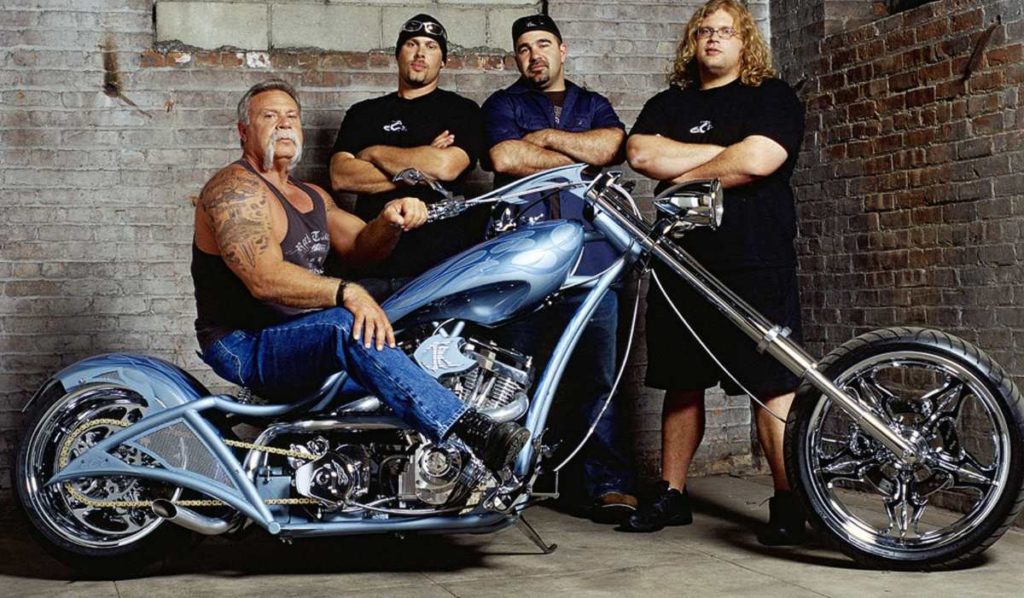 Amazing motorcycles, build out drama and short-fused fisticuff-following feuds made Orange County Choppers a legendary show. Paul Sr. and Paul Jr. combined for amazing television, but unfortunately, a hateful and irreversible family tragedy. OCC debuted on Discovery Channel in the mid-2000's and was an immediate hit. But after several years of tension, the father and son essentially forced each other to never want to work with or see the other again.
The two were awfully competitive, and their desire to prove the other wrong created a crazy competition. Some say the competition and tension only served to increase the quality and workmanship of each subsequent build. You be the judge. The combination of testosterone and a television crew heated the proverbial pot hot enough to boil over in a big way. And almost every episode, too. It was painful to see play out life, but boy were those bikes cool to see come to life!
What the guys at OCC did to choppers in that shop was heads and shoulders above any of the closest competition in terms of creativity. As you can see for yourself int he following images, these dudes were imaginative. They molded any style necessary to get their customer a truly one-of-a-kind bike. Enjoy checking out 50 of the best bikes ever to come out of Orange County Choppers.
Continue scrolling to keep reading.
Click the button below to view this article in quickview.
This chopper was built to honor the men and women of the New York City Police Department. The bike is impressive too. It looks like a police cruiser on steroids (though drugs are a no no kids).
50. Police Chopper

Everything from the badge to the blue and white detailing look amazing. It's the perfect way to honor those who put their lives on the line every day. To start the build, Paul and the team flew up to NYC to do a little police training. Needless to say, they were happy to return to bike building. Police training is brutal and Paul Sr., well, you know… he has a history.
49. Spartan Race Chopper

This was a special build for the Orange County Choppers team. They built this motorcycle with collaboration from Spartan (yes, the popular race circuit). As it happens, this motorcycle debuted at the Tri-state New York Race in June, 2018. The goal of the build was to raise money for the Oscar Mike Foundation which helps injured veterans. How much were they looking to raise? An even 1 million dollars. The name Oscar Mike is a military term meaning "on the move." That's the overall goal of the foundation, to keep veterans who are injured moving by providing experiences for them through adaptive sports and other events. Overall, we would say this chopper was a smashing success!
48. Lance Armstrong Chopper

So it looks like OC Choppers went all out for Lance Armstrong's charity bike build. As a cancer survivor Lance knows a thing or two about endurance. Now, he can go the full distance with this chopper. Some say the all yellow color scheme is a bit much, but we love it. We especially like the image of Lance and the American flag near the kickstand. What better way to adorn the transmission which does all the gear work? However, did you notice the seat? that's not a traditional saddle. Yep, Lance will feel right at home on this chopper!
47. The Abu Dhabi Police Chopper

When the Abu Dhabi Police Department contacted OC Choppers for a build all bets were off. The build was the first international client for Paul and the team. He traveled overseas to meet with the client in hopes of expanding their reach. In short, it worked. The bike was themed all red (the color of the Abu Dhabi Police Force) and even included official badges on the bike's alloy rims. Upon delivery, the bike drew more than 1,000 visitors for its debut. In an interview Paul joked that they probably weren't expecting so many people to show up, but looking at the bike, can you blame them?
46. Christmas Chopper

Remember this Christmas chopper build? Folks either love it or hate it. We love it! Why? For starters it has candy cane striping. Next, it has sleigh skid detailing, antler handle bars and snowflakes all over. Finally, it has a green Christmas tree. What could be better than that? Oh yeah, and Paul Teutul Sr. rode it down the street dressed as Santa after the build. You can't put a price tag on that, but you can add it to your Christmas list for sure!
45. Patriots Chopper

You love the iconic color scheme too don't you? The Patriots bike build was legendary and fits perfectly with the New England brand. This blue and red bike is so classic it looks like it belongs in center field at Fenway Park. It would fit right in too. The fellas at OCC were often contracted to build team-specific bikes and this is one of the more legendary rides they put together.
44. Billy Joel Chopper

Singer Billy Joel wanted a custom classic Indian bobtail bike when he reached out to the Teutuls. They responded with the red and white beast you see here. The front fender was removed and the rear fender was chopped in half (hence the name bobtail). Whitewall tires add to the drama and sturdy look. Billy Joel was thrilled with the overall result. We are impressed with this build because it is a departure from the usual OC style. Where as most of their motorcycles are all about addition and color, this one involved a lot of subtraction and minimal adornments.
43. Gillette Chopper

Here's a useful tidbit of information. Gillette had Orange County Choppers build this custom motorcycle to promote their new razor M3 nitro shaving system. To build the bike would cost them more than $150,000. And, for the record, we must say it looks fantastic. However, the idea was to auction the motorcycle on eBay to raise money for the National Prostate Cancer Coalition. In the end, the bike only fetched a little more than $50,000. That sucks because they could have just donated the entire 150k upfront had they known. However, looking at the lines and chrome on this bike, all we can say is somebody got a steal!
42. Spiderman Chopper

Another funny story with this custom made motorcycle. It seems Paul title Senior and his sons made this chopper for none other than the wildly popular rapper Wyclef Jean in 2002. However, a deal was struck years later to essentially purchase the motorcycle back and return it to headquarters as a museum fixture. It's no secret that Wyclef is a huge Spiderman fan and this bike, complete with custom webbing we have seen on a few others like the Black Widow and Anti-Venom, is a real showstopper. Why the bike was re-purchased, we can't say. Seems like some mysteries are just too good for the general public. Anyway, enjoy the eye candy and channel your inner Peter Parker while viewing this beauty. The gas tank is amazing.
41. NASA Tribute  Chopper

NASA turned to the Orange County Crew to develop a motorcycle worthy of their organization. The unveiling happened at the Houston Space Center (fitting because it is the official visitor center, next to the Johnson Space Center itself). In fact, the build was a collaboration between several Johnson Space Center employees and the OC Chopper team. It was built to honor the workers behind the space program. The bike itself is used to educate The general public and excite the next generation in regards to space exploration. The chopper was built to symbolize the hands-on work ethic skilled NASA workers and engineers employ every day. All we can say is mission accomplished. It looks like this thing is ready to blast off.
40. Dixie Chopper

Dixie choppers are known for some of the best lawn mowers in the business, especially if you have a lot of ground to cover. They reached out to Paul and the OC Chopper team to build bike worthy of celebrating their legacy. The result was a lawn mower bike which stuck much to the simple lines and design elements Dixie Choppers are known for. Of course, there were a few other goodies tucked in to make the bike a bit more modern. While the front end looks very old-school, the rear spoiler and fender additions give the bike a little bit of industrial, post apocalyptic flair. Also, The gas tank and lawn mower style engine cover are impeccable design elements. Look hard and you will see several other lawn more themed elements as well.
39. Bill Murray Caddy Shack Chopper

Bill Murray is perhaps one of the greatest, and most laid-back, actors of our time. Known best for Groundhog Day, what about Bob and Ghostbusters, he is a pure comedic genius. His episode of OC Choppers involved the crew making a bike for him. The only problem is Bill had a lot of input on the bike. So, the end result is not what we typically see from an Orange County Chopper creation. However, we can honestly say Bill has one unique motorcycle, right down to the ground hog mounted on the front. yep, seems like Bill wanted a bike to honor Caddy Shack… and he got one. Yet, even for its quirky, over the top look, this beast is a solid street performer.
38. Snap-On Chopper

Snap on Tools commissioned this bike and the OC team responded with an epic creation. The entire thing looks like it could be taken apart with Snap On Tools. Look closely though and it appears as if the bike itself is made from Snap On Tools. Check out the handlebars for instance. Looks like the handlebars are a couple of sockets. This idea is echoed in the front wheel stem. The curves, lines and color of the bike complete the look. Snap On Tools never made a motorcycle look so good!
37. Sonic-Drive-In Chopper

When Sonic fast food restaurants wanted to have an incredible giveaway for their annual Sonic National Convention, they recruited Orange County Choppers. The bike was commissioned for build out and the end result is just spectacular! It had to be because the goal was to impress a national franchise member audience. If you remember this particular episode there was a bit of anxiety towards The end when a pesky bracket and chrome bubbling caused issues. The end result, complete with sonic themed LED lights, colors and branding, put this motorcycle over the top. And, it was a hit at the convention!
36. Intel Chopper

So there's a lot going on here that you can't see. Intel commissioned this bike for the launch of their quad core processor and OC Choppers delivered! The bike has a mobile computer nestled in the gas tank (consider it the heartbeat if you will). The computer powers a futuristic fingerprint id starter. And mirrors? Nope, you won't find any here. Instead, cameras do the navigating, Speaking of navigation, the Intel chopper has its own GPS system and internet connectivity (albeit slower now by today's standards). Throw in an all digital custom dashboard and you have one lean, mean piece of machinery!
35. New York Giants Chopper

You can see Paul Jr.'s free form style all over this build. As it happens, this build was largely uneventful. There were no looming deadlines or belligerent parts to contend with. The result is pure eye candy for a Giants super fan. Team colors of red and blue are everywhere. The Giants logo can be see non the wheels, gas tank and engine badge. Perhaps best of all is the frame itself. It screams 70s (a famous time for the Giants), yet has a decidedly modern feel as well. All in all, Paul Jr. came through on this one.
34. Army National Guard Chopper

This customized motorcycle was fitted with weapons soldiers use every day. Look close and you will see an M4 Carbine, fragmentation grenades (M61 and M67) and the ever useful M181 Claymore Mine. The military war bike is outfitted with a 134 horsepower engine and can reach 145 miles per hour on wide open flat terrain! The goal of the bike was to represent the American soldier. Rugged, lethal, intimidating, well equipped, creative, finely tuned and adaptive, we would say the representation is accurate.
33. Lugz Chopper

When Lugz Shoes wanted a bike, they had this one commissioned. Actually, it was their parent company (Jack Shcwartz, circa 1993) who reached out for this piece. Since they started tying laces on opening day, their shoes have been sold in more than 90 countries. Somewhere along the way they became popular with the biker crowd. Hence, this awesome bike, complete with laces and leather. it's classic enough to speak to the brand, but beefy enough to still be boss of the road.
32. Marines Trike Chopper

Semper Fi! OC Choppers went al lout on the Marine Corps Themed Trike. The entire thing is decked out in dress blues. The gas tank is buttoned up nicely. the rear fenders look like uniformed shoulders with emblems on each one. And did you get a look at the saddle? That's quite a cap this soldier is wearing. Top it off with a sick engine badge and you have the perfect way to honor one of the fiercest fighting forces on the planets. Oh yeah, and check out the foot pegs. Don't mess with the Marine trike. It means business.
31. Trike Chopper

When you were designing a custom OC chopper for the NRA, you have to go over the top. Such is the case with the NRA custom trike bike. The fenders are decidedly patriotic, but it's the other design elements which lend to the overall look and feel of the bike. Take the seat for example. It looks as rough and tough, just like a western gunslinger. And, speaking of gunslinger, check out the custom exhaust which is nothing more than an iconic rifle bent from one end to the other! Throw in beautiful glass and an incredible paint job and you have a bike the NRA can be proud of, even if it is a trike!
30. VIEGA CORP Chopper

If Viega doesn't ring a bell that's because you aren't a plumber. They were the first company to combine PEX tubing and copper to create plumbing fittings. The build for their brand is decidedly aggressive and surprising. The Statue of Liberty build had a massive amount of copper plating, but here the OC Chopper team decided to stick more with company colors. It works too! Nobody would ever guess this chopper was built for a company that makes plumbing fittings!
29. Australia Chopper

Wait, aren't Australia's colors green and gold. Sure, but look at this bike, does it matter? Plus, there are plenty of head nods to the land of Down Under if you look close. For instance, under the seat is a picture of the great barrier reef (also one of the seven wonders of the world). The gas tank sports an iconic kangaroo silhouette and the engine carries the Australian flag. Besides, we love the maroon and gold color scheme. It reminds us of the color of Foster's… Australian for beer.
28. Sunoco Chopper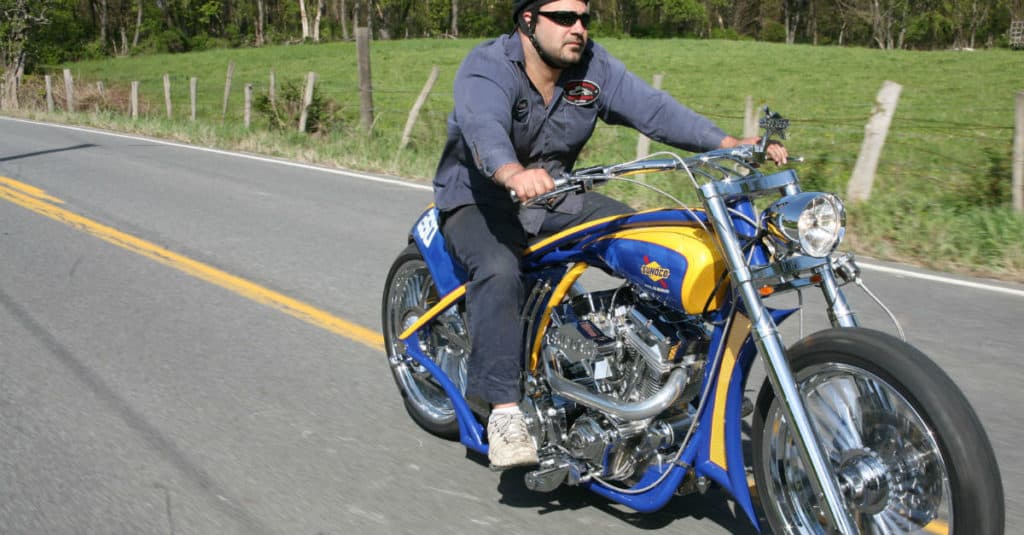 Who wouldn't look stylish riding this Sunoco board-track racer? It's by far one of the most unique bikes ever produced by OC Choppers. The lines flow beautifully around the bike and the colors really make the engine pop. Paul and sons teamed up with Kyle Petty for this build to benefit the Victory Junction Gang Camp. They even traveled to North Carolina to meet Kyle at the camp upon delivery.
27. NAPA Chopper

If you remember this build, it was a rough one. The problem centered around a backbone modification. Vinnie wanted to cut a notch, but it was later discovered this would compromise the integrity of the bike's frame. So… after a lot of worrying and screaming, a 1/4 piece of steel tubing was fabricated to solve the problem. The rest of the motorcycle involved a lot of yellow and blue paint, some flames and  NAPA logos. The end result was one awesome drag bike!
26. FBI Chopper

What's the best way to handle youth crime? Partner with the FBI and build a custom chopper! That's exactly what the FBI did and the end result was pretty amazing. Police and local FBI agents escorted Paul Sr. down the road as he displayed the FBI chopper collaboration to an enthusiastic crowd. The publicity goal is to use the bike to detour teenagers from joining gangs. This project was special for Newburgh, New York because they led the state for several years in violent crime per capita. As such, they decided to spearhead the charge and take back their city. Now, The new motorcycle is a clever way to encourage young people to pursue other careers and live happy, productive lives.
25. SIEMENS Chopper

Siemens Is known for being an industry innovator, so it should come as no surprise that their custom OC Chopper is innovative as well. For starters, the motorcycle uses water-based paint and recycled steel for its frame. How's that for a true green chopper? The build took a little more than a month and contains six on board batteries that can be charged using normal 120v power outlets. Five hours of charging yields the Siemens chopper a distance of about 60 miles. The overall goal of the motorcycle build was to raise environmental awareness and honor the companies 69,000 employees.
24. Make A Wish Chopper

This entire build was inspired by boys and girls who are part of the Make-A-Wish foundation which creates life changing experiences by granting the wishes of children strapped with critical medical illness. This bike was a great way to honor the kids. Notice the shooting star on the gas tank acknowledging that every kid is special, no matter who they are or what they have to deal with. The bike is themed out in Make-A-Wish blue and has really awesome paint work on the front and rear fenders. Also, notice the engine badge. Yep, that's a huge Make-A-Wish star. It's good to see the Teutul men put aside their differences to create something special for those who will never have a normal childhood.
23. World Trade Center Chopper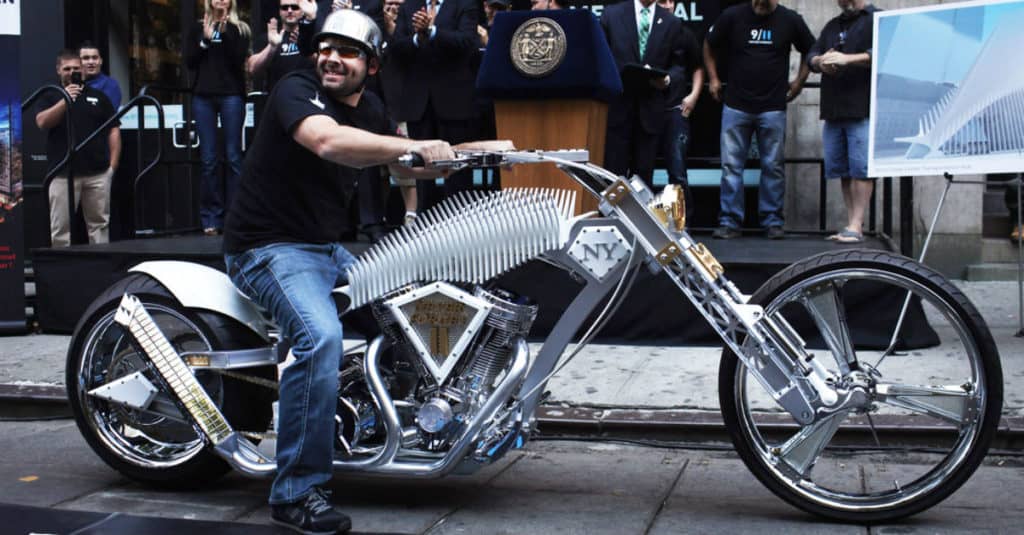 This is one of two choppers built by the family to honor the fallen. The events of 9/11 affected, and still continue to affect, every American. Over 3,000 lives lost on American soil due to foreign terrorists. The 9//1 Museum commissioned the Teutuls to build the choppers for them. Both bikes were built to honor the reconstruction process of the World Trade Center. The front wheel is glass, the steering was made to look like the World trade Center while the exhaust looks like 2 World Trade Center. the entire bike was constructed of steel I-frame to mimic the look and feel of the former towers. Keep clicking to discover the second bike!
22. HP Chopper

What a beast of a bike this one turned out to be! For a bit, Paul was one of HP's paid endorsers. hence, the HP Chopper is easily explained, as well as all of the computers provided by HP for OC Choppers office headquarters. The lines, curves and chrome on this bike are simply amazing. The gas tank yields a beefy look while the signature rims solidify the eye candy factor. Hands down the HP motorcycle was one of their best builds.
21. Texas Strong Chopper

Hurricane Harvey battered Texas. It took a physical toll on the state and a mental toll on the people of Texas. That's why this build for the Peace of Mind Foundation was so important. The them was "Texas Strong" and showcases the spirit and will of Texans known for overcoming adversity. Unique features include the gas tank, tricked out rear fender and syringe exhaust. Proceeds form the auction went to support those dealing with mental illness issues in the aftermath of Hurricane Harvey.
20. CATERPILLAR Chopper

Founded in 1925, Caterpillar company has been manufacturing plows, tractors and other pieces of farm machinery for more than 90 years. To say they have superior products would absolutely be an under statement, but construction zones don't lie. Neither does this custom built bike to celebrating their company and heritage. This motorcycle is themed out in Caterpillar yellow with several decals and industrial type decor items. A few standouts are the front tires which mimic construction machinery, wrapping around yellow riveted rims, and the heavy duty looking exhaust turned up to pump out smoke like a true piece of construction equipment. Who's ready for some road work?
19. Carroll Shelby Chopper

the back story of this build involves incredible timing, chance meetings and a visit to see Caroll Shelby himself. The only stipulation was the Teutuls were to use original Shelby Mustang colors. The rest was left to their imagination. So the tank looks like a Cobra, the front fender mimics the front of the car, and the rear fender mimics the back side of a Mustang. Paul Sr. said there was quite a bit of sheet metal work for fabricating the rear fender. Yet, in the end, OC Choppers captured the true spirit of the classic Ford Shelby Mustang.
18. 9/11 Memorial Chopper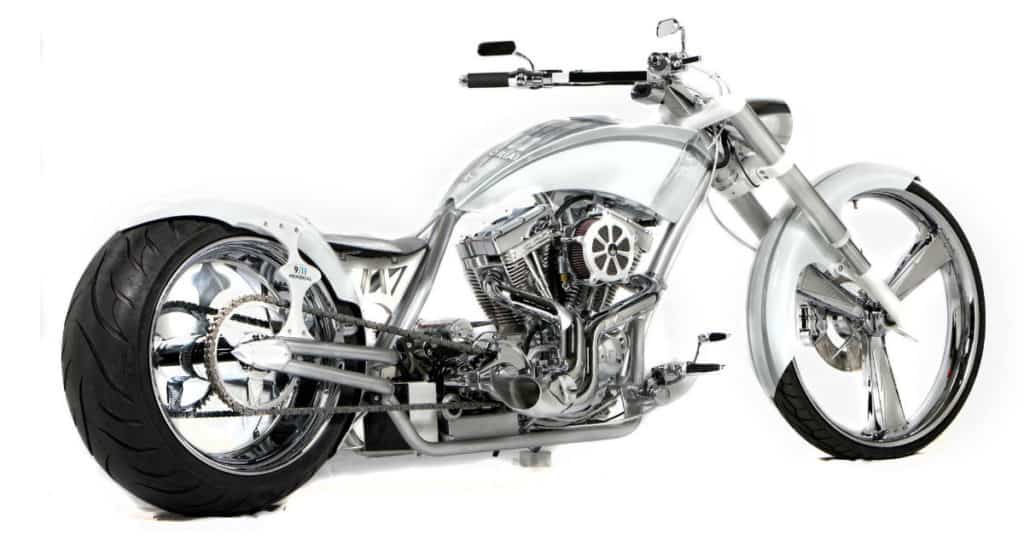 This is the second bike built by OC Choppers to honor the rebuilding process of the World Trade Center. this bike is not as ornate as the first, but was themed around similar elements found in the first bike. The paint job on the gas tank is amazing and pay a fitting tribute. Incidentally, a single Long Island mother is the proud owner of this bike. Her ticket, 00439, was the winning number in a charity auction held to support the ongoing operation of the 9/11 Memorial Museum.
17. The ERAGON Chopper

Remember when Mikey Teutul tried to organize a jousting event during this build? Eragon was built after a book series which turned into a wildly popular movie themed around a young boy who hatches a dragon from an egg (like you do). The team decided to build the entire bike to look like a dragon, so you see dragon like features show up in the saddle, frame and exhaust pipes. And while it won't really fly, it will fly past everything on the road!
16. GoDaddy Chopper

So we know a lot of the bikes on OC Chopper were commissioned by celebrities for charity. Yet, several were commissioned by private companies looking to score prime time tv time advertising along with a cool bike. Such was the case with this OC classic. However, Paul and the team had their hands tied with this one. They had to stick with the color scheme of orange and green. Looks like they were able to pull it off and make it look amazing at the same time. The icing on the cake would be a bikini clad Danica Patrick screaming down the road blowing kisses. Just pause and think about that for a moment. You're welcome.
15. Allan Jay Chopper

This popular bike was made for the Alan Jay Automotive network and later auctioned off for charity. The individual who won the motorcycle thought they were being pranked at first. Yet, once they realized what happened, they were quite happy (the winner was an individual named David DeCurtis). of course, the real winner was the Salvation Army. The charity event featuring the bike raffle netted just over $50k. That money will help a lot of people.
14. Qubx Chopper

When Matt McGee (owner of Virtrex Systems) wanted to launch his new internet app QUBX. he enlisted Paul Teutul Jr. to help. Paul took the loge, wrapped it, wrapped it, painted it and then twisted it into what you see here. Even more impressive than the slick logo implementation is the estimated value. if you want to own this bike you will need to pony up $700k. That's the value. Even funnier? The owner of the company is not a motorcycle rider. Paul Jr. noted this particular bike required a LOT of machining to pull off the final look.
13. Statue of Liberty Chopper

When France first gave us the Statue of Liberty, she was all copper. Hence, the Statue of Liberty OC bike is covered in copper as well, and she is beautiful. The real kicker? The copper plating used for the bike came from the Statue of Liberty herself. Turns out the company involved with the statue's restoration provided OC choppers with the copper necessary to make the bike, as well as some other neat artifacts to incorporate into the design scheme. Of course, we love the front wheel. Three lady liberty heads are used as spokes just scream freedom!
12. Geico Chopper

After Paul split from his dad he needed a big client to get his name back in the limelight. Geico answered the call and this was his first design. They loved the green colors and lizard skin paint job so much that they became a faithful client. Later, Paul would design an Armed Forces bike for the company. It was unveiled to a more than enthusiastic crowd in Virginia Beach at the USO Patriotic Festival. And for the record, this bike might not save you 10% on current insurance, but if you're in the saddle we bet you won't care!
11. Black Widow Chopper

This bike is one of the more unusual and beautiful bikes OC choppers has ever produced. The black widow features some wildly wicked welding work, say that five times really fast and we give you a gold star. Built ahead of the anti-venom chopper, the black widow is a thing of pure beauty, wrapped in chrome spider web. Note, we could insert an Avengers Endgame reference here, but we won't. Let's just focus on this beautiful Black Widow chopper instead. There's even web detailing in the wheels and some pretty sly chrome work on the transmission.
10. Yankees Chopper

We know what you're thinking and yes you should let those feelings of hate towards the Evil Empire of baseball subside. This New York Yankees bike was commissioned for the Jorge Pasada foundation as a charity auction piece. Even if you are no fan of the team you should be a fan of this bike. The rims are detailed with the New York Yankees logo which echoes on the engine as well. Of course, the pinstripe trademark uniforms are beautifully incorporated as part of the paint scheme and that nice little number 39 pennant detail on the rear wheel is a nice touch too! Oh yeah, don't forget the baseball stuck smack dab in the center of the bike. This Yankees motorcycle is a real winner (sorry for the pun)!
9. The Cadillac Chopper

This was the episode everyone talked about. Up until this point, father and son had not been pitted against each other. Cadillac saw fir for a face off to see who could build the best Cadillac inspired chopper. the bike seen here is Paul Sr.'s which fetched about 10k before bidding was shut down. Jr.'s creation was over $100k during the time bidding on the two motorcycles was allowed. The one you see here went for a more classic Cadillac style. Jr.'s bike was more sleek and modern (it even had yellow brake calipers). Both builds were equally brand worthy in our opinion.
8. Christopher Reeve Chopper

Even though they were known for getting fiery onscreen, Paul Sr. and Jr. had big hearts. it always showed up in their many charity builds. The motorcycle they made here for the Christopher and Dana reeves Foundation allowed anyone with a spinal injury to ride a bike. Instead of a traditional chopper saddle, a harness was installed so users with a wheelchair could strap themselves in and enjoy riding like a pro. While this bike was built after Christopher Reeves died (2004), it would go on to give opportunities to many others paralyzed individuals.
7. Gears of War Chopper/ Trike

When gears of War 3 needed some pizzazz to show off at San Diego Comic Con to hail the launch of their latest title, they decided on a custom motorcycle from the OC Chopper team. the end result is nothing short of amazing. Skull rims, ghastly features and post apocalyptic chrome make this beast something to contend with. Put it in a Mad Max Movie and you would hardly notice it. However, put it at Comic Con and hordes of screaming fans come flocking to see it.
6. Anti Venom Chopper

So when Teutul Sr. and Teutul Jr. had such an amazing falling out, Jr. decided to launch out on his own. The spin-off series (Sr. vs. Jr.) found Paul Jr. creating his first bike without input from his father: Anti-Venom. This motorcycle was the first bike to use the web spin-off motif, and it would later go on to become one of Paul Teutul Jr.'s distinctive style elements. Knowing this, you are looking at a piece of Chopper history!
5. B-2 Bomber Chopper

What do you do if you are Northrop Grumman, otherwise known as the manufacture of our illustrious B2 Bombers, and the United States Air Force with a desire to celebrate the 20th anniversary of the first bomber flight? Simple, commission Paul and the OC Chopper team to design one hell of a motorcycle. So they did. And this bike is amazing in more respects than just the design scheme. It's symbolic. For instance, there are 5 B2 models (aluminum of course) mounted on the side of each wheel to form a star. In total, that makes 20 models representing each B2 bomber used for the Air Force fleet. Of course, most people will fall in love with the gas tank. The clever design mimics the cockpit of a B2 and the gray paint scheme is classic military.
4. Green Horse Chopper

As of this writing, you can nab this beauty for $50k through a motorcycle trading website. Even more impressive is the fact that the owner has only put 197 miles on it! That price is a steal for this bike made to look and feel like a Lamborghini Aventador. The OC team did an amazing job too. Known as the "Green Horse", this motorcycle screams Lamborghini with its lime green paint job, cubist lines and European crotch rocket styling. Sure to get you noticed, it might be worth a Google search to try buy this horse and tame him!
3. Dragon Chopper

A few things about this custom bike. Yes, that is a 10 foot long golden dragon running the length of the motorcycle. it was built for a Chinese client and features an S&S 100 cubic inch engine along with a Rolling Thunder frame. The dragon came to life first in 3D graphic design software. The end result yielded much detail. The dragon head had to be remade do to s shop oops. But the worst part? It's only street legal in China!
2. Fallen Heroes Chopper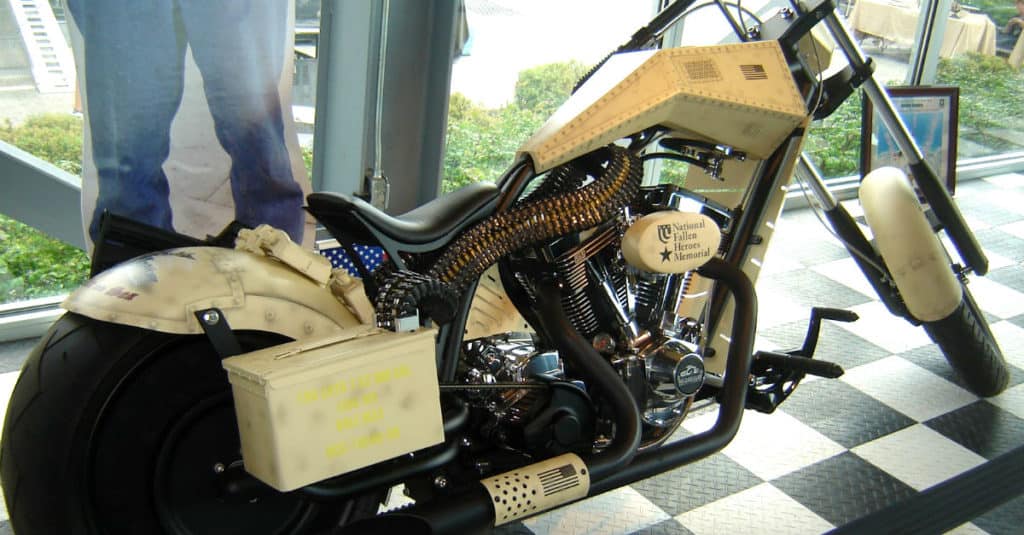 This bike was built ahead of the National Fallen Heroes Memorial project headed by Deborah Higgins. The goal is to raise $100 million to build a suitable memorial that will honor the lives of those who have served and fallen since the Vietnam War. Higgins started the memorial project ot honor her son who was killed in Iraq in 2006. Ultimately, the $150,000 motorcycle will be displayed alongside the memorial as a tribute. What a fitting way to honor those who make our freedoms possible.
1. Fire Bike Chopper

After 911, it took America a bit to catch our stride again. However, as this memorial fire bike build shows, we came back full force. The really special part about this build is the bike contains a piece of metal recovered from the world trade center. The rest of the bike is pure beauty from the ladder suspension covers, cab shaped gas tank, fire hose exhaust pipes and plenty of diamond plated accents. And just like the firefighters, this bike is designed to rush into danger headlong. The badge on the gas tank honors those who fell on 9/11. We will never forget.