Joe Rogan's Classic Car Collection Is Nothing Short Of Perfection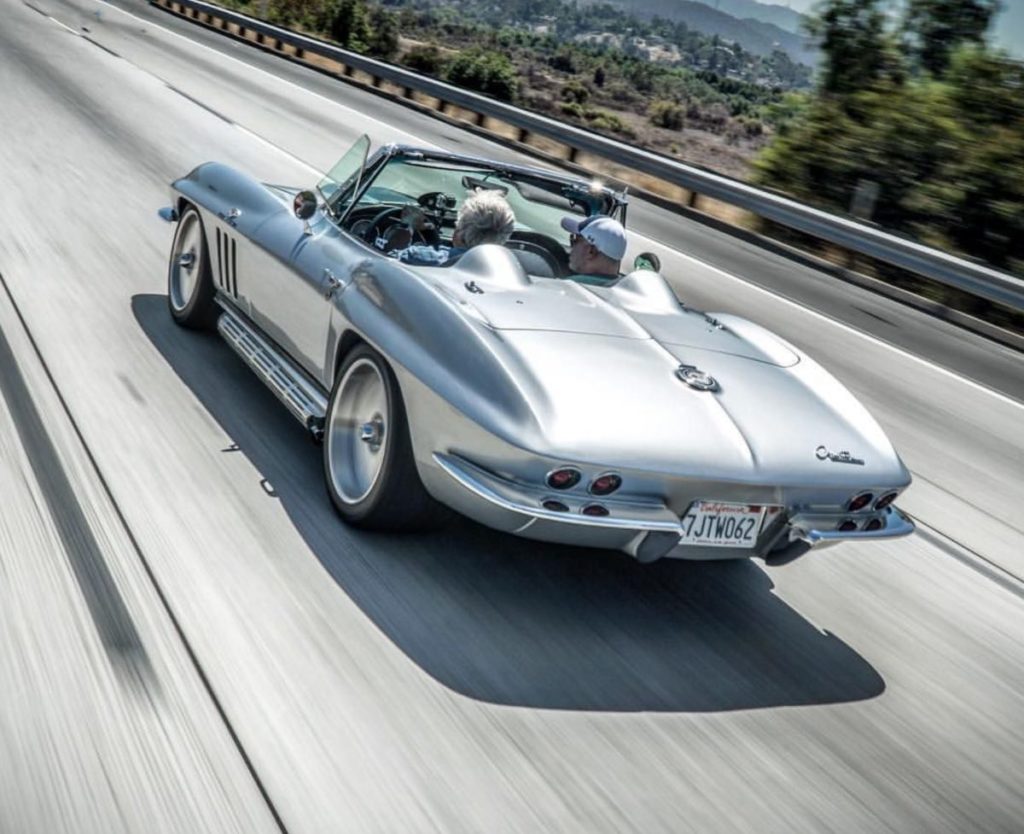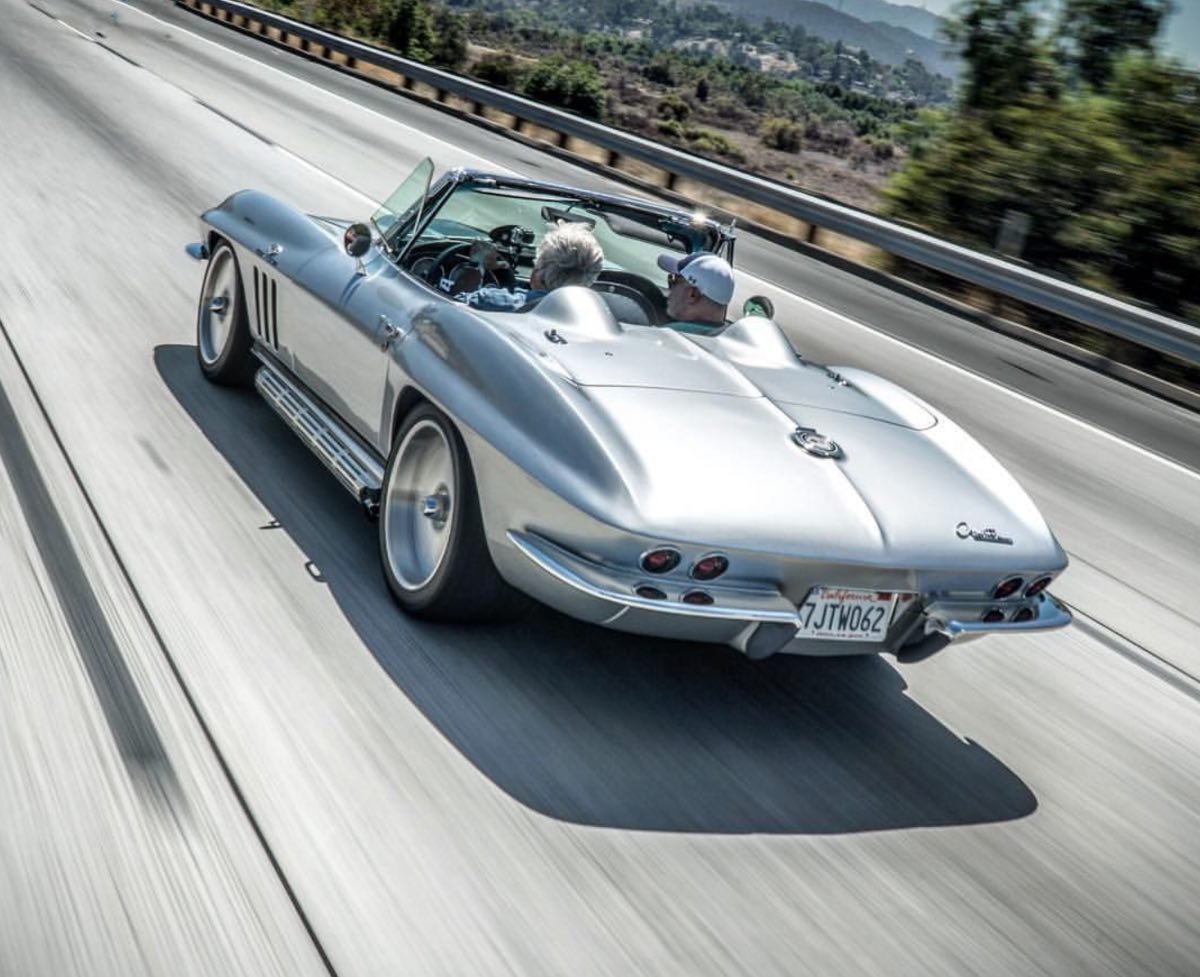 Joe Rogan is one of America's top entertainers, possessing a breadth of talents covering live comedy, television and perhaps his most notable, The Joe Rogan Experience podcast. It's the most successful podcast in human history.
His family frequently changed cities growing up, and he has publicly stated he was terrified of being a loser. From this fear he developed a love for martial arts, for the confidence it gave him- "For the first time in my life I felt reassured I wasn't going to be a loser." From there, he turned that confidence into a career in the public eye.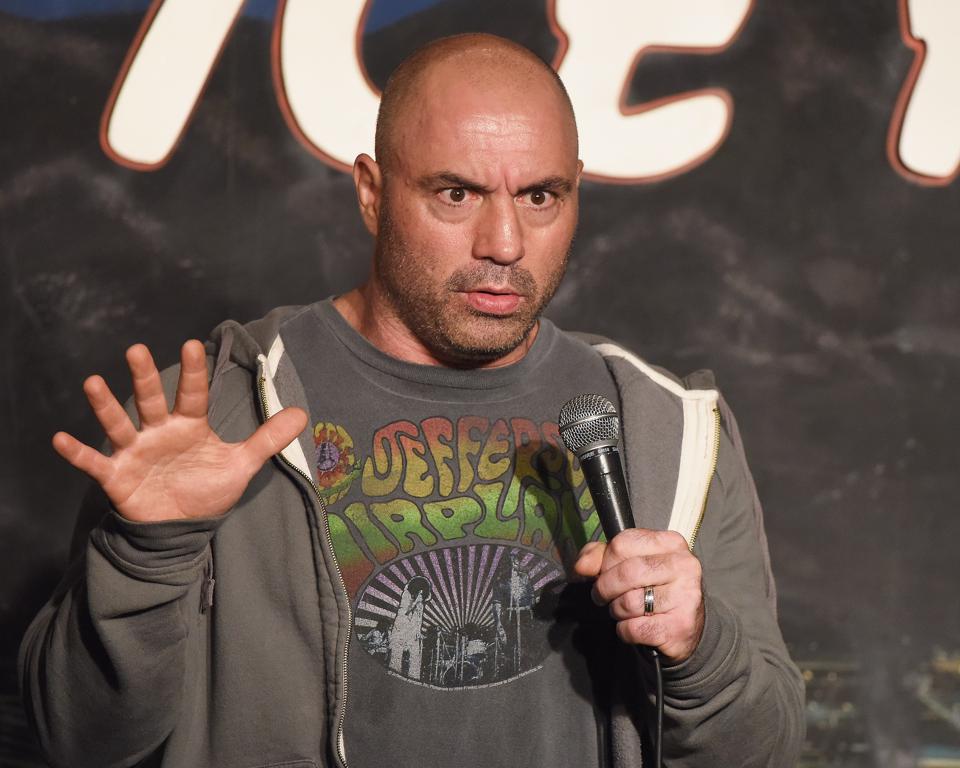 Joe often talks about his vast range of hobbies from bow hunting, martial arts, psychedelics and cooking, however as a humble fellow, he rarely touches on his arsenal of collectors' cars. The exact price point of his car collection' worth is unknown, for some of the models are priceless. What we do know- is that in the next 25 slides, you're going to get a glimpse into one of the most extensive, impressive celebrity car collections in the world.. Are you ready?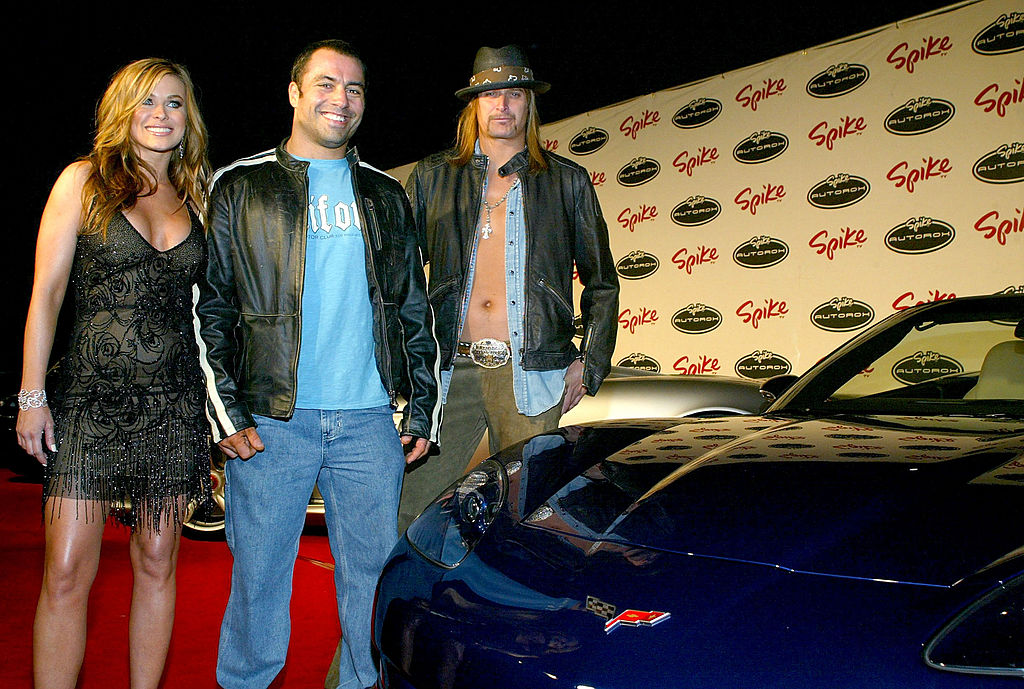 Joe Rogan Has A History With Nice Rides
Joe began his career with a short stint at Disney in their developmental division, while perfecting his stand up comedy routine. A few years later, he was hired to be the host of "Fear Factor" which ran for 6 seasons and enabled him to purchase his first car. Now with immense money from The Joe Rogan Experience, he has conjured some sweet rides, but we'll get to that later.
Rogan's first high performance car was the Toyota Supra Mk.IV, which was top of the line for its day and one of the fastest cars ever produced by Toyota. The car was complimented with rounded curves and a large rear wing. It's engine was the coveted 2JZ GTE engine, twin turbocharged, inline six cylinder with 320 horsepower and 315 lbs of torque. (You'll see it soon enough, don't worry.)
As he became more successful in the entertainment scene, Rogan purchased an Acura NSX. Impressive? Sure. However, that was nothing compared to the cars he was going to own in years to come, adding restlessly to his classic car collection..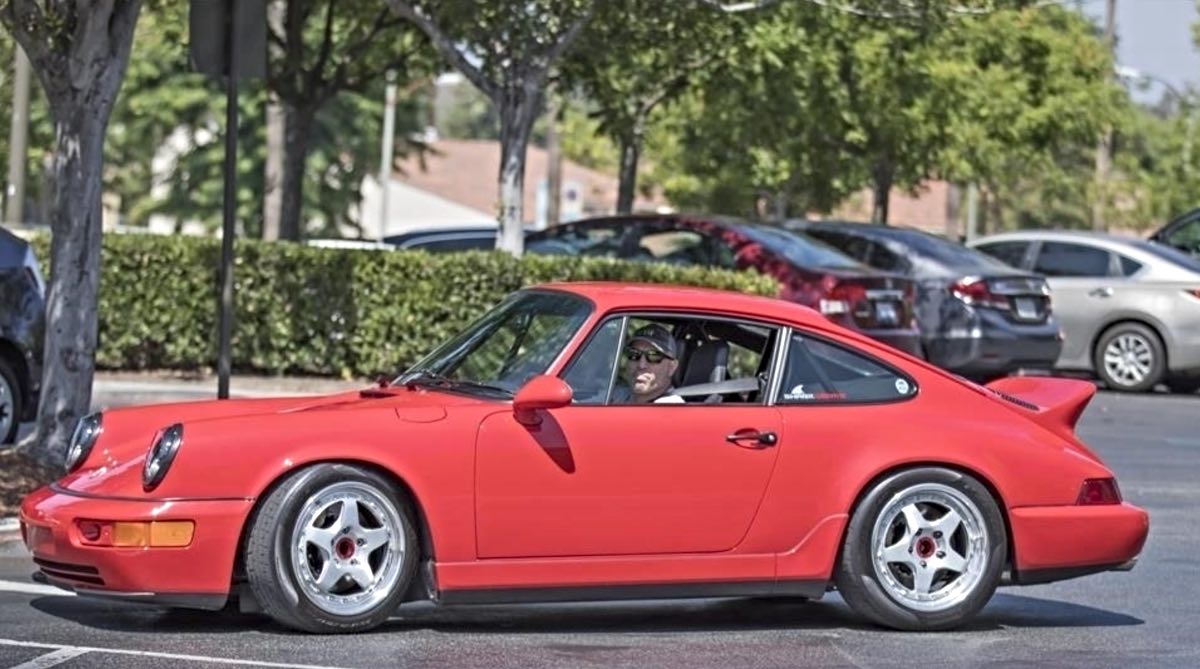 2001 Porsche 996 Turbo
One of the coolest in Joe Rogan's car collection is this 2001 Porsche 996 Turbo. Finding success on Fear Factor, and nearly becoming a household name, Joe Rogan leveraged his cash vehicle to purchase one of the most innovative cars at the time. The 2001 Porsche 996 Turbo was a step up from it's little brother, The Boxster, making it the must have vehicle.
With it's revolutionary water cooled engine, it boasted a 3.6L turbo engine, with a 6 speed manual transmission. Available in both a coupe and cabriolet (convertible), it's obvious Joe opted for the coupe in an effort to not mess up his luscious flowing locks.. just kidding, he's bald. Other than the upgraded mechanics under the hood, this car got an overhaul on the inside, sleeker and streamline, as well as getting rid of the "bug eye" headlights, to the much more palatable "fried egg" style headlights.
His next car he opted for some classic American muscle, the Sick Fish Plymouth Barracuda!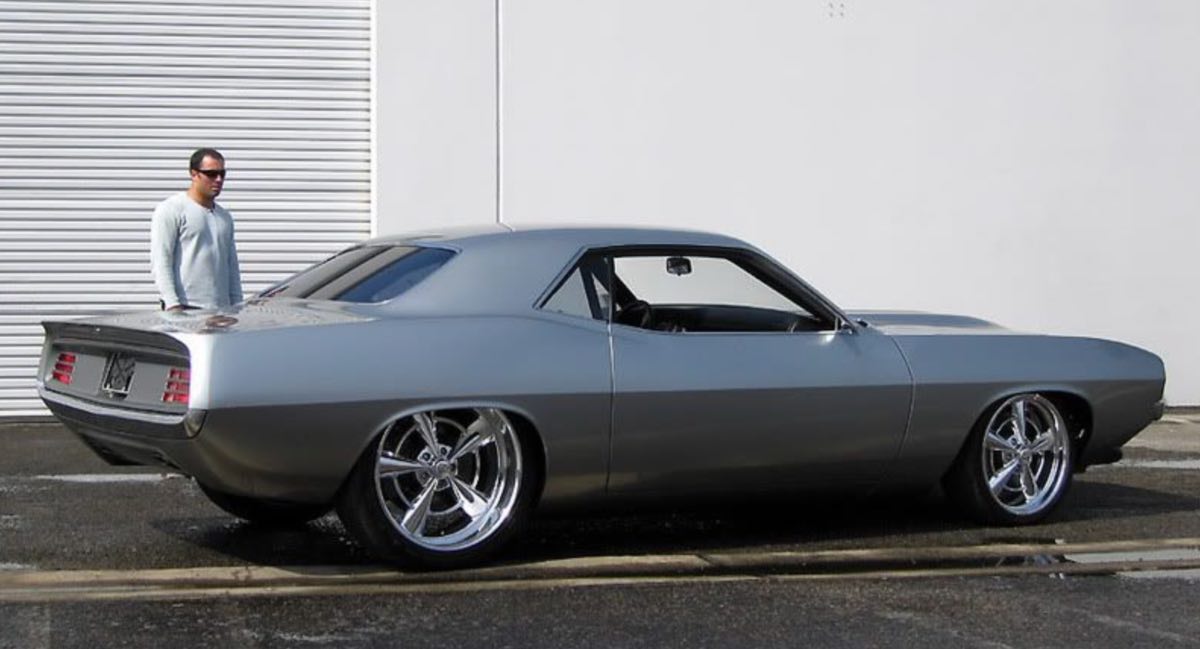 1970 Sick Fish Barracuda
When 19 year old Joe Rogan got his hands on a 1970 Plymouth Barracuda, it was just a bag of bones. However, that didn't stop this visionary from seeing it's potential.
Completely redesigned, he commissioned a rig that is now a pop culture phenomenon, gaining notoriety from the older generations and a breath of life from the newer. The 1970 Sick Fish Barracuda has been featured in several films, including the Fast and the Furious franchise. If you're a fisherman (or woman) you know the difference between a Barracuda and a 'Cuda is that the 'Cuda possesses sharper teeth. Similar to the muscle car types, the Plymouth 'Cuda is the advanced version of the vehicle.
It took more than one mind to bring this classic car back to life and lock it into his celebrity car collection. Do you know who Joe hired to get the job done?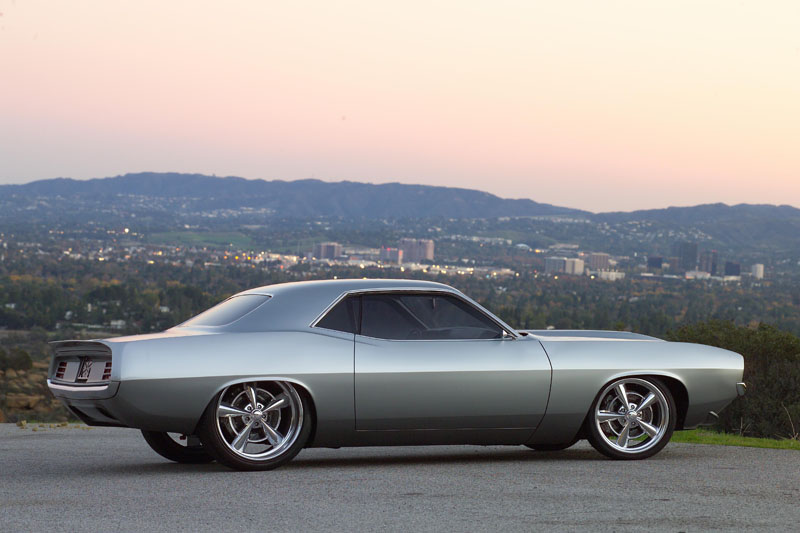 Joe Rogan's 1970 Sick Fish Barracuda Design
When Rogan was 19 years old, he had a beater of a 1970 Sick Fish Barracuda. Broken down and paint chipping, he promised himself that, one day, when he had some money, he would own a "Super Nice" one. Joe brought on board legendary auto craftsman Chip Foose to design the 1970 Sick Fish Barracuda, who took great pride in recreating Rogan's most fond childhood memory.
Foose studied at Art Center College of Design, then proceeded to work with the best auto designers in the world, eventually working his way up to CEO of a custom car manufacturer called Hot Rods by Boyd. Foose gained exposure in a 2003 TLC documentary about restoring a Ford Thunderbird, which is how Joe found him. After hearing Joe's story, Foose jumped at the opportunity to recreate this legendary set of wheels and new addition to his classic car collection.
Another critical team member who brought the Barracuda to life was iconic builder Troy Trepanier.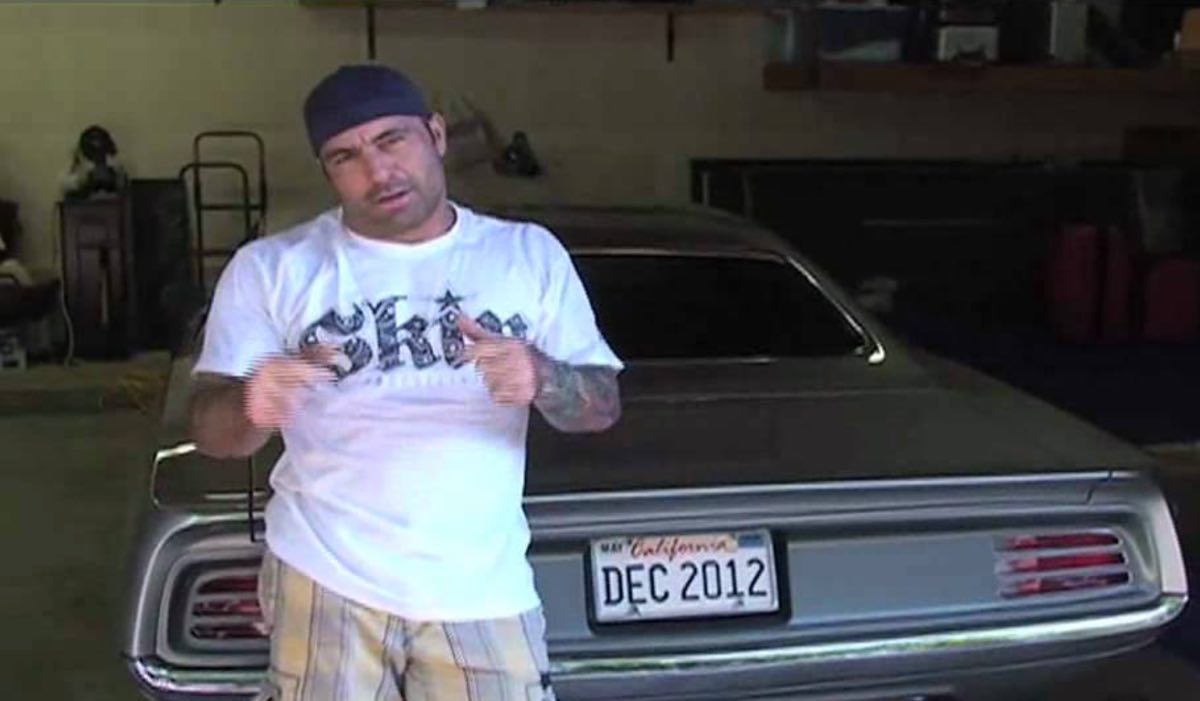 Joe Rogan's 1970 Sick Fish Barracuda Build
Troy Trepanier was the mastermind who manufactured the whole 1970 Sick Fish Barracuda, fabricating the majority of the car's components completely custom.
Troy has a background in engineering which made the transition into custom car fabrication as smooth as it gets. After the TLC Network saw his custom car company "Rad Rides", they decided to make a docu-series about the cars he makes for folks. Troy, who is a fan of American muscle, installed a V8 Chrysler Hemi, in honor of the vintage 'rapid transit machine'. When Troy asked Joe what kind of car he was currently driving (Porsche 911), he mocked the German, child's toy stating,"That Porsche will feel like you're driving an electric golf cart after this".
One complete overhaul later, the ride was complete and a legend was born. Joe has a soft spot in his heart for Porsche's, so naturally he would purchase his first Porsche's successor to add to his classic car collection..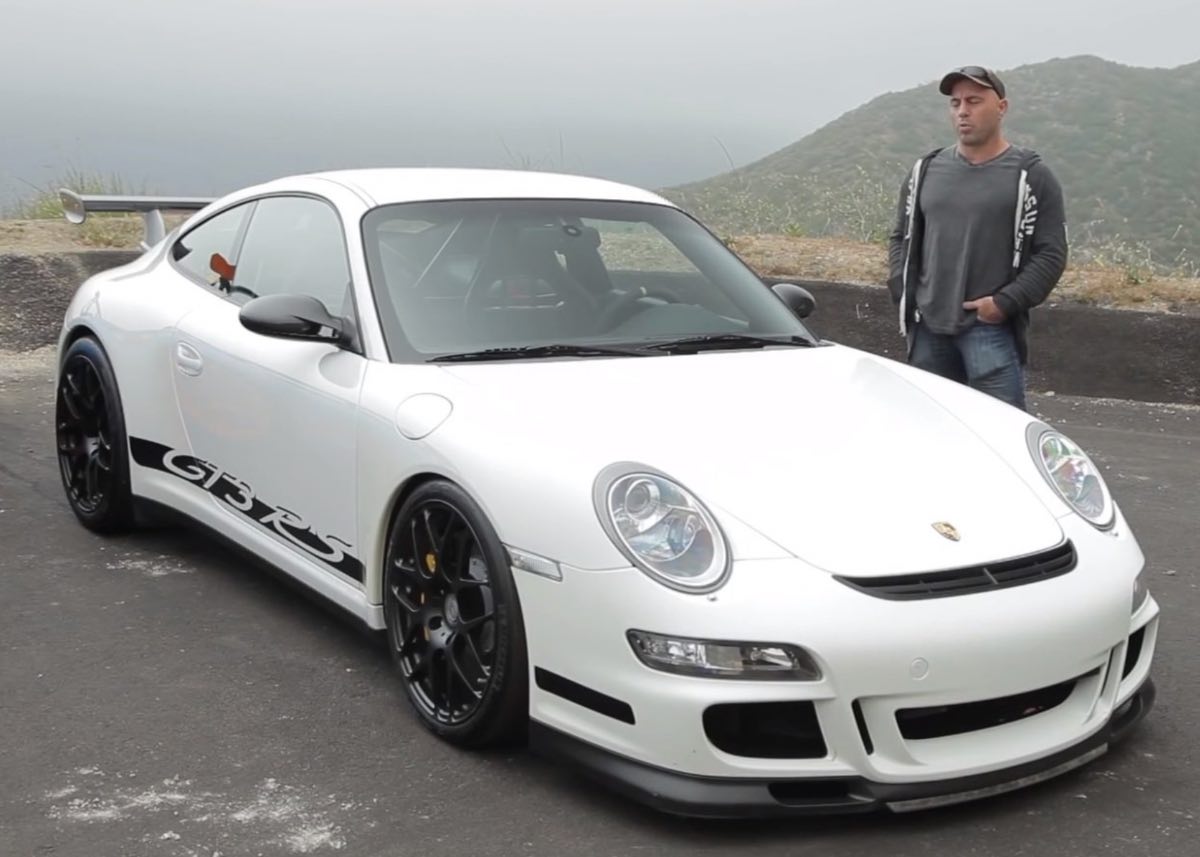 Porsche 997 Mark II GT3
The second generation Porsche 997 mk.ii GT3 was released in 2009 following some widespread complaints about the car's first iteration. With the now enlarged engine, 3.8 liters rated at 435 PS (320 kW), the little beast could reach 0-60 in 3.8 seconds which shaved a whole tenth of a second off of its predecessors time. I'm assuming you're a car guy, but if you're not that is a serious improvement.
The second generation 997 GT3 was equipped with several new options including dynamic engine mounts and a modified rear spoiler. With the new pneumatically lifting front axel, the car could navigate obstacles that proved troublesome for low ground clearance. While a popular car, the numbers might surprise you. Only 654 units were sold in the United States and 58 in Canada, meaning this car value is rapidly appreciating as the years carry on.
You might recognize this next car for the celebrity attention it's received. Can you guess which ride in Joe's classic car collection cars Jay Leno had his eye on?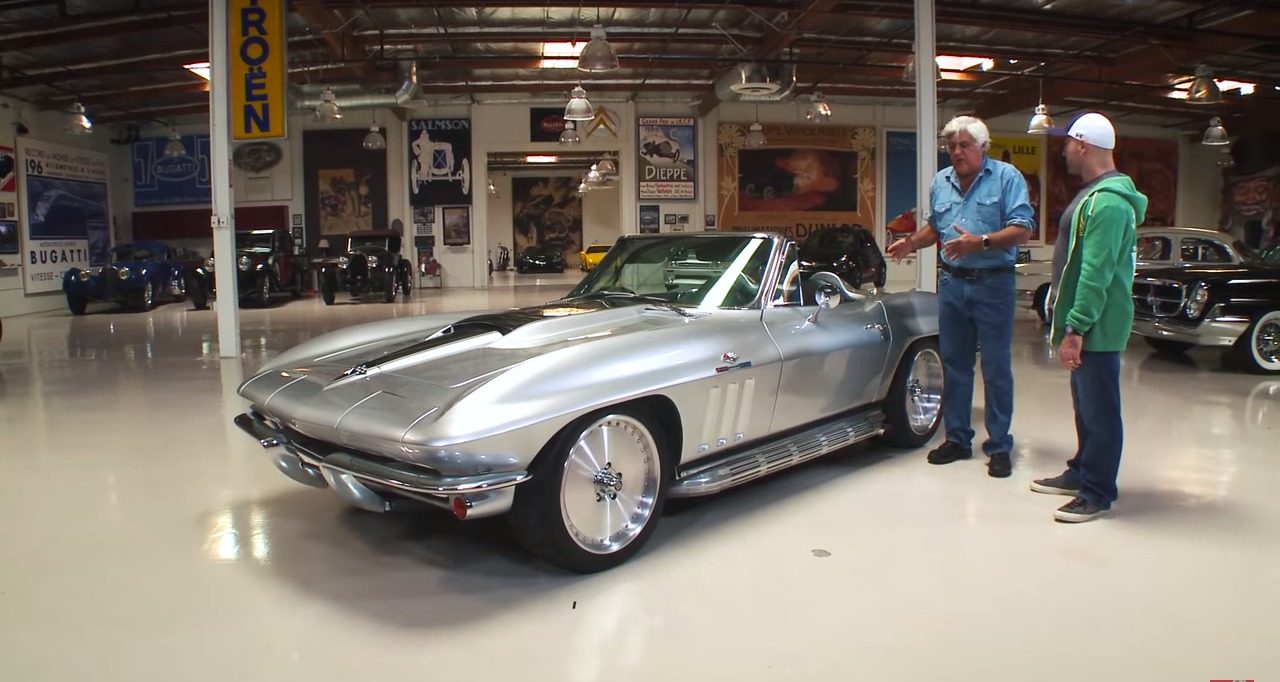 1965 Chevrolet Corvette Stingray Restomod
This Cinderella story of a restoration was one for the books, carrying with it a laundry list of issues. Joe ordered the 1965 Chevrolet Corvette Stingray Restomod, almost in disrepair, from RK motors in North Carolina.  However on inspection he realized it could be brought back from the dead.
What came with the car upon purchase was a foul burgundy interior, shotty suspension, leaky fuel tank, poor handling mechanics. As a matter of fact, Joe stated after the finalize sale, he was driving the car back to his home and pulled into his driveway, minutes after traveling 70+ mph on the freeway, the suspension on the car completely disconnected from the frame. Upon taking the dash board apart, the restoration crew noticed the center structure brace had been severed to make room for the ECU, compromising the structure of the car. Needless to say, the car needed some work- but nothing is impossible!
Check out how legendary classic car collection fabricator Steve Strope turned this project around..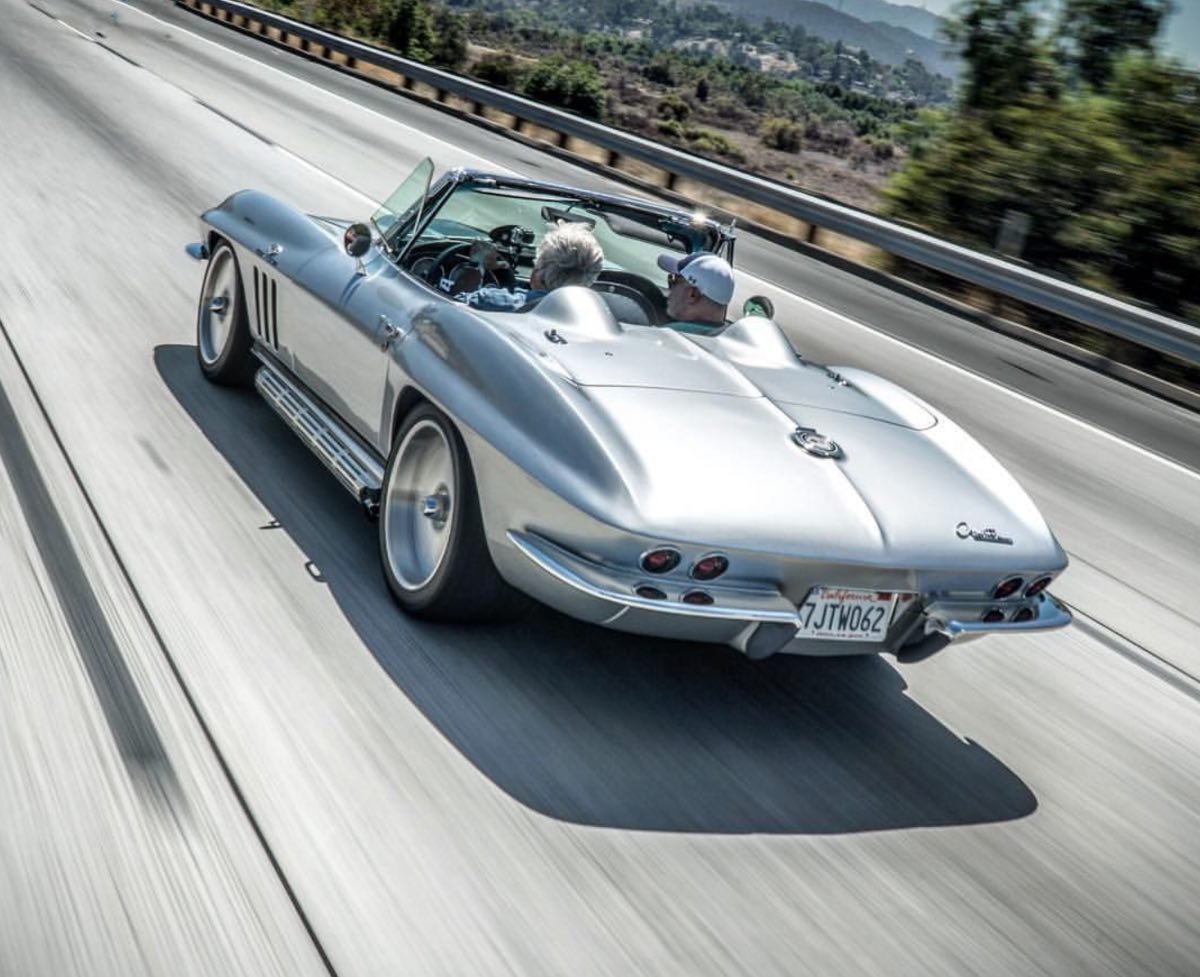 Joe Rogan's 1965 Chevrolet Corvette Stingray Restomod
The previous owner sunk some serious cash into the 1965 Chevrolet Corvette Stingray Restomod , giving it solid bones from it's original brittle state. The chassis on the rig is a tube chassis, which didn't take well to the LS1 motor when trying to install that, plus a supercharger. After some fancy footwork, a little finesse and some custom brackets, Steve Strope was able to marry the two sublimely.
The shocks and suspension were taken off of a 2010 Corvette to give it an improved modern day feel while driving. The breaking system, like the suspension system, was upgraded to a modern iteration for the better technology, as well as ease of access to spare parts that will need to be replaced such as pads and rotors. The Vintage Air brand air conditioning unit provides that reliable modern human comfort, that goes hand and hand with the upgraded all black interior. An 18′ cue ball gear shift was installed to complete the look, per Joe's request.
This car was so well made, one of the best late night TV show hosts, and car consummate, had Joe come onto his garage segment to display his custom car collection..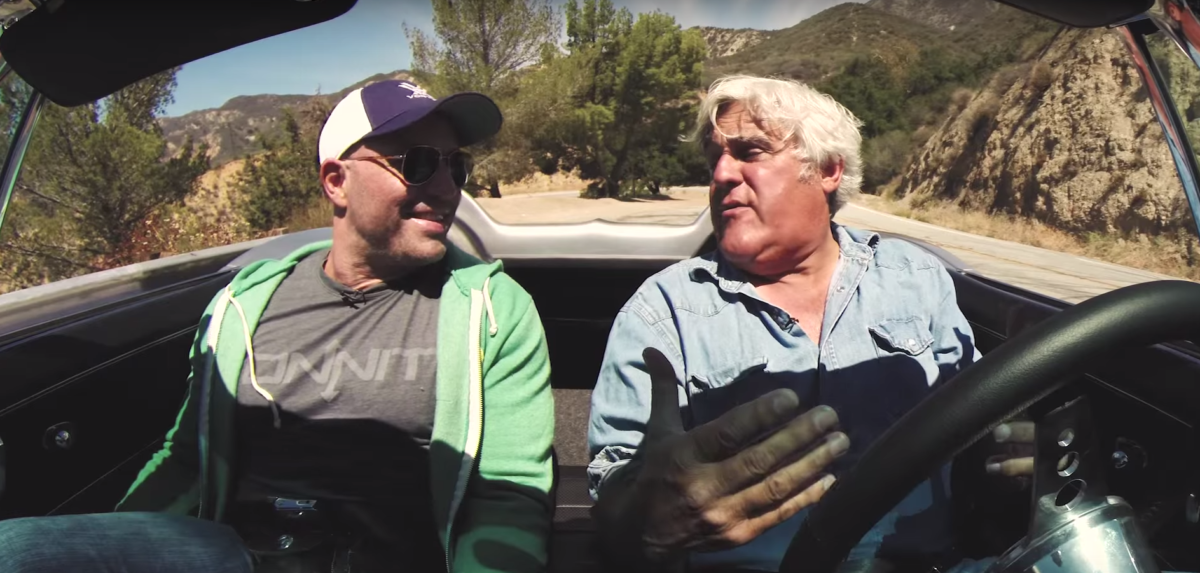 1965 Chevy Corvette Stingray on Jay Leno's Garage
Car guys tend to gravitate toward each other, which is no surprise why Jay Leno took such a serious interest in this 1965 Chevrolet Corvette Stingray Restomod. Featured in an episode of Jay Leno's Garage, the two vehicle pundits discuss the car's history and the process it took to revitalize this beauty.
Steve Strope and his team at Pure Vision brought the build to life, sparing no technical consideration when fabricating it. Under the hood, the whip is strapped with a stock LS1 and juiced with a Magnusson supercharger. After some tweaking of the custom brackets, the supercharger fit like a glove under the factory style cowl induction hood. Joe and Jay open her up on the freeway to hear the Maggie blower scream as the supercharged 'Vette pistons fire.
Though the segment is exceedingly entertaining, when Jay was driving, Joe was visibly nervous to be riding in the passenger seat- made me laugh! Taking it back old school for the next car, Joe's throwback beamer is sure to catch some eyes..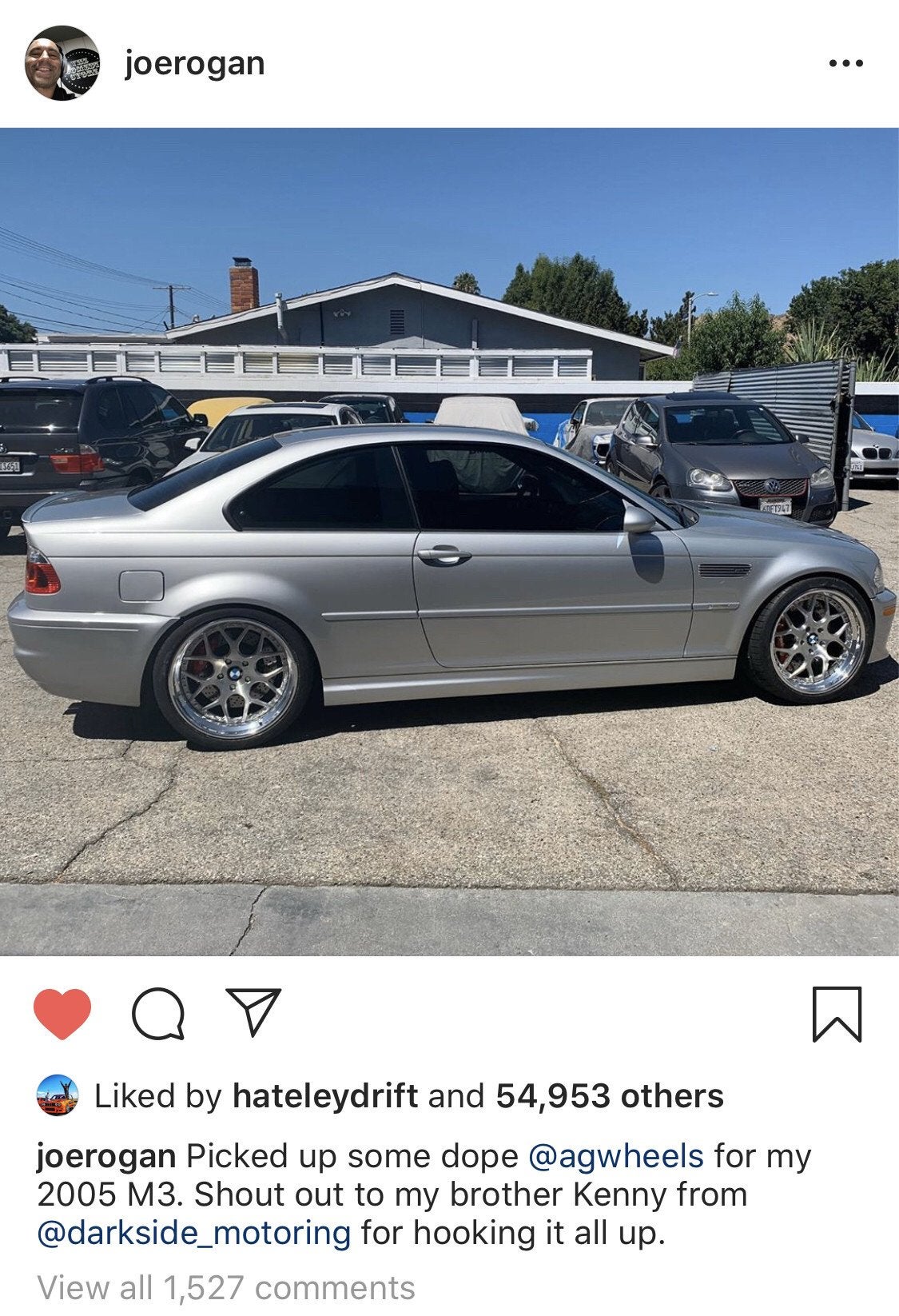 2005 BMW E46 M3
BMW has had a loyal fan base for years, including Joe Rogan, and often introduced folks to their first high performance car. When BMW released a special version of the M3 CSL (Coupe Sport Lightweight) in 2005, car gurus were thrilled.
The limited edition 2005 BMW E46 M3 came with the Competition Package that offered some upgrades including 19″ BBS Alloy wheels, stiffer springs which meant more proficient suspension. Sensitive steering gear boxes incorporated 14.5:1 transition ratios, meaning more accurate yields and increased sensitivity in response time. Staying on pace with traction, M-Track mode for electronic stability control was upgraded to provide a 'true to feel' sensation when banking agile turns. Brakes with larger pistons were used to increase safety at higher speeds and Alcantara steering wheel and handbrake covers upgraded for a more luxurious look.
The next car isn't yet a classic, but surely will be a valuable addition for any classic car collection..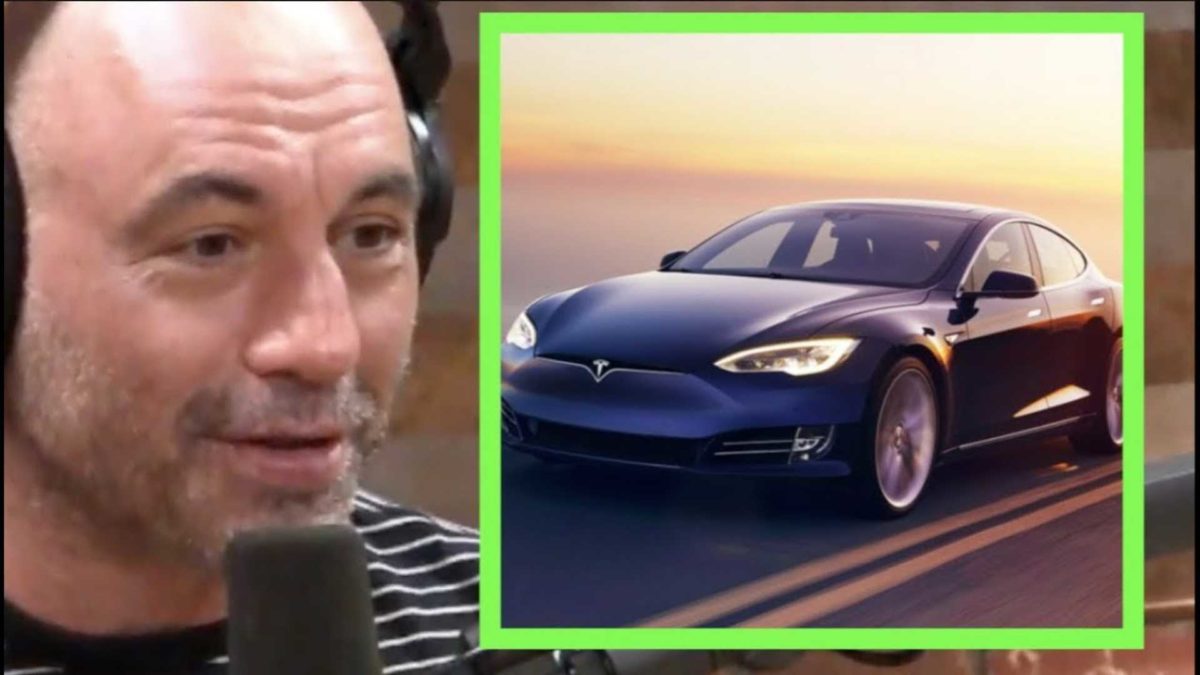 Tesla Model S P100D
Tesla has been getting a lot of attention lately, partially for their brilliant leader Elon Musk, but ore specifically for their highest performance stock production vehicle, the Tesla Model S P100d. For starters, this machine was clocked accelerating 0-60 MPH in 2.5 seconds- and that's not with upgrades, but factory stock.
The vehicle code named "WhiteStar", was introduced in 2012 and can travel farther than any other electric vehicle on a single charge- 402 miles. Among the myriad of the car's accolades, one specifically stands out, it's Auto Pilot mode. All cars manufactured after 2014 are equipped with hardware compatible with this, which allows the car to drive itself only while the owner is present and attentive to take back control of the wheel. In the 2016 software update, "Enhanced Summon" allowed the user to hail their vehicle, and the vehicle navigate itself through a parking lot with out a driver in the front seat.
The newest iterations of the P100D come with enhanced hardware called "Raven" enabling longer range and increased performance. With the software updates, though, there really is no limit for what these cars can achieve.
Joe isn't all about flash, he likes his reliability and comfort too, as you'll see in this addition to his custom car collection..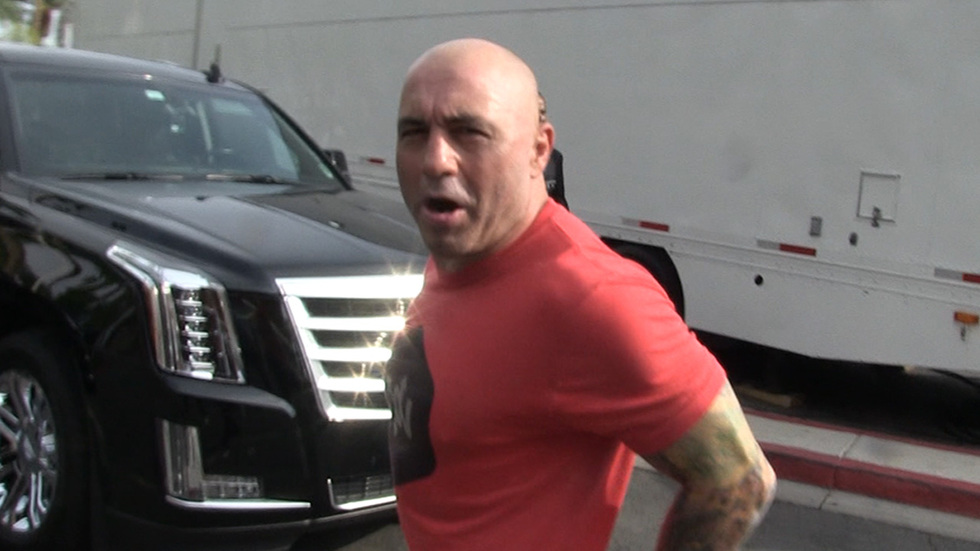 2020 Cadillac Escalade SUV
No expense was spared when designing the 2020 Cadillac Escalade Premium Luxury Callaway Edition, which makes sense because this car will set you back $114,000 off the lot.
Equipped with a 6.2L V8 16V GDI OHV engine, this bad boy is cranking out 17 mpg on the highway. Don't worry about getting stuck either, with the suspension sensing 4wd, you'll be able to crawl your way out of a situation that would make a Jeep tremble in their tube socks. Not only will you enjoy the smoothest ride on the road, you'll never get bored with the dual TV monitors posted on the ceiling in this luxury rig. Don't like driving your own vehicle? Not to worry. This vehicle boasts two captains chairs in the rear and with no middle seat, you won't have to worry about getting stuck with the hump!
As a matter of fact, the differential drive shaft is housed completely under the car, so there is no 'hump' -lol. Needless to say, the next car you might have a little less room, but trust me, it's worth the squeeze..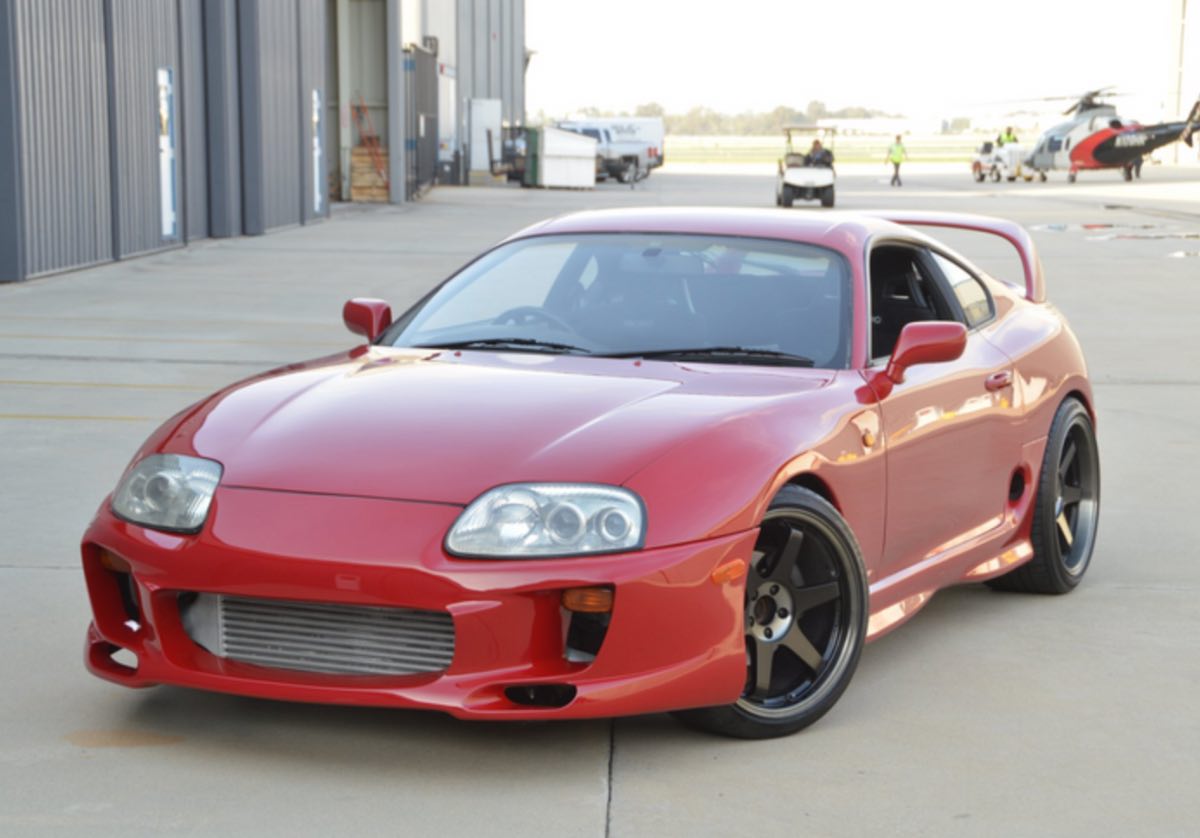 1994 Toyota Supra Turbo
1994 Toyota Supra Turbo is part of the classic car collection began by Toyota in 1978 and finished in 2002. The project was revamped in 2019 when the first generation of the redeveloped car was sold in March of 2019. Popularity amongst car junkies and racers spiked in 1994, when Toyota Racing Development manufactured a replica of the '94 JGTC BLITZ Racing Team Supra GT500.
This was a monumental development because for the first time a civilian could purchase a race caliber version of the supra! 60 mm wider in the front and 50 mm wider in the rear allowed for improved aerodynamics, wider wheels with better fit and significant improvement with the car's lateral grip. The engine was very similar to the racing teams version of the car, minimal differences. Joe loves this car for it's rich history and incredible performance and agility.
This next car is sure to take you back to a time of acid wash jeans and internet fatigue..

2003 Acura NSX
Joe's love for foreign sports cars spans many countries. The 2003 Acura NSX, otherwise known as the Honda NSX, was marketed under the brand Acura to give folks the impression of a higher end vehicle. This car has been talked about numerous times on Joe Rogan's podcast.
In 1984, Honda developed the HP-X (Honda Pininfarina Experimental) as their mid level 3.0 L v6 sports car. From there they strived to exceed Ferrari's v8 sports car and offer a lower price point, thus spawning the "New", "Sportscar", "Unknown" or NSX. Do you know who designed the McLaren F1 supercar? A fellow named Gordon Murray, who test drove the NSX, loved it, and used it for inspiration when developing the F1. He described the design as "monumental", a solid chassis built to handle a superiorly larger engine.
He loved the NSX so much, he purchased one for personal use, put a BMW engine in it, and drove it for 75,000km. You might recognize this next car for it's recent popularity in the news, however Joe's classic car collection model is a little above average..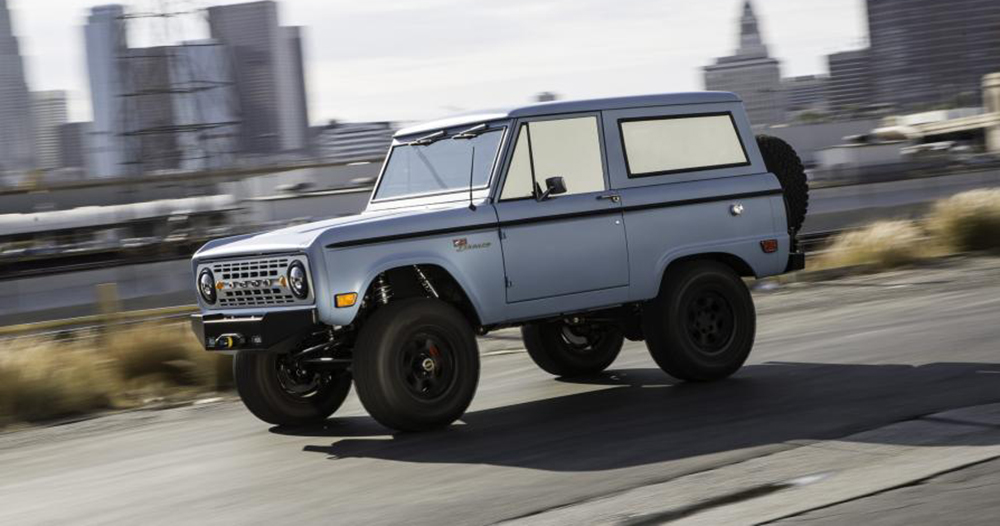 1971 Ford Bronco ICON 4×4 restomod
Jonathan Ward was a guest on Joe Rogan's podcast, and they discussed his car company ICON.
After that meeting, and fueled by their shared love of cars, Joe commissioned Jonathan to build him a 1971 Ford Bronco ICON 4×4 Retromod. To define retromod, aesthetically the car is the same, and fundamentally it is very similar to the original specs, however every component is updated with the modern version. Joe designed the truck and has great taste, Jonathan said, "If I could afford one of my trucks, I would probably configure it like this". The truck possesses several aesthetically pleasing features including matte silver finish with ranger trim and architectural glass with a sheen to compliment the body. They were able to squeeze the Coyote 5.0L engine into the custom engine bay, utilizing removable wheel well panels for ease of access when servicing.
To tie the whole build together, they added on a Borla Stainless "Rowdy" Exhaust. Another example of Joe's soft spot for American muscle in his classic car collection is this next ride..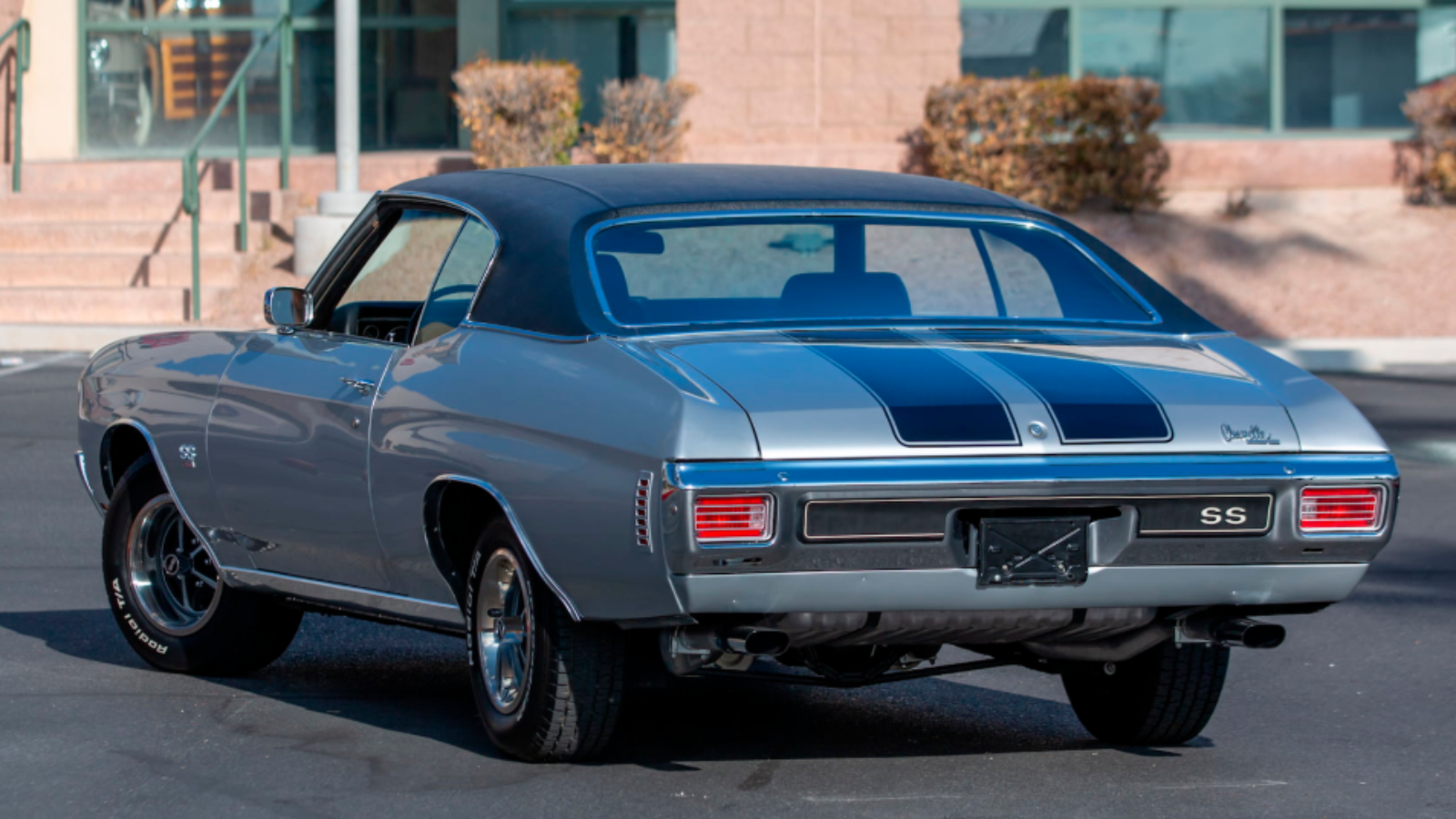 1973 Chevy Chevelle
The 1973 Chevrolet Chevelle is from the classic car collection that was in production from 1964 until 1978, and revered by families across middle class America.
For the first time, small and large families alike could enjoy an affordable reliable vehicle, with the added seats and space that came with the station wagon. Under the General Motors platform, Chevelle was one of Chevy's most successful names. The super sport was produced until 1973, when the Chevelle Laguna was introduced. The luxury Laguna Station Wagons were unlike anyone had ever seen, accompanying 6-9 passengers and utilizing a counterbalanced lift gate for easy entry and storage for up to 85 cuft. New options that Joe has included on his Chevelle are an upgraded AC, swivel bucket seats, improved growler exhaust and new tires.
Among all of his show cars, he likes to keep this one classy! Joe recruits his old friend Jonathan Ward for this next restomod overhaul, you're going to like the way this one turned out!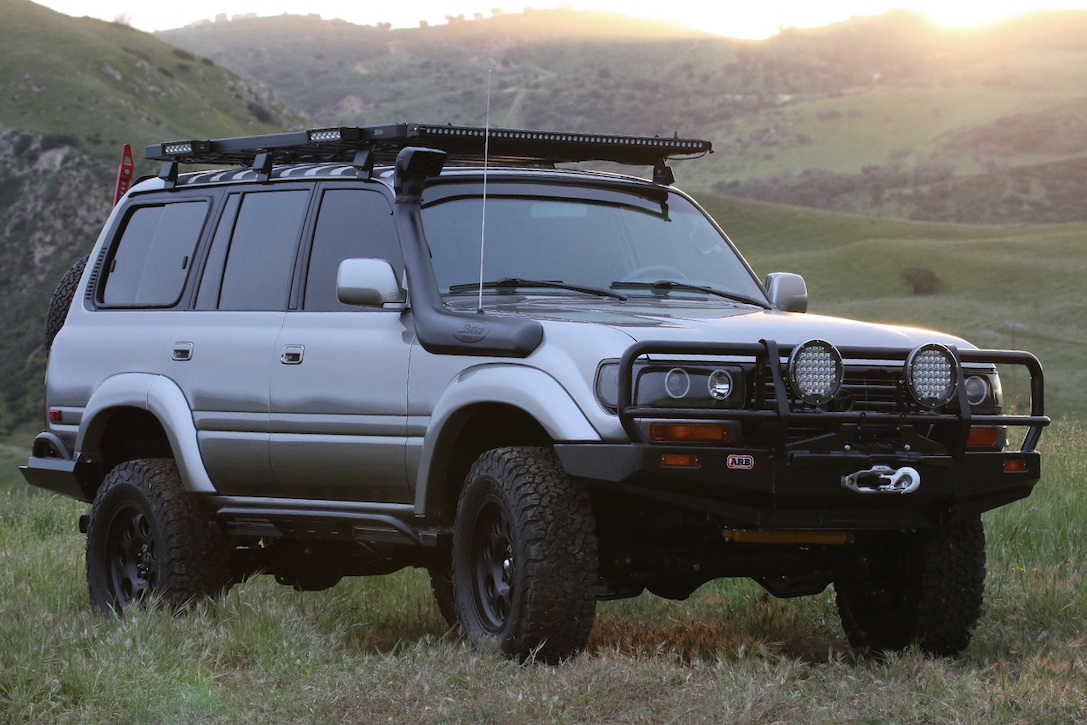 1995 TLC4x4 Toyota Land Cruiser FZJ80 restomod
Joe commissioned a ride to add to his classic car collection called the 1995 TLC4x4 Toyota Land Cruiser FZJ80 restomod. The Land Cruiser 80S series were available from '91 to '97, the most advanced models produced 1995-1997. These models came with 4 wheel ABS brakes, full floating rear differential, the most latter bars and rigid chassis, factory locking differentials, and swiveling cup holders.
As the 80's get older in age, you start to notice more folks wanting to keep their beloved trucks, however they're getting expensive to maintain and are looking to do a complete overhaul- enter Joe Rogan. He hires Jonathan to do a stage 3 restoration which entails purchasing a beater of a car, tearing it down to the nuts and bolts, making sure every new part fits, finding out what doesn't, and then completely disassembling it again.
Once the car is disassembled to the raw frame, they powder coat it, brand new welding, stainless steel hardware,  and begin assembling it from the ground up. Along with a new 5.0L V8, the car was equipped with brand new everything from plastic, to weather stripping, emblems and Nitrogen fused Fox Racing suspension. This next car we see Joe's love for the Porsche shine through.. however in true Rogan fashion, this is no ordinary Porsche..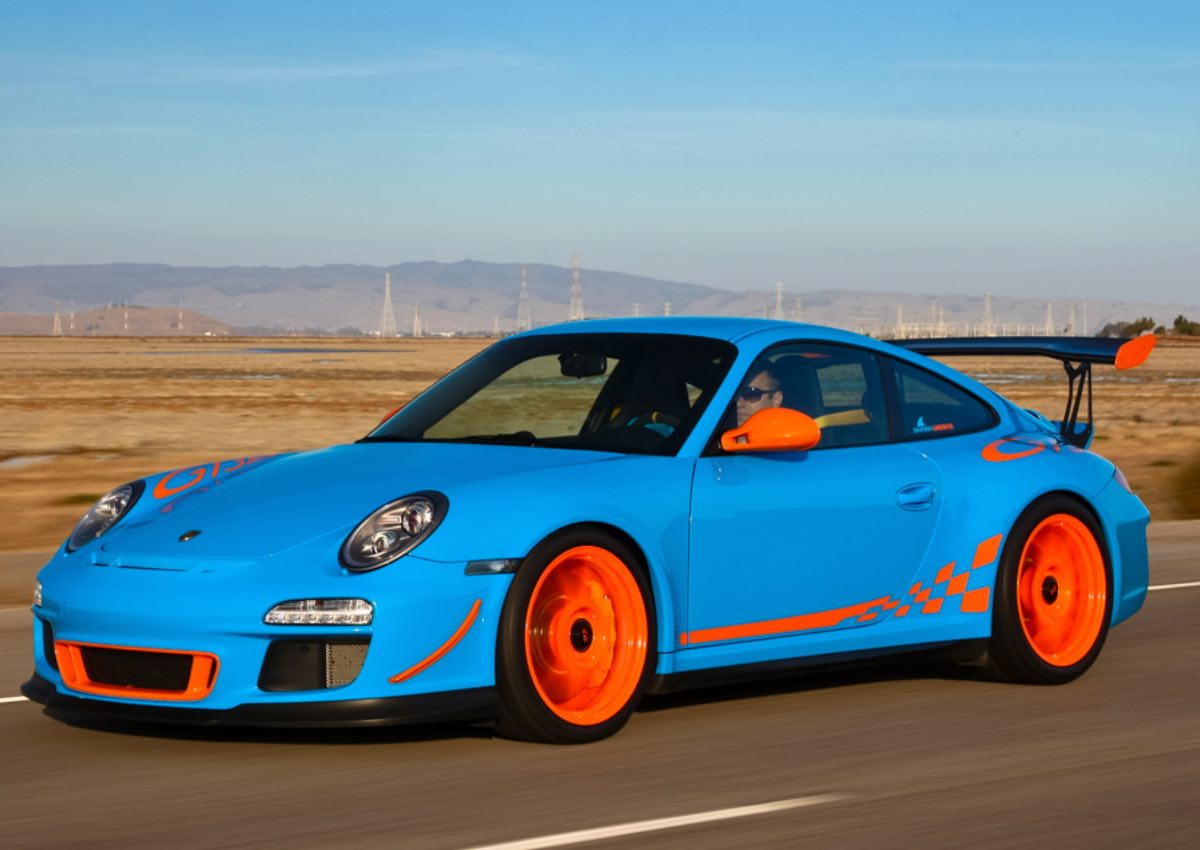 2008 SharkWerks Porsche 997 GT3 RS
Joe loves his Porsches, that's why when the opportunity to purchase a 2008 SharkWerks Porsche 997 GT3 RTS became available, he jumped on it!
See the difference between a regular GT3 and a SharkWerks version is the supercharged engine. Not many people know the difference between supercharger and naturally aspirated, but essentially it's as if you're forcing oxygen into an engine instead of it naturally 'breathing' it in. The result is an extra 100 HP on top of a 4.1L Stroker Motor that already possesses 540 HP.
The engine is cammed to receive 8700 RPM, so in turn, you're getting more torque down low and in the mid range of the car's breadth. There's nothing wrong with the original GT3, it's an outstanding car, and Porsche definitely has the capability to modify it like these guys are doing. However when you're producing thousands of the same car, the cost adds up- that's why Joe likes to add his custom additions.
Do you have a craving for some American muscle after all that Porsche talk? This next car Joe added to his classic car collection might satiate you..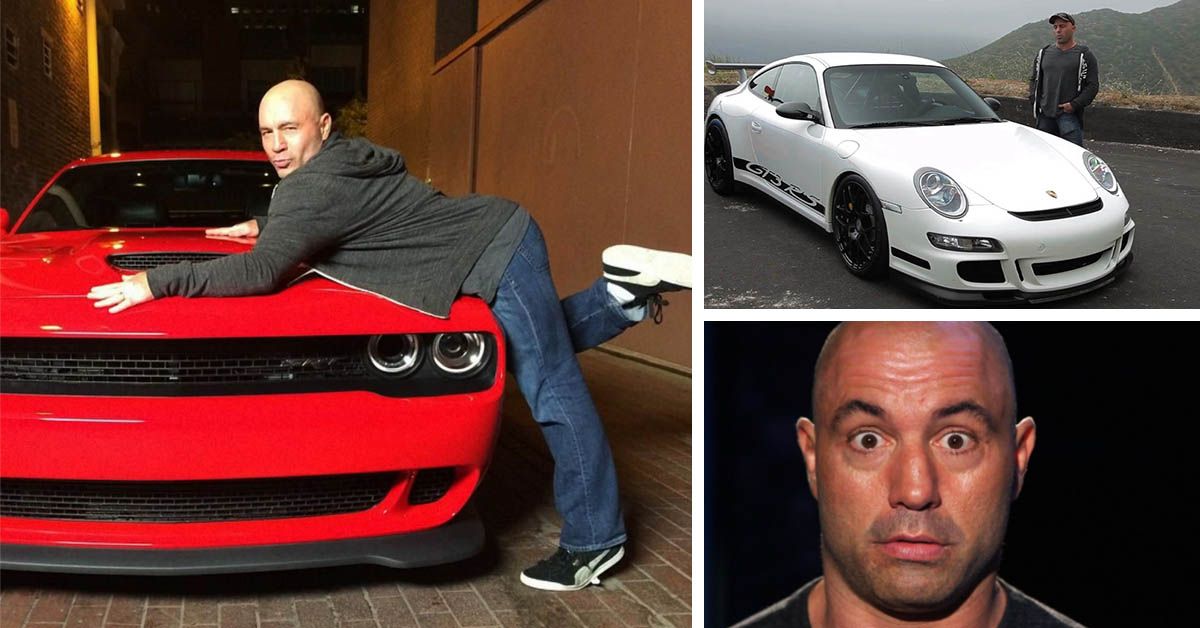 Joe Rogan Cars Meet Life
Joe Rogan has two daughters, whom he frequently talks about on his podcast. Joe Rogan's wife Jessica Ditzel is a former cocktail waitress. Before buying his house in California, Joe and his family lived in Boulder, Colorado.
His martial arts background is extensive and his expertise shines through when commenting UFC fights. He has won 4 full-contact taekwondo championships in Massachusetts, and won the US Open Taekwondo Championships at age 19. He began studying Jiu-Jitsu under Royce Gracie fight in the UFC and has 2 black belts in different Jiu Jitsu schools.
His podcast The Joe Rogan Experience was his ticket to super-fame and podcast stardom, many which believe he has the best podcast in the world. Speaking of his podcast and most recent guest is living legend inventor/ genius Elon Musk. Did you hear what he had to say about Tesla..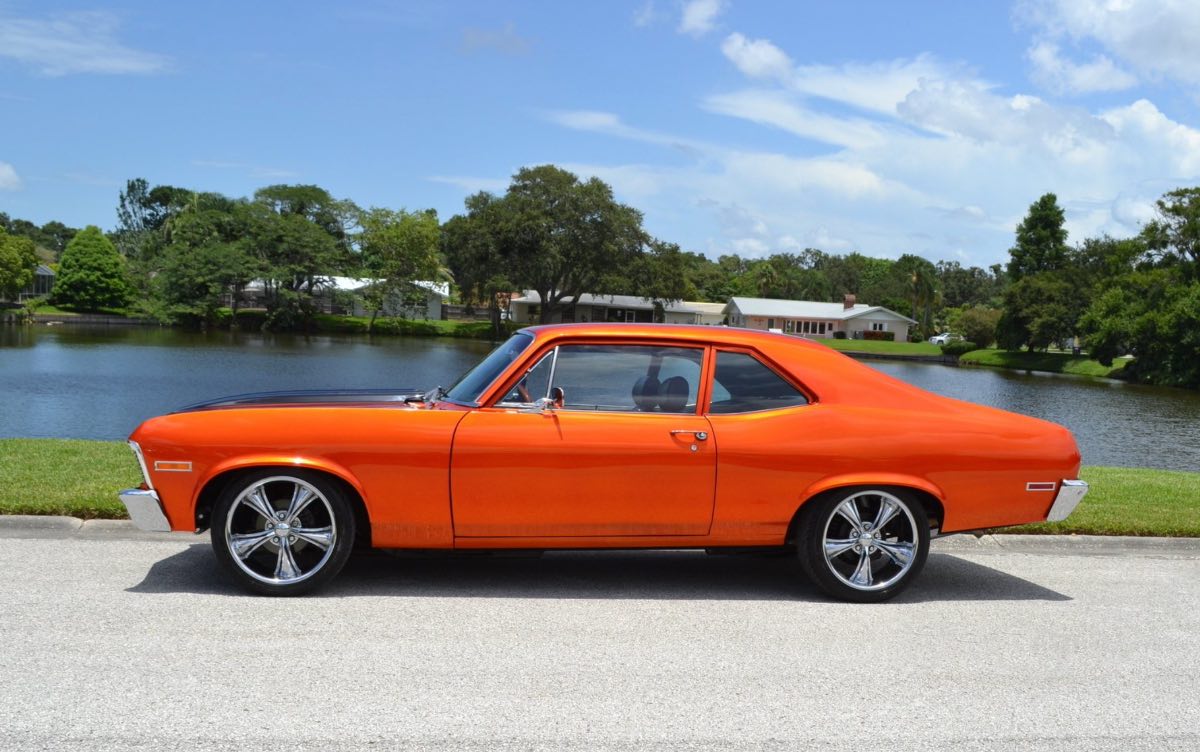 1974 Chevrolet Nova SS
"A must have", in Joe Rogans words, is the 1974 Chevrolet Nova SS.
He commissioned none other than his good buddy Steve Strope over at Pure Vision to carry out this dream! Some of the subtle nods are to the first generation'69 Camaro, clean lines and bare metal. They integrated an AME front subframe and IRS rear clip to improve handling on those windy roads. The powertrain on this bad boy includes a Chevrolet Performance LT4/T56, Bellhousing, Accessory Drive, and ECU. Two '70 Camaro spoilers comprise the back spoiler on on the Nova, because of it's significant width. They began by fiberglass wrapping, 'Frankensteining', two spoilers together, and then using those to pour a mold which the final spoiler was cast from.
It's honestly crazy how they come up with some of these designs! We've talked a lot about the man's possessions, specifically cars and his classic car colletion, but how much do we really know about Joe Rogan? Let's find out a little bit about him in the next slide..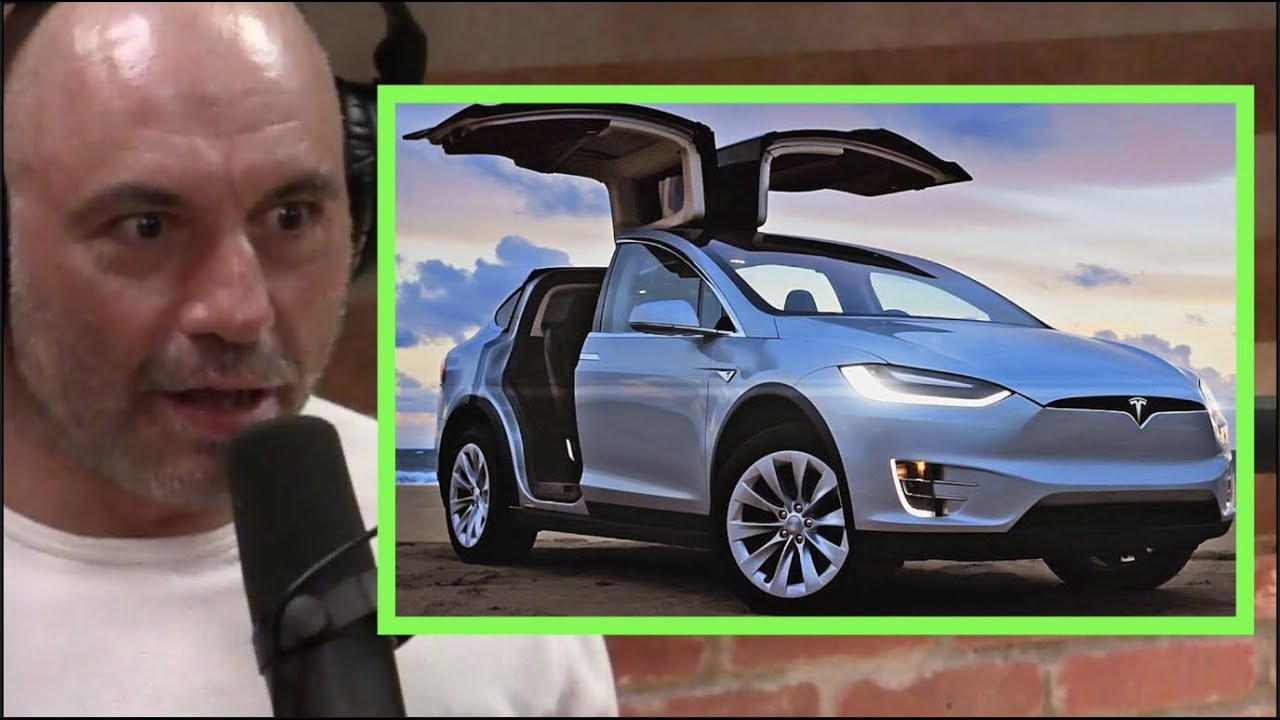 Joe Rogan and Elon Musk Talk Cars
Joe has some unbelievable guests on The Joe Rogan Experience, including car inventor, among other things, Elon Musk. On that episode Elon talks about the progression of the Tesla and how batteries are progressively getting better, lighter and providing longer range.
One of the most profound aspects of Tesla is their capability to manufacture everything almost exclusively in house. This stems from their Gigafactories, which they are building in Shanghai and Austin. Elon talks about the Model Y being the next focus of the company, as he hopes to get more electric cars into the hands of the people of the world. Both of these things are Teslas primary objective, putting what Joe really wanted to talk about, the Tesla Roadster, on the back burner.
Elon did touch on the Roadster, noting that it will be able to travel 400+ miles on a single charge and reach 0-60 in 2.1 seconds. Bringing back into play Joe's fascination with German engineering, his next car he added to his classic car collection is going to blow your mind.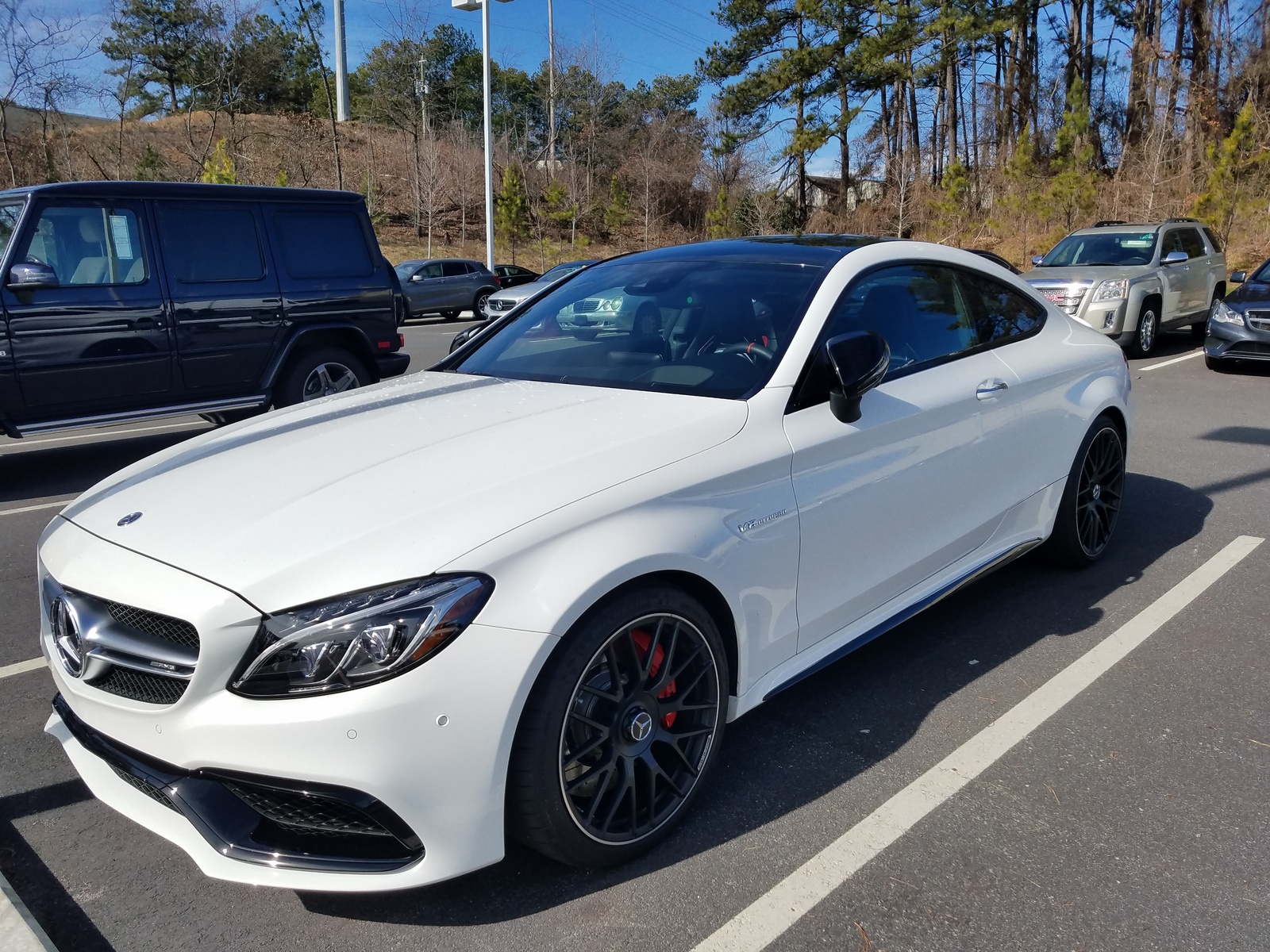 2018 Mercedes Benz C-Class
Joe, having infinite love for muscle in cars, comes to us with no surprise to learn that he owns a 2018 Mercedes Benz C-Class with 503hp.
The curb weight of this car is drawn primarily from the engine at 4200 lbs, but sports a 4.0L V8 engine. For a coupe, this is no walk in the park. Popular among people who enjoy all 4 wheels to be engaged, Mercedes introduced the 4MATIC version which is ideal for handling the road at high speeds. Originally, the C class was available exclusively as a sedan and station wagon. With increasing popularity the people demanded a sexier, more performance oriented version. The CLC class was the facelift Mercedes was looking for until the W204 C Class Coupe came to replace it in 2012. Wow, sometimes I'm in awes at the extent of Joe's classic car collection.
If you've ever wondered about the power seats in your car and thought, "Hey it would be easy enough to throw some shiatsu rollers in her for a massage", this next car is for you!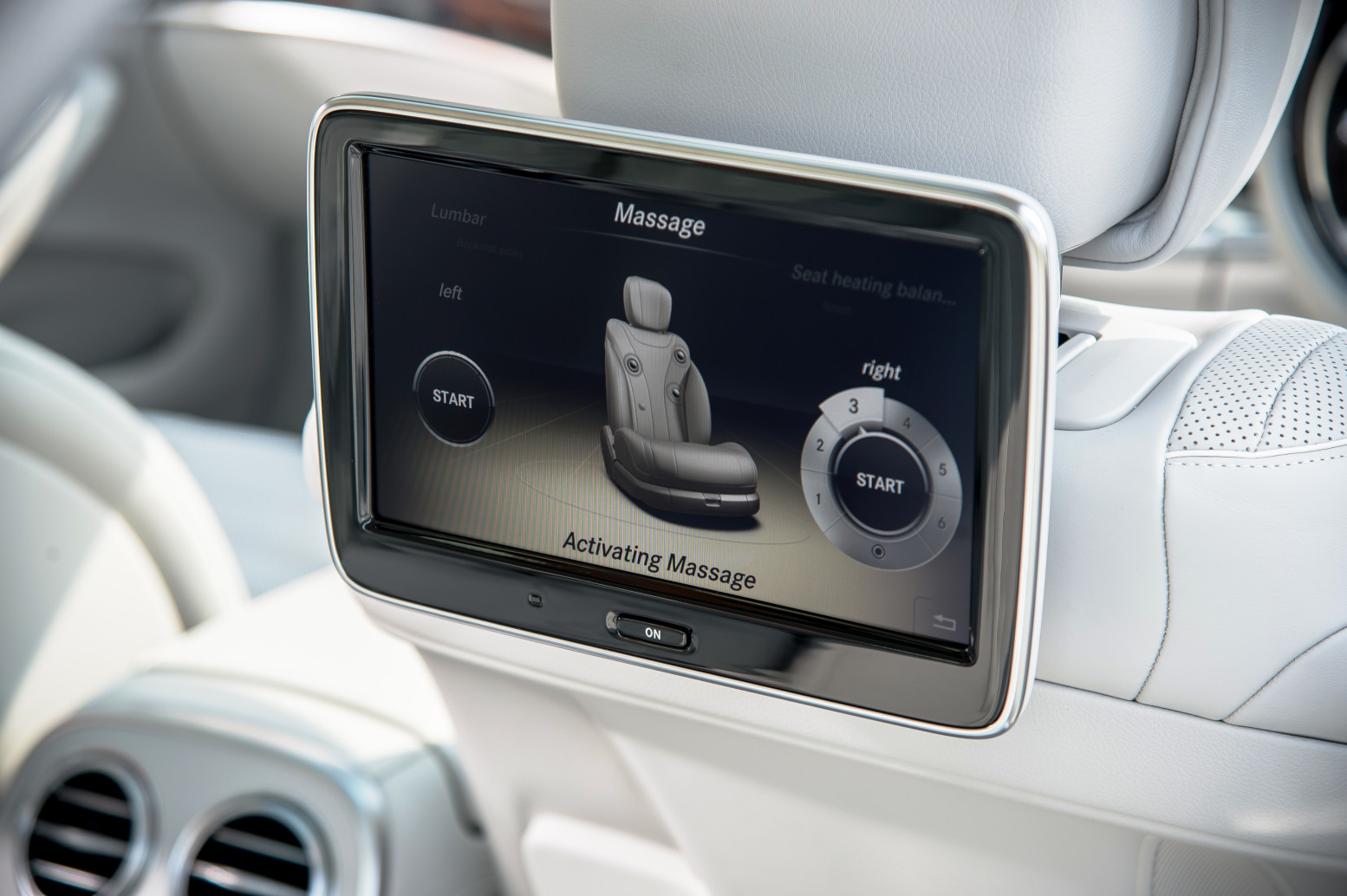 Rogan's Mercedes Benz Has A Hot Stone Massage Option
Joe is an relentless advocate for float tanks, cryotherapy, and any other early adopter body efficiency techniques. Would it surprise you if I said Joe has a massage chair built into his car? That's right, he can receive hot stone massages while traveling down the freeway.
Honestly, it was a matter of time. You can get just about anything else while you drive, fast food, cooler in your glove box, cooled seats, cooed steering wheel, popcorn machine, cookie maker. Heck do you remember the show pimp my ride? Wasn't Rogan on an episode of that? The host of that show was literally putting fish tanks and TVs in the cars, and then putting TVs in the fish tank in the car so the fish could watch it!! Joe, being as fortunate to talk to as many people as he does, had a fellow on there that surely knew his way around cars and classic car collections.
Can you guess who I'm talking about?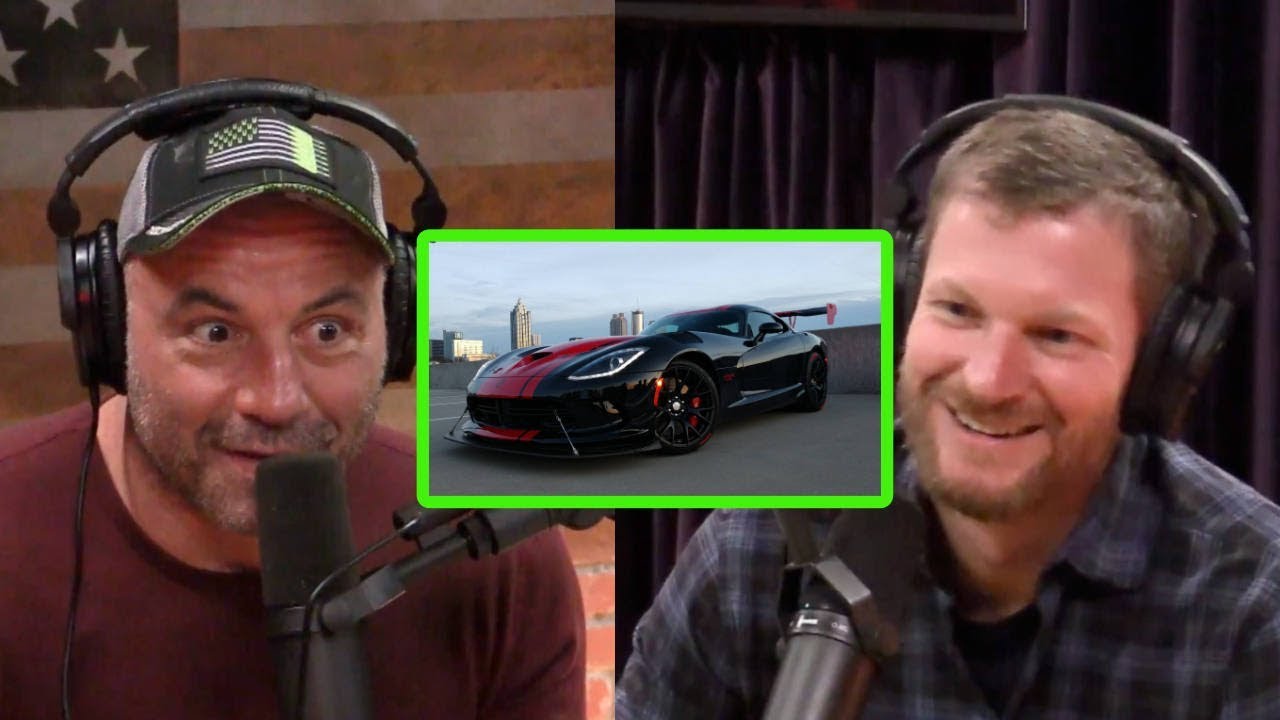 Joe Rogan and Dale Earnhardt Talk Cars
Dale Earnhardt Jr. is one of the most well known NASCAR racers in the world. Following his father's footsteps, he went from a mere cart athlete to a world class speed racer. Earnhardt, coming from the land of infinite horsepower on cars, Joe inquired with him about fears he had of getting that amount of engine into regular people's hands. For example, the Dodge Demon, which will be a classic car collection addition has 702 HP, right out of the factory. He discussed that, while definitely a threat, it's not an impending issue at the moment. There simply aren't enough people with the cash laying around, to go and purchase a factory race car. That being said, Dale did note that no one really knows how to manage a machine of that nature, unless you're a professional racer. So, alas, at some point they will need to get governed.
I hope you enjoyed this dissertation of one of Joe Rogans most prized possessions. From the ultra cool, to the ultra expensive, he sure does have all of his bases covered! Until next time!