50 Most Expensive Homes in the World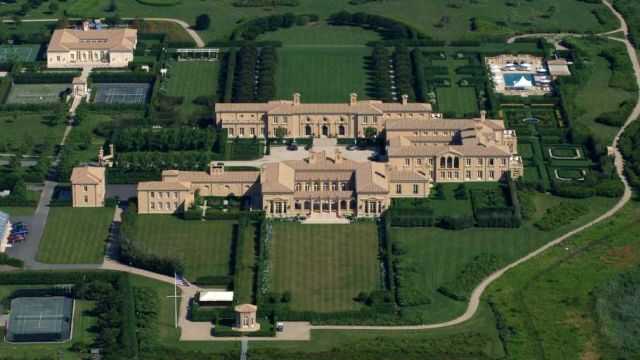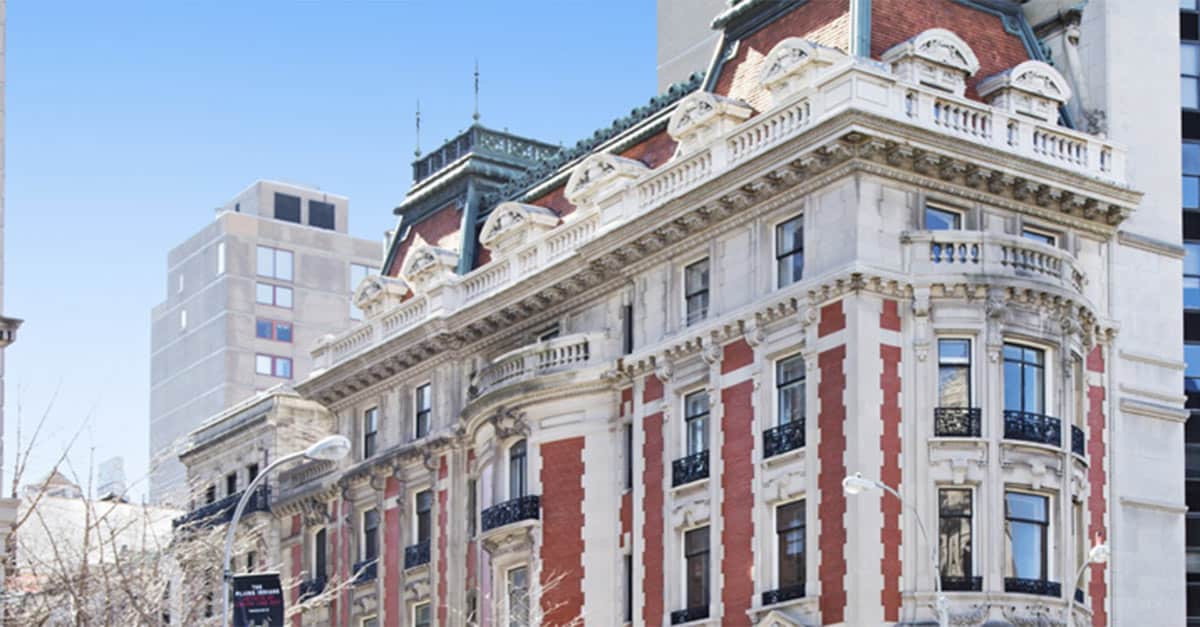 50. Duke Semans Mansion – $44 Million
This mansion is owned by Carlos Slim Helú, a Mexican businessman, and investor. This is an 8 story building. A random fact about this house is that it was designed with the capability of an elevator being installed for every floor.


49. 15 Central Park West – $88 Million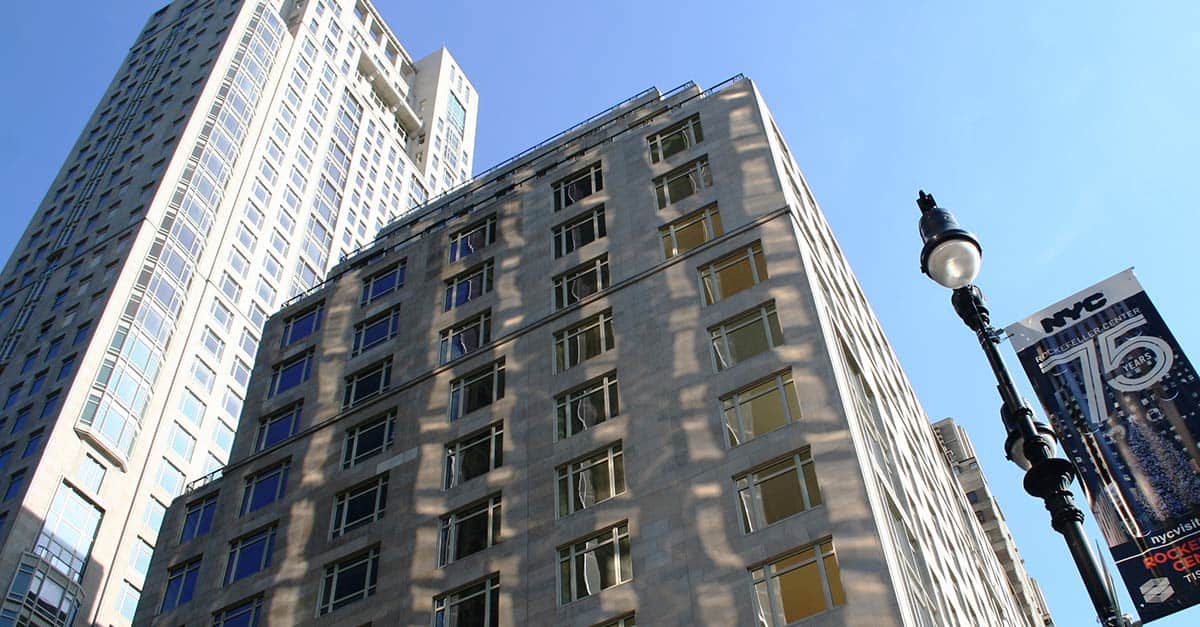 The owner of this penthouse is Ekaterina Dmitrievna, the daughter of a Russian entrepreneur. The Penthouse consists of 10 rooms featuring 4 bedrooms, 2 wood burning fireplaces, a wine cellar, and a full-time staff.

48. 15 Park Avenue – $88 Million
Park Avenue is one of the more famous neighborhoods in the United States—anything that appears on a Monopoly board must have something going for it, right? And the truth is that Park Avenue has just about everything you could want for life in Manhattan: stunning views, a central location, and all the luxury that upper crust urban living can offer. Anyone with an address there must be both loaded and enjoying life. Enjoying life and eating more caviar than is probably recommended by 7 out of 10 medical doctors.
But even the folks on Park Ave. must be a bit jealous of Ekatarina Ryboloveva. This scion of a Russian billionaire received an $88 million apartment on Park Avenue via a trust set up by her family. It's a small place at over 6,000 square feet, with four bedrooms, four and a half baths, a wrap-around terrace and two over-the-top features for any Manhattan property: a chef's kitchen and a rooftop garden.


47. One57 – $90 Million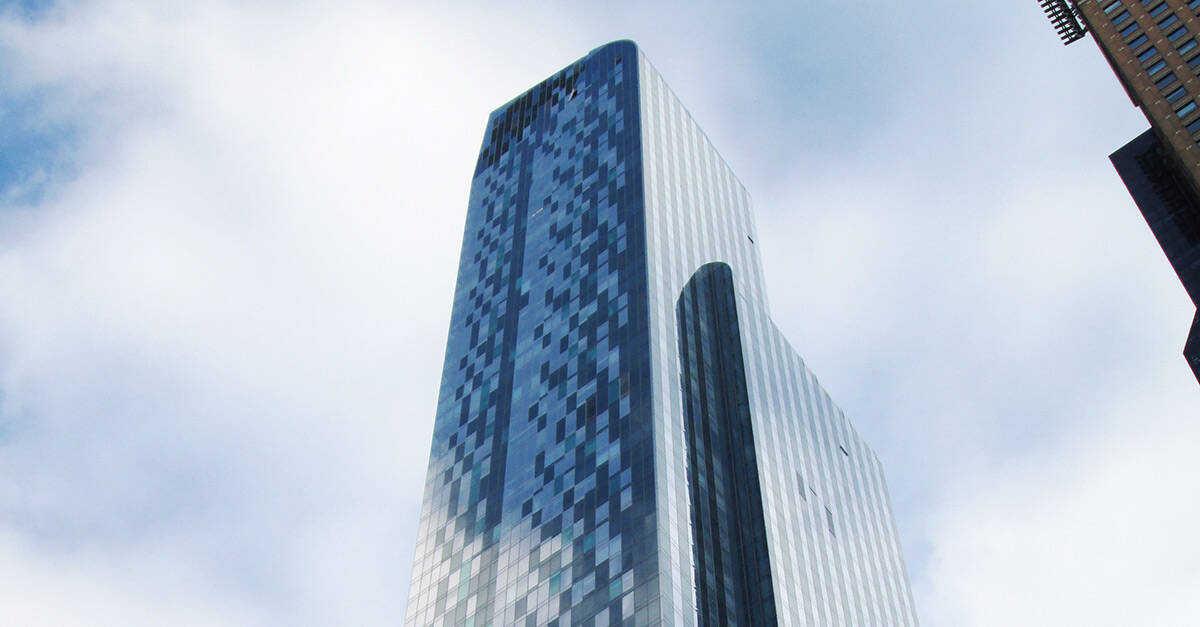 The owner of One57 is William Albert Ackman, the CEO, and founder of Pershing Square Capital Management LP. The 90 story building features 6 bedrooms on the 75th and 76th floor with a view of Central Park and Midtown Manhattan.


46. Promised Land – $90 Million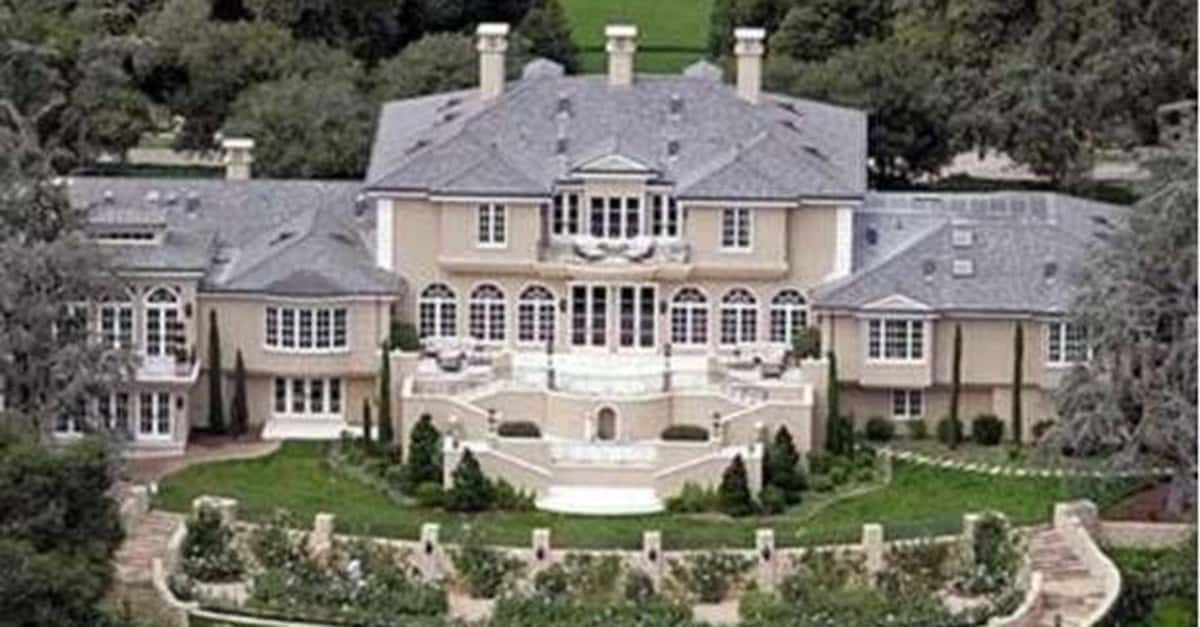 This 42-acre estate is owned by Oprah Winfrey who is known for her huge show, the Oprah Winfrey Show. The house features 6 bedrooms, 14 bathrooms, 10 fireplaces, over 600 rose bushes, a theater, a tennis court, an artificial pond, and a tea house.


45. Brookline Estate
This estate is located a couple of miles outside of downtown Boston. It is owned by former Reebok CEO Paul Fireman. The 26,623-foot mansion features 8 bedrooms, 12 bathrooms, a country club, and a golf course.


44. Pumpin Key – $95 Million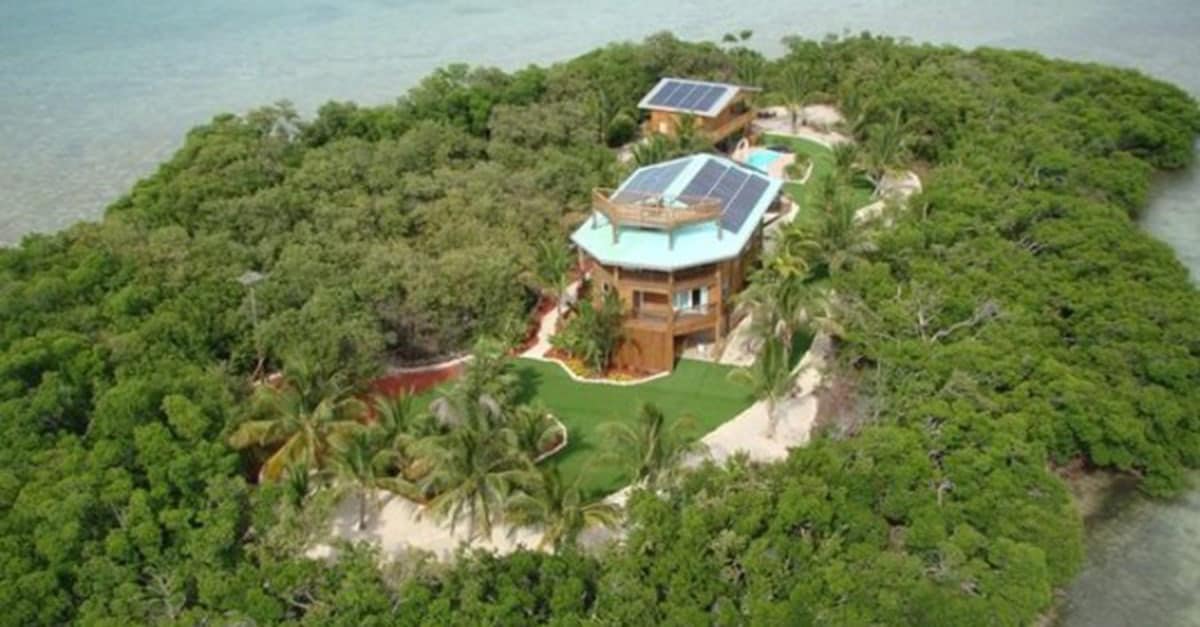 Pumpkin Key is a 26-acre private island with a 5,000 square foot home in the Florida Keys. The island features a main house, numerous cottages, a dock masters' apartment, and a 20-slip marina that can accommodate a mega yacht, golf cart paths, and a tennis court that also serves as a Helipad.

43. Maison de L'Amitie – $95 Million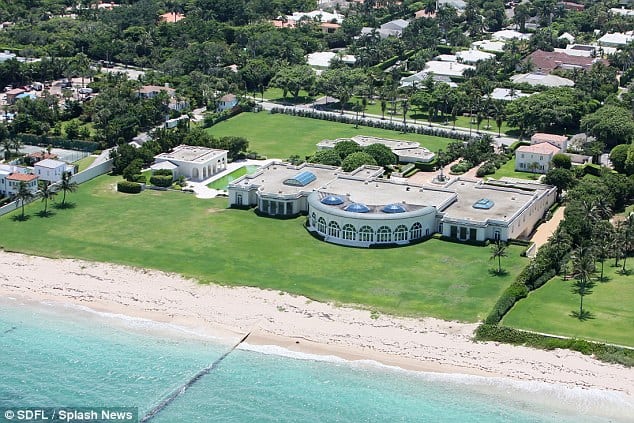 Palm Beach, Florida is another address synonymous with hyper-luxury. And golf. And retirees . . . but back to the luxury. Maison de L'Amitie– "Friendship House", in 'Murican—is one of the more famous luxury properties in the United States and definitely ranks among both the largest and most expensive.
The entire property consists of five buildings: the main house, two guest houses, a pool house, and a barn—any one of which we'd be happy to live in. The main house is cozy 62,000 square feet, and a description of the interior reads like a laundry list: 18 bedrooms, 22 bathrooms, a ballroom, a media room and an art gallery. We're not sure what "media room" means—they wouldn't let us in to look around—but we suspect that it's something along the lines of "private movie theatre and performance space with state-of-the-art digital tech oozing from the walls"
Currently, Maison de L'Amitie is owned by a Russian billionaire—who bought it from Donald Trump. Sometimes the jokes write themselves.


42. Fifth Avenue Duplex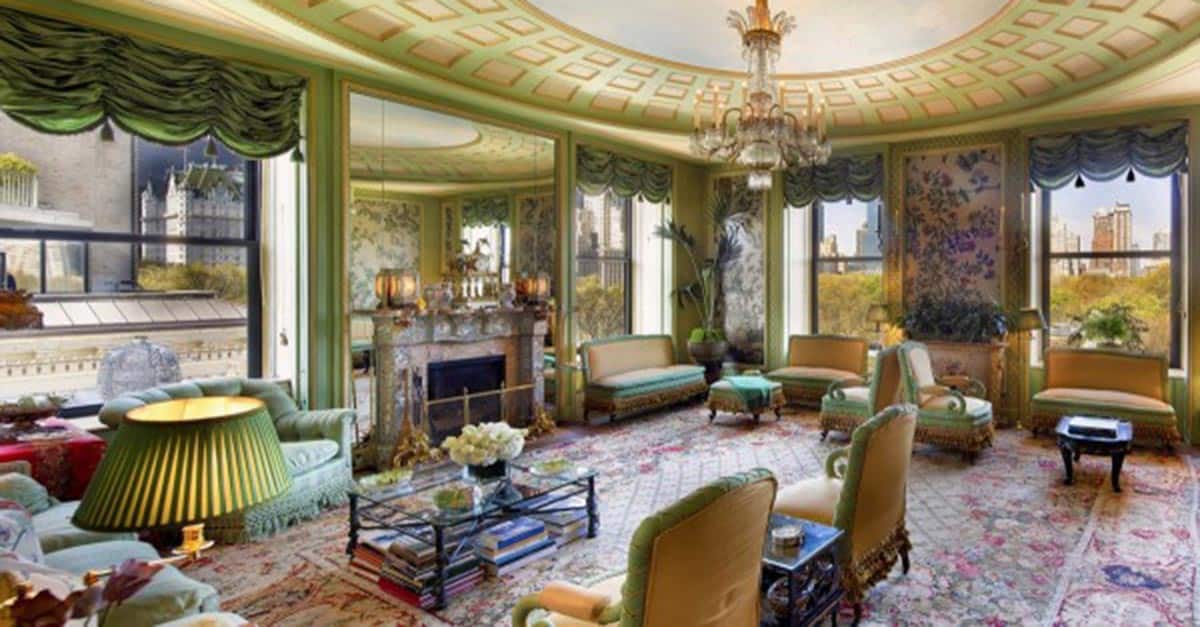 This duplex sits at 834 Fifth Avenue in New York City offering Central Park Views, a library, 20 different rooms, and a wine cellar.

41. 9A Kensington Palace Garden – $99 Million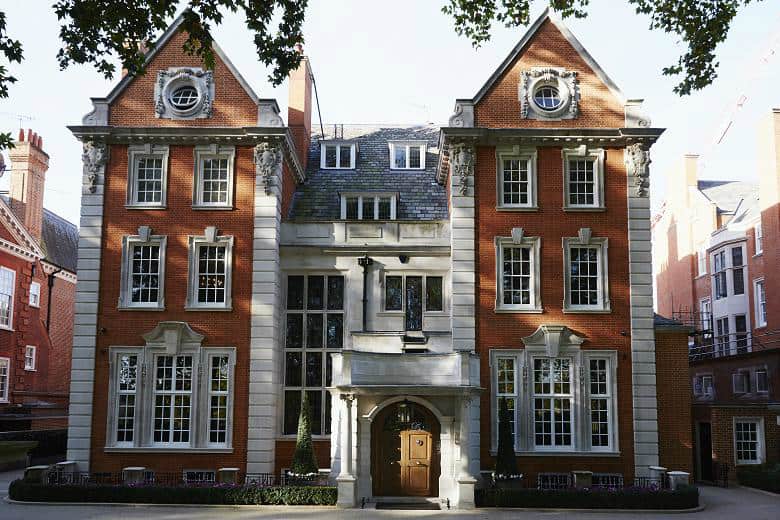 We know, we know—you spent your London vacation pub-crawling and pretending to visit museums, but if you had bothered to dig into the life of the city you'd have learned a few things—namely that due to some urban planning decisions made in the 1950s, London is overcrowded and real estate citywide is in short supply. Any Londoner knows that apartment hunting in that lovely city is best described as either "an adventure" or "an exercise in mind-melting frustration". So it should come as no surprise that some of the priciest homes in the world are found there.
And the crème de la crème of them are found in Kensington Palace Garden. Nestled in the heart of London's embassy district, this picturesque little tree-lined avenue has picked up the cute nickname of "Billionaires' Row" due to its residents, the only people able to afford some of the most expensive houses on the planet.
9a Kensington Palace Garden is the jewel in the crown, so to speak. Purchased in 2009 by a steel magnate for his daughter—presumably as a quick little "love you" gift—the $99 million property is a historic Georgian home that once served as the Embassy of the Philippines. It's hard to get swankier than a home that was chosen to represent an entire nation.

40. Yuri Milner's Silicon Valley Mansion – $100 Million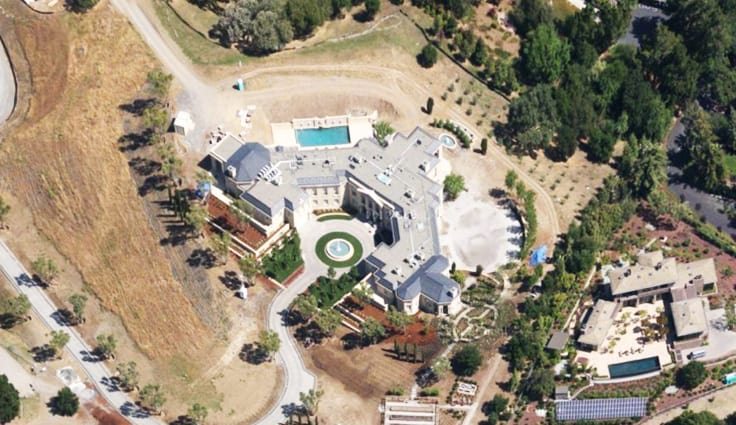 Spoiler tag: this list is going to contain a lot of Russian billionaires. Say what you want about those guys, but they love excessively large homes and lavish, lavish living.
Silicon Valley may have a reputation as nerd central and The Place From Which Bad Windows Updates Come, but in reality, it's also home to some of the most exclusive real estate in the country. And Los Altos Hills is one of the more upscale places even within the virtual enclave that is Silicon Valley with a median home price of a whopping $2,896,103. That's nearly three million dollars for an average property. We're fairly certain we can't afford to even park our cars there.
But Yuri Milner sure as heck can. A Russian billionaire who made his fortune by investing in little companies like Facebook, Groupon, and Zynga, Yuri has enough in the bank to make a $100 million purchase. His Los Altos Hills estate has two dining rooms, dozens of bedrooms and bathrooms, two outdoor and one indoor swimming pools, and a garage large enough for a fleet of luxury cars.

39. Versailles Replica – $100 Million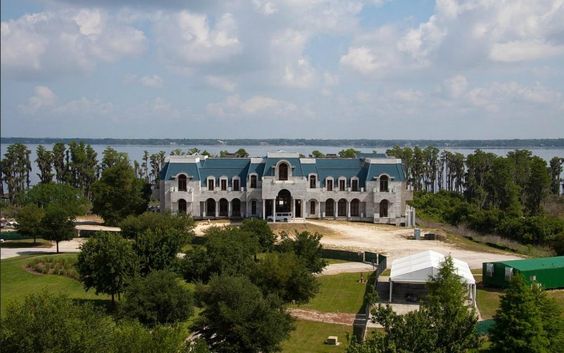 David and Jackie Siegel are the power couple behind Westgate Resorts, so let's assume that they know quite a bit about high-end accommodations and upper-class living. They apparently also have a taste for history, as their new home in Windemere, Florida draws its inspiration from past luxuries. We present Versailles House, modeled after the world-famous French palace that has long stood as a physical manifestation of decadence.
No expense was spared for this home, which we guesstimate costs well north of $100 million. Located on a 10-acre lakefront estate, the Pavonazzo marble exterior covers a mind-blowing 14 bedrooms, 32 bathrooms, a bowling alley, an indoor skating rink, three indoor pools, a video arcade, and a ballroom that can comfortably hold around a thousand people. The doors and windows cost a paltry $4 million in total—they're made of some of the last Brazilian mahogany in the world.
As we write this, the house is still under construction, so who knows how much more excess the Siegels will build in before it's all over. One thing is for certain: like its French forebearer, this is a home that will stand the test of time.

38. Fleur Dis Lys Home – $102 Million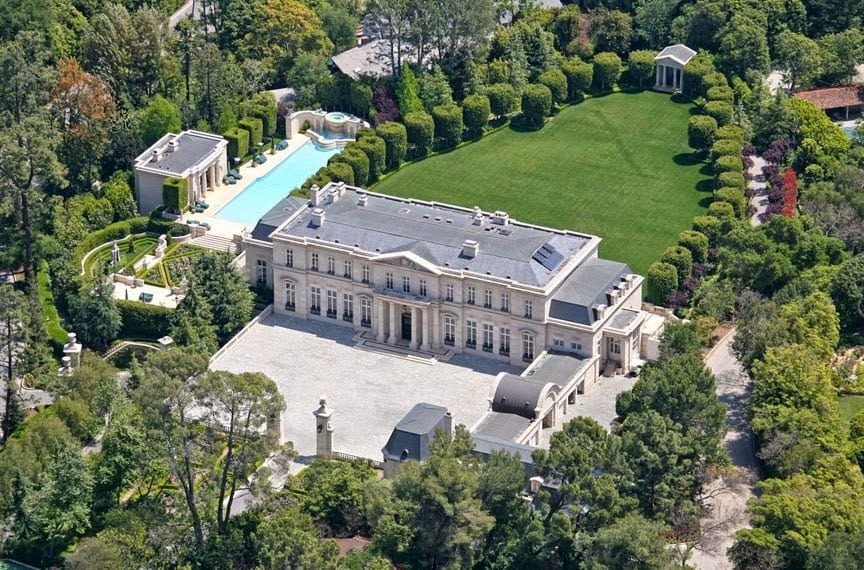 Not being wealthy ourselves—writing articles for the Internet doesn't rake in the big bucks—we'll never know what goes through the minds of the insanely rich. Case in point: What is it with modeling their houses on the decadence of the past? It happens all the time, and we've got another example here for you: Fleur de Lys House in greater Los Angeles, California.
Built in the amazing year 2002, back when we all had some lingering confidence in the economy, Fleur de Lys is another megamansion drawing its inspiration from the palace at Versailles. Located in the Holmby Hills district of LA—right next door to Bel Air, for all you 80s/90s kids—Fleur de Lys is a study in extremes. A roughly 4-acre lot is home to a pool house, a gym, a running track, a tennis court, and a guest whose. All of which pales in comparison to the main house: 12 bedrooms, 15 baths, a movie theater, a ballroom, a vast dining room, all housed within a 35,000 square foot plus mansion built to look like the French palace of yore. Who owns it now? A French billionaire. We almost wish we were making that up, but sometimes irony does rear its ugly head.

37. East Hampton Compound – $103 Million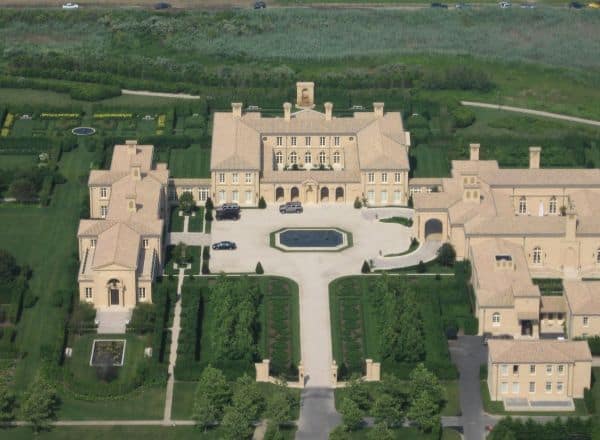 This entry comes with a healthy dose of drama. Adelaide de Menil is the heir to the famous New York Schlumberger family and its vast fortune—including a huge number of real estate holdings. Among these was a 40-acre property in East Hampton that was pretty much undeveloped. So, like we all do, Adelaide starting using it as a dumping ground for other houses and buildings she had purchased. We repeat: the woman had so many buildings that she had to have a property just to put her spare buildings on. We're told most of these structures were historic homes from around the state that Adelaide wanted but couldn't be bothered to drive to.

However time ran on and the East Hampton property apparently became a burden, so Adelaide decided to sell it. The buyer was one Ron Baron, an American financier who laid out a cool $103 million for the land. His goal is to build a luxury home that will take advantage of the beachfront location and relative isolation.
While we wish him the best with that, we have to wonder: where will poor Adelaide keep her spare buildings now?


36. Las Varas and Edwards Ranches – $108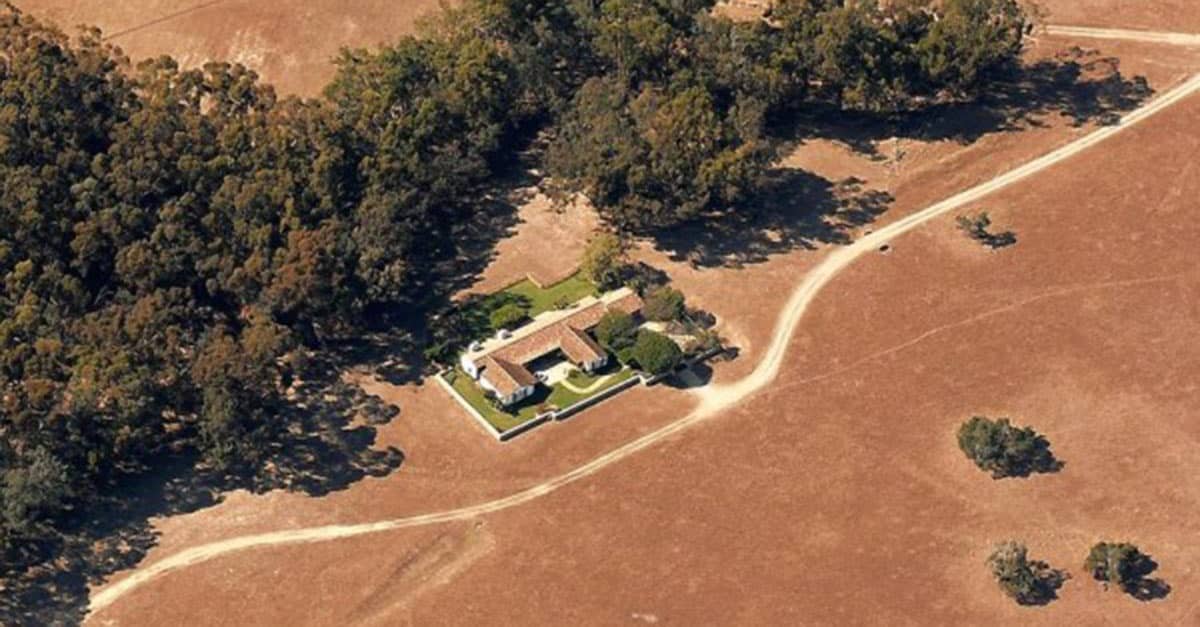 The Las Varas and Edwards Ranches are 240-acre ranches close to Santa Barbara, California. The Ranch offers amazing views of canyons and oceans. The ranch even features a private beachfront. On this ranch are a 3,500 square foot main residence, cottage, guesthouse, a barn, and numerous building that date back to 1880.

35. Upper Phillimore Gardens – $112 Million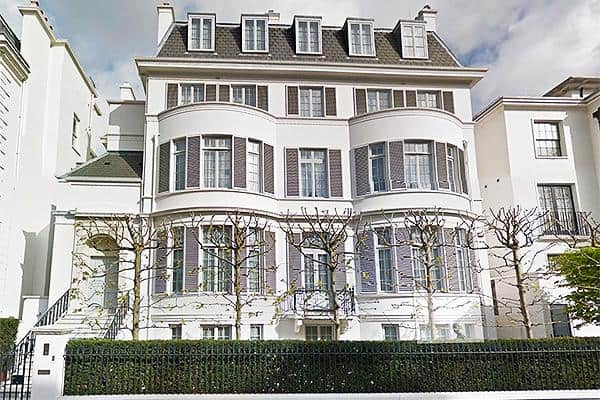 Ah, Upper Phillimore Gardens—even the most cursory glance at the neighborhood lets you know that this one is extra-swanky. Located in—and we're not making this up—the "Royal Borough of Kensington and Chelsea", Upper Phillimore Gardens (UPG? Is that a thing? Can we make that into a thing? Someone start a hashtag) offers everything an especially decadent Londoner could want in urban living.

Boutique shopping, fine dining, historic markets, and rich architecture—in one of the most densely populated parts of London. In the highest-earning district in the country. Upper Phillimore Gardens may be lovely, but the real estate prices are not for the faint of heart. A case in point is a lovely little Victorian-era villa recently purchased by the daughter of a Ukrainian business magnate and politician. A five-story home with an understated exterior, details about what goes on within the walls aren't forthcoming. However, we have it good authority that there are 10 bedrooms, a gym, an indoor swimming pool, and a cinema. Which must make for some really interesting weekends—and a sales price of around $112 million.

34. Woodside, California Estate – $117 Million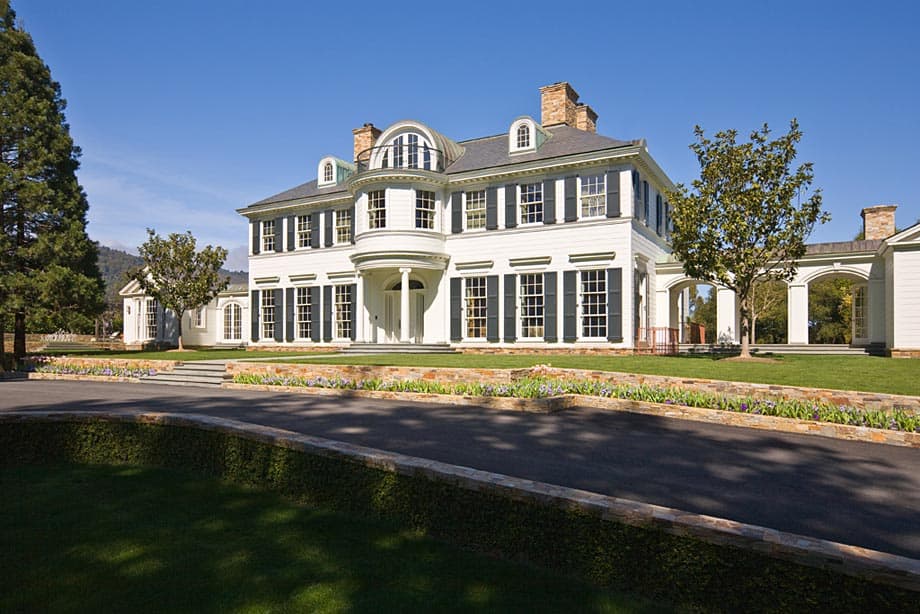 Woodside, California, is a lovely little community located in picturesque San Matteo County. You're far enough along in this article to know that jargon like this indicates that housing prices are going to be insane—and they are. And it's pretty easy to see why: the whole community is within sight of beautiful, pristine mountains. And by "within sight" we do mean "surrounded on all sides by some of the most stunning mountain vistas in California."
This is a place that has inspired artists, writers, and other creative people to achieve some of their most monumental creations, so its no wonder that architects felt the same way. There's a long tradition of using the natural landscape to shape the buildings—think of Frank Lloyd Wright's "Falling Water." Allan Greenberg's Woodside House is a 9,000 square foot mansion on a huge estate complete with swimming pools—yes, more than aone—tennis courts, and the humbling sight of the surrounding mountains. Mother Nature's majesty commands respect—but then again so does a $117 million dollar estate.

33. Bill Gates' Lake Washington Estate – $120 Million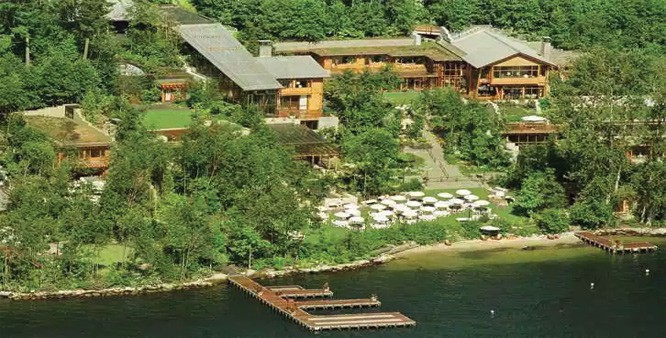 You've seen Orsen Welle's magnum opus/possibly greatest movie of all time, Citizen Kane, right? Right? Well, if not pretend you have—just use the word "Rosebud" a lot and folks will buy your bluff, at least for a while. Well, the eponymous hero Charles Foster Kane rises to unbelievable heights of wealth and power, and along the way, he also acquires an estate he names Xanadu. Kane, however, is a product of America's Gilded Age, during which tycoons rolled hard and big money leads to the creation of big companies, big monopolies, and big, big buildings. Those days are past and we're living in a very different America, and it's hard to imagine who would have the financial clout to dominate an industry and . . .

. . . it's Bill Gates. The founder of Microsoft is also the proud owner of a $120 million dollar plus estate located in Seattle on the shore of Lake Washington. Given the perhaps foreboding moniker of "Xanadu 2.0"–which perfectly combines both nerdiness and a complete lack of modesty—the $120 million-plus estate has something for everyone: a large library, multiple swimming pools one with an underwater sound system, and a private gym roughly 2,500 square feet in size. While this is impressive, nay, awe-inspiring, we do have one question: is there sledding? We feel like there should be sledding available, all things considered. Don't get the reference? Go watch Citizen Kane already!


32. Rancho San Carlos – $125 Million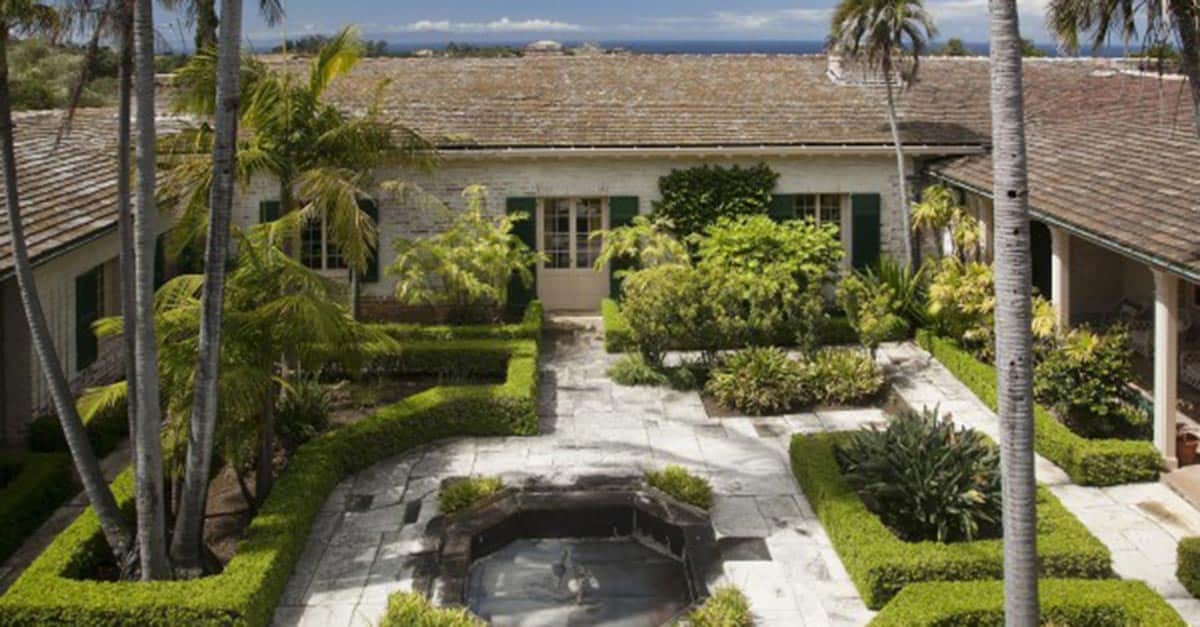 This ranch is located in Montecito, California. The estate is 237 acres and features a 30,000 square foot main house that was designed by Reginald Johnson in 1931. Also on the estate are 10 cottages, equestrian facilities, and several acres of citrus and avocado orchids.

31. The Blossom Estate – $130 Million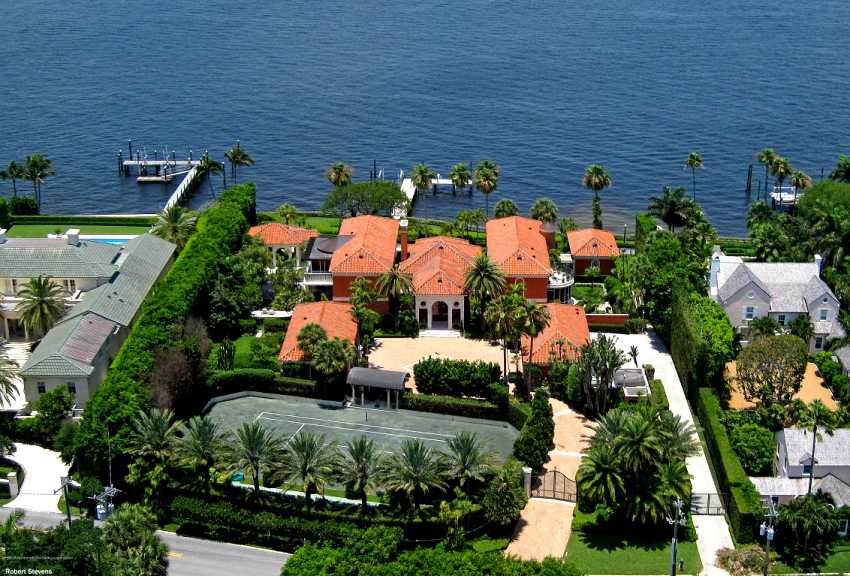 This one is especially intriguing, as it shows the ways in which money allows you to shape the world to your desires. Florida real estate has long been a hot-topic item: properties change hands quickly and often at great cost, and there's very little undeveloped space left in any of the more posh areas within the Sunshine State. All of this is especially true for the area around Palm Beach and double so for the posh Orange Blossom neighborhood. One does not casually buy-in around there—at the time of this writing, there are no listed properties for sale.
Which makes what happened back in 2013 so much more amazing. One single buyer—known to us only as a Delaware based LLC, so it really could be anyone—bought three adjacent lots for a total price of $130 million. The new owner now commands a total of eight acres of beachfront property, upon which is located at least one mansion. We repeat: we're really not sure how many mansions come with the price tag here.
We're told that one of the homes is an "Old Florida style shingle dwelling with five bedrooms". Given the money involved, we suspect there's a bit more going on here.

30. Broken O Ranch – $134 Million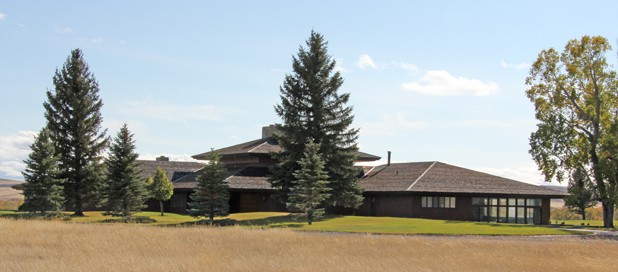 Astute readers will note that this list tends to focus on either urban properties or beachfront estates—there's very little thus far in the rest of the country. What gives? Are there not high-end properties or ultra-lavish estates out there in the wide open spaces of America? I mean, there's a lot of beautiful places in the country that aren't Park Avenue or a convenient walk from the beach . . . so where are they?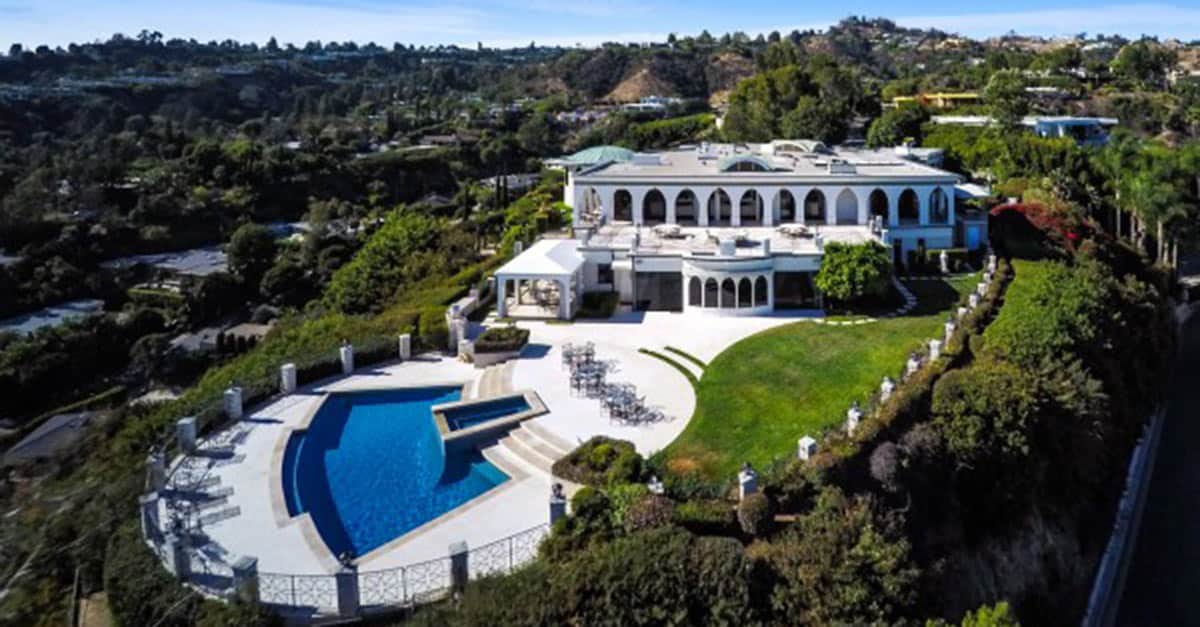 Well, we found one. Montana's Broken O Ranch is one of the ritziest portions of the Old West. Large enough to border on three separate counties in Big Sky Country, the Broken O combines the rugged and self-sufficient spirit of the high plains with the luxury and style that contemporary elites love to love. 124,000 acres, including twenty miles of the Sun River and over 4,000 cows, there's enough space out here to give anyone breathing room. We don't know much about the buildings—there are more than a few of them, as you might imagine—but we're told that the main house is large, lavish, and tastefully appointed in a very Western style with an emphasis on craftsmanship. All of which comes at an affordable price of $134 million.


29. Former Danny Thomas Estate – $135 Million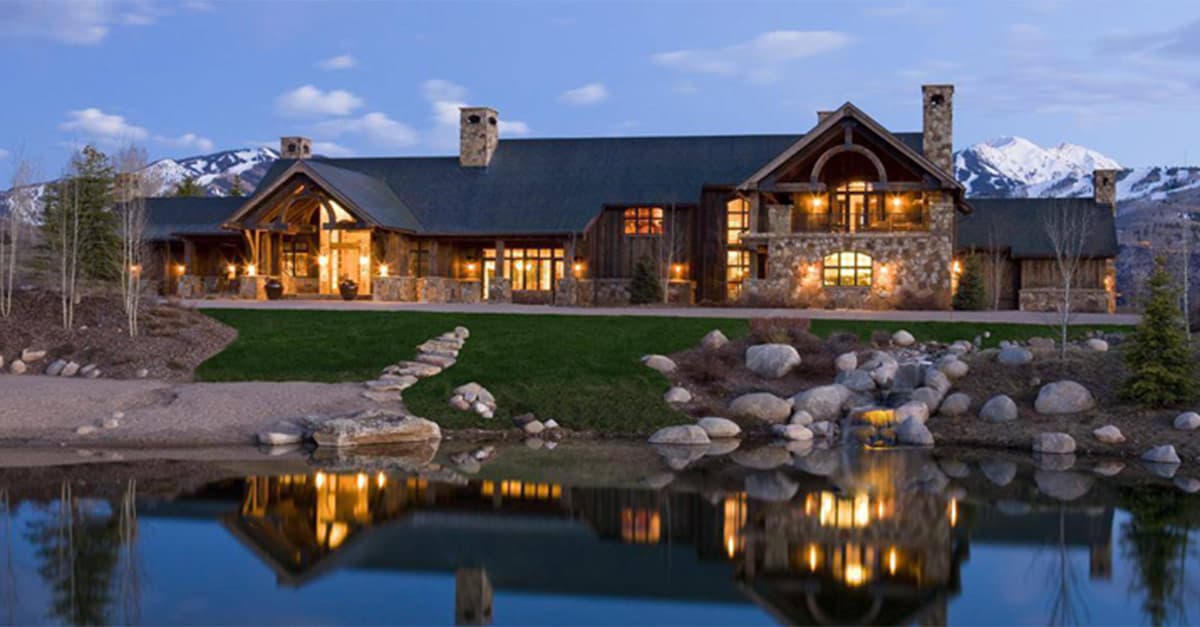 The 18,000 square foot mansion features 7 bedrooms and 10 bathrooms, gold leaf ceiling, tile work, and painted ceilings. Also in the estate are chandeliers and custom carpets worth $2.5 million. Also on the estate is a pool and pavilion.


28. Hala Ranch – $135 Million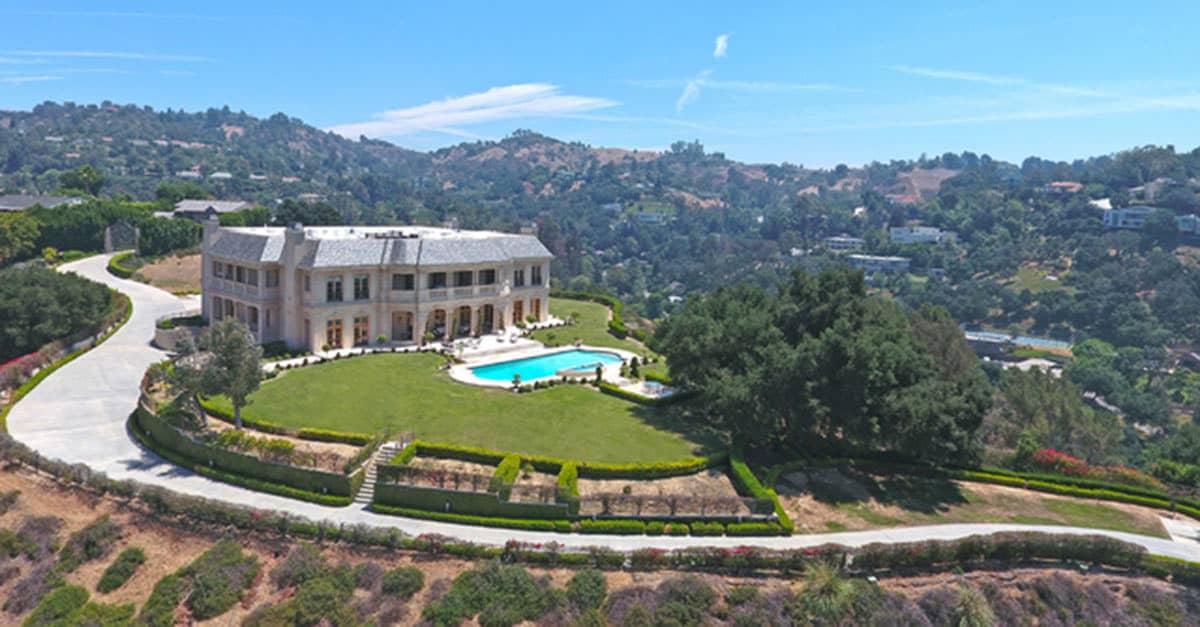 John Alfred Paulson owns the Hala Ranch in Aspen Colorado. He originally bought from the Saudi Prince Bandar bin Sultan. The Ranch features 15 bedrooms and 16 bathrooms. The ranch also has several extra building s like a gas pump and a water treatment plant.


27. Wallingford Estate – $135 Million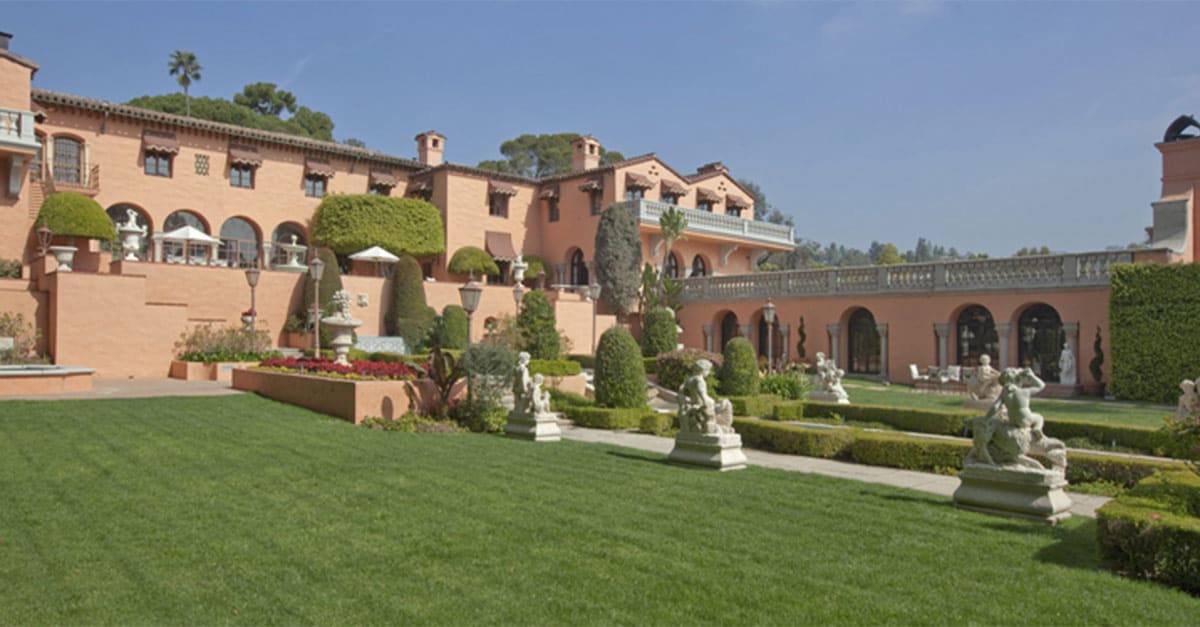 The Wallingford Estate is on 5 acres overlooking Beverly Hills, California. The 38,000 square feet home features 12 bedrooms, a 155-foot "infinity edge" swimming pool, an indoor sports facility housing a boxing ring, weights, and a cardio gym, basketball and pickleball courts, a sports bar and a video wall. The Estate also features a guest penthouse, a caretaker's house, a 10-car garage, and a 2 bedroom guardhouse.


26. Shepard Krech House – $140 Million
The Shepard Krech House is owned by former Esquire magazine publisher and education entrepreneur Chris Whittle. The house is 10,300 square feet with 6 bedrooms, 4 fireplaces, an art gallery an exercise room, and a guest house.

25. 19 Kensington Palace Gardens – $140 Million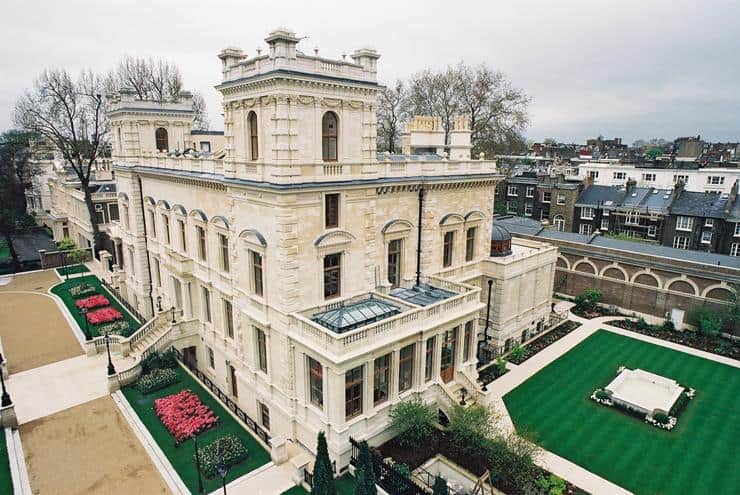 Oh look, we're back in London, in our favorite neighborhood of Kensington Palace Gardens—we visited it at the beginning of the list, remember? It's still one of the richest neighborhoods on the planet, and it's still way beyond anything we can imagine in terms of real estate prices. But don't worry, we found parking for the low price of a second mortgage and now we can continue to explore the lifestyles of the rich and famous . . .
Enter one Roman Abramovich, who is a—wait for it!–Russian billionaire business tycoon with a taste for high-end living. Because of course, he is. Anyway, Abramovich was looking for a little corner of London to call his own and he found it in 19 Kensington Palace Gardens. His modest estate—purchases for a paltry $140 million—is home to five bedrooms, some untold number of baths, a swimming pool, fore-and-aft terraces, a giant dining room—and that's before Abramovich started to customize the place. He added an extensive underground addition—requiring some pretty slick engineering in order to finish—which includes a tennis court, gymnasium, and a museum for his collection of Ferrari sports cars. Go ahead and read that last bit again. Go one. Do it. We didn't make that up, dear reader.

24. Uptown Court – $140 Million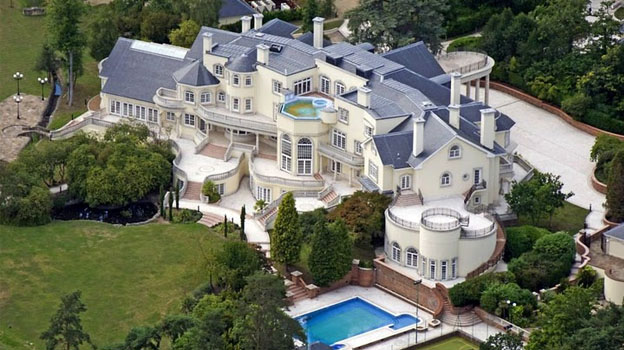 The UK is famous for some frankly bizarre places names. Weston-Super-More, Cowshit Lane, and the presumably well-policed village of Studley Constable all stand out. And this excess of nomenclature applies to private estates as well, hence the estate of Updown Court. Located in the village of Windlesham in Surry, Updown Court is often described as "a California style exclusive residence build in the heart of the English countryside."

So the rich in the Old World use the New World for inspiration? There's some balance left in the universe, after all.
And like all things California, Updown Court goes big to the point of ridiculousness. A 58-acre estate crowned with a 103-room mansion, this is not for the faint of heart. There are 24 bedrooms, each with an en-suite bath. There are five swimming pools. There is a squash court and a tennis court. There's a wine cellar with space for 3,000 bottles. There is a panic room. There are guesthouses. There is, in short—everything. Everything you could want is probably found somewhere on this ridiculously named property. Oh, and just to make it extra tempting—Elton John owns the estate next door, which surely adds to the $140 million asking price.


23. West Creek Ranch – $149 Million
The West Creek Ranch was owned by Discovery Channel founder John Hendricks. The 7,000 acre lies in-between the border of Colorado and Utah. The 22,000 square feet ranch features 8 bedrooms, 8 baths, a chef's kitchen, an art studio, a game room, a study, and a gym. On the ranch, there is a pool and an observatory.

22. The Manor – $150 Million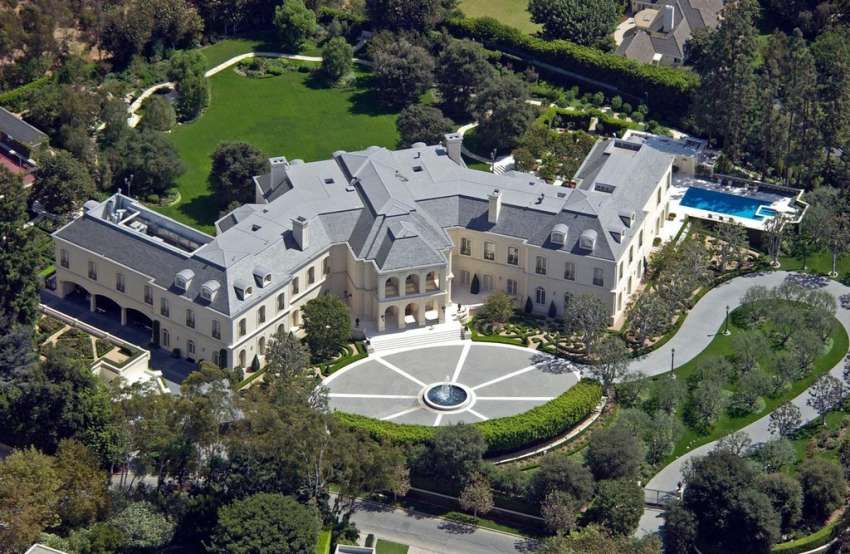 Speaking of California, it's time to hop back to the Los Angeles area and take a look at Holmby Hills again—the very rich do like to live together, don't they? And like Updown Court, this estate features a rather silly name: The Manor.

Really? That's it? Was it just . . . I mean, surely you could have come up with something . . .
Oh well. Most recently sold for $150 million to the daughter of Formula One racing giant Bernie Ecclestone, the Manor was built in 1988 for television producer Aaron Spelling and is the largest home in Los Angeles County. We've used the phrase "excessive luxury" before in this list, but apparently, Spelling wanted it, meant it, and went there with a vengeance. Featuring the usual collection of private cinema, gym, swimming pools, and the like, there's also enough parking for over 100 cars and three rooms devoted solely to wrapping presents. The château style homestand a whopping 50 plus feet tall, and drew a lot of flack from the surrounding community for being just a bit overblown. Given the neighbors, that says something. But when you've got better than 50,000 feet to play with, the excess may become the name of the game.

21. The Pinnacle – $155 Million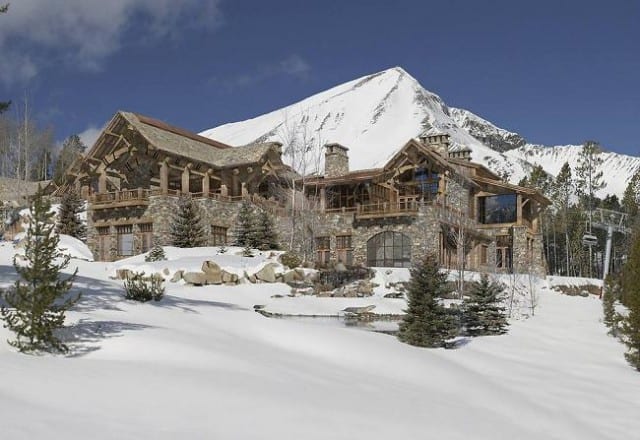 Oh hey, look Montana's back on the list. We're actually really glad about that—maybe sometime Wisconsin or Iowa can make an appearance. Until then, the Pinnacle is another wonderful representation of how contemporary chic luxury finds its way into the rugged West.
A $155 million privately owned ski lodge in the Montana Rockies, the Pinnacle is the peak of what outdoor oriented living can be: 10 bedrooms, 12 or more baths, and a fully heated driveway all speak to the levels of comfort and luxury that some folks want to enjoy while simultaneously exploring and appreciating the great outdoors. With wrap-around outdoor spaces overlooking the mountains and valleys which dominate the landscape, it's no wonder that billionaires choose this as a vacation spot. We're told that the interior amenities include a professional grade kitchen, vast dining spaces, an indoor pool and sauna, a gym, and the always necessary private theater with enough seating for you and everyone you've ever met. A vast garage rounds things out, leaving you enough room to park the fleet of luxury cars your Hollywood friends someone bring with them everywhere… The West stands for limitless potential, and the Pinnacle makes the most of that.

20. Park Place – $160 Million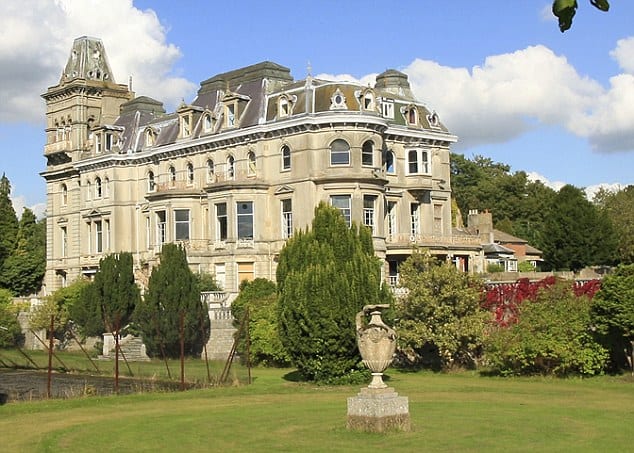 We flip back to the UK—specifically, to the village of Henley-on-Thames, Oxfordshire and the famous estate of Park Place. Once owned by a member of the royal family, Park Place is lavish, historic, and absolutely stunning.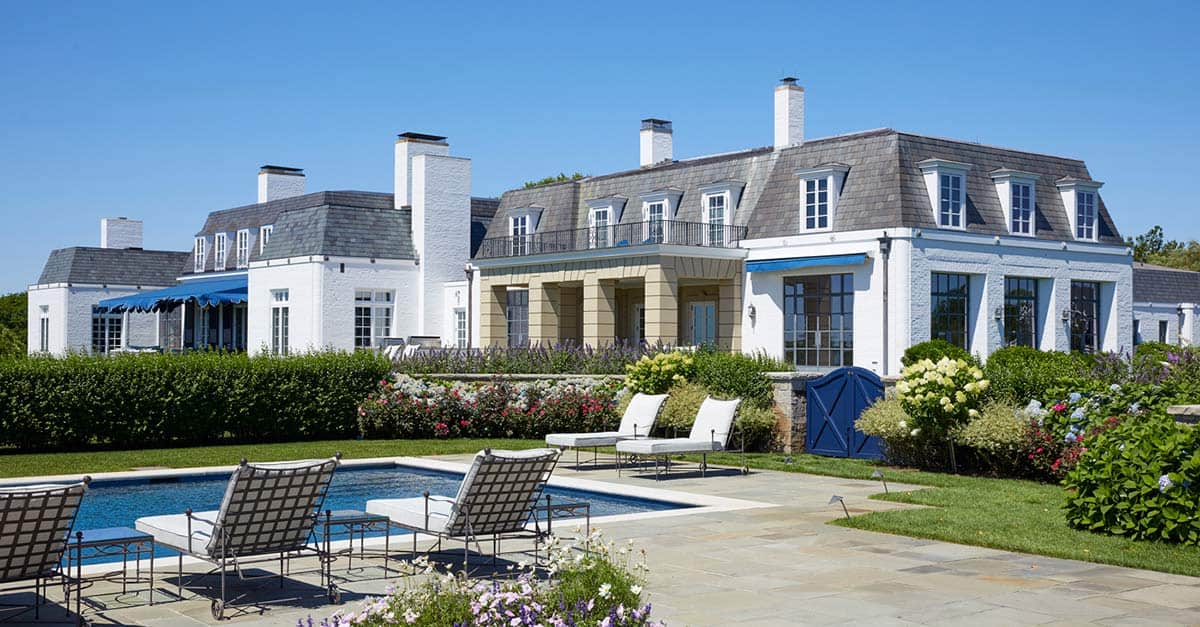 Located on 200 acres of parkland and woods, the home has gone through many evolutions over the years—it was once a boarding school, of all things. Described as a Renaissance-style home, with ten bedrooms each having an en-suite bath, the 30,000 square feet of living space is decorated in the most lavish style the 18th century could offer: a barrel-vaulted Grecian-style grotto, ornate stained glass, and graceful stone walls define the space within in a timeless manner. The outbuilding includes stables, a boathouse, and guest buildings. And unlike most of the houses on this list, Park Place features its very own ghost: Mary Blandy, who was accused of poisoning her father back in seventeen-fifty-something.
So who owns this place—it is one of the most expensive homes in the UK, after all? Well, it's our old friend Roman Abramovich, who apparently needed a little more room than his London mansion could offer and paid well over 200 million dollars for the joy of life at Park Place.


19. Jule Pond – $175 Million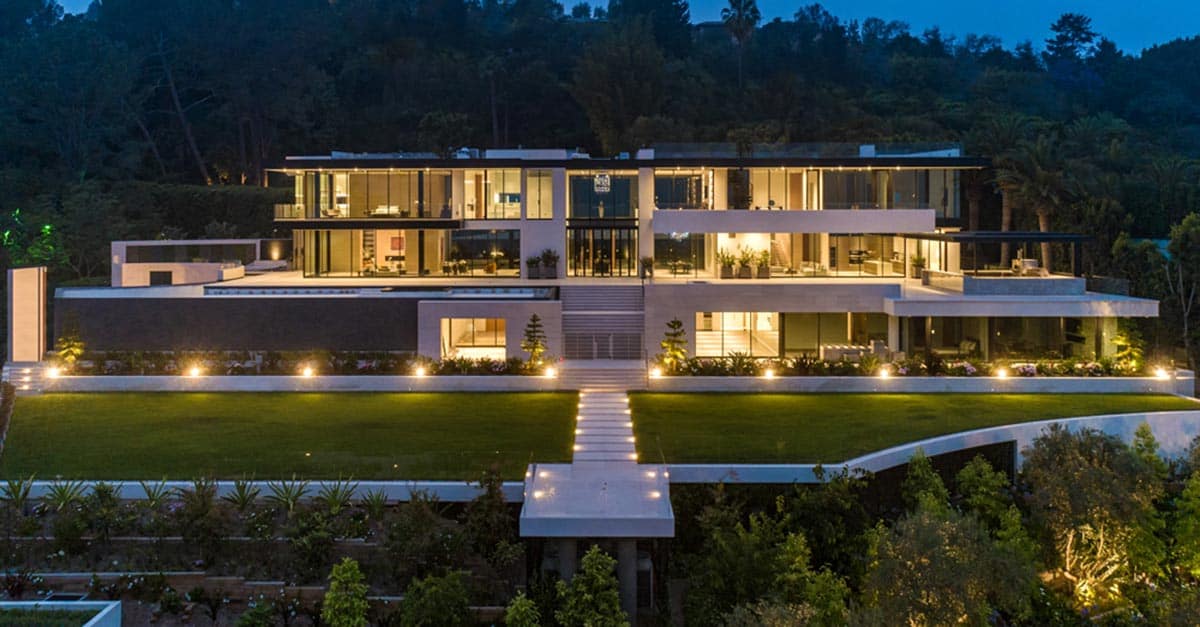 The Jule Pond is located in the Hamptons on a 42-acre lot. The house was originally built for Henry Ford II in 1960. The estate features 12 bedrooms, 12 baths, a game room, a 60-foot swimming pool, a spa, an outdoor kitchen, tennis and basketball courts, and a meditation garden. It also features a private pathway leading to a beachfront.


18. 908 Bel Air Road – $180 Million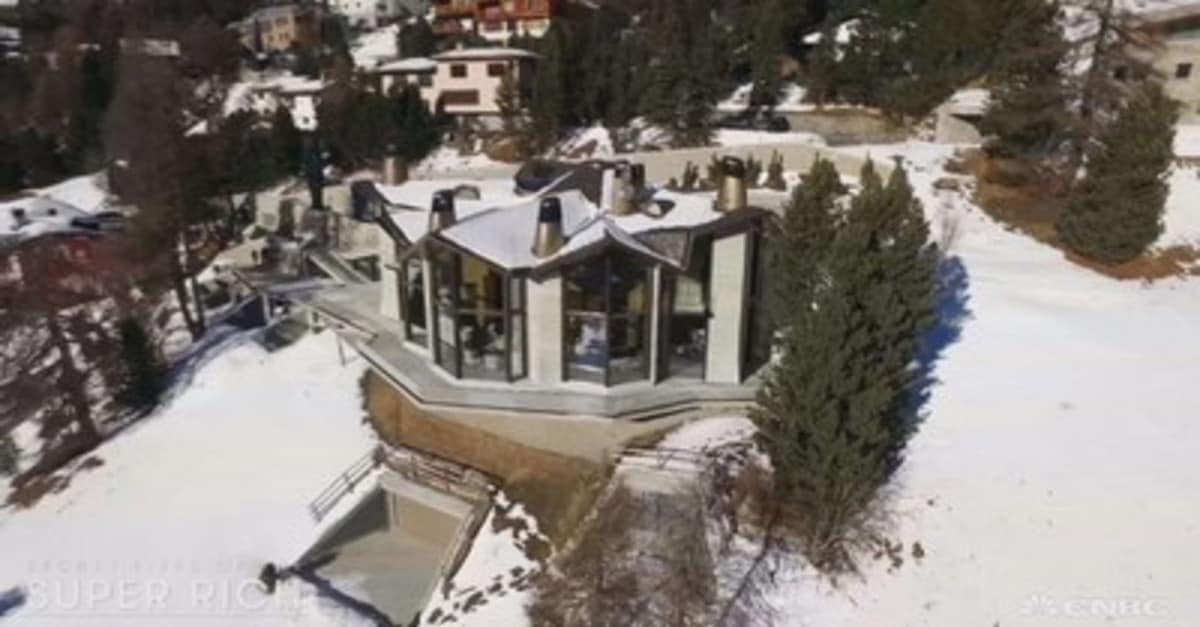 This home was developed by LA plastic surgeon Raj Kanodia. It is approximately 34,000 square feet with 9 bedrooms, a Portuguese limestone façade, and a floating staircase. There is also a 2,000 bottle wine cellar, an herb and vegetable garden, and a pizza oven.


17. Lonsdaleite Estate – $185 Million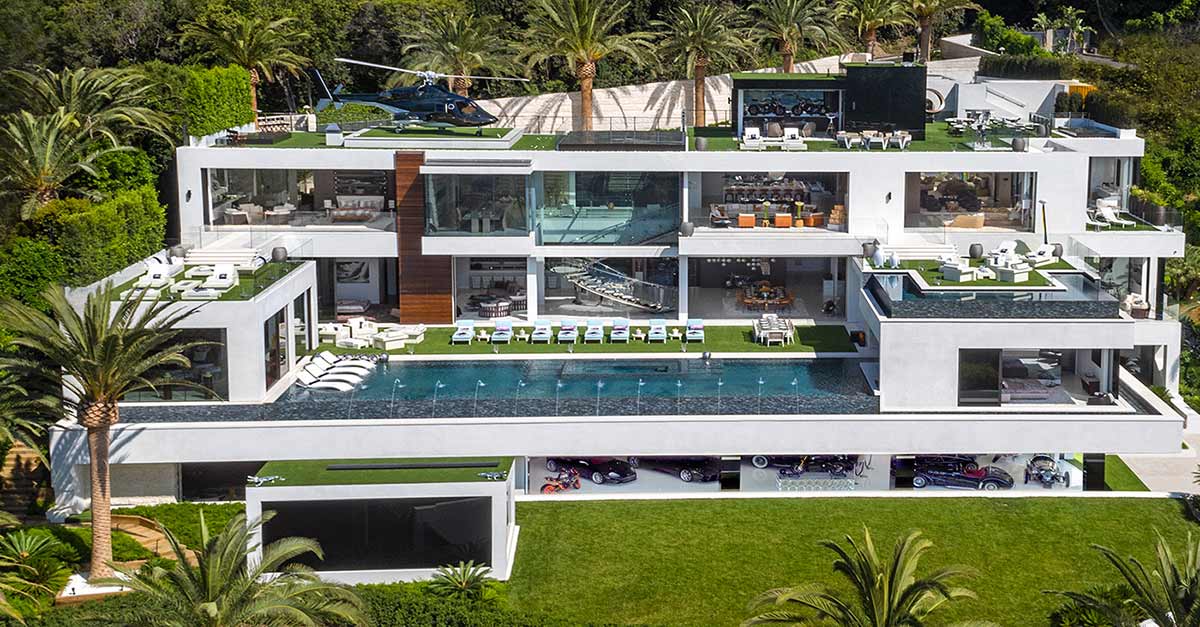 The Lonsdaleite Estate is in the Engadin valley near St. Moritz in Switzerland. This 7-story home was built in the side of a mountain featuring unique elegant elements that make this house unique. A 24-karat gold leaf accent wall, a $145,000 custom-egg shaped chandelier, a crushed red-velvet library wall, white Scandinavian fox-fur rug in the master suite with a white-onyx master bath is just a few of the amazing pieces of the home. It also features an underground lake, a wine cellar, a cinema, a spa featuring a Himalayan salt room, and sauna, a ski den with a private chairlift, and a 6 car garage.


16. 924 Bel Air Road – $188 Million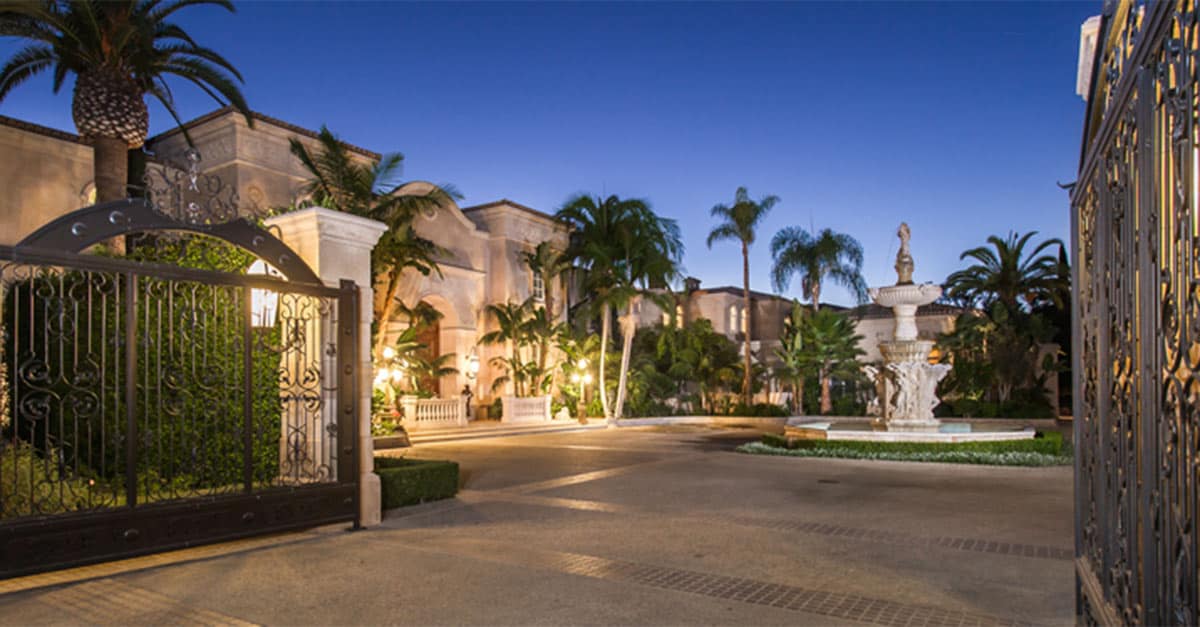 This interesting house was developed by Bruce Makowsky. It's a four-story home with 12 bedrooms, 21 baths, 3 kitchens, 2 wine cellars, 3 dining rooms, a 4-lane bowling alley, a pool, foosball tables, a 40-seat movie theatre, and a candy wall. Also featured at this home is a Hobie 16 catamaran, a Bell 222A Helicopter, and an auto gallery valued up to $30 Million featuring a Bugatti Veyron, a Paguni Huayra, and other supercars and bikes.


15. Palazzo di Amore – $195 Million
The Palazzo di Amore is owned by Florida Gubernatorial candidate Jeff Greene. The 53,000 square estate located in Beverly Hills, features 12 bedrooms, 23 bathrooms, a tennis court, a swimming pool, a theater, a waterfall, and a 27 car garage.

14. Hearst Estate – $195 Million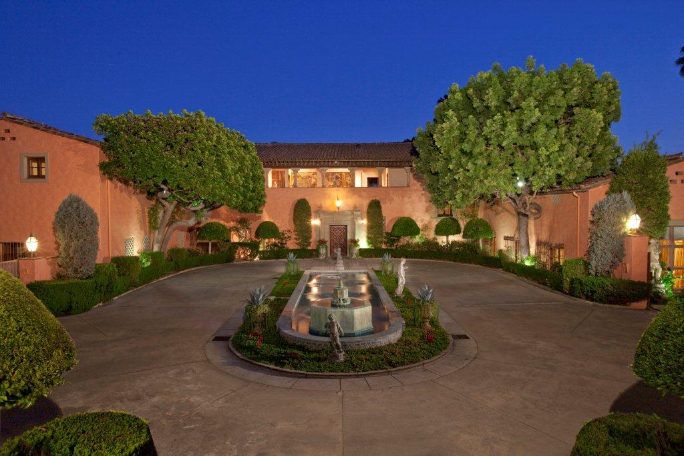 Just a few paragraphs ago, dear reader, we talked about "Citizen Kane"–which you really need to watch. Seriously. Get on that. Well, the main character of Charles Foster Kane was based upon a real person—newspaper and publishing baron William Randolph Hearst. You know, the guy who started the Spanish-American War with a newspaper headline and at the time one of the wealthiest human beings who had ever lived. Hearst owned homes all over the country, with a special focus on California—turns out he had inherited some properties from his mother scattered throughout the state. And he built on them, investing hundreds of millions of dollars in the extravagant buildings that dotted his land.
The estate in question is located in Beverly Hills because of course, it is. Built-in 1947 when Hurst's health was in decline, the home nevertheless reflects Hurst's dedication to excess: columned walks, multiple swimming pools, a private cinema of course, and a double leveled dining room paneled in hardwoods that are likely extinct now. This estate is a living legacy; a piece of a world that no longer exists and a vision and style that are now lacking . . .

13. Manalapan Residence – $195 Million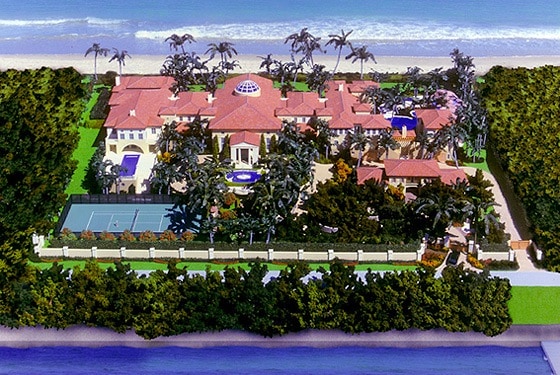 Protip—are we "pro" enough to hand out protips?. . maybe—any part of the world referred to as the "Gold Coast" isn't going to be cheap to live in. The rental prices will measure in six digits, and the parking spaces will be traded with the sharp real estate negotiations we normally associate with commercial ventures. Florida's Gold Coast is no exception: located between Palm Beach and Boca Raton, the beaches themselves are some of the most lovely in the nation, the weather is almost always perfect, and the people are about as wealthy as it gets. No great surprise, but it tells you what we're in for.
The Manalapan Residence sits on 5 and a half acres with over 500 feet of beach-front access. The various listings describe it as an attempt to bring Old World elegance into a New World setting, which as we've learned can mean any number of things depending on the building. In the case of Manalapan, the estate draws its inspiration from Italy—particularly the Tuscan region. Tile roofs and stone patios abound, as do multiple swimming pools, bedrooms (14), bathrooms (24) and parking space—there's an 18 car garage. There's also an archery range, which we think is a first for this list.

12. Fairfield, NY – $198 Million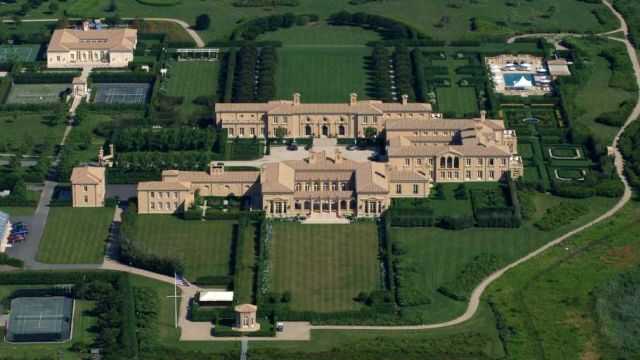 Herkimer County may not sound high end, but the upstate New York location is home to the town of Fairfield, long a resort spot for those seeking to escape the confines of the urban spaces of the Big Apple and its environs. It was here that Ira Rennert, American investor, and business giant, decided to build one of the largest and most lavish private homes in the United States—a country already known for thinking that "bigger is better."

The 62,000 square foot house features 39 bedrooms, 29 bathrooms, a 100 car garage, a theater that seats several hundred people, a basketball court, a 91 foot long dining room table, and probably a few swimming pools thrown in for the heck of it. Rennert is pretty careful about his privacy, so we don't know too much about the interior, but what we do know is enough to pop a few monocles.

11. Ellison Estate – $200 Million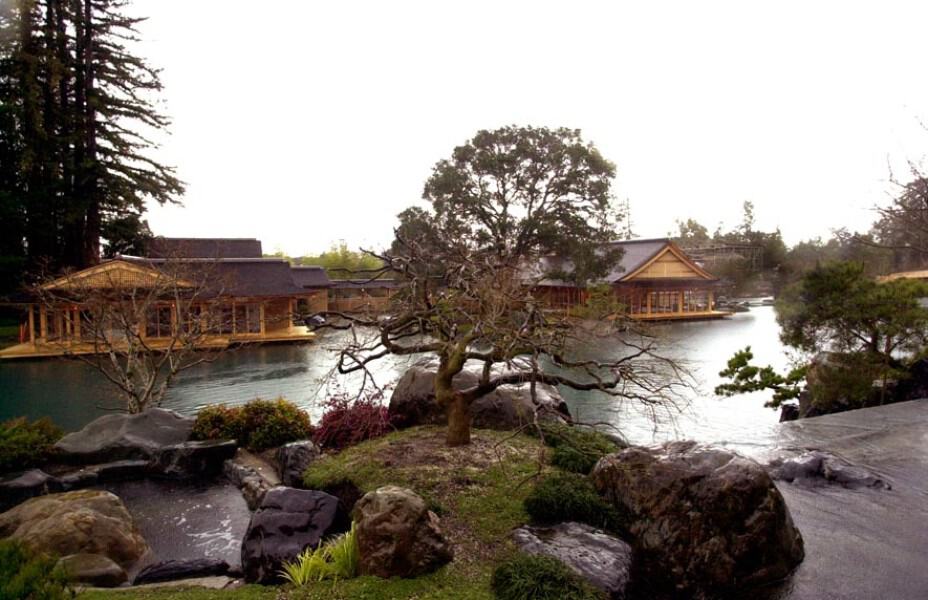 This next estate is pretty cool, in that it looks in a very different direction for its aesthetic inspiration. While we've seen quite a few American estates that looked to Europe for their architectural and spiritual guidance—and vice versa—this time we've got a California mansion taking its inspiration directly from Japan.
Larry Ellison, software giant and world's 6th richest man, is known for his diversity of tastes and interests, and these show in his Atherton California estate. Embracing the principle of wabi-sabi, the Ellison Estate takes on a very Japanese mode. An 8,000 square foot home with 7 bedroom and 8 bathrooms, the glass, and timber construction recalls the classic elegance and simplicity of Japanese style. The floor plan is open, flowing, and uses interior screens to partition space in flexible ways, recalling the traditional practices of the land of the rising sun. The grounds are comprised of Japanese style gardens, with their zen-like paths and koi ponds. There are, of course, swimming pools, but even they are stone lined and look like natural features. And, in a unique entry on this list, the estate does include a Japanese style tea house for those wanting the full experience.

10. 6 Kensington Palace Gardens – $222 Million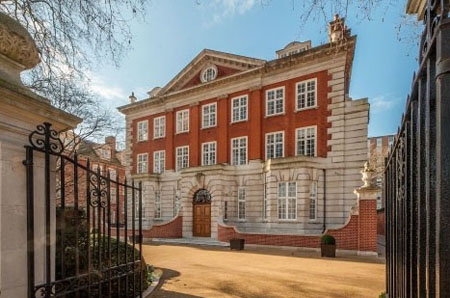 Ah, Kensington Palace Garden, you never disappoint when it comes to lavish homes, sky-high prices, or interesting stores about the life of the rich and famous.
This time we're at 6 Kensington Palace Gardens, in a lovely neo-Georgian home that used to be the Embassy of the Czech Republic and recently sold into private hands for a cool $222 million dollars. The house is four stories, with at least five bedroom suites (We're told that there's a least one that's been lost to the ages and can now only be found on moonless nights), extensive servants' quarters, and large, gated gardens surrounding. The most recent buyer bought the place as-is, which means fully furnished and including an extensive art collection. We get excited when hotels offer free WiFi, by contrast.


9. Mesa Vista Ranch – $250 Million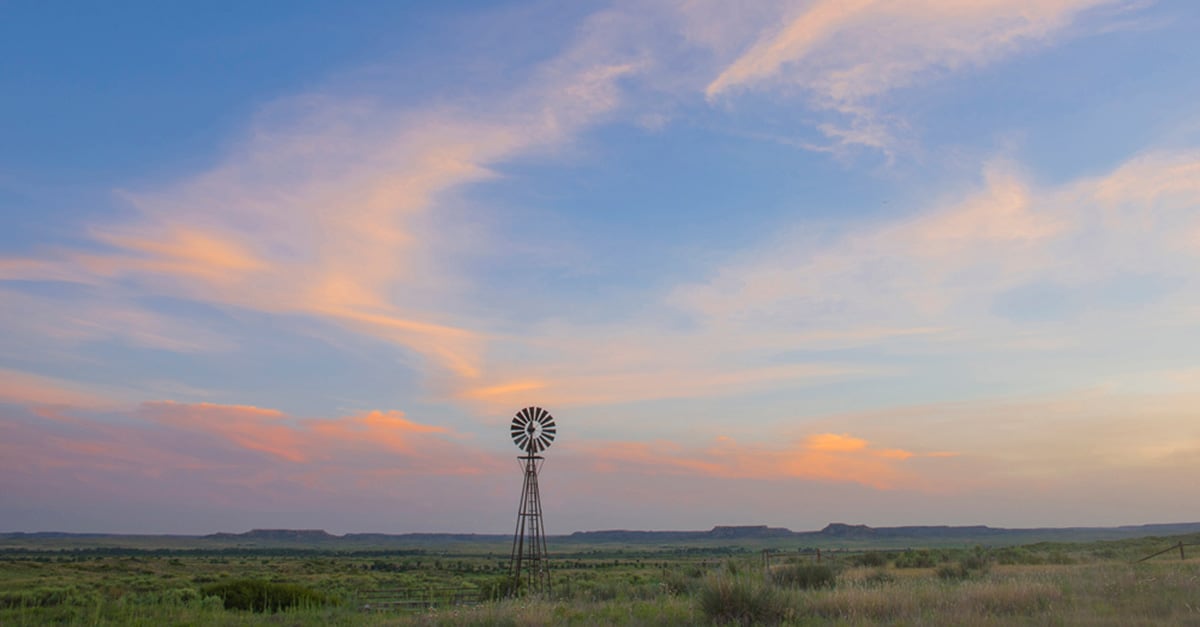 The Mesa Vista Ranch belongs to T. Boon Pickens, Chairman of BP Capital Management. This ranch features 101 square miles of rivers, hills, mesas, and artificial lakes. It also has a two-story pub, a nine-hole golf course, a dog kennel, a chapel, an art gallery, a private airport, and a 33,000 square foot main house that has a library, a movie theatre, and a wine cellar.


8. Odeon Tower Sky Penthouse – $330 Million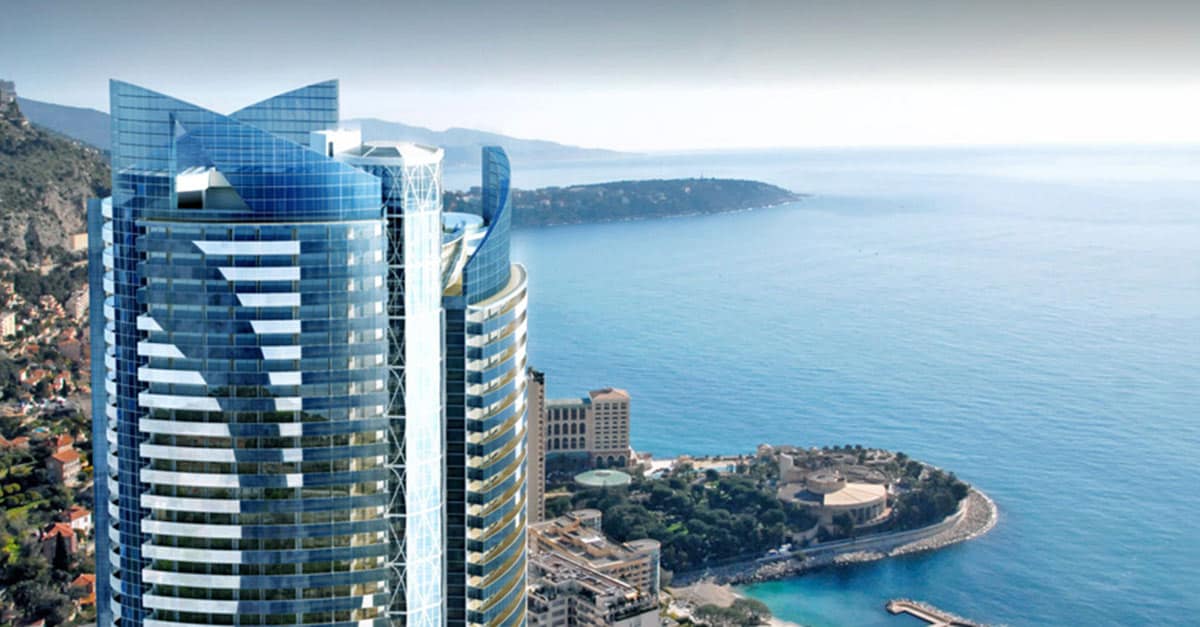 The Odeon Tower Sky Penthouse is a five-story penthouse atop a skyscraper on the Mediterranean coastline. The penthouse has 35,500 square feet featuring 5 bedrooms and baths, and an infinity swimming pool looking over the Mediterranean.


7. The Chartwell Estate – $350 Million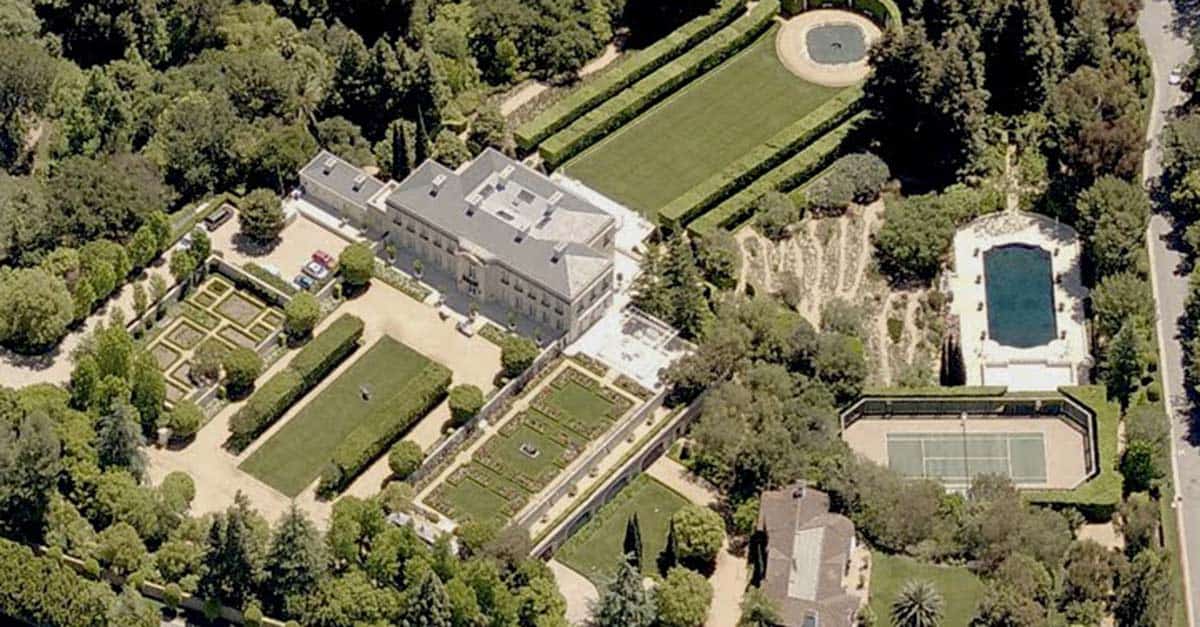 This estate is located in Beverly Hills, California, and is owned by the late Jerry Perenchi, former Head of Univision. The estate was built in 1933 with 25,000 square feet on 10-acres. Perenchi bought the home in 1986 and purchased the surrounding properties to add to the estate. The house features a ballroom, a formal salon, a temperature—controlled wine cellar, and cover parking for 40 vehicles. The estate also has a tennis court, a guest house, a 75-foot pool, and amazing views of the Pacific Ocean and downtown Los Angeles.


6. Bubble Palace – $418 Million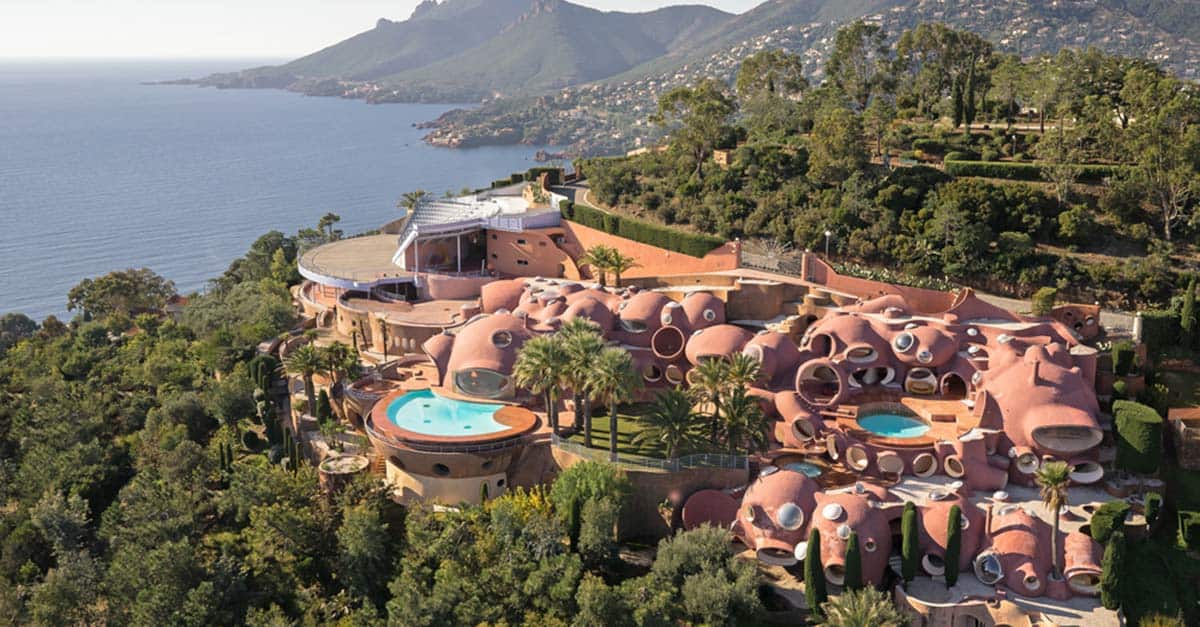 The Bubble Palace lies in the South of France overlooking the bay in Cannes. Fashion designer Pierre Cardin owns the unique home designed by Antti Lovag, a Hungarian architect. The home is approximately 13,000 square feet with a waterfront swimming pool, a 500-seat outdoor amphitheater, 10 bedrooms, and 7 baths.


5. House on the Peak – $446 Million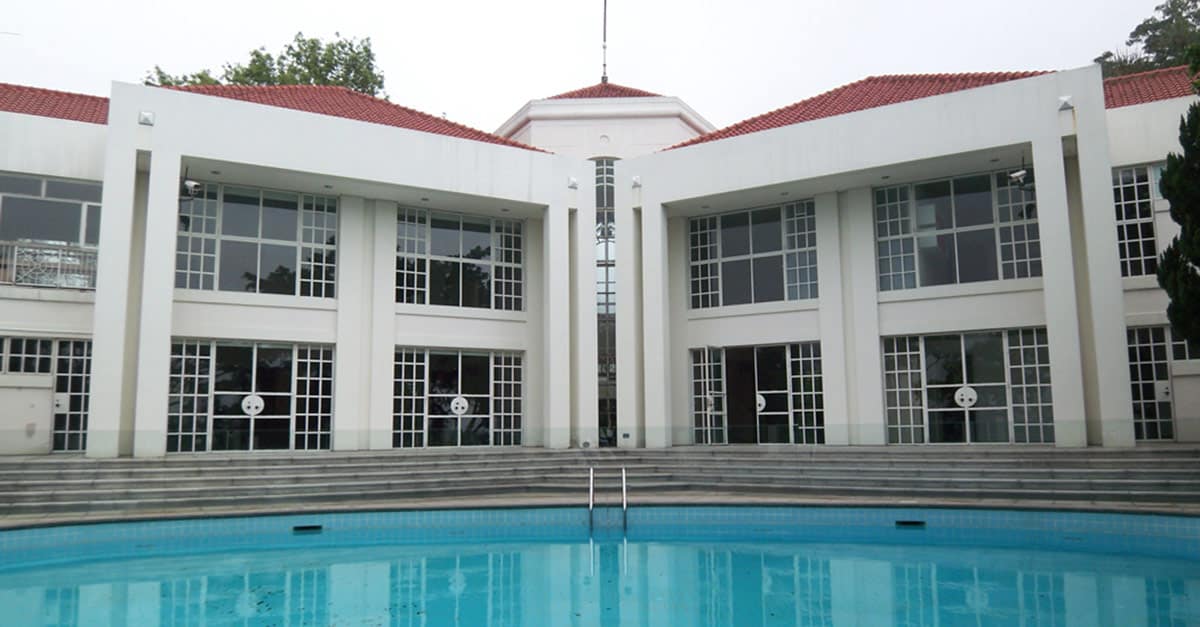 This house was built on Victoria Peak, also known as Mount Austin, in the Western Half of Hong Kong Island in 1991. The house is two stories with 4 bedrooms, four baths, and a circular swimming pool.

4. Villa La Leopolda – $750 Million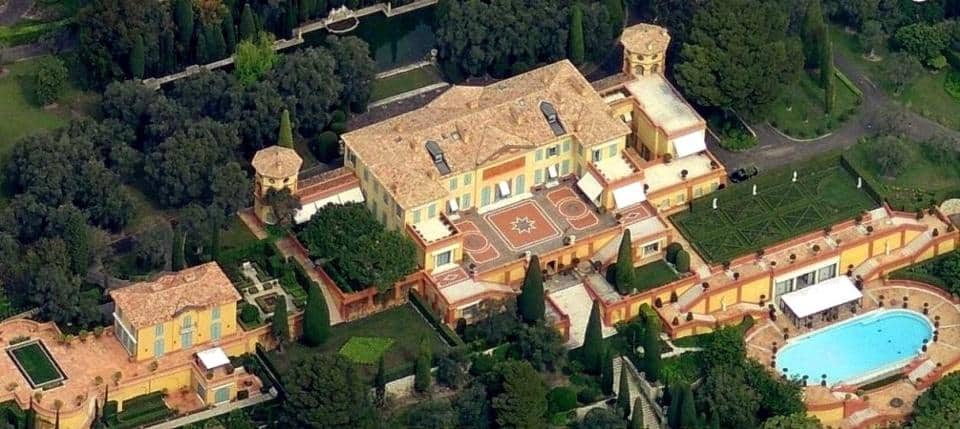 You know what hasn't appeared on this list yet? France—the entire nation seems to have a dearth of super-expensive living spaces. Fear not, though—the French Rivera delivers in a big way with the Villa La Leopolda. Located in the lovely town of Villefranche-sur-Mer. Built on an estate formerly belonging to King Leopold of Belgium—hence the name—Villa La Leopolda is $750 million worth of Mediterranean style luxury, with tiled roofs, lookout towers, and an extensive and impressive set of grounds.
The outdoor spaces are worth special mention. The botanical gardens attached to the estate are some of the most extensive in private hands, requiring over 50 gardeners with various specialties in order to maintain them. The collection includes both rare exotic plants and some of the most beautiful species from the region, making for a heady balance for those botanically inclined.

3. Antilia, India – $1 Billion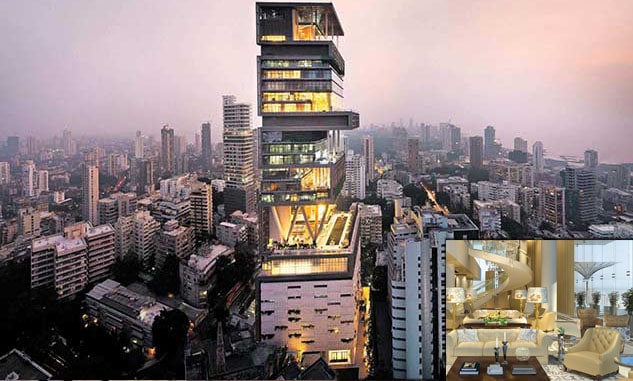 Here it is, the end of the list and the most expensive private home in the world. And we guarantee that everything about this house is likely to surprise you.
Located in Mumbai, India, Antilia is the genuinely unique outcome of a desire for purpose-built urban luxury. Designed by American architects around a striking vertices' frame, Antilia reaches over 500 feet into the sky and encloses over 400,000 square feet of living space. Windows and balconies are the defining features, as the house seeks to make the most of its views. And every inch contains something extraordinary: parking for 168 cars. Three helipads on the roof. Private indoor gardens. A theater, dozens and dozens of bedrooms and bathrooms. Elevators galore. Everything one could want, within a spire of a house rising from the heart of the city. All for roughly $1 billion.

2. One Hyde Park – $1.3 Billion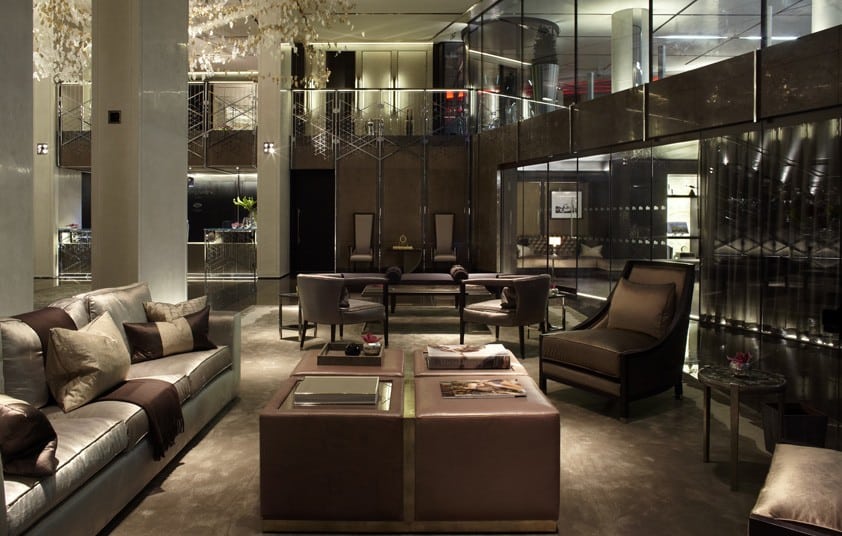 While Ellison was trying to refine Japanese architecture for California living, back in the UK some real estate moguls were pushing the limits of contemporary urban style. One Hyde Park is an address that just screams contemporary London, and the glass and steel edifice that soars above the city's historic streets is a reminder that this is the financial capital of the world. As with most urban living, the highlight is the penthouse—those sky-bound symbols of soaring decadence.
One Hyde Park's penthouse is a dream come true for those hoping for sleek urban living space with unrivaled luxury. Owned in this case by a sheik from the Gulf states, One Hyde Park's pinnacle penthouse features a spacious living arrangement with a pool, multiple patios giving sweeping views of the city, and access to some of the best shopping, dining, and nightlife the world has to offer. If you want to be at the center of it all, we found a space for you.


1. Buckingham Palace – $1.5 Billion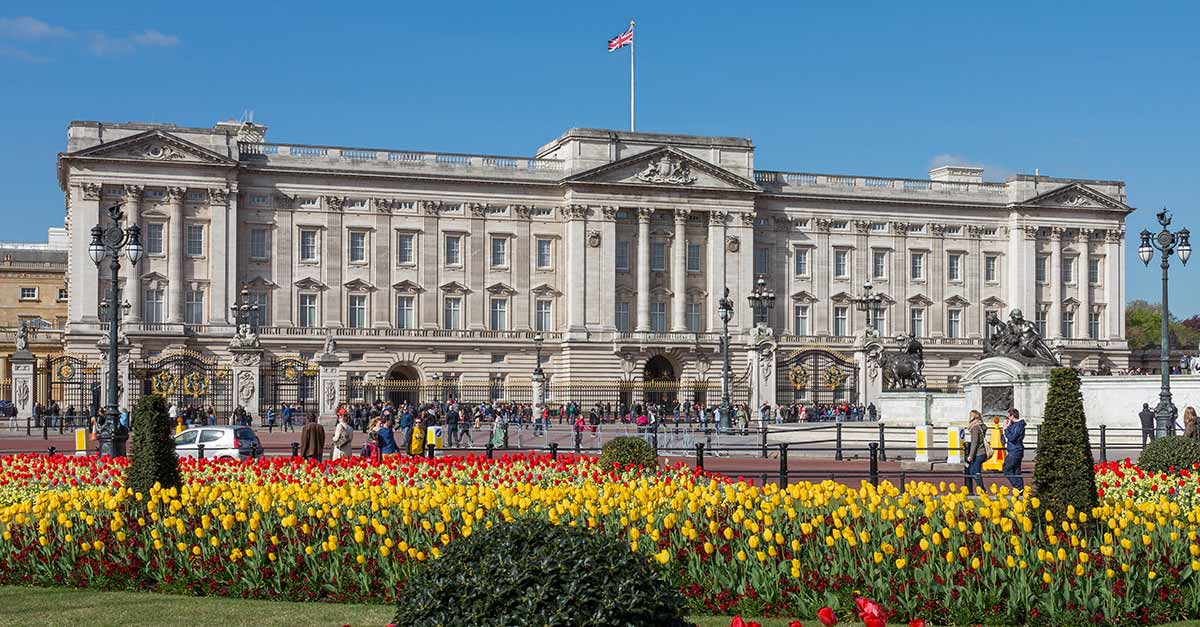 The palace has been home to Queen Elizabeth Alexandra also known as Elizabeth II since 1952. The home has been the headquarters to the Monarch of England since 1703. It was originally a large townhouse built for the Duke of Buckingham, but was acquired by King George III in 1761 and was used as a private residence for Queen Charlotte.