Top American Muscle Cars of All Time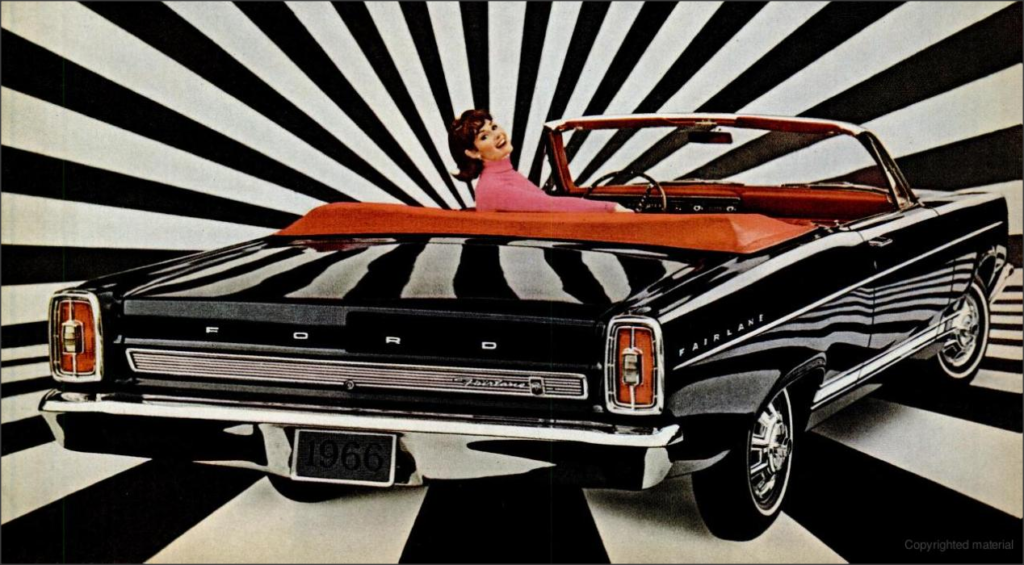 Classic American muscle cars capture the spirit of the auto industry and the hearts of car lovers unlike any other vehicle. Whether it's the Hemi engines, the unique stylings or the nostalgia of a simpler time, American muscle cars have continued to be a great American pastime since their heyday more than 30 years ago. We know that there are far more than just 25 great American muscle cars to discuss, but here is our list of the American muscle cars from back in the day that are particularly popular. Click next to get started!
50. 1967 Dodge Coronet R/T 426 Hemi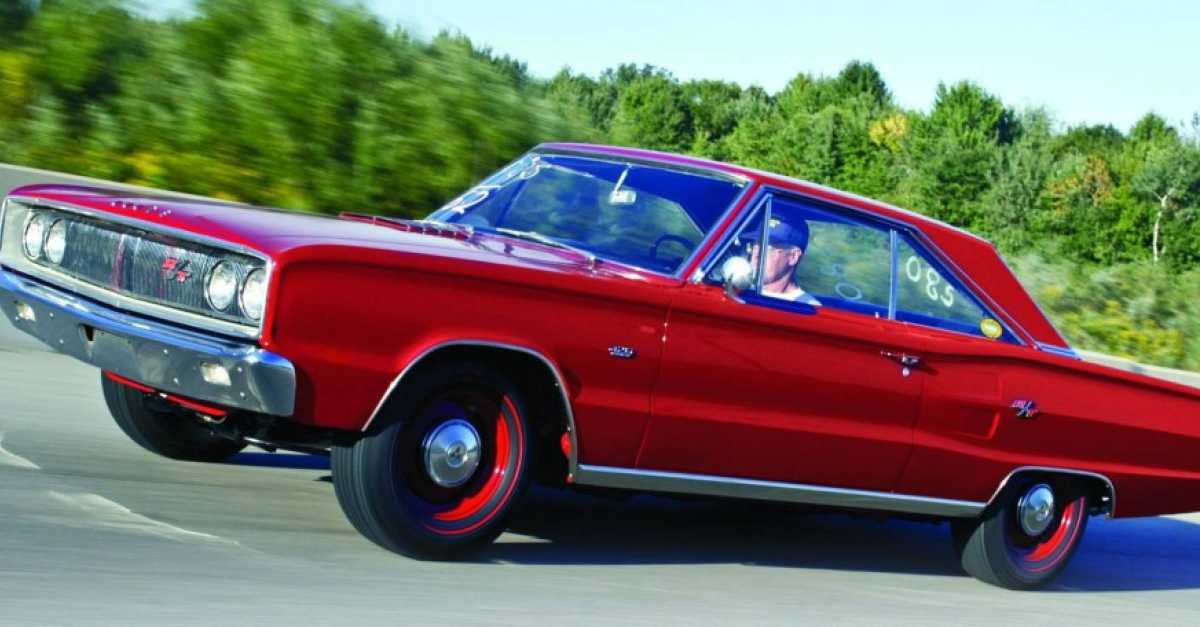 image courtesy of hemmings
The Coronet exuded raw power. It doesn't hurt that it was sleek and intimidating as well. Adding to an already robust lineup of muscle cars by Dodge, the Coronet was introduced in 1967. As an option, the Coronet R/T was available as a two-door hardtop or convertible. These cars were an excellent example of what American muscle was and would come to be. Very few were produced with the top engine option though and nothing screams power like a Hemi. But beginning in 1967, Chrysler made the decision that the Hemi should be offered only in their badged muscle cars: The Dodge Charger and Plymouth Belvedere GTX.
In spite of this, a select few Hemi powered 1967 Coronet Deluxe two-door sedans were produced and sold in the U.S. While several two door models were produced for the public, most were manufactured specifically for professional drag racing. Only a few of those meant for the streets still remain out there and less than 5 have been verified. Owing to how few were made, the Coronet R/T with a 426 Hemi is an extremely sought after muscle car. Don't turn down a chance to drive one, that's for sure!
Engine: 426 Street Hemi V8 – Top speed: 144 mph
Quarter mile time: 13.8 seconds – 0-60 mph time: 5.3 seconds
49. 1973 Ford Ranchero 500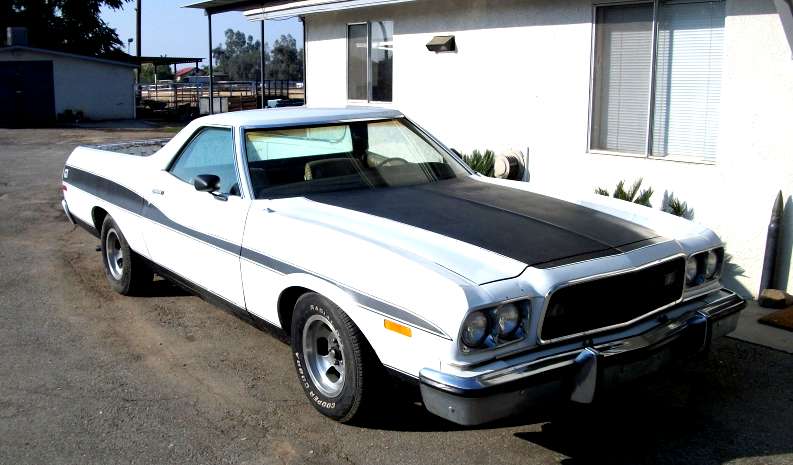 image courtesy of Ford Muscle Forums
It's a truck! It's a car! It's a Ranchero! In 1972, the Ranchero had already been around for a few while, but Ford went all out for a new look. Out went the smooth, sleek and contoured curves of previous model year and in came the rugged and squared off monster with serious power. Most prominent was a wide semi-oval grille appearing to be a jet intake and a new body-on-frame design. Three models were still available; the new Squire with simulated woodgrain paneling along the sides, the sporty GT, and the now-standard 500.
Engine choices remained essentially similar, ranging from pedestrian to bone jarring power.
Unfortunately, most of them were debilitated by lower compression ratios to better adhere to new emissions standards. Such was the fate of many muscle cars. The Cleveland engine could still be obtained in tuned Cobra Jet form through 1974. A four-speed manual transmission was available on Cobra Jet-powered GT models. The 1973 Ranchero also had a redesigned front end to meet new federal standards for frontal impact protection. Aside from slight cosmetic differences, the Ranchero remained basically the same until the its final year, 1976. The inspiration for the El Camino would be a staple muscle car for decades. It doesn't get much cooler than the Ranchero.
Engine: 351 Cobra Jet V-8 – Quarter mile time: 14.5 seconds –
0-60 mph time: 6.5 seconds
48. 1969 Mercury Cyclone CJ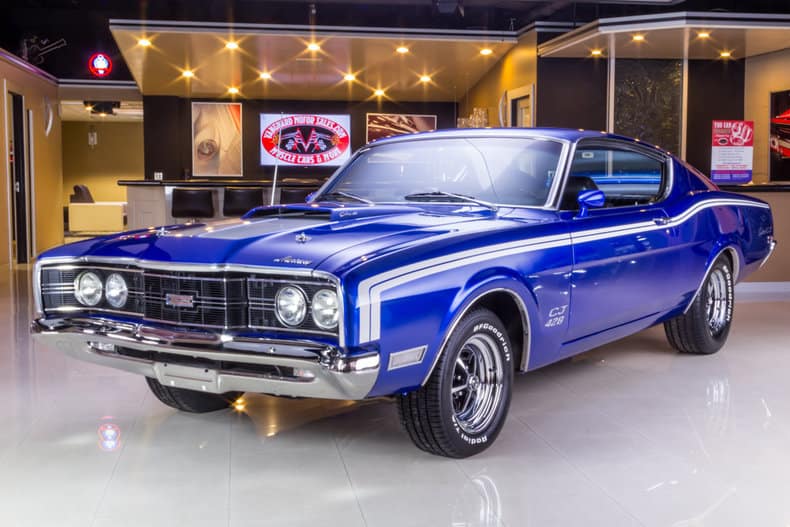 Mercury may have had identity issues during its early years, but it found a place when it released the '69 Cyclone. Offered with the option of a Cobra Jet engine only in '69, this model and option are the king of the Cyclones. Once again in typical American muscle style, a big block engine was thrust into a midsize car – and boy did it fit just right. The shadow of older brother Ford wasn't so big anymore.
The kit on the CJ included the 428 Cobra Jet engine breathing through dual exhausts, a close-ratio four-speed manual transmission along with the Competition Handling Package. With performance axle ratios of up to 4.30:1 available, the CJ's prowess opened many eyes to Mercury's performance potential. This meant around 335 HP and 440-lbs.ft. of torque in the CJ (a number many consider underrated by Ford). Additionally, the Cobra Jet engine featured an even better compression ratio and a Holley four-barrel carburetor. All in all, it was enough to propel the 3,825-pound car through the quarter-mile in less than 15 seconds at a speed over 100 MPH. This confirmed it, there was a legitimate alternative to a Hemi Charger.
Engine:
428 Cobra Jet V-8 –
Top speed:
116 mph –
Quarter mile time:
13.8 seconds –
0-60 mph time:
5.5 seconds
47. 1959 Ford Galaxie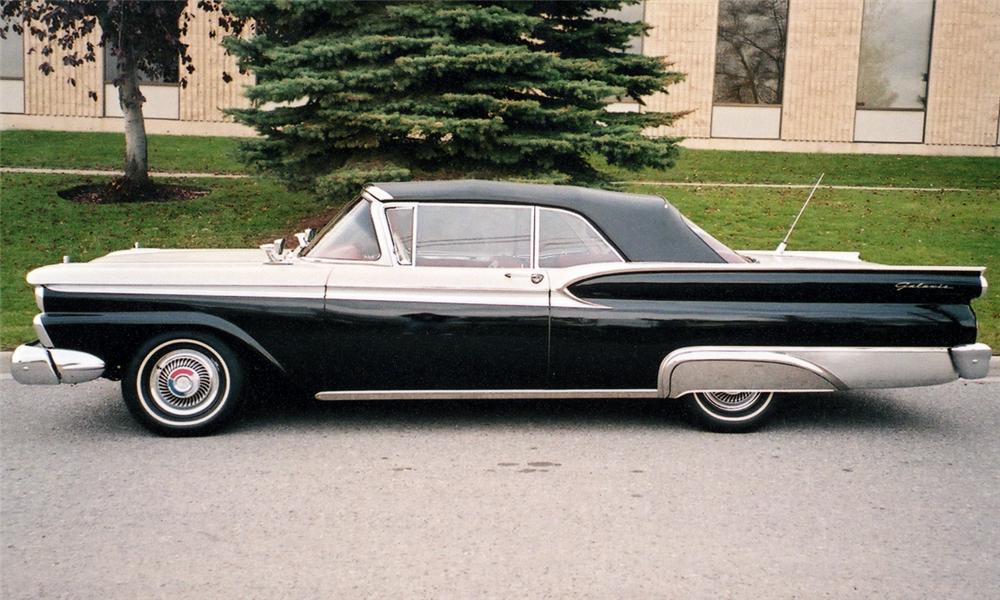 image courtesy of Barrett-Jackson
A favorite of Elvis and Fidel Castro, this car is one that makes a statement when you drive it. Why else would the King of Rock and Roll and El Jefe Maximo consider it with such high regard? The answer is simple – it is class, beauty, and power combined. Introduced in 1958, it took over as the top trim level for the Fairlane 500. Ushering in almost a decade and a half of Galaxie models, the original set the bar sky high.
With signature 50's style, the Galaxie was a chromed out two tone car. It was a beast of a machine that exuded Americana. With a 353 V-8 OHV engine, it had 300 HP. And at 2800 RPM it had 380 lbs./ft. of torque. This car may have not been the fastest or most powerful, but it was a forerunner in American muscle cars.
It's main competition of the time was the batwing Chevy, which did indeed outsell it. But the Galaxie was a competitor, and Ford kept the competition neck and neck. With several trim levels, the Galaxie had options galore. The Galaxie Skyliner, which had a retractable hard top is a notably popular version.
With this much style, it is hard to miss on the streets. Couple the looks and power underneath this hood, and you have the definition of American muscle.
Engine:
353 V-8 OHV –
Top speed:
121 mph –
Quarter mile time:
16.1 seconds –
0-60 mph time:
7.6 seconds
46. 1969 Chevrolet Corvette ZL-1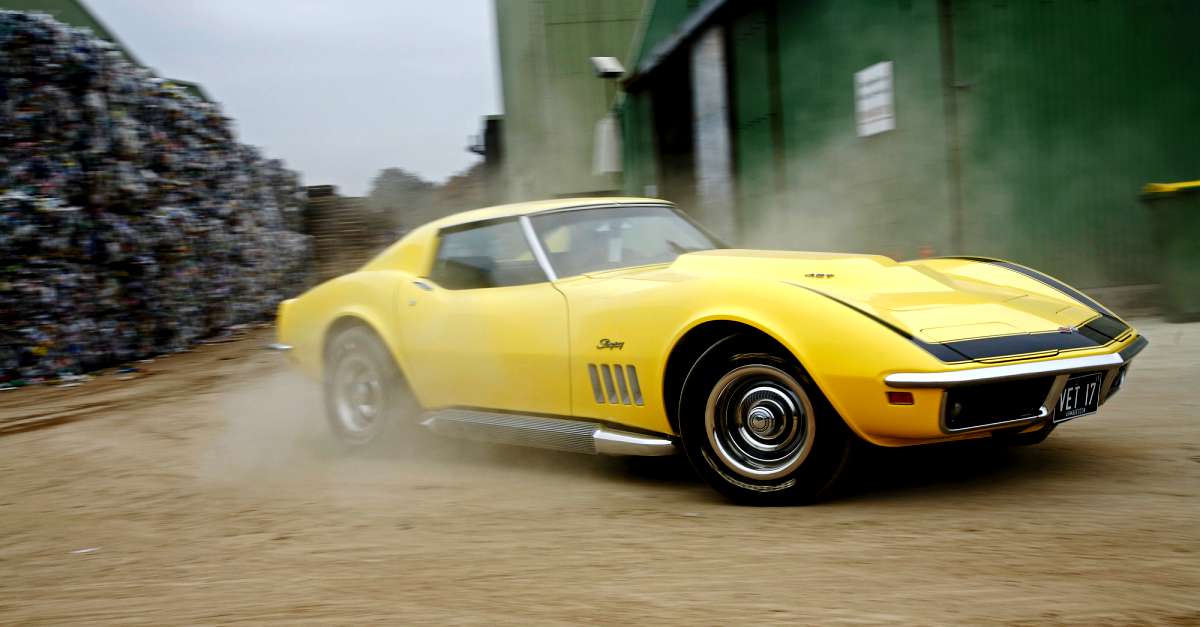 This next muscle car is one of the rarest models of Corvette ever produced. The '69 Corvette ZL-1 is C3 Stingray fitted with an all-aluminum engine. Only a handful were produced due to the cost of the upgrade and the porosity of aluminum. Of the few that made it to the streets, 3 have been found. One of the owners still drives and races it on occasion!
At the time, it was reviewed as the fastest production car ever sold. As mentioned above, the engine was an all-aluminum 427 CID big-block engine listed at 430 gross horsepower, it propelled the ZL1 through the 1/4 mile in 11.6 seconds.
This kind of speed came at a price. The ZL-1 package cost a whopping $4,700 (the ZL1 was $3,010 option that consisted of aluminum cylinder block and heads on top of the L88 option). That was some serious cash to be throwing around at the time. And while it was believed to deliver at least 100 HP more than advertised, it was proved to be only rumors. Regardless of horsepower, this car was a speed demon fit for a track.
This ZL-1 is truly a legend though. With its lightning fast speed and extra light weight engine, it is a perfect recipe for a muscle car. If only more had been made…
Engine:
427 BBL Aluminum V-8 –
Top speed:
193 mph –
Quarter mile time:
11.6 seconds –
0-60 mph time:
3.9 seconds
45. 1970 Plymouth Hemi Superbird
Basically a modified Road Runner (see lower down on the list), the Hemi Superbird was designed for racing down super speedways. Not many were built or sold, but they were undeniably fast! They also had a very unique look, would may have attributed to its low sales.
With a 426 Hemi engine and a pair of four-barrel Carter AFB carburetors producing 425 HP, the Hemi Superbird could accelerate from 0 to 60 mph in 5.5 seconds. The only reason this car was made is so it could be run in NASCAR races.
The looks were extreme for the time, though. With a huge rear spoiler and coke bottle shape, it was designed more for aerodynamic performance than looks. The calculations on how the rear spoiler was designed were even kept secret by Pontiac for almost 30 years. Due in part to low sales, many dealers removed the spoiler and converted the car to a Road Runner. Even today, you can buy kits to convert the Superbird to a Road Runner.
Though most of America didn't get a chance to drive one, Richard Petty did, and he said they are pretty darn fast. His went over 200 mph!
Engine:
426 Hemi V-8 –
Top speed:
200 mph + –
Quarter mile time:
14.3 seconds –
0-60 mph time:
5.5 seconds
44. 1964 Ford Fairlane Thunderbolt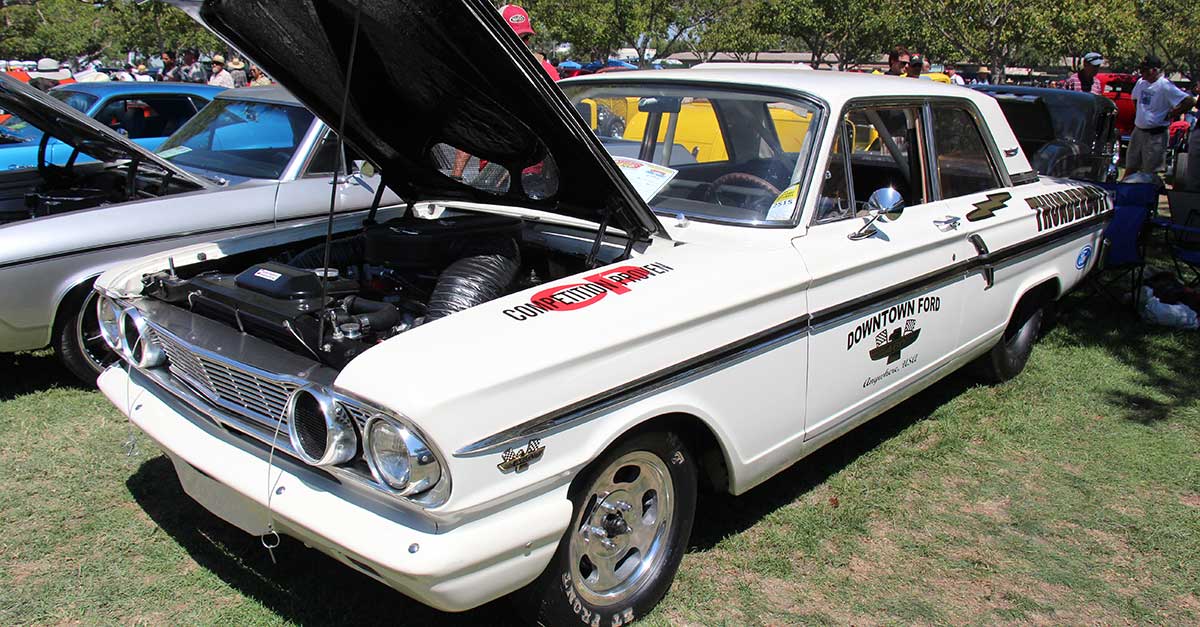 The 1964 Ford Fairlane Thunderbolt was a limited production vehicle made for drag racing built by Ford in 1964 with only 120 cars made. This Fairlane was made specifically for the purpose of winning races for Ford.
Engine: 427 Ford FE V-8 – Top speed: 124 mph
Quarter mile time: 11.8 secs – 0-60 mph time: 4.6 secs
43. 1969 Dodge Charger Daytona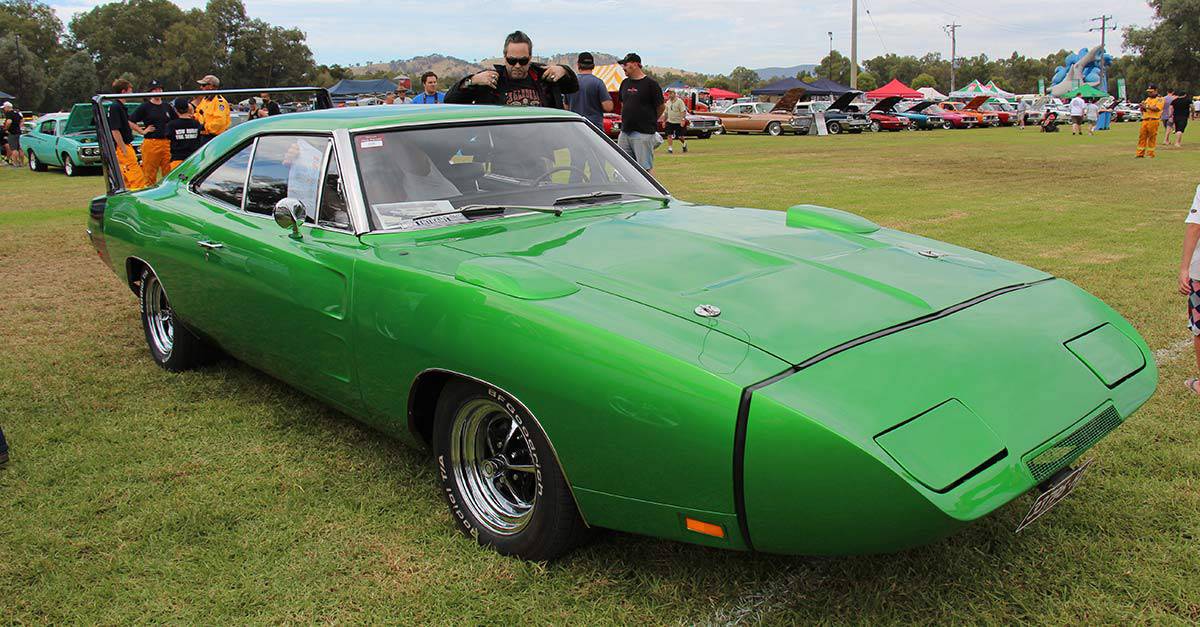 The 1969 Dodge Charger Daytona was the creation of the 1969 Dodge Charger 500 failing in NASCAR and Richard Petty leaving Plymouth for Ford. The vehicle was originally intended to be a limited-edition high-performance Dodge Charger. The Daytona won its first race in the 1969 Talladega 500 despite many of the bigger names boycotting the race.
Engine: 426 Hemi V-8 – Top speed: 200 mph + –
Quarter mile time: 14.5 sec – 0-60 mph time: 5.9 sec
42. Studebaker Super Lark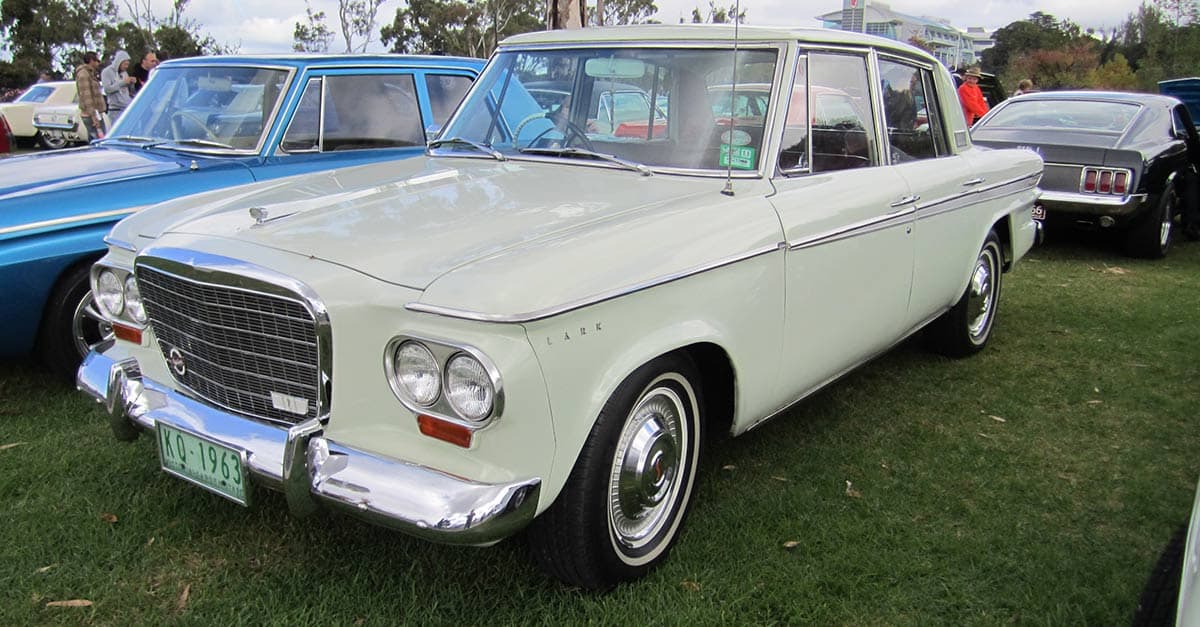 The Studebaker Super Lark was a special high performance package that Lark owners could add to their vehicles. The full package included disc brakes made by Bendix and a supercharged R2 289 V8 engine.
Engine: 289 V-8 – Top speed: 118 mph
Quarter mile time: 12.92 secs – 0-60 mph time: 5.5 sec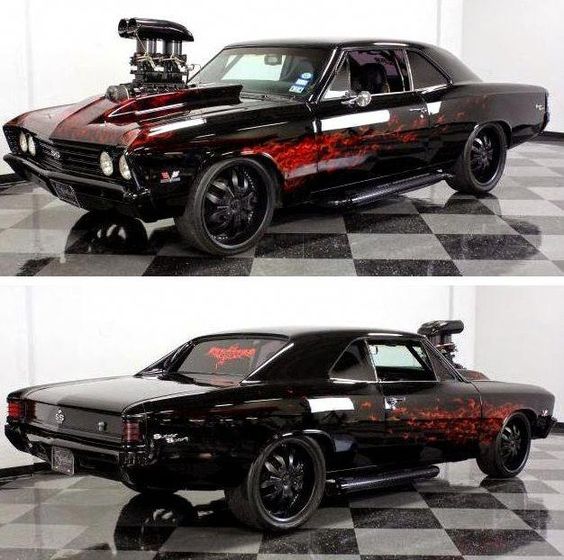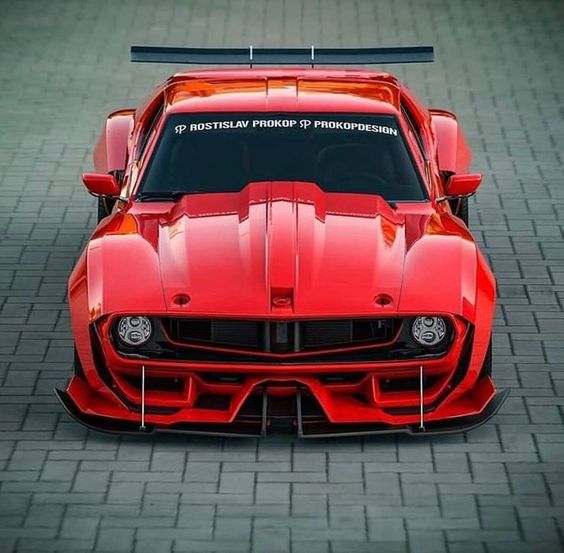 41. 1969 Ford Torino GT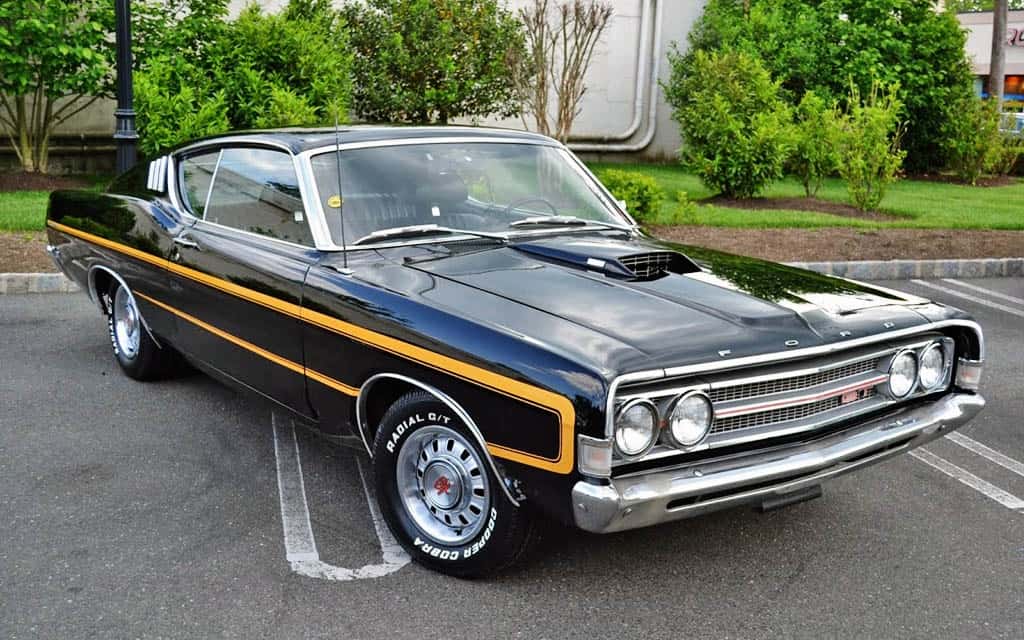 The '69 Ford Torino evolved from the Ford Cobra and Fairlane, so needless to say this car has pedigree. Prices dropped and the changes to the Fairlane attracted consumers looking for muscle, which the GT package offered.
The Torino GT came with more than a few engine options that changed over the course of the year thanks to several UAW strikes. The best recognized was the 360hp R-code Ram Air 428. This car was a popular car to race on the streets, so much so that Ford had many turned in under the 12 month/12,000-mile warranty. People would take them out to race, blow out the engine in short order, and return it to the dealer for a new one, only to repeat. The car didn't even have an option for a V-6. That tells you all you need to know. Ford was hoping to differentiate the Torino GT from the Fairlane. They made their point. It could go from 0-60 mph in 6.5 seconds and run the quarter mile drag in 15.
The '69 Torino GT sold about 81,000 units, an impressive feat for a muscle car. Many are still on the road today, restored to their former glory.
Engine:
428 Cobra Jet Ram Air V-8 –
Top speed:
121 mph –
Quarter mile time:
15 seconds –
0-60 mph time:
6.5 seconds
40. Pontiac Catalina Super Duty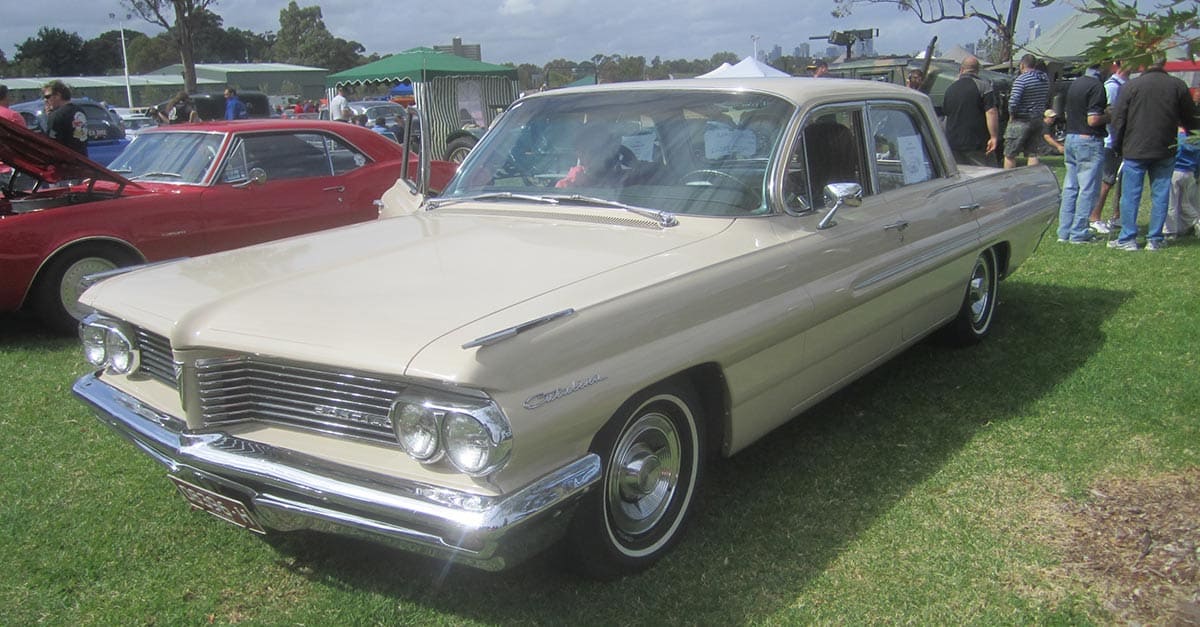 The Pontiac Catalina was a full-sized coupe they produced from 1950 – 1981. Specifically in 1962 Pontiac made this car to win NASCAR and NHRA races.
Engine: 231 Buick V-6 – Top Speed: 150 mph
Quarter mile time: 13.9 secs – 0-60 mph time: 5.4 secs
39. 1970 Olsdmobile 442

The Oldsmobile 442 was a popular muscle car that was based on the Cutlass. The 442 in the name means there is a four-barrel carburetor, four-speed manual, and dual exhausts. James Garner, known for The Notebook, The Great Escape, The Rockford Files, and Space Cowboys, once raced a 1970 442 in the NORRA Mexico 1000 winning second in class.
Engine: 455 V-8 – Top Speed: 116 mph
Quarter mile time: 13.73 secs – 0-60 mph time: 5.7 seconds
38. 1963 Chevrolet Z-11 Impala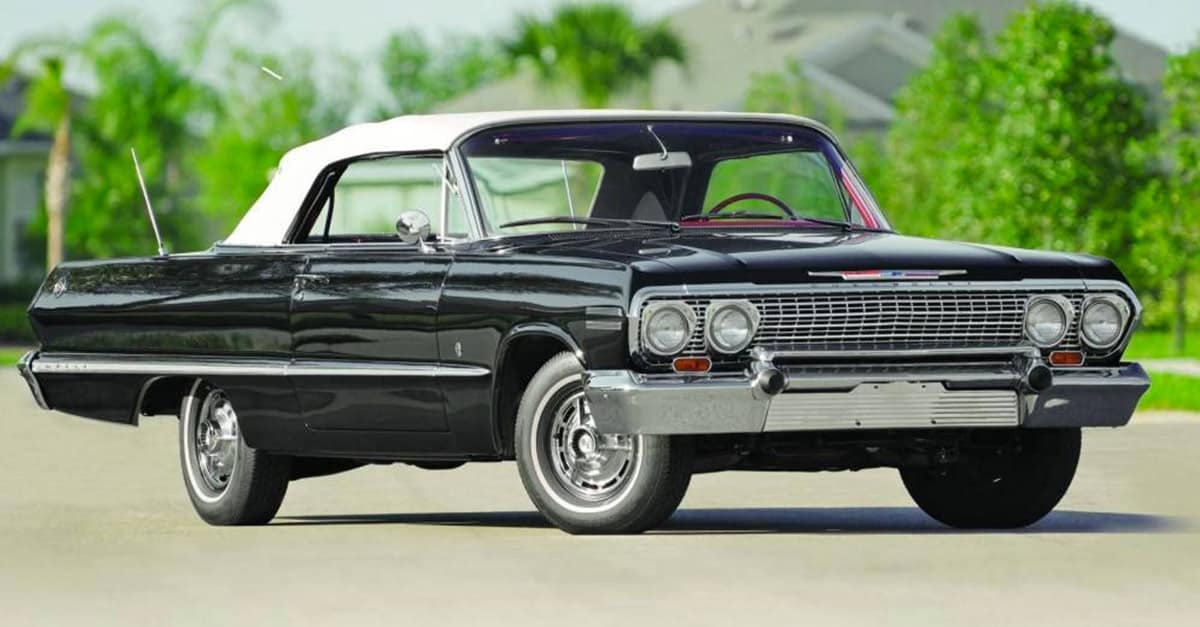 The Chevy Impala has been a full-sized car Chevy built from 1958 – 1985, 1994 – 1996, and since 2000. The 1963 Chevy Impala came with the option for a Z-11 package that equipped a 409 CI engine with dual carbs and insane horsepower.
Engine: 230 Turbo Thrift I6 – Top Speed: 165 mph
37. 1969 Mercury Cougar Eliminator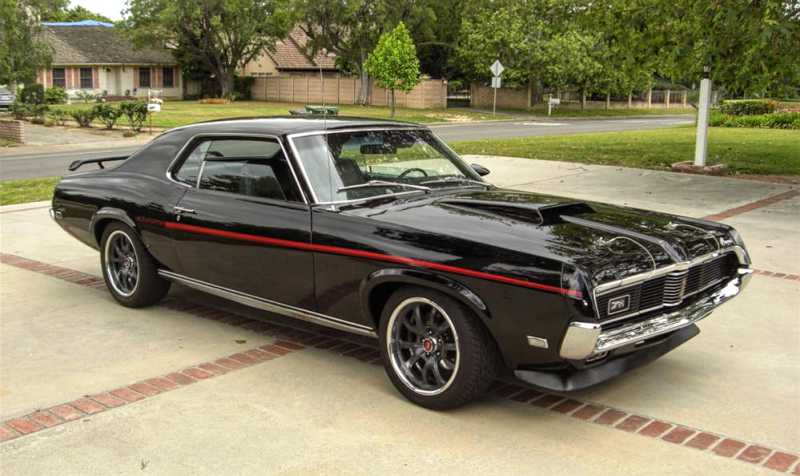 Mercury finally got its entry into the muscle car market in 1967. It was considered more upscale, and drew some of it's styling from the European Jaguar brand. But the 1969 model of the Cougar takes the cake.
Based on the Ford Mustang, the Cougar was longer and wider, and even heavier in 1969. But that didn't stop this pony car from having some serious power. The Eliminator came standard with the four-barrel version of the Windsor 351 CID V-8, which pumped out 290 HP. But the engine that really shined in the '69 Cougar was the 428 Cobra Jet, with the option for Ram Air. Thanks to the extra wide wheel base, it had superior grip. The Eliminator was also available with a Drag Pak and an oil cooler. This pony could run the track in 14.1 seconds at 103 mph, and went from 0-60 mph in 5.6 seconds – more speed that you can shake a stick at!
A blacked-out grille, side stripes, and front and rear spoilers gave it a menacing look and it even came with an array of unique exterior colors. The Cougar turned a few heads with the Eliminator package, and they're still spinning!
Engine:
428 Cobra Jet Ram Air V-8 –
Top speed:
129 mph
Quarter mile time:
14.1 seconds –
0-60 mph time:
5.6 seconds
36. Chevrolet SS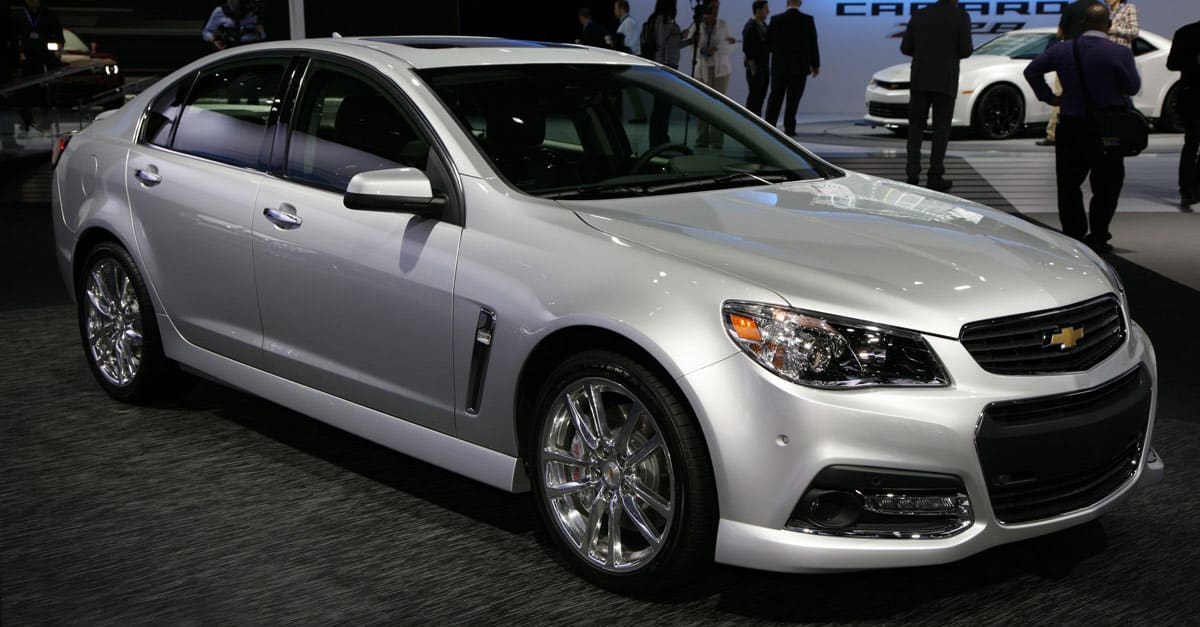 The Chevrolet SS was a VF Commodore sedan sold in the US. Despite it not featuring the classic muscle car look, its performance is that similar to a muscle car. The SS featured a LS3 V8 engine from a Corvette C6 that produced 415 hp.
Engine: LS3 V-8 – Top speed: 165 mph
Quarter mile time: 12.9 secs – 0-60 mph time: 4.5 secs
35. 1978 Pontiac Firebird Trans Am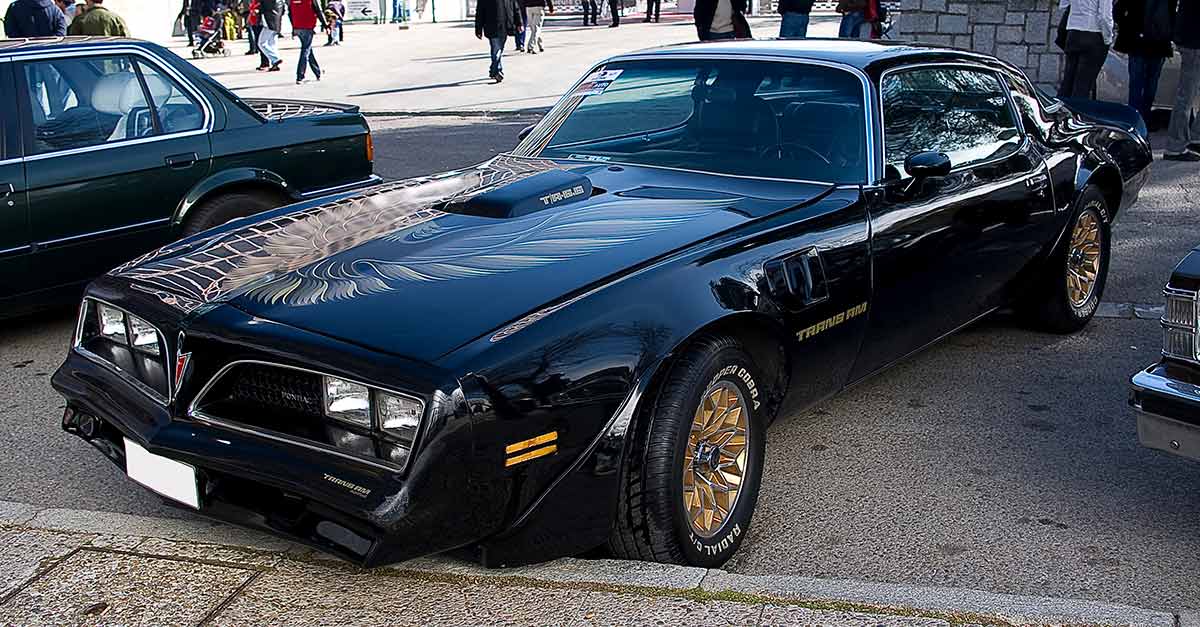 The Firebird Trans Am was a specialty package that upgraded the handling, suspension, and horsepower with appearance modifications such as exclusive hoods, spoilers, fog lights, and wheels. These vehicles weren't initially intended for the Trans Am Series. This second generation Firebird Trans Am has also been featured in many different movies like Smokey and the Bandit, Hooper, Rocky II, and Smokey and the Bandit II. The Firebird was the official Pace Car for the 190 Indianapolis 500. The closest a Tans Am could get to being a convertible would be the T-top roof option.
Engine: 403 Oldsmobile V8 – Top speed: 134 mph
Quarter mile time: 15.54 secs
34. Tesla Model S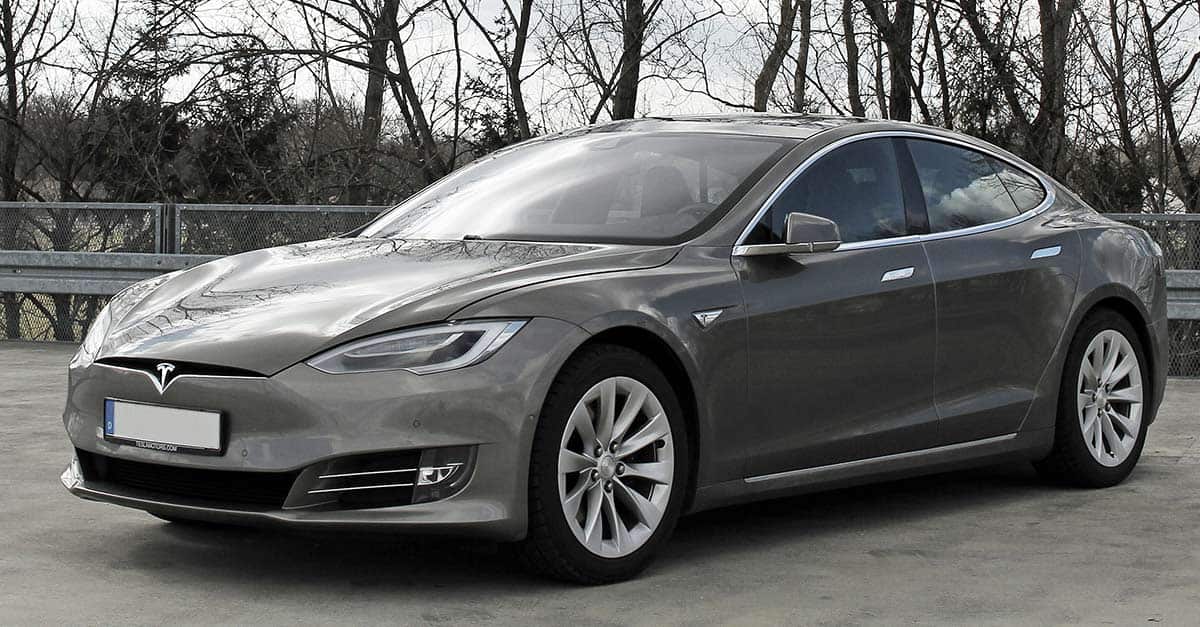 The Tesla Model S is a full-sized luxury all-electric car that debuted in 2012. Although this vehicle isn't a typical classic muscle car it features similar characteristics. The car can reach 0 to 60 in under 2.4 seconds. The car has the performance of a supercar similar to the Ferrari LaFerrari and the Porsche 918 Spyder without the same cost.
Engine: 3-phase AC induction motor – Top speed: 155 mph
Quarter mile time: 14.2 secs – 0-60 mph time: 5.9 secs
33. 1968 Dodge Dart L023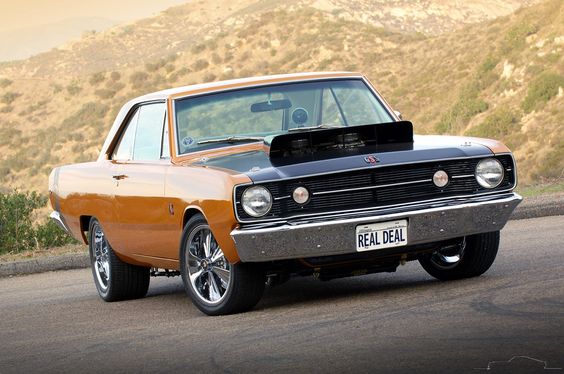 In 1968 Dodge created one of the most unique of all the American classic muscle cars. Born and bred for the racetrack, the Dodge Dart 426 Hemi (L023) was the result when Dodge combined the incredible lightweight Dart frame with the 426 cu in Hemi, one of the most powerful engines of all time. The result was what you'd expect – the fastest ever factory built muscle car.
The 426 Hemi was an optional engine for the 1968 Dodge Dart that was put on the market purely and simply to meet the NHRA sanction rules. After each of the 50 that were produced had their 426 Hemi engine installed by the Hurst Corporation they were capable of achieving 10 second ¼ mile times with very little modifications to the standard stock model. With over 426hp on such a lightweight body, this car wasn't street legal but the Dart L023 made itself very at home on the race track.
With only 50 being made during its production run almost 50 years ago, you can consider yourself extremely lucky if you're ever fortunate enough to stumble across a 1968 Dodge Dart L023 that's still in working order.
32. 1969 Dodge Super Bee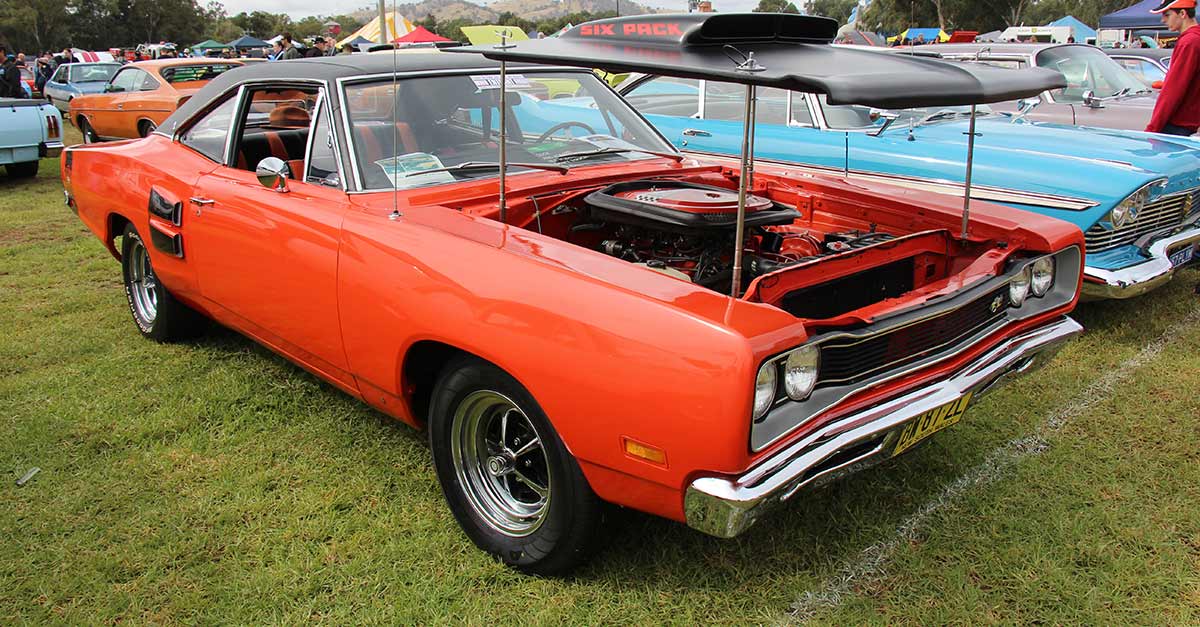 The Dodge Super Bee was a muscle car manufactured by Dodge from 1968 -1971. This vehicle was based on the Dodge Coronet. This low priced muscle car was known as Dodge's version of the Plymouth Road Runner.
Engine: 383 V-8 – Top speed: 126 mph
Quarter mile time: 13.71 secs – 0-60 mph time: 6.0 secs
31. 1987 Buick GNX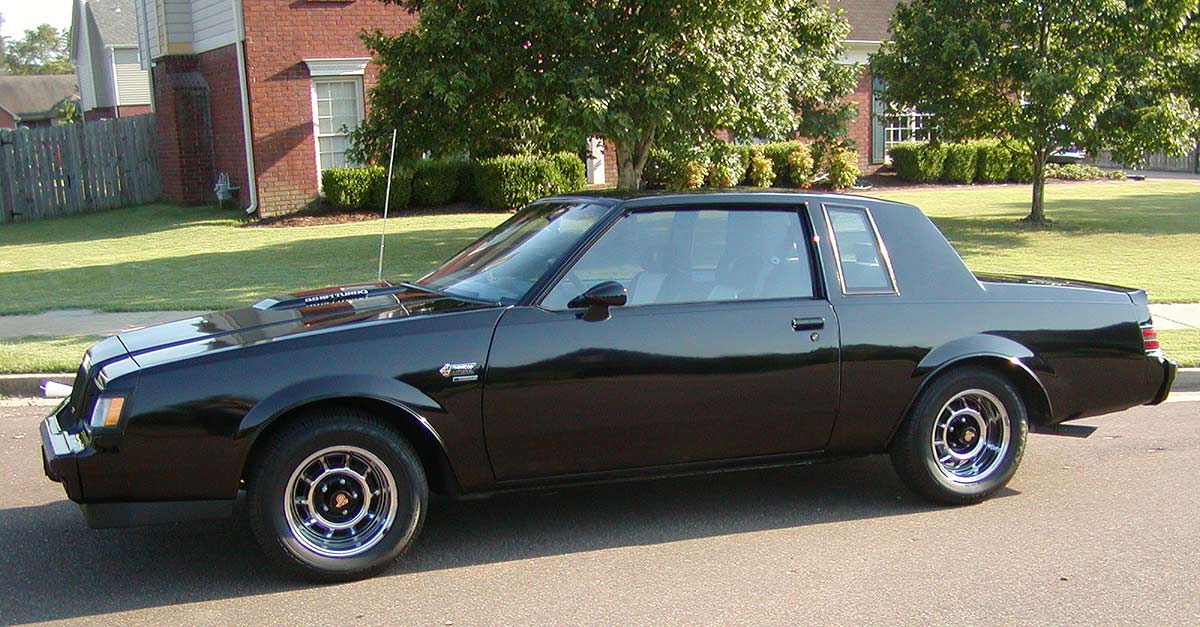 The 1987 Buick GNX was a limited production muscle car. GNX stand for Grand National Experimental, and the asking price was $29,900. Upon release of this unique muscle car it gained popularity seeing as it released close to when the Star Wars movies. The GNX was even called, Darth Vader's Car, and Car and Driver headlined the GNX with "Lord Vader, your car is ready." The GNX offered popular completion to the other popular V8 Mustangs and Camaros. This one is definitely deserving of a spot on our classic American car list! 
Engine: 196 Buick V6 – Top speed: 124 mph
Quarter mile time: 14.6 secs – 0-60 mph time: 6.1 secs

30. 1966 Shelby Cobra 427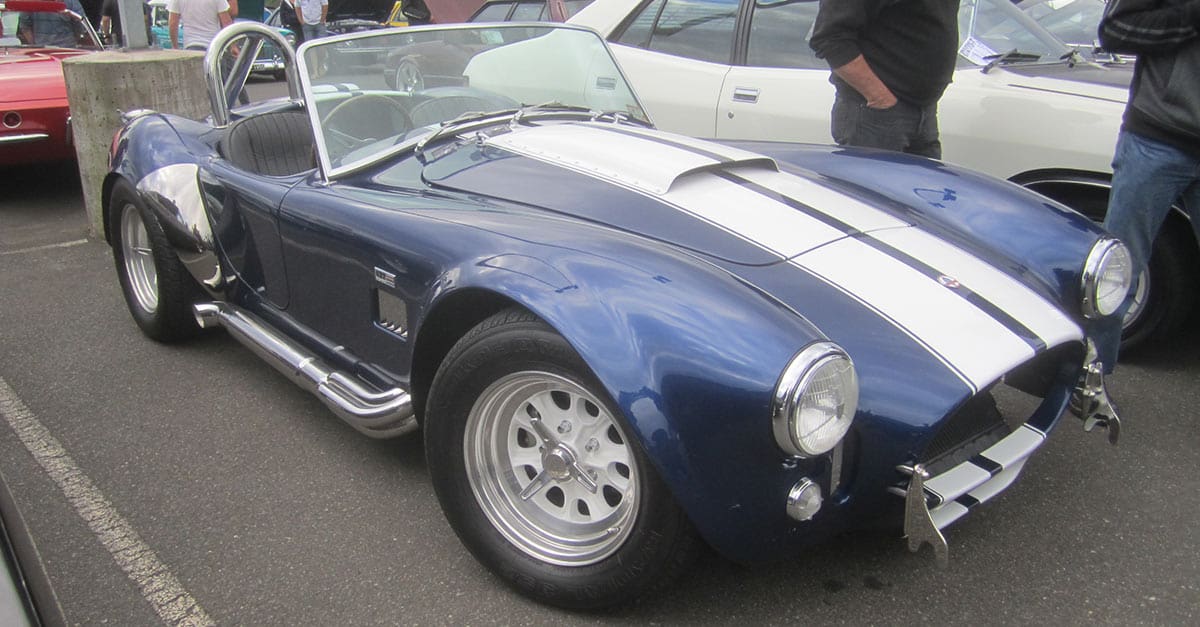 The 1966 Shelby Cobra, also known as the AC Cobra, originally was a compact British sports car, but this car was insanely faster than many of the cars on the market at the time featuring a V8 engine.
Engine: 427 FE – Top Speed: 164 mph
Quarter mile time: 13.5 secs – 0-60 mph time: 5.1 secs
29. 1967 Pontiac Firebird 400 Convertible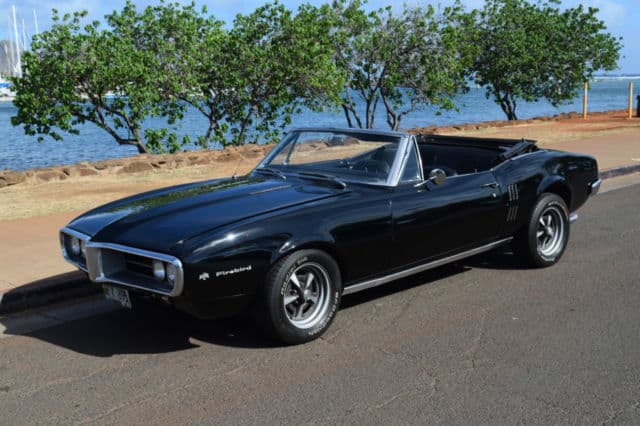 With five different styles, Pontiac attempted to set its Firebird 400 apart from the Camaro (which shared the same platform) and the competition in '67. That same year, Ford released the Mustang and Mercury Cougar which also shared the same platform. Their ad slogan was "The Magnificent Five…The Pontiac Firebirds,". Compared with previous year models, the '67 Firebird 400 had a bigger V-8, dual exhaust pipes, a serious suspension upgrade, and a heavy duty transmission.
Named the Firebird 400 for a reason, this bird had 400 cubic inch displacement. The V-8 engine has a compression ratio is revved up to 325 horsepower and 410 foot-pounds of torque at 3,400 rpm. Thanks to regulations to keep speeds down, Pontiac had installed a device that wouldn't allow full throttle. Gear heads figured out that this could easily be removed, instantaneously adding 25 HP to their new Firebird. It now could go from 0-60 mph in a mere 6.2 seconds. Now that is fast!
While there were around 83,000 1967 Firebird 400's produced, only 3,658 convertible Firebird 400's was sold. Keep an eye out for this diamond in the rough, but it sure is tough to miss with its distinct style.
Engine:
400 CID 16V V-8 –
Top speed:
120 mph –
Quarter mile time:
14.9 seconds –
0-60 mph time:
6.2 seconds
28. 1966 Chevrolet Corvette 427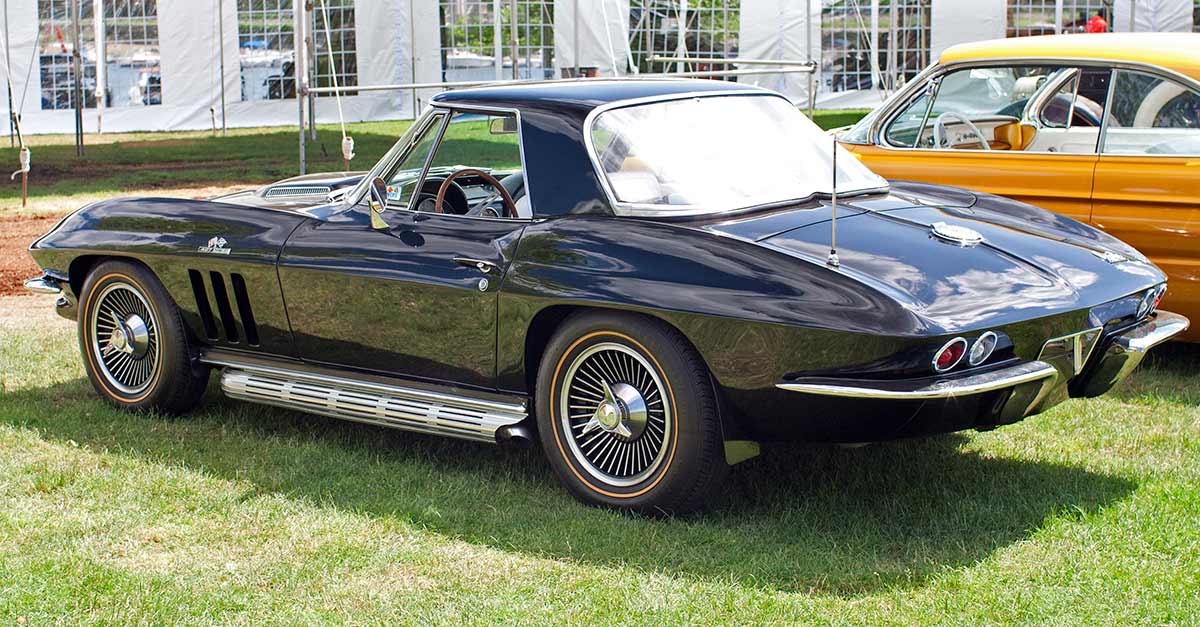 The 1966 Chevy Corvette featured a big block V8 engine that gave out 390 hp making it one of the more impressive muscle cars during its time. Similar to the Cobra, this Corvette was originally known as a sports car, but can stand up against any of the bigger muscle cars.
Engine: 427 V-8 – Top Speed: 130 mph
Quarter mile time: 14.9 secs – 0-60 mph time: 6.5 secs
27. 1969 AMC AMX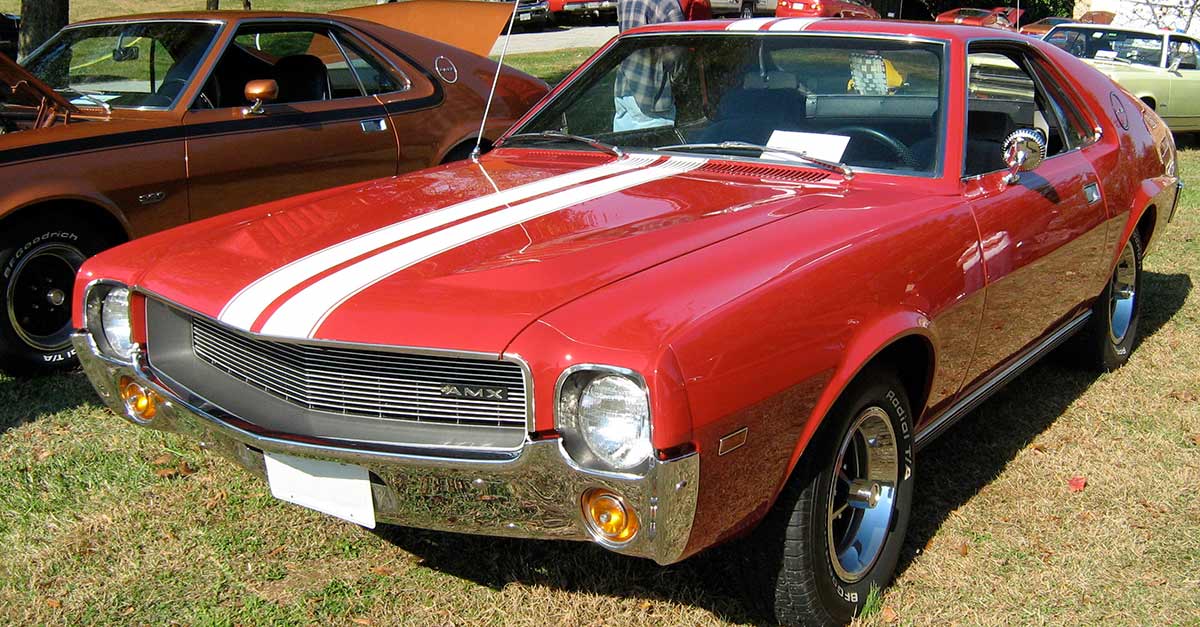 The AMC AMX was a two-seat muscle car produced from 1968 – 1970. The big difference between the AMX and other muscle cars was its short wheelbase, and it was the only American built steel bodied two-seater upon its release since the 1955 – 1957 Ford Thunderbird. The AMX was the competitor as a two-seater against the Chevy Corvette.
Engine: 390 V-8
26. 1969 Chevrolet Nova SS 396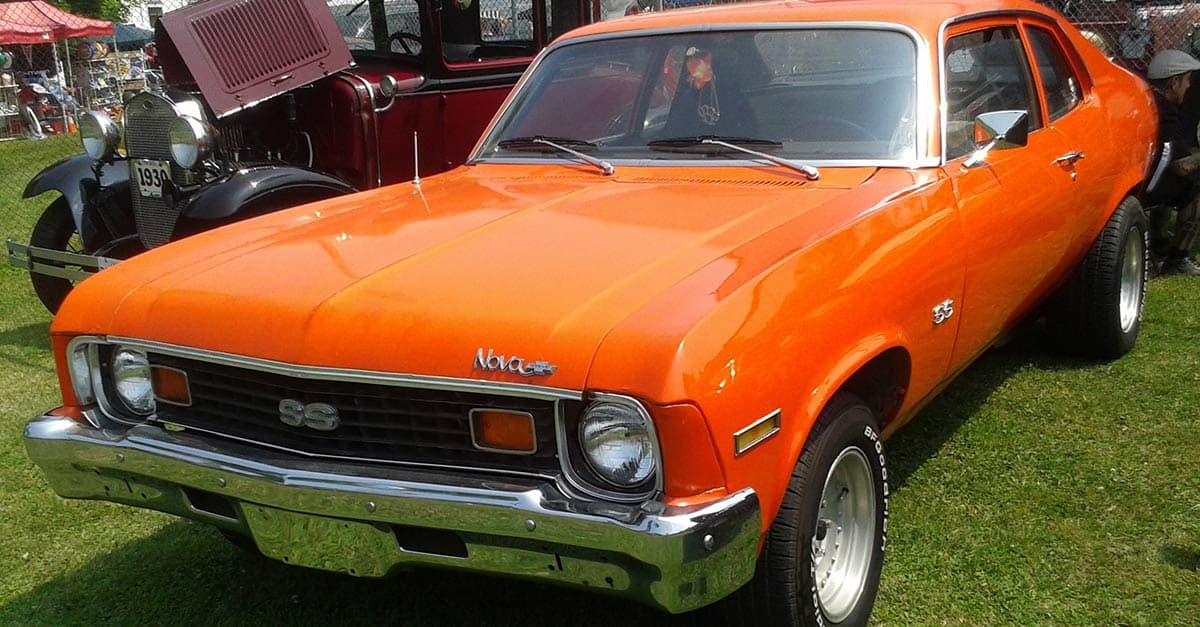 The Chevy Nova was a smaller muscle car produced from 1962 – 1979 and 1985 – 1988. The Nova was one of Chevy's bigger sellers throughout 1968. This car was also one of the feature cars in Quentin Tarantino's Death Proof film.
Engine: 402 V-8 – Top Speed: 115 mph
Quarter Mile time: 13.87 secs – 0-60 mph time: 5.8 secs
25. 1971 AMC Matador "Machine"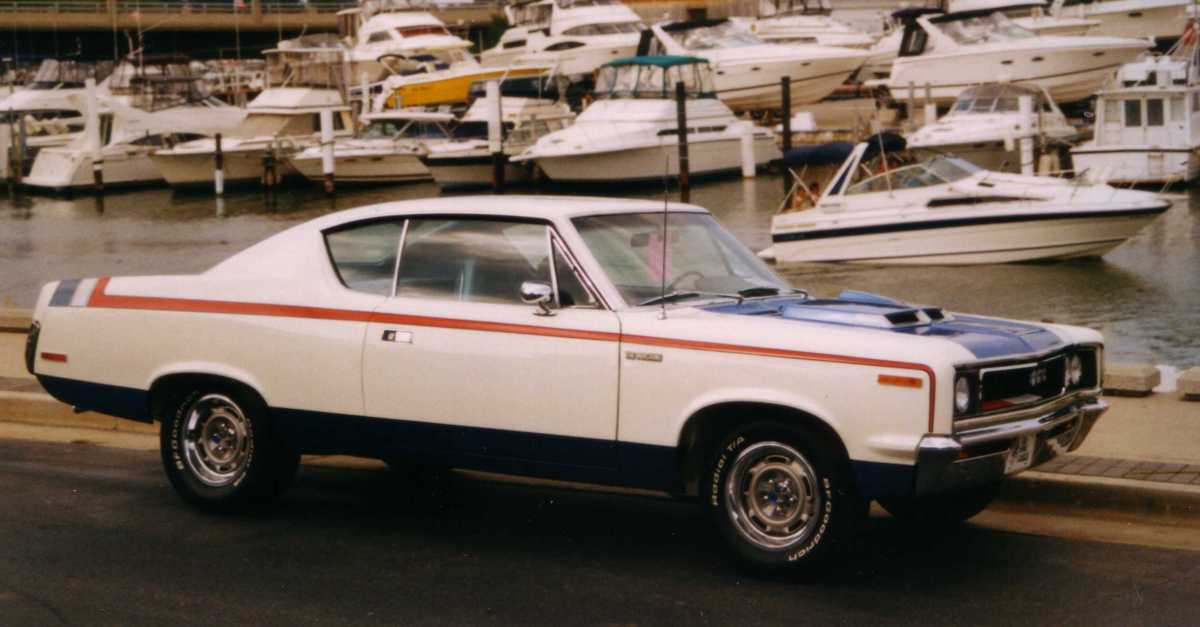 They don't make 'em like this anymore! Seeking a new direction for their signature muscle brand, AMC changed their base for The Machine from the Rebel to the Matador. It was released only as a performance package option for two-door hardtops Matadors. Most reports say that around 50 Matador Go-Machines were produced in 1971. It was the only year that this package existed.
The '71 Machine featured slot-styled steel wheels with white-letter belted tires, dual exhaust system, a heavy-duty handling package, power disk brakes. Engine wise, the 401 CID V-8 engine was where the real power was. It came equipped with either a four-speed manual or a three-speed automatic transmission. Lacking the bells and whistles of its predecessor, the '71 Matador Machine did not have the Ram Air, hood scoop, tachometer, or the recognizable red, white, and blue paint job. As much as a shame as this was, The Machine was still American muscle at its finest.
Sadly, dipping sales for muscle cars and economic factors had slowed the muscle car movement to a crawl in the early 70's. With such low production numbers, and relatively few verified originals, most call the '71 Machine "The Rarest of all Muscle Cars". Even if you do have one, finding parts to restore it to glory are a task.
Engine:
401 CID V-8 –
Top speed:
114 mph –
Quarter mile time:
14.9 seconds –
0-60 mph time:
6.3 seconds
24. 1966 Plymouth Satellite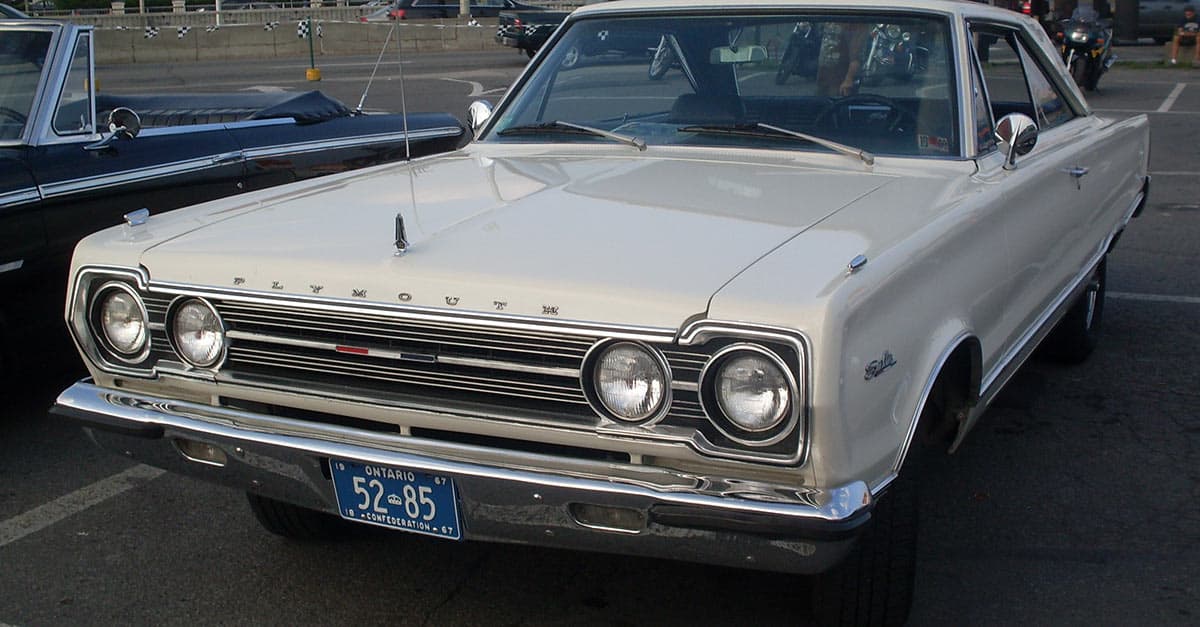 The Plymouth Satellite was a mid-sized muscle car that debuted in 1965. This vehicle was one of the feature cars for Plymouth until 1967 when they introduced the GTX.
Engine: 440 Magnum V-8 –Top Speed: 107 mph
Quarter Mile time: 18.1 secs – 0-60 mph time: 10.5 secs
23. 2018 Dodge Challenger SRT Demon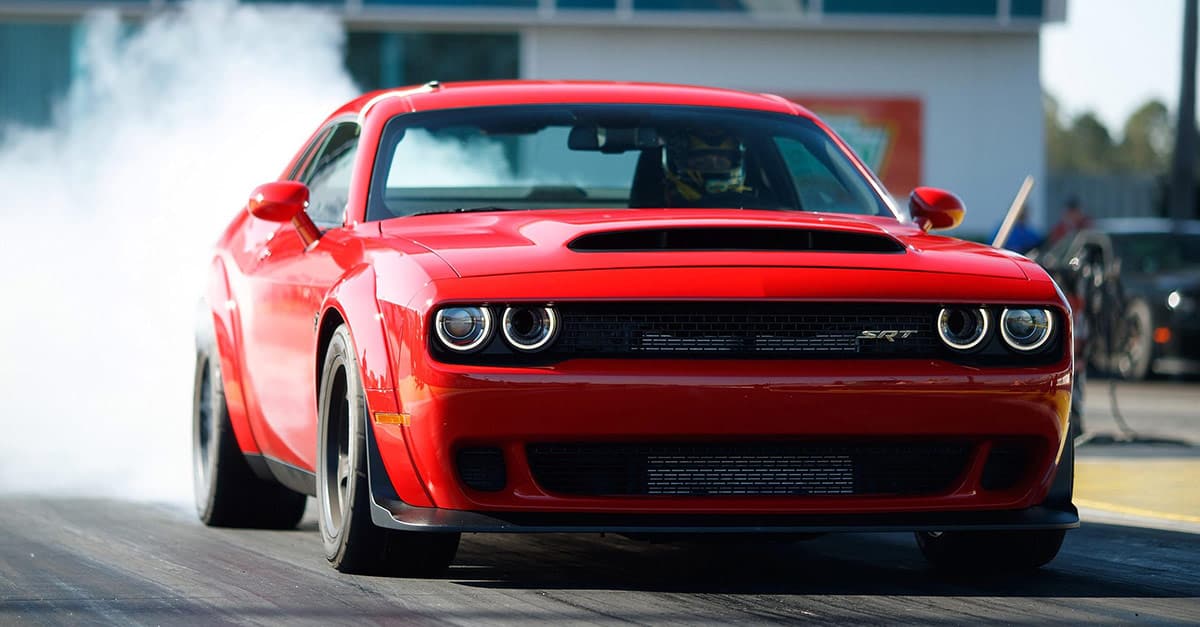 The Dodge Demon was manufactured to be a powerful wide-body version of the Challenger. We all first saw it at the New York Auto Show in April 2017. The Demon featured drag radial road tires, and a transbrake system used for drag racing that puts the transmission in 1st gear and 2nd gear simultaneously.
Engine: Supercharged HEMI V-8 – Top speed: 200 mph
Quarter mile time: 9.65 secs – 0-60 mph time: 5.1 seconds
22. 1970 Oldsmobile Rallye 350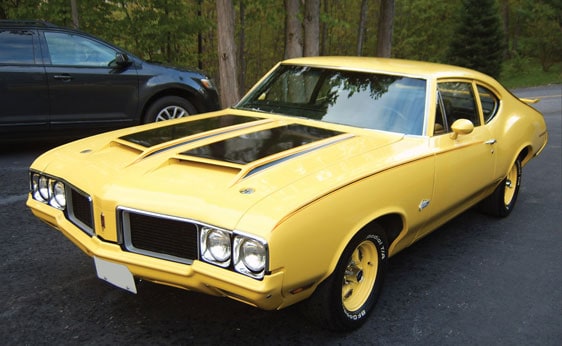 With the muscle car movement in full swing by 1970, almost every car maker and brand was looking to get into the action. Oldsmobile wanted in and went in all guns blazing with the Rallye 350.
Oldsmobile wanted a car to compete with already existing muscle competition, but also wanted to sell it on a point that their car had value. Dubbed by some a "Junior" muscle car, the Rallye was introduced in 1970 and it came in only one color – Sebring Yellow. A pretty small number were built – 3,547. Some dealers reported having trouble selling it thanks to its yellow bumpers and wheels– so much so that some of them removed the bumpers and replaced them with chrome and installed stainless steel trim rings on the wheels.
It came with a base L74 350 V-8 engine boasting 310 HP and 390 lbs./ft. of torque at 3200 RPM. It used a single four-barrel carburetor and a super strong block made with nickel, keeping it extremely durable. And the car can blaze a 15.27 quarter mile at 94 mph and go 0 to 60 in under 7 seconds flat.
While it may not be pretty, the '70 Rallye 350 packed a punch behind that yellow bumper.
Engine:
L74 350 V-8 –
Top speed:
124 mph –
Quarter mile time:
15.3 seconds –
0-60 mph time:
6.7 seconds
21. 2016 Ford Shelby GT350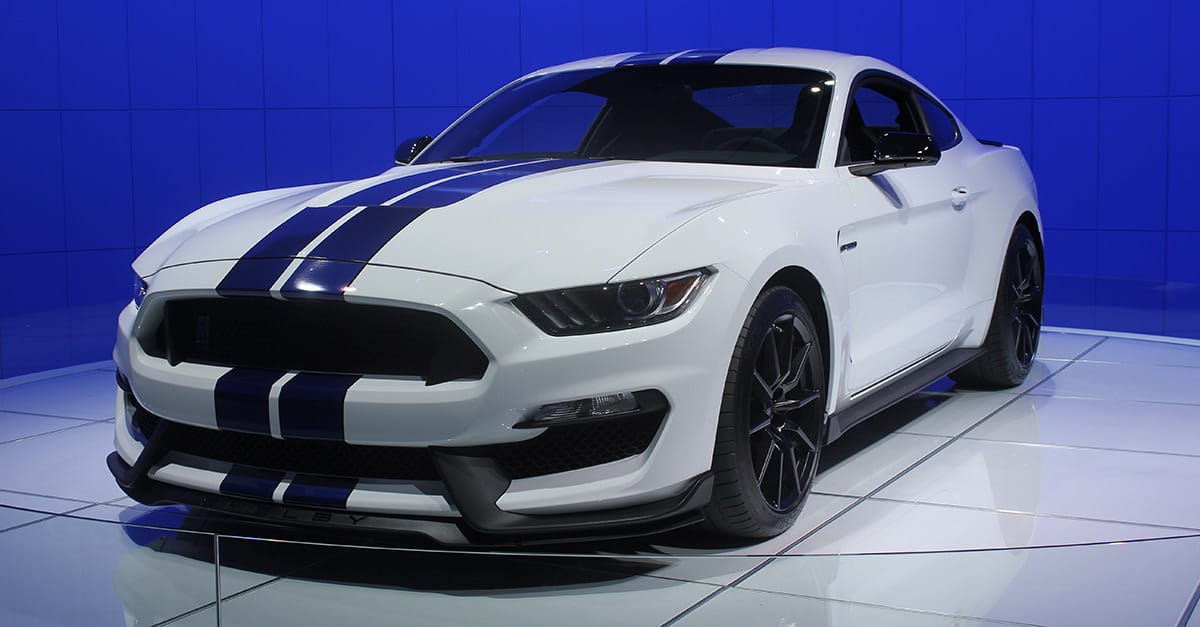 The Shelby GT 350 is an amazing muscle car that was poised to compete against the Camaro Z28, Porsche 911 GT3, and BMW M4. Some of the notable features were track-focused chassis tuning, aerodynamic changes which included lowering the hood around the engine, two-piece Brembo brakes, MagneRide damping option, lightweight Tremec six-speed manual transmission, Recaro seats, and various weight reduction efforts.
Engine: 5.2 L "Voodoo" V8 – Top Speed: 169 mph
Quarter mile time: 12.4 secs – 0-60 mph time: 4.1
20. 1970 Oldsmobile F-85/Cutlass W-31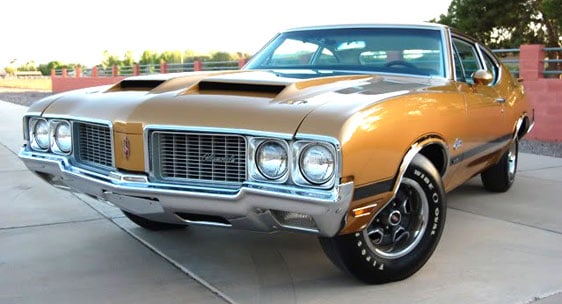 Another one of Oldsmobile's ventures into the muscle car market was the 1970 Oldsmobile F-85 Cutlass W-31. With a slight edge over the Rallye 350, the 1970 model of the W-31 package was a bump ahead of the previous year's model.
The W-31 model had a decal near the marker lights that said "W-31" and had dual Outside Air Induction hood scoops. While the standard F-85 was considered an everyman car. The kind of car your Dad drove back and forth to work, or the kind your grandparents cruised in. The W-31, though, was a beefy upgrade that serious performance enthusiasts were begging for. With a 350 engine, it commanded 325 HP and 360 lbs./ft. of torque. This was NOT an everyman car; it was machine built for speed. Thanks to multiple hand selected parts, including aluminum intake valves, pistons, bearings, and crankshaft, the W-31 had a 10.5:1 compression ratio. And although it was a small block engine, this car ran anything but small.
Unfortunately, though the F-85 itself was extremely successful, this performance package only sold 1,352 units. And eventually the W-31 package was scrapped after 1970, thanks to the prior mentioned poor sales. Oldsmobile strayed from their norm of big bodied, big block cars, and they had created an American muscle classic.
Engine:
350 V-8 –
Top speed:
115 mph
Quarter mile time:
15.1 seconds –
0-60 mph time:
6.5 seconds
19. Dodge Viper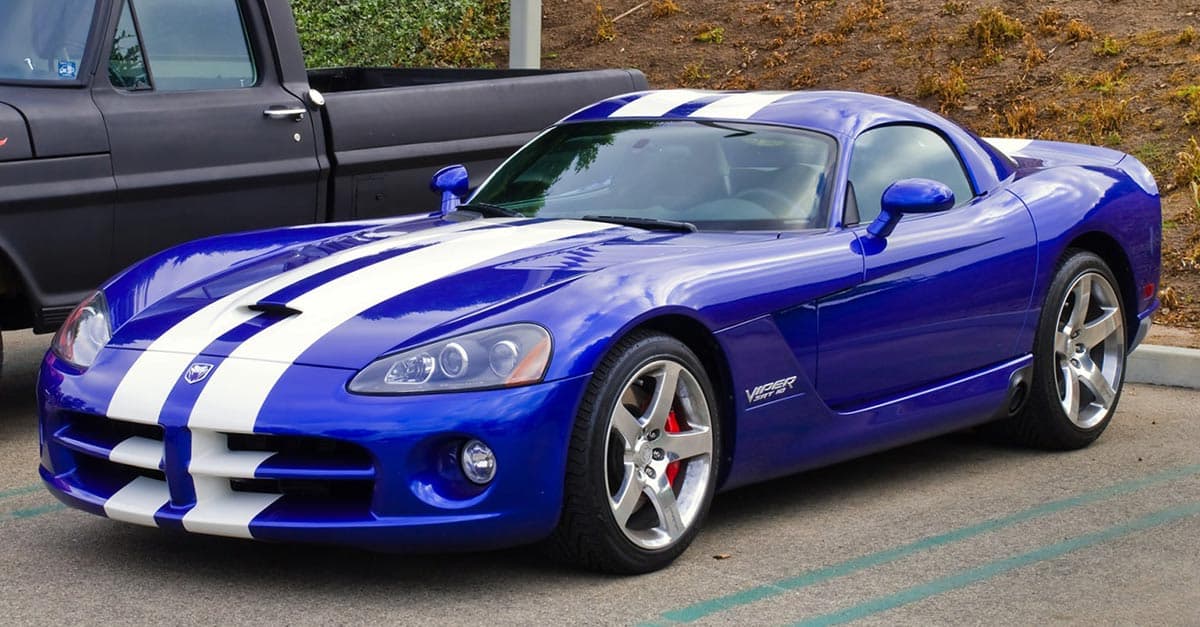 The Dodge Viper, which many consider to be more of a sports car than a muscle car, was built with a massive V10 engine that was produced from 1991 – 2010 and 2012 – 2017.
Engine: Viper V10 – Top speed: 197 mph
0-60 mph time:3.3 seconds
18. 1964 Pontiac Tempest LeMans GTO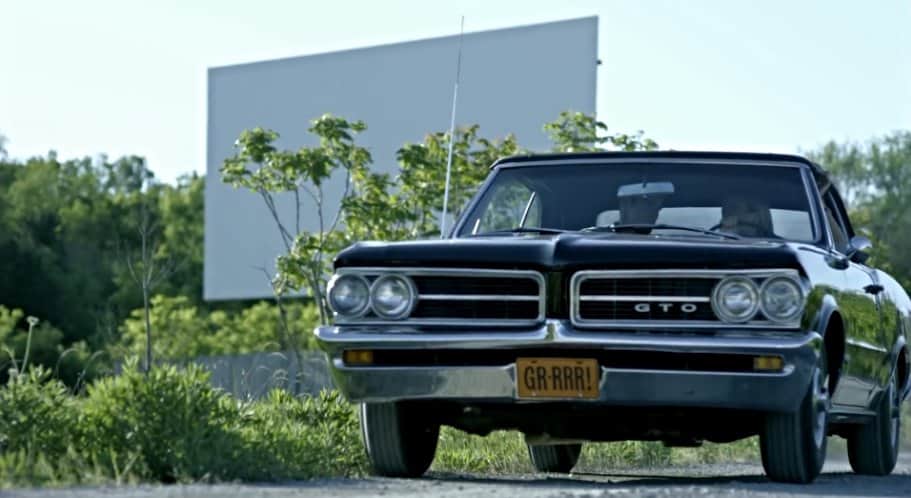 What many consider to be the first American muscle car (unless you count the '49 Oldsmobile Rocket 88), the '64 Pontiac Tempest LeMans GTO was created when Pontiac put a full-size engine in a mid-size car. With the GTO (Gran Turismo Omologato) name taken from the 250 Ferrari, Pontiac proved they could be a brazen brand. All that followed is American muscle history.
The Tempest LeMans GTO came standard with a 389 V-8 engine that delivered 350 horsepower with the optional 3 two barrel carburetors. This special add on was called Tri Power, and boosted performance significantly. This propelled the GTO to 60 mph in 7.7 seconds and blasted through the quarter mile test at 15.8 seconds at 93 mph. The GTO also came equipped with specialized suspension and shock absorbers, dual exhaust, and a heavy duty clutch. It also was adorned with special trim and twin fake air scoops to distinguish the GTO from the standard Pontiac Tempest, which was built on the same frame.
When the engineers at Pontiac made the Tempest LeMans GTO, they started a movement that would define automobile design and engineering for the next century and a half, and capture the attention of a generation.
Engine:
389 V-8 Tri Power –
Top speed:
123 mph –
Quarter mile time:
14.7 seconds –
0-60 mph time:
6.1 seconds
17. Plymouth Barracuda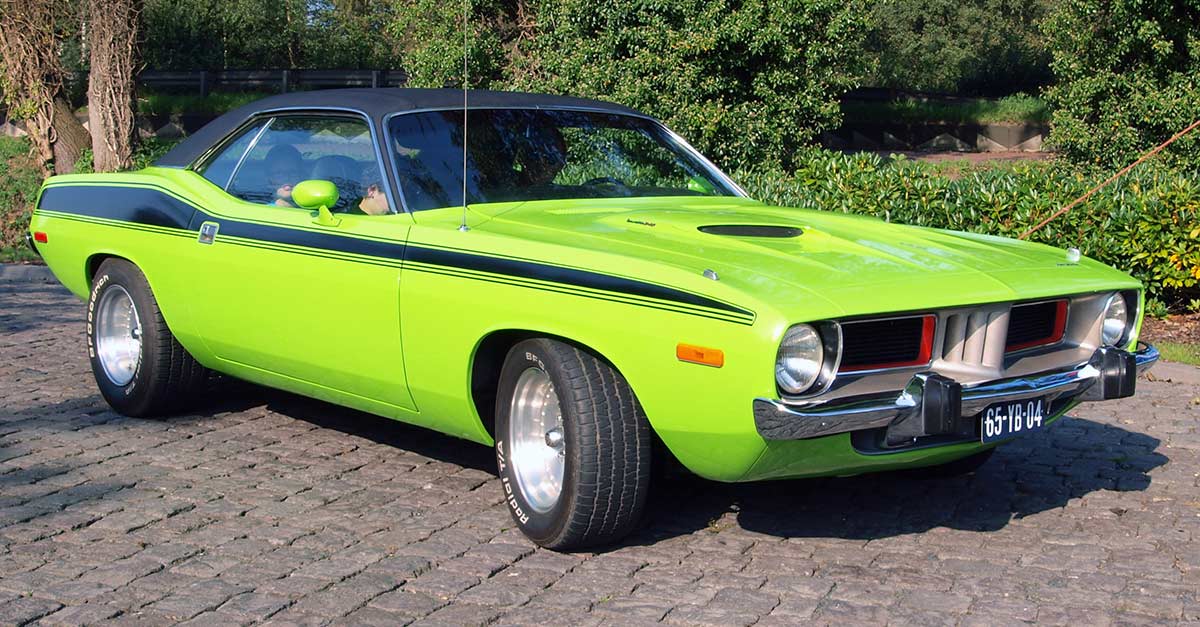 The Plymouth Barracuda was a two-door muscle car produced from 1964 – 1974. The Barracuda debuted around the same time as the Ford Mustang. The main reason Ford beat out the Barracuda in many of those years was because Ford put more focus into marketing the Mustang than Plymouth. "Pony Cars" also sounds better than "Fish Cars".
Engine: 426 Hemi V8 – Top Speed: 118 mph
Quarter mile time: 14.01 secs – 0-60 mph time: 5.6 secs
16. 1970 Chevrolet El Camino SS 454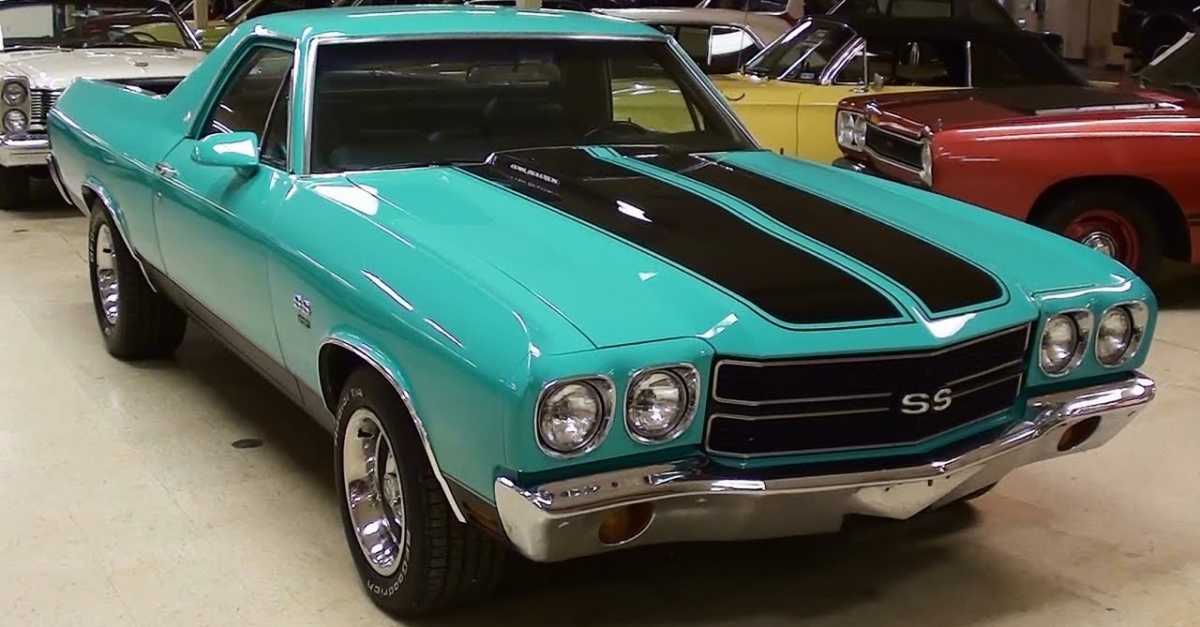 Power, speed, and versatility were the name of the game with the El Camino. Inspired by an Australian influence – this coupe utility was made to work all week, and drive to church on the weekend. Built to directly compete with the Ford Ranchero, the El Camino was based on the Chevelle Station Wagon and Four-Door sedan wheelbase, it had impressive length at 208". And although technically classified as a truck in the U.S., the El Camino is a muscle car at heart.
The '70 El Camino came equipped with a SS396 engine, which actually displaced about 402 cubic inches. But a select few El Camino's received the LS 454 CID engine, which boosted the beast to 450 HP. Holy ponies, Batman! With 500 lb./ft. of torque, this gave the El Camino a 13 second quarter mile time. You can haul with power like that.
With new and improved styling from the earlier models, the '70 El Camino was given new style on its front end and headlights. It also included a vacuum driven Cowl Induction hood to boost power.
Many consider the El Camino the mullet of the muscle cars, business up front, party out back. One thing is for certain, the El Camino is down in history as a classic.
Engine:
LS 454 V-8 –
Top speed:
105 mph –
Quarter mile time:
12.7 seconds –
0-60 mph time:
5 seconds
15. AMC Rebel Machine

The AMC Rebel Machine was AMC muscle car version of the AMC Rebel. The Machine featured an AMC V8 engine which was one of the most powerful engines AMC offered at the time. This car featured a bunch of cool paint trims and an amazing patriotic trim that painted The Machine white with red, white, and blue reflective strips.
Engine: 390 V-8 – Top Speed: 127 mph
Quarter Mile time: 14.4 seconds – 0-60 mph time: 6.8 seconds
14. 1965 Chevrolet Chevelle Malibu SS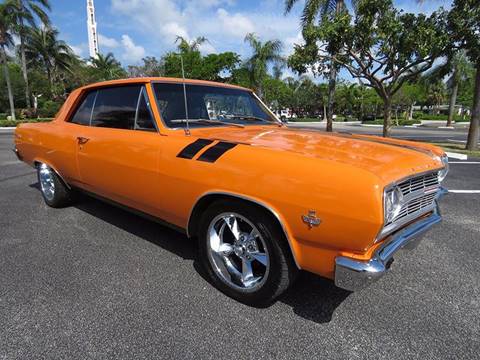 Walk into any car show or auction, and you will be hard pressed to not find a Chevelle Malibu SS. It is a classic looking muscle car, with the specs to back it up. Many consider this one of the defining moments in American muscle car history.
Starting in '64, you could get a Chevelle with a 250 or 300 HP V-8, but with so much completion to build performance cars, Chevy had an answer the following year. Built on the same 115" wheelbase as the '55 Chevy, the '65 Chevelle Malibu SS contained a 350 HP 327 V-8 engine. And in contrast to previous Chevelle models, this one offered a robust center console and improved engine gauges. And you know it's an SS by the SS badge on the fender.
In addition, in '65, Chevy built another model of the Chevelle Malibu SS with a 396 CID V-8 that boosted the HP up to 375. They dubbed it the Z-16 package. It was immediate competition to the GTO and Skylark Gran Sport with increased displacement. And it ran a 13.9 second quarter mile. It truly was a staple of the American muscle niche that was just beginning to heat up.
Engine:
396 CID V-8 –
Top speed:
135 mph –
Quarter mile time:
14.6 seconds –
0-60 mph time:
6.1 seconds
13. 1971 Ford Mustang 428 Super Cobra Jet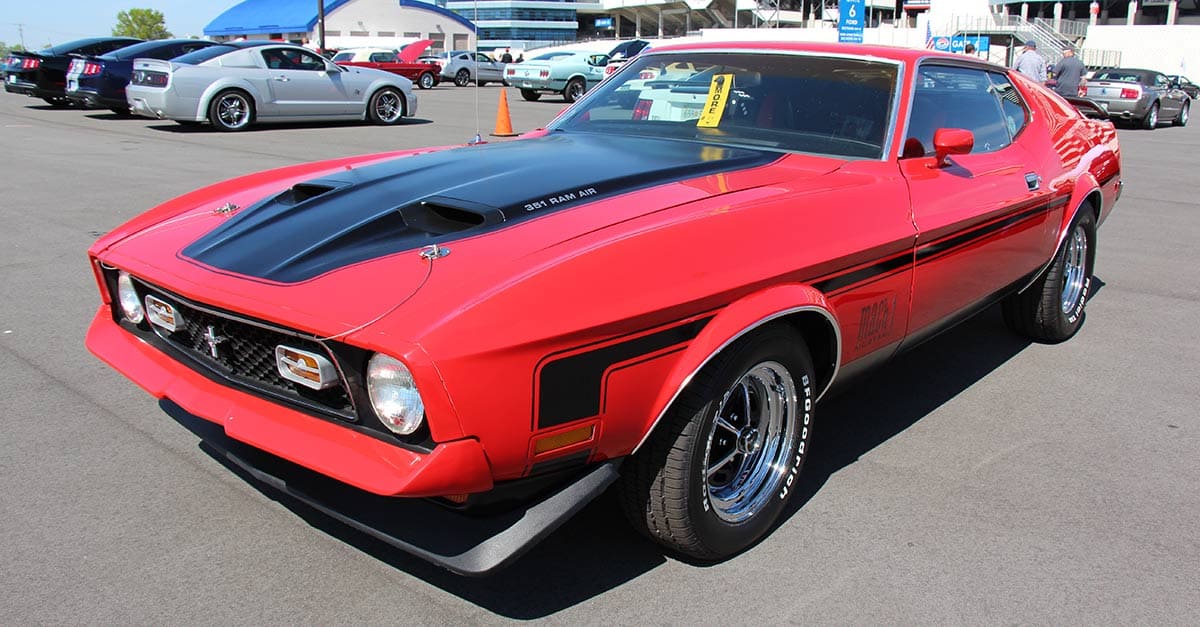 The Ford Mustang 428 Super Cobra Jet was a historic car for Ford seeing as 1971 was the last year for big block Mustangs. The reason Ford stopped using big block engines because of increasing emissions control regulations and higher insurance premiums. This model featured some notable NACA hood with dual scoops. This served no performance increase unless you get the Ram Air option.
Engine: 302 Windsor V8 – Top speed: 112 mph
Quarter Mile time: 14.4 secs – 0-60 mph time: 5.7seconds
12. 1970 Buick GSX Stage 1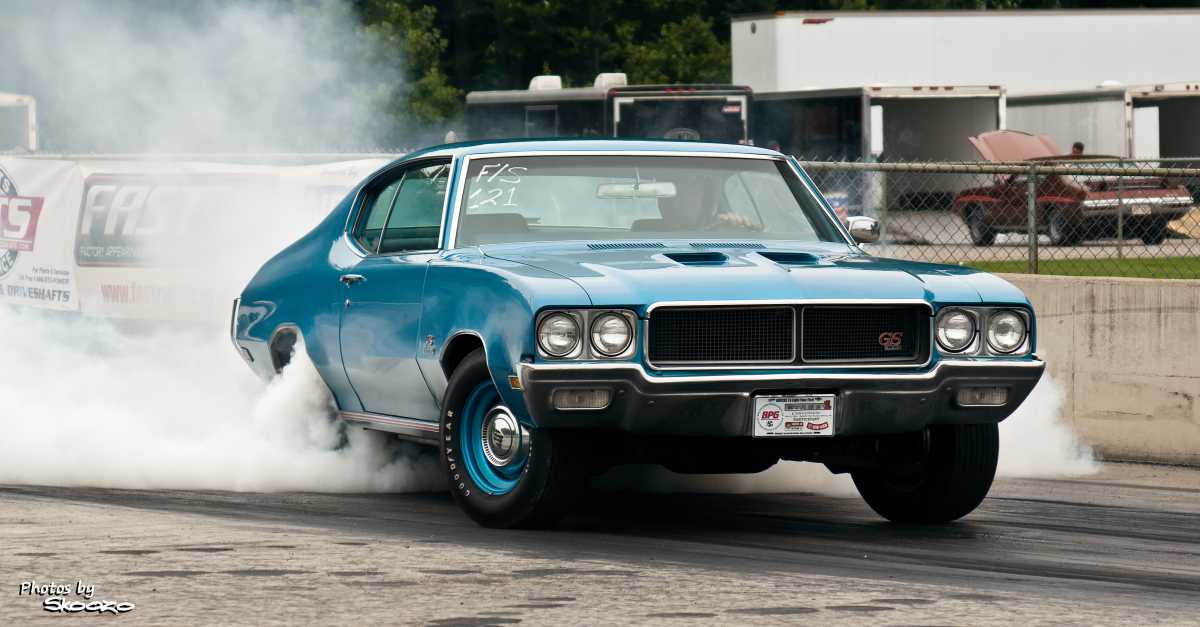 When you think of Buick, you're probably thinking of a road hogging monster of a vehicle meant for slow rides to church on Sunday morning, but with a late entry into the American muscle market, Buick created a monster. The GSX Stage 1 was one of the fastest muscle cars of the era.
With a 455-cu.in. V-8, it could output around 395 horses. Some say even more. The Stage 1 option had even larger intake and exhaust valves and increased compression from 10.0:1 to 10.5:1. This resulted in 510 lb./ft. of torque at 2800 RPM. With a lighter engine (150 lbs.) and revised jetting for the carburetor, this machine was meant to take off. The '70 GSX Stage one boasts an impressive 13.38 quarter mile and can reach 60 mph in 5.5 seconds. This is not your grandpa's Buick! This engine was the most powerful in the U.S. for 22 years straight, only to bow down when the Dodge Viper was released in 1992.
Available in only two colors, Apollo White or Saturn Yellow, it came with two broad strips across the hood. The GSX also came equipped with a tachometer and a rear spoiler. That right there tells you just how fast it is.
Engine:
455 Stage 1 V-8 –
Top speed:
145 mph
Quarter mile time:
13.9 seconds –
0-60 mph time:
5.5 seconds
11. 1969 Yenko Chevelle 427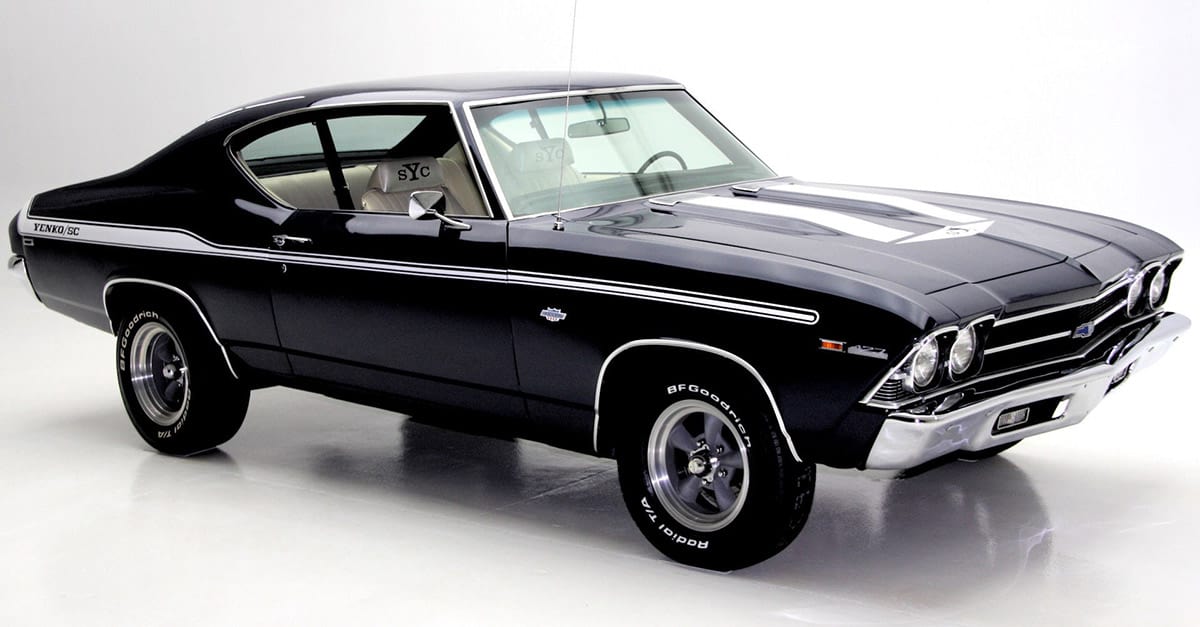 The 1969 Yenko Chevelle was developed by Pittsburgh Chevy dealer and retired Corvair and Corvette race car driver Don Yenko. He developed signature Yenko Chevelles, Camaros, and Novas. His Chevelle featured a supersport blackout grille, a super sport hood, a 12 bolt differential, a L72 425 horsepower 427 engine with an automatic or manual transmission option, and bench seats. 99 of these Chevelles were built with 55 of them having a four-speed manual transmission.
Engine: 396 V-8 – Top speed: 134 mph
Quarter mile time: 13.3 secs – 0-60 mph time: 5.1 secs
10. 1969 Pontiac GTO The Judge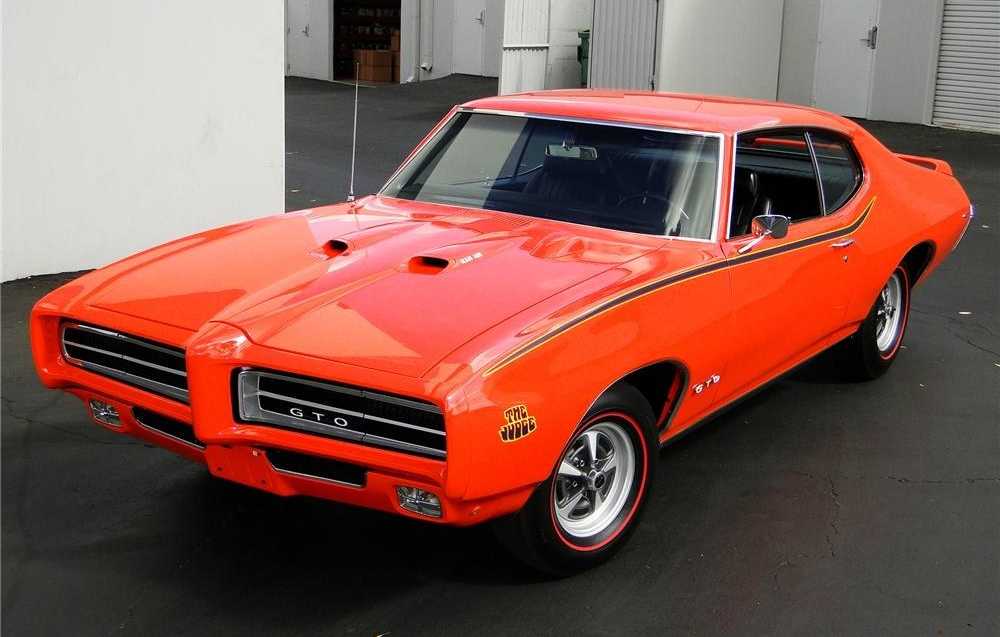 Every nickname is given for a reason. They nicknamed the '69 Pontiac GTO "The Judge". With ad slogans like "The Judge can be bought" and "All rise for the Judge", Pontiac introduced a special package to its popular GTO that boosted performance and added extra looks to the already fast selling model.
Getting the Judge package on your GTO cost a whopping $332 extra dollars, but added the benefit of a Ram Air IV engine, wider Rally type tires and wheels, and a rear spoiler, and retractable hood scoops. The Ram Air IV featured high-rise aluminum intake manifold, four-barrel carb, and high flow exhaust manifolds and cylinder heads. It pushed 370 HP like a breeze.
And though many consider this a rough driving car that requires skills to handle, it performed with the best of them. Even though there weren't many bells and whistles on the interior, it had a flashy exterior, complete with a blackout grille and The Judge decals. It was only released in Carousel Red, but Pontiac opted to offer more color options in response to popular demand.
While The Judge was considered a "budget" muscle car, it didn't stop people from saying "Here come de Judge" when they saw this classic fly by.
Engine:
400 Ram Air IV V-8 –
Top speed:
153 mph –
Quarter mile time:
13.9 seconds –
0-60 mph time:
5.1 seconds
9. 1969 Yenko Camaro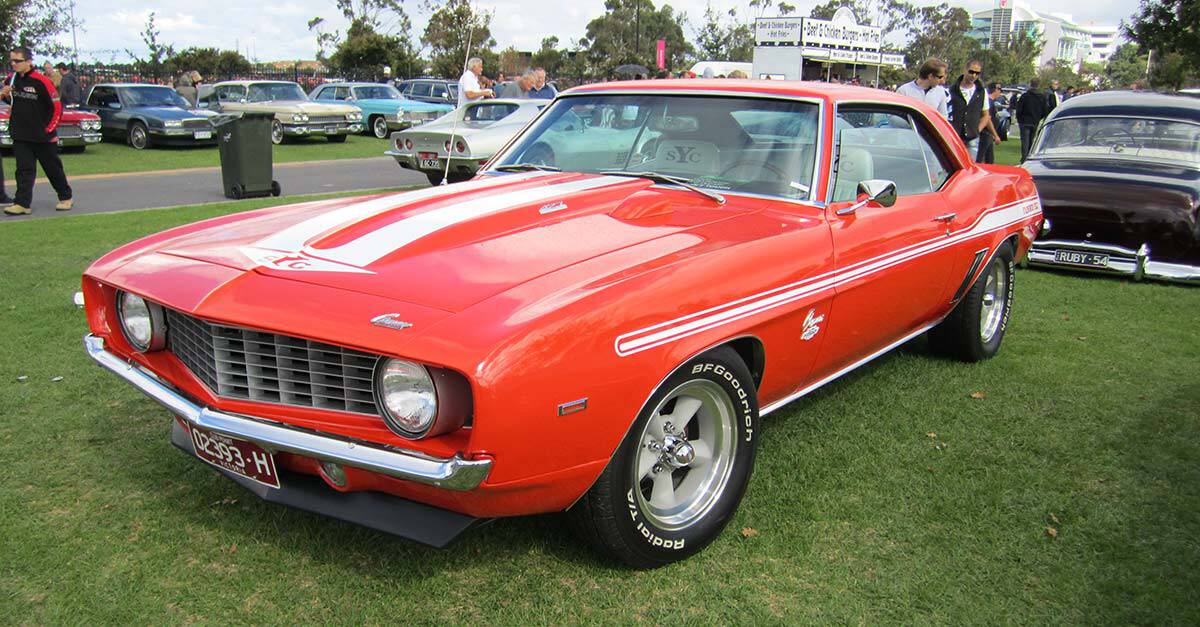 The 1969 Yenko Camaro was another of Don Yenko's special tuned vehicles. Yenko installed a Corvette L-72 7.0 liter V8 in a Camaro which increased its power to 450 horsepower. Originally Yenko's Camaro weren't allowed to race because it wasn't manufactured by Chevy, so Chevy sent Yenko a Central Office Production Order Camaro which helped Yenko get his Camaros able to race.
Engine: 427 Chevrolet V-8 – Top speed: 140 mph
Quarter mile time: 13.5 secs – 0-60 mph time: 5.4 secs
8. 1970 Plymouth Road Runner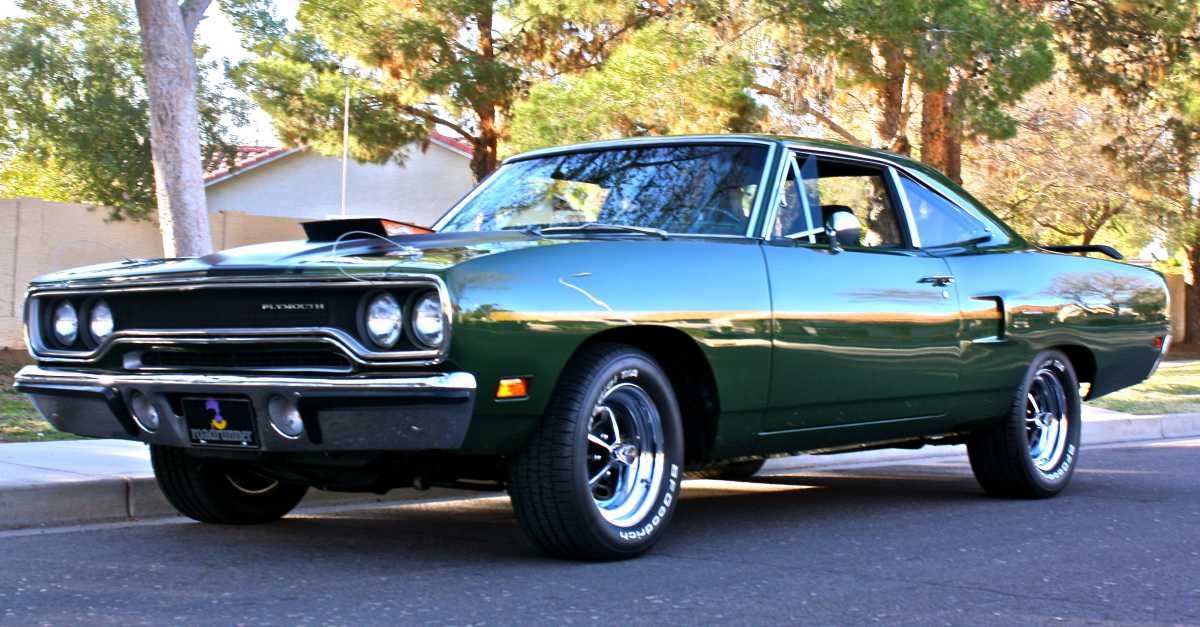 Beep! Beep! An eye grabbing and feature laden muscle car, the Road Runner stuck to its namesake. Originally released in 1968, this car would make its mark on American muscle for decades to come.
The Road Runner was given redesigned front and rear styling in 1970. The "Six Pack" hood was dropped, but all Road Runners were now obtainable with an optional Air Grabber hood. This comprised an under the dash switch which would open a vacuum power operated trap door on the hood, revealing a shark cartoon with the words "Air Grabber."
Just what you need to psyche out your opposition at the stoplight. The Air Grabber would automatically close when the engine was turned off, to keep out the elements.
This car was the more well know version of the Superbird 400. And due to low sales, many Superbirds were converted to Road Runners. This muscle car was a little more toned down for the streets though. And with a 426 Hemi in it, this bird could fly!
Engine:
426 Hemi V-8 –
Top speed:
153 mph –
Quarter mile time:
13.5 seconds –
0-60 mph time:
5.6 seconds
7. 1964 Plymouth Belvedere 426 Hemi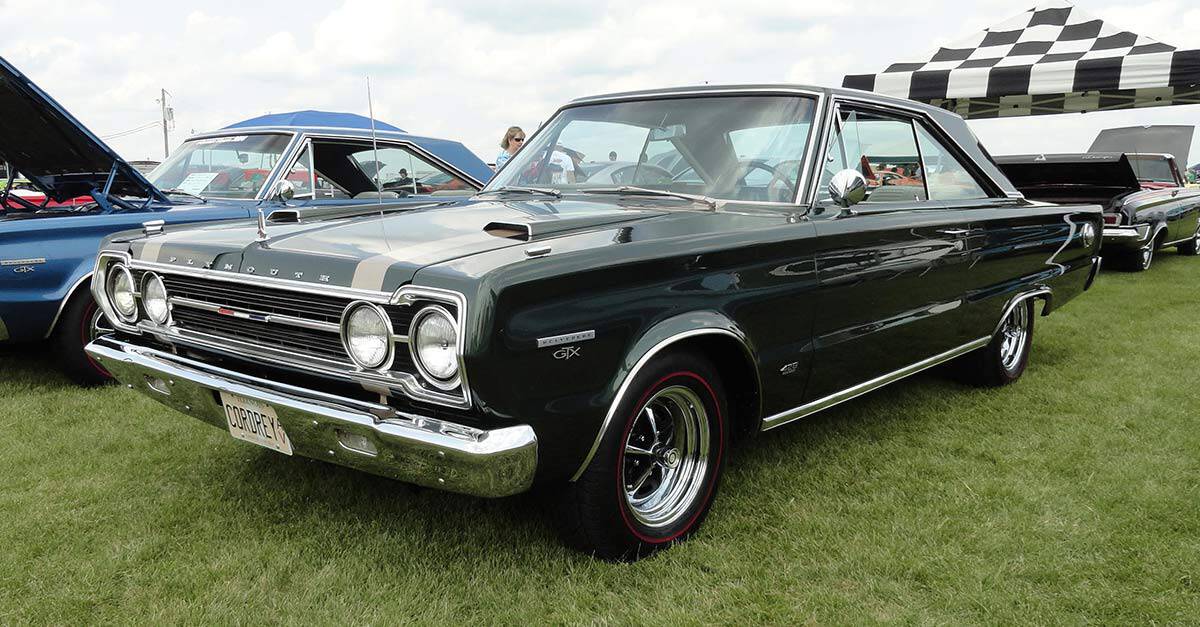 The 1964 Plymouth Belvedere 426 Hemi was one of the first cars Chrysler used a 426 Hemi engine in. Belvederes became a hit on drag strips because of its lightweight body and powerful engine. The Belvedere also won first, second, and third in the 1964 NASCAR Daytona race.
Engine: 383 V-8 – Top Speed: 155 mph
0-60 mph time: 4.6 secs
6. 1969 Chevrolet Camaro Z28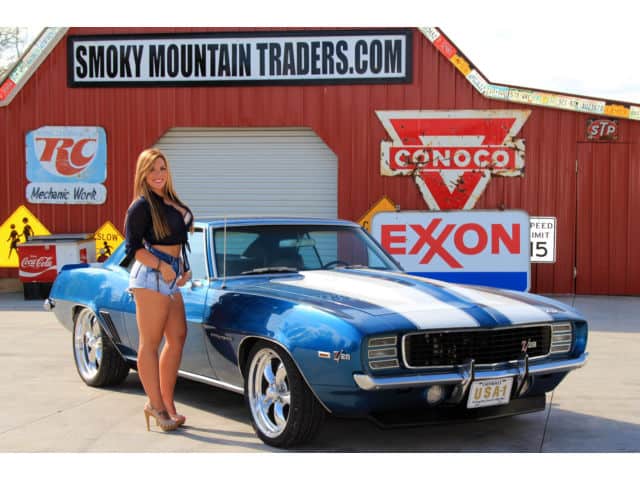 You can't have a list of muscle cars without including the celebrated Camaro. Thanks to a rivalry with Ford and their line of pony cars, the 60's and early 70's muscle car scene was a battle ground between the two heavy hitters.
The '69 Camaro had three different production models: the RS, SS, and Z28. Though the least produced of the three, the Z28 is considered by many to be the superior muscle car. With a 302 CID V-8 engine had a four-barrel carb that was exclusive to the Z28. Rated at 290 HP, this Camaro usually pumped out 400 HP easy with 5800 RPM. Torque at 290 HP was 4200. Muscle car legend has it that the only reason the Z28 was released is thanks to the Special Production Division at Chevrolet wanted to put Camaro on the streets – it was only a race car at the time. They created a special model '68 Camaro Z28 Convertible to convince him – the only one ever made.
Performance wasn't the Z28's only upside, it is one of the finest looking muscle cars ever made. It's body shape and design invokes day dreams of cruising the strip or speeding down the track.
Winning Trans Am titles in '68 and again in '69 offered proof that the Z28 was made to race. Taking to the streets was second nature to this car, it belonged on the track. That is the attraction that gave this car triple its sales in its second year of production.
Engine:
302 V-8 –
Top speed:
129 mph –
Quarter mile time:
15.9 seconds –
0-60 mph time:
7.6 seconds
5. 1970 Ford Mustang Boss 302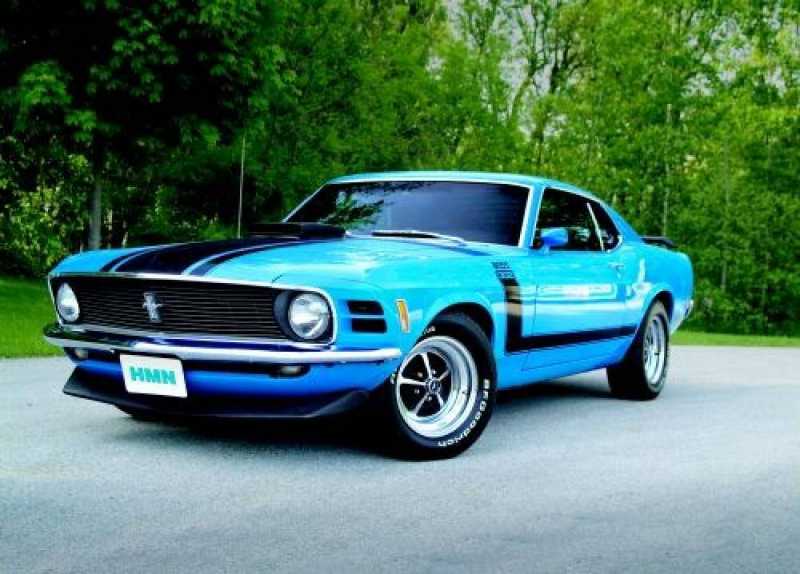 This popular Mustang variant is so revered that it was revived in 2012 and 2013 by Ford. The original, though, is classic American muscle.
Thanks to the rivalry between the Chevy Camaro and the Mustang, Ford kicked the game up a notch by introducing the Boss 302 V-8 Hi Power engine. This pony was rated at 290 HP, but actually put out around 380 HP in certain circumstances. With redesigned dual exhaust and slightly smaller intake valves, the car could accelerate from 0-60 mph in 6.9 seconds and ran a quarter mile in 14.6 seconds! This animal of an engine was aided by the instantly recognizable shaker hood scoop by delivering high pressure air to the engine.
With a signature hockey stick stripes and restructured grill, the '70 Mustang Boss 302 was an instant hit. Adding more fuel to the already flaming rivalry between Ford and Chevrolet, designer Larry Shinoda nicknamed the car "Boss" as an homage to Ford President Bunkie Knudson, who had brought Shinoda with him from Chevrolet.
All in all, with a revamped engine and hockey stick stripes, the 302 Boss Mustang is an iconic muscle car. Needless to say, you know a 302 Boss when you see one!
Engine:
Boss 302 V-8 Hi Power –
Top speed:
131 mph –
Quarter mile time:
15.3 seconds –
0-60 mph time:
6.8 seconds
4. 1971 Plymouth Hemi Cuda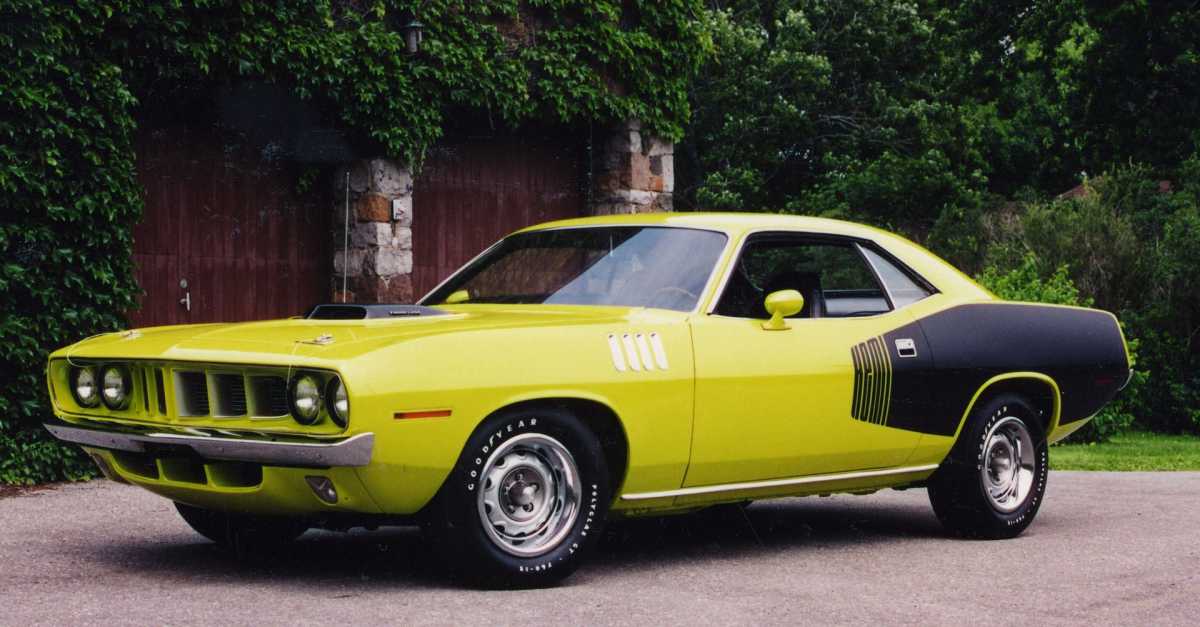 With its unique set of four headlights, the '71 Cuda packs a punch under any of its unusual paint jobs (see Sassy Grass Green). It is also one of the most valuable American muscle cars for collectors, owing to its low production/sales when it was released. It was nearing the end of the muscle car age, but the Cuda proved it could take on the great muscle cars of the era with its exceptional style.
Featuring a 350 HP 426 V-8 engine, the 71' Cuda had moved on from the Valliant body style featured by earlier models to a new, sleeker body that had a new grill, taillights, seat, and trim. It also included four signature gills on the front fenders just below the hood.
For the '71 model, only 13 Hemi Cudas were built, and only seven were sold in the U.S. At a recent auction, one went for 3.5 million USD. Needless to say, this is one of the most sought after muscle cars of all! And word has it that Dodge will be releasing an updated model with a V-6 engine in the 2019 model year. But we know it won't hold a candle to the '71 Hemi Cuda.
Engine:
426 Hemi V-8 –
Top speed:
150 mph –
Quarter mile time:
14 seconds –
0-60 mph time:
6 seconds
3. 1968 Shelby Mustang GT500KR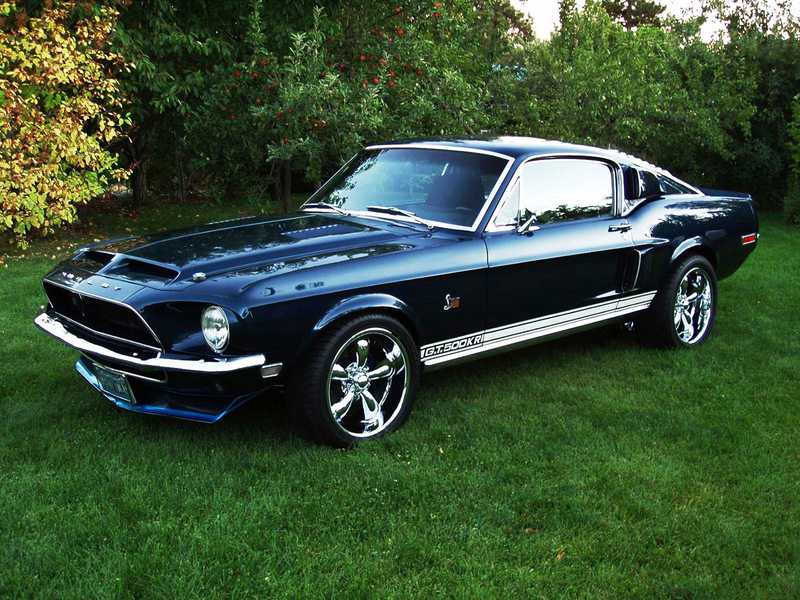 By the late sixties, the Ford Mustang was one of the most loved and popular cars in America. Affordable, available in multiple different styles and models, and with a number of V-6 and V-8 engines, the car enjoyed immense success. Shelby's Mustangs were introduced and were wildly popular and successful. Ford and Shelby were not done creating muscle masterpieces though.
In April 1968 a brand-new version of the 428 Police Interceptor engine was fitted with improved breathing heads and significantly larger exhaust manifolds, creating the 428 Cobra Jet engine, which quickly found its way into the Shelby GT500. This lead to a name change: the GT500KR or "King of the Road."
The '68 GT500KR with the Cobra Jet was rated at 335 HP, but considering this mammoth had 440 ft./lb.'s of torque at 3400 RPM, it has some serious pull. Most experts agree this car actually had around 400 ponies going beneath its hood. 

Unfortunately, Ford and Shelby would cease collaborations in a few short years. It would have been great to see what else they could have brought to the American muscle car market. But at least we have them to thank for the '68 GT500 King of the Road!
Engine:
428 Cobra Jet V-8 –
Top speed:
116 mph –
Quarter mile time:
14.8 seconds –
0-60 mph time:
6.5 seconds
2. 1970 Chevrolet Chevelle SS 454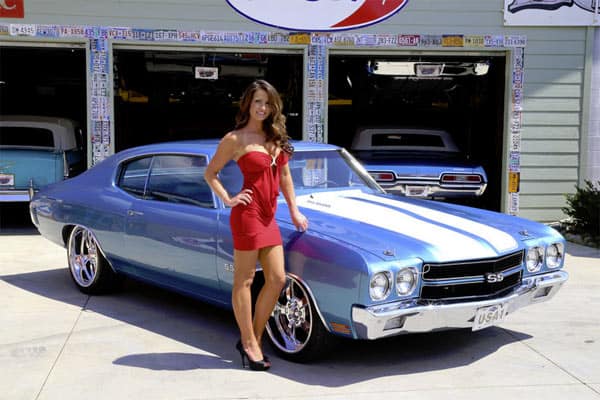 A true pioneer of its kind, the 1970 Chevrolet Chevelle SS 454 helped to herald the muscle car's ascent and golden age in the early seventies. Look at those beautiful Stereo Stripes!
With a 112" wheelbase, the SS 454 LS-6 was a behemoth. According to the brochure, "You can make our tough one even tougher,". This meant beefing up the Chevelle with Cowl Induction to the LS-6 454 engine. With this vacuum operated door at the rear of the hood, air would be pumped into the huge Holley carb. This meant you were driving a beast of a machine with 450 HP and 500 lb./ft. of torque. Recent tests show that the LS-6 engine was under rated, and actually produced closer to 500 HP!
Fans of Mad Men will recognize the Chevelle as the car Don Draper drives in the race in the series finale. Could you imagine Don driving anything but a Chevelle SS? And it wasn't without reason they chose this muscle car. Often nicknamed the "King of the Streets", this car was a regular sight on drag strips across America in the 70's. If you don't know the '70 Chevelle SS, you don't know muscle!
Engine:
454 LS- 6 V-8 –
Top speed:
130 mph –
Quarter mile time:
13.7 seconds –
0-60 mph time:
6.1 seconds
1. 1969 Dodge Charger R/T-SE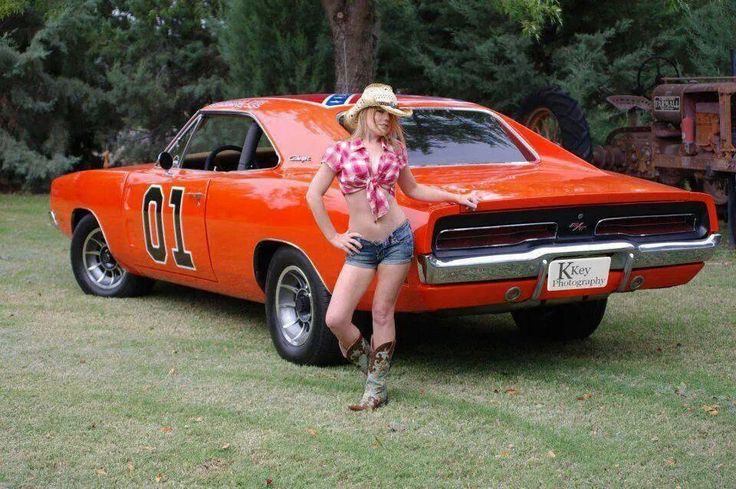 The 1969 Charger R/T-SE was a muscle-luxury combo that offered peak performance and all the comforts available at the time. This is recognized by most to be one of the greatest muscle cars of all time.
Many remember the charger with a bit of a different look – specifically a confederate flag on the door and painted Hemi Orange. As the featured car in
The Dukes of Hazard
television show, the Charger was the king of muscle cars for two decades. Inspiring muscle car owners to slide in through the window and across the hood, The General Lee had its doors welded shut, just like a stock car. In fact, this year of Charger models included the Charger Daytona and the Charger 500, which would overtake Ford as the king of stock cars, winning 22 races in their debut season.
The '69 Charger R/T didn't slack in performance either. With a 426 Hemi, this beast had 425 gross horse power at 5000 RPM. It featured a new look from the first generation of Chargers, including a new grille with a center divider and newly designed brake lights. The Special Edition included leather front seats, a faux wood grain steering wheel, and chrome rocker moldings.
Without a doubt, the '69 Charger R/T is the epitome of the American Muscle car!
Engine:
426 Hemi V-8 –
Top speed:
143 mph –
Quarter mile time:
13.9 seconds –
0-60 mph time:
5.4 seconds
That's all we have for now. If you want more American muscle car greatness, check out the fastest american muscle cars.