Top 50 Beaches Around the World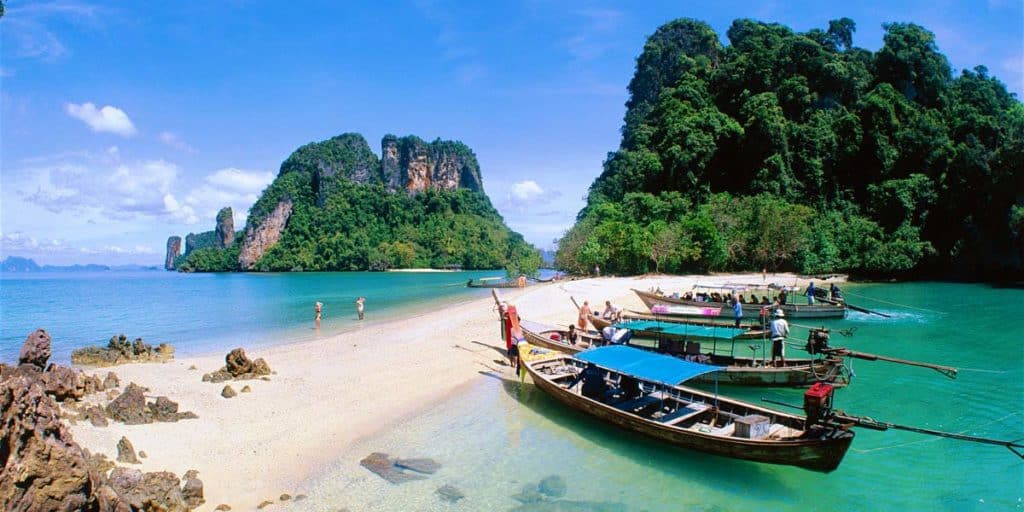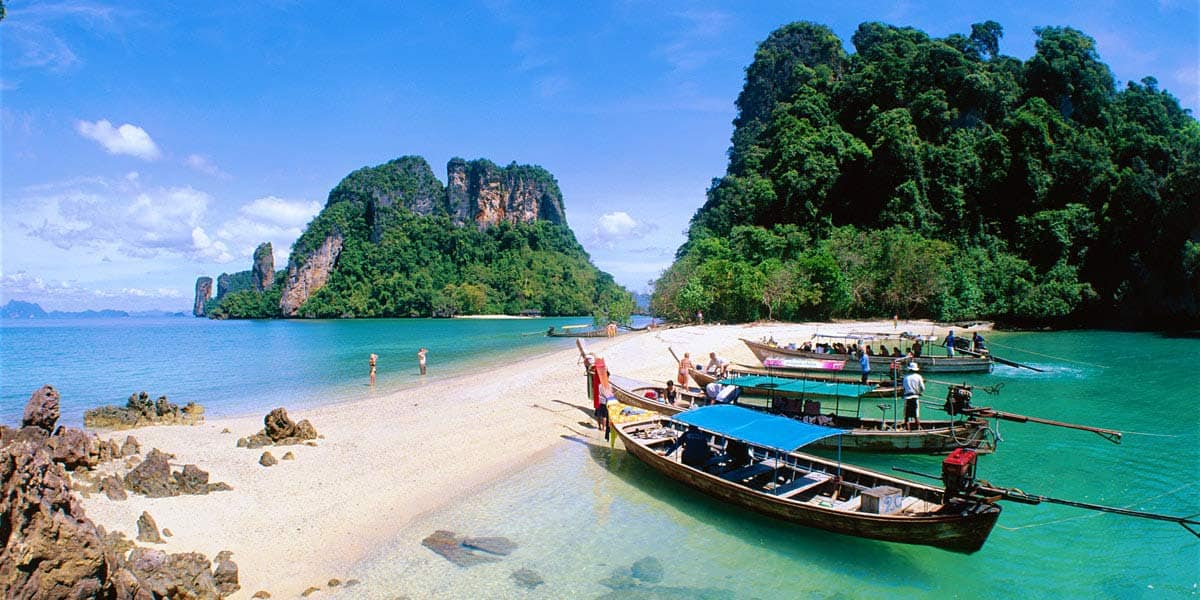 50. Grace Bay: Turks and Caicos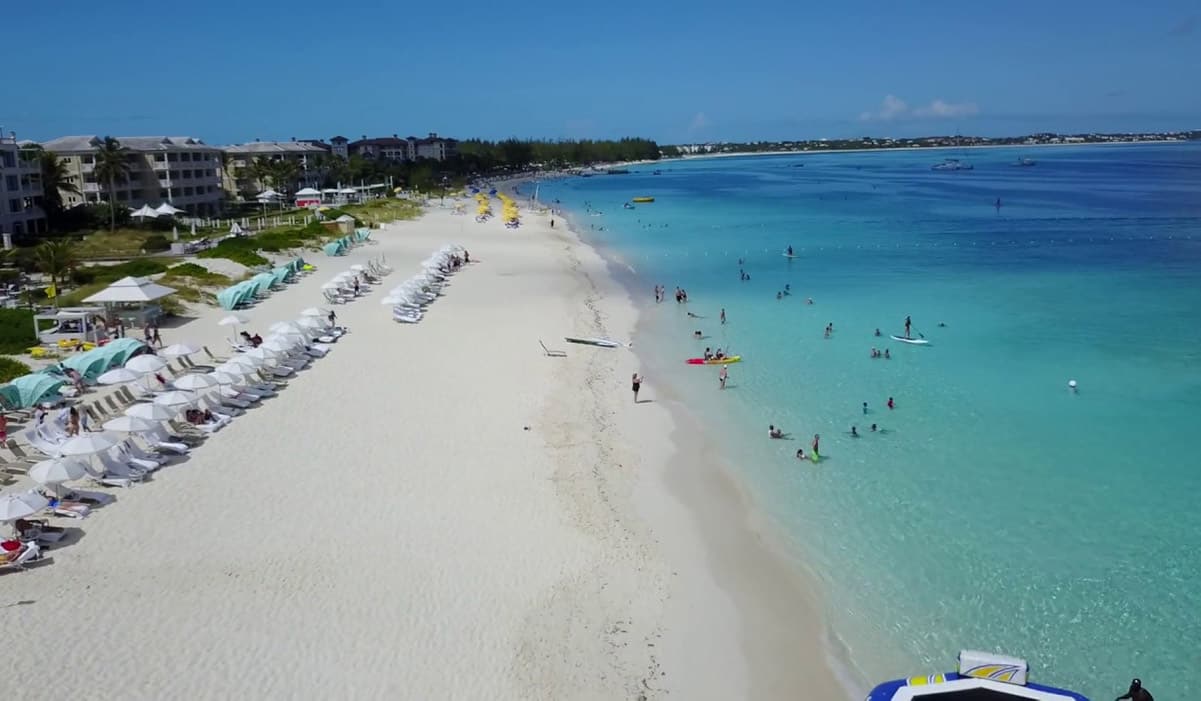 Grace Bay Beach has been called one of the most iconic, awe inspiring beaches in the world. Located in Turks and Caicos, you'll feel the vibe the moment you arrive. Stretching for 13 miles, it's part of a national park which means public access, woohoo! If you aren't staying on the beach you'll need to look for public access points as most hotels will not allow access from their property. Remember, Grace Bay beach consistently ranks as the #1 beach in the world, a true bucket list item experience. With 319 days of sunshine each year, all you have to do is book a trip. The weather takes care of itself!
49. Cannon Beach: USA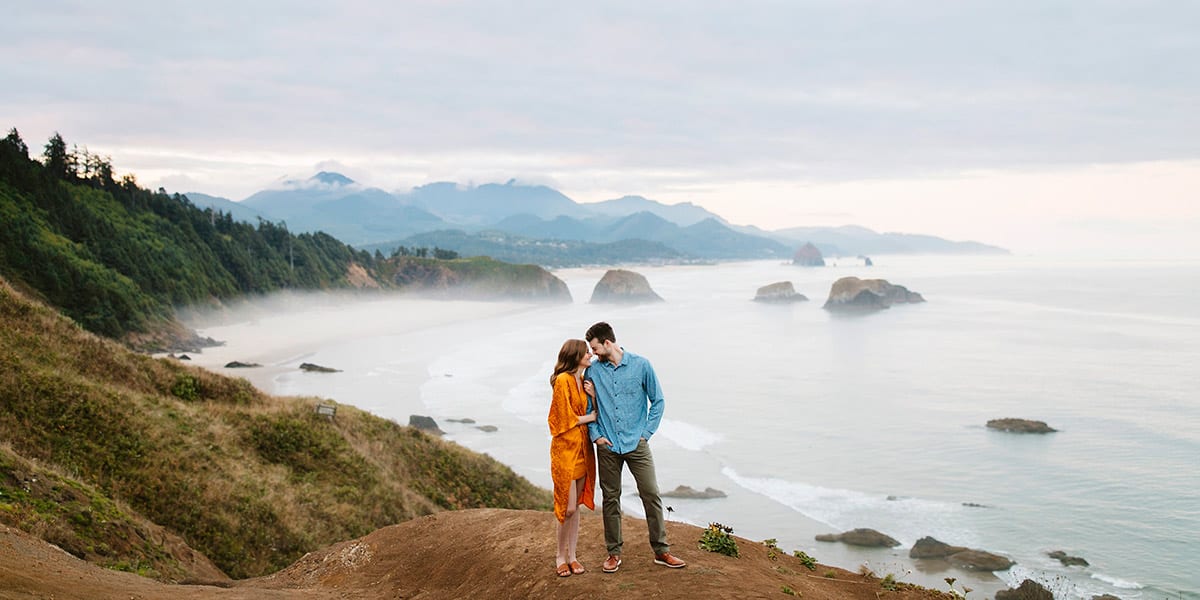 Cannon Beach was named by National Geographic is one of the 100 Most Beautiful Places. Of course, the crown of the beach is Haystack Rock, a nesting home for Tufted Puffins every year. The structure also offers colorful tide pools. You can walk right up to the 235 foot tall rock wall during low tide and have your pick of starfish. The wooded coastal cliffs juxtaposed against the long stretches of sandy beach effortlessly make a breathtaking scene no matter the time of day. You can often find elk grazing in the coastal meadows. In addition, the town itself is one of the northwest's major art hubs. Pick up supplies and paint your own picture or set off on a long wooded hike. Cannon Beach has a lot to offer.
48. Whitehaven Beach: Australia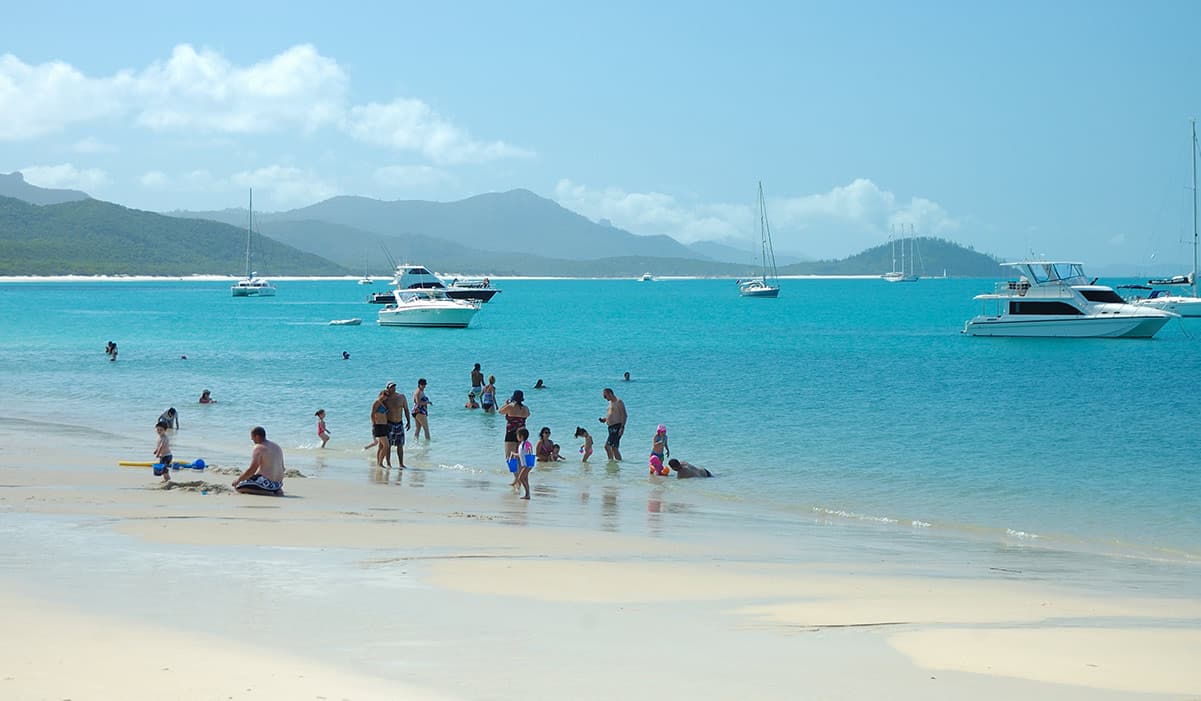 Whitehaven Beach is a 4.34 mile beach located on Whitsunday Island, Australia. Access is purchased by helicopter, boat and seaplane from nearby islands or the mainland. Fair warning, this beach is best suited for active types. To get the best view you'll need to scale the lookout. Finding it is easy. Simply make your way to Tongue's Point. Test your fitness by participating in the annual beach run or just relax in the sand. Keen eyed visitors are able to spot sea turtles and other marine life. This shouldn't come as a surprise since Whitehaven Beach is tucked right into the heart of the Great Barrier Reef. Furthermore, the beach itself is protected by Whitsunday Islands National Park, which is why she is so pristine!
47. Diani Beach: Kenya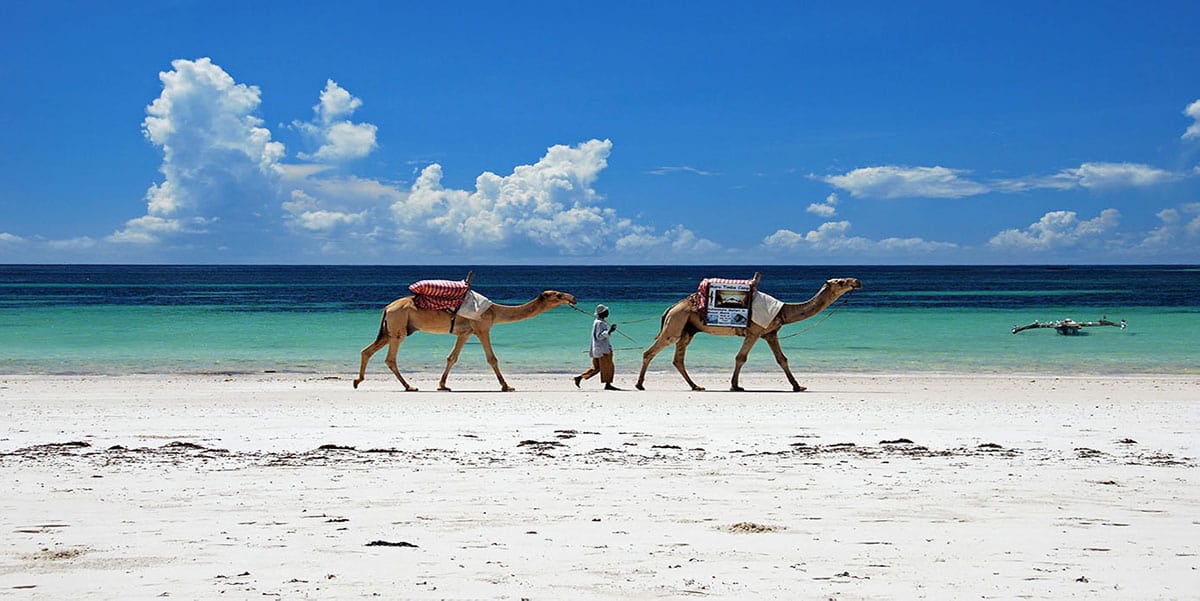 Diani Beach has epic things to offer. Voted best beach in Africa twice (2014 and 2015), Diani was known as the uncrowded international beach hot spot for those who were "in the know." Now they are a go to and known as so much more than just a beautiful beach. Feeling hungry? Have dinner in Ali Barbour's Restaurant. It's housed in a cave thought to be 120,000 – 180,000 years old. Feeling artsy? Take a stroll through the Diani Beach Art Gallery. Adventurous types can book an excursion to swim with whale sharks, while those looking for unique places to stay could book a room at the Alfajiri Villas with rooms tucked into the side of cliffs (favorite vacation spots for Hollywood A list celebs like Angelina Jolie).
46. Anse Lazio: Seychelles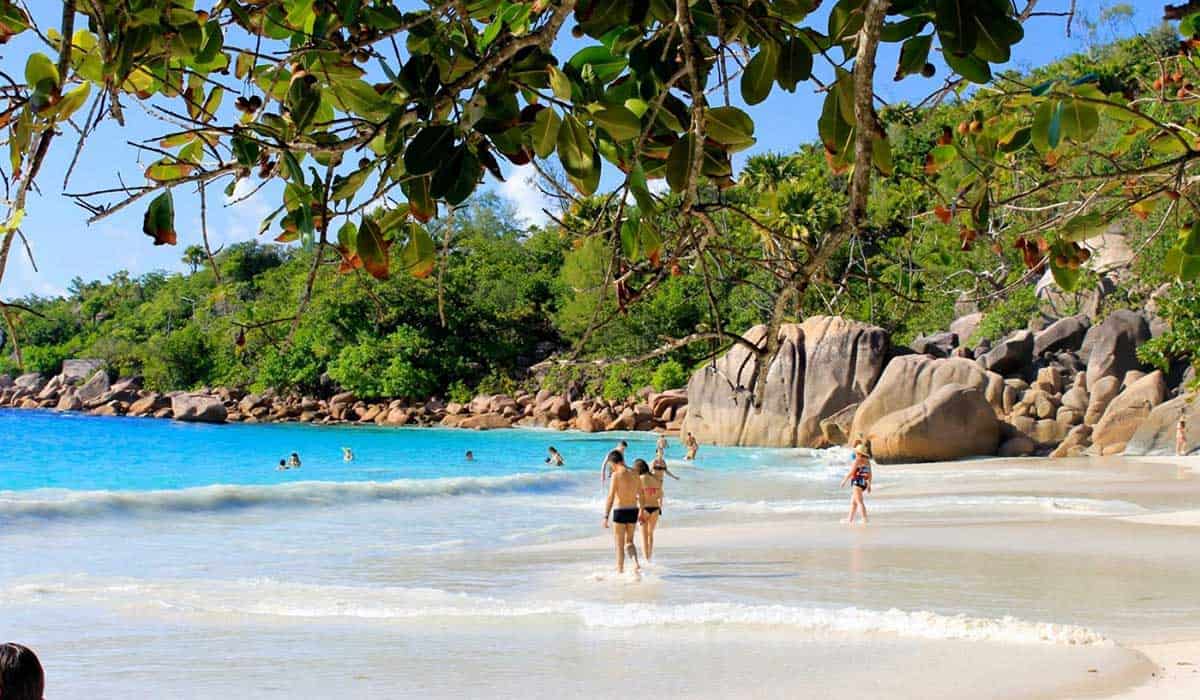 Anse Lazio is considered this to be the best beach on Praslin Island (according to Lonely Planet) and always ranks among the best in the entire archipelago. It sits on the northwest end of the island, just over a jungle hill. It has gorgeous white sand and some of the most amazing turquoise water you will ever see. It's so clear you can look down and watch fish swim by. The best part? Most of the time the water is flat and calm, almost glass like. The weather is perfect too. However, there are times when the weather can kick up the current and create some pretty amazing waves for those who want to hang ten. Of course, the best time to enjoy Anse Lazio is during sunrise and sunset. At those times, the beach is "tourist light".
45. Agiba Beach: Egypt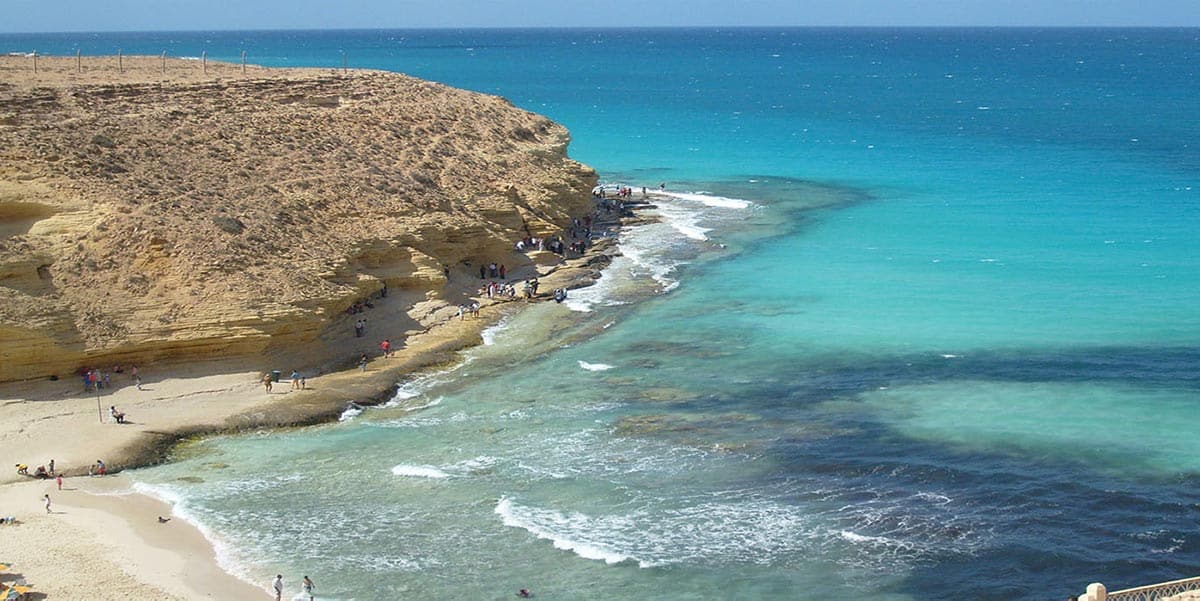 The jewel of Marsa el-Sharif, Agiba Beach is simply gorgeous. The minimalist landscape almost lend an other worldly quality to the beach. She is surreal and beautiful. Stand and gaze at the beautiful swirl of colors changing from blues to greens with dark patches of light and dark mixed in from the reflection of the underwater landscape. When you get hungry, climb up the cliff that looks like something straight out of a Salvador Dali painting. At the top you can find the Agiba's lone cafe serving up food and drink to sunbathers and swimmers. then head back down the cliff to finish the day on the beach. no wonder Egyptians refer to Agiba as "The Miracle."
44. Pink Sands Beach: Bahamas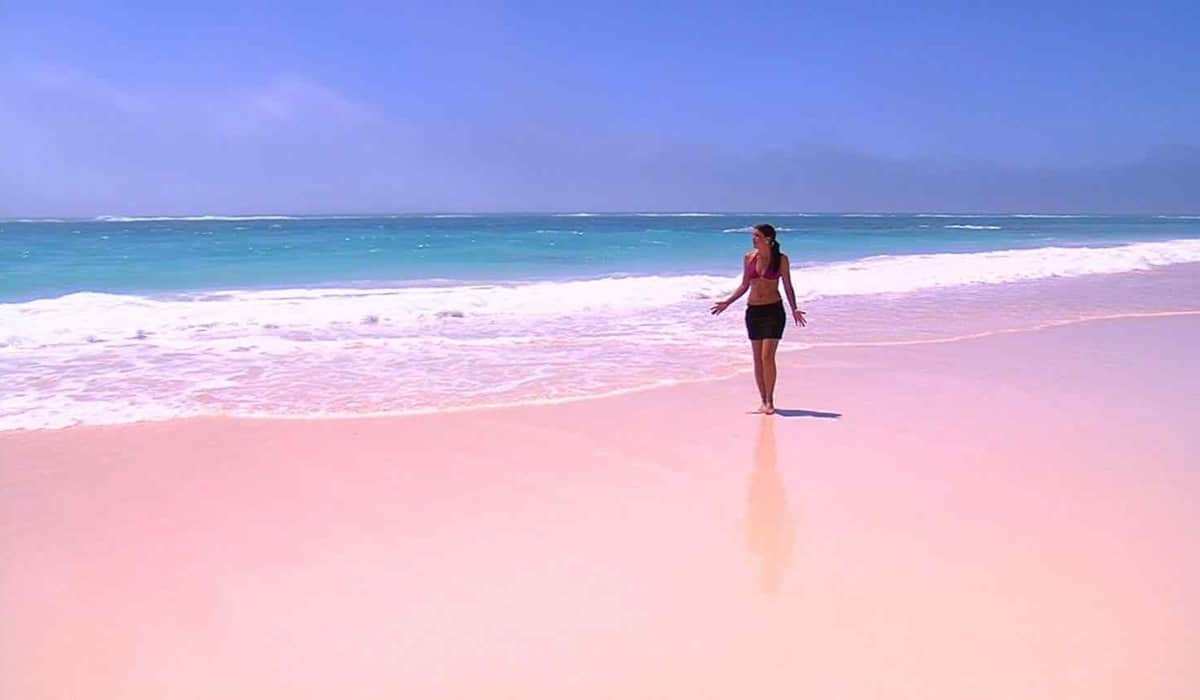 Toss out visions of casino and resort strewn tourist flooded coastline. That's the common viewpoint held by many when they think of the Bahamas. However, Pinks Sands Beach stands alone as a true natural gem. While there are resorts, they are elegant. Even more important is the three mile stretch of gorgeous pink sand. Conditions are usually calm and the water is warm thanks to an Atlantic coral reef. It has been rated by the Travel Channel as one of the 10 Best Beaches in the World. So where does the color come from? Microscopic single cell organisms, Foraminifera, cling to the underside of reefs. As they die the bodies are crushed and washed ashore and mixed with the sand. The result is a stunning pink beach.
43. Eagle Beach: Aruba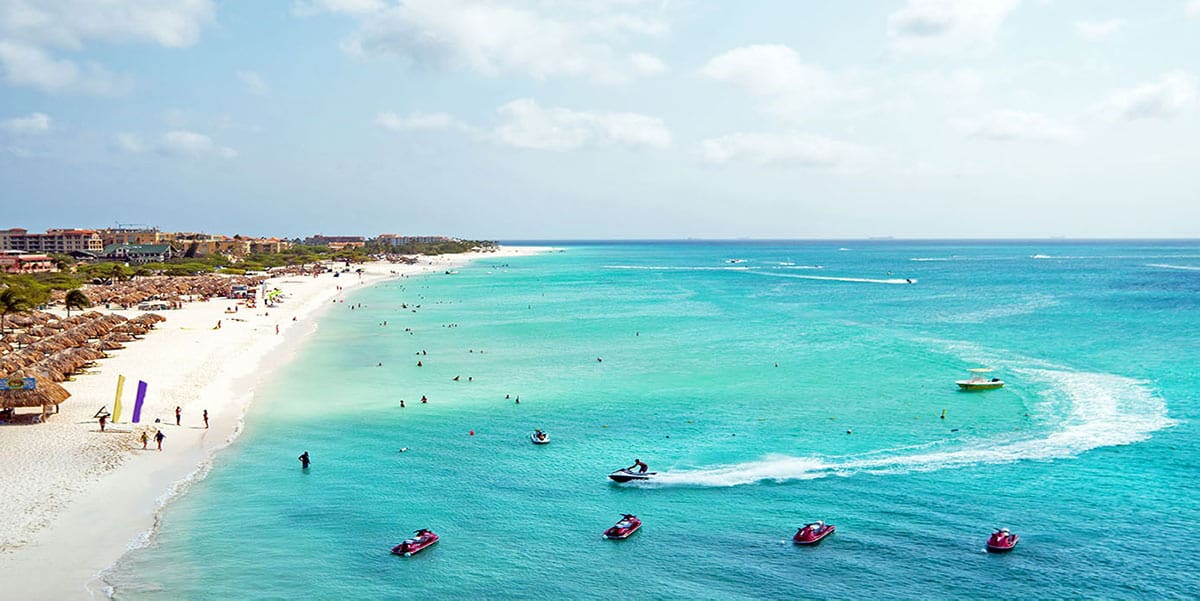 Looking for sea turtles nesting or those iconic Fofoti trees? How about beautiful pristine scenery? Welcome to Eagle Beach located on the island of Aruba. It features beautiful white sand and has the prestigious title of being Aruba's largest beach. Once there you will find many shaded areas, beach huts available for rent and a variety of water sports. Did we mention this is an active beach? During the weekend it's not uncommon to see fanatics gather and play beach tennis in the powdery white sand. Many low rise resorts and cabanas offer lodging just across the road, so beach views remain largely unobstructed. Come at certain times of the year and score the opportunity to interact with wildlife. Just remember to hold on to your hat. Eagle Beach is known to get windy.
42. Navagio Beach: Greece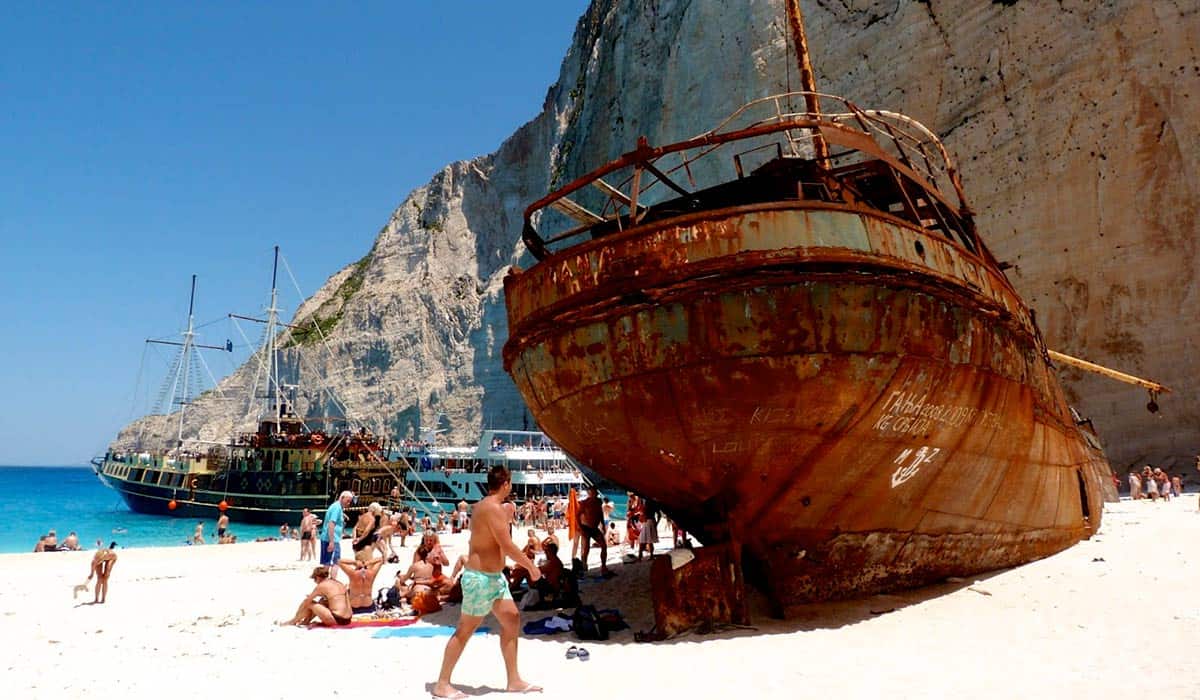 Take a secluded Greek cove and add a rusty smuggler's hulk of a ship. What do you get? Navagio Beach.Located on the isle of Zynkathos, off the southwestern coast of Greece lie several rocky coves separated from the mainland. Navagio is one of them and the scene is intriguing and serene, partly due to the decaying ship. Panagiotis crashed on the scenic shore in 1983 smuggling booze, cigarettes and possibly humans. Authorities picked up the scent and gave chase through bad weather until the ship ran aground in the cove. It's been there since, calling tourists and locals like a siren to see the smugglers remains. However, if you want to spy the ship it's only accessible from sea. Yet, most tours offer day trips.
41. Radhanagar Beach: India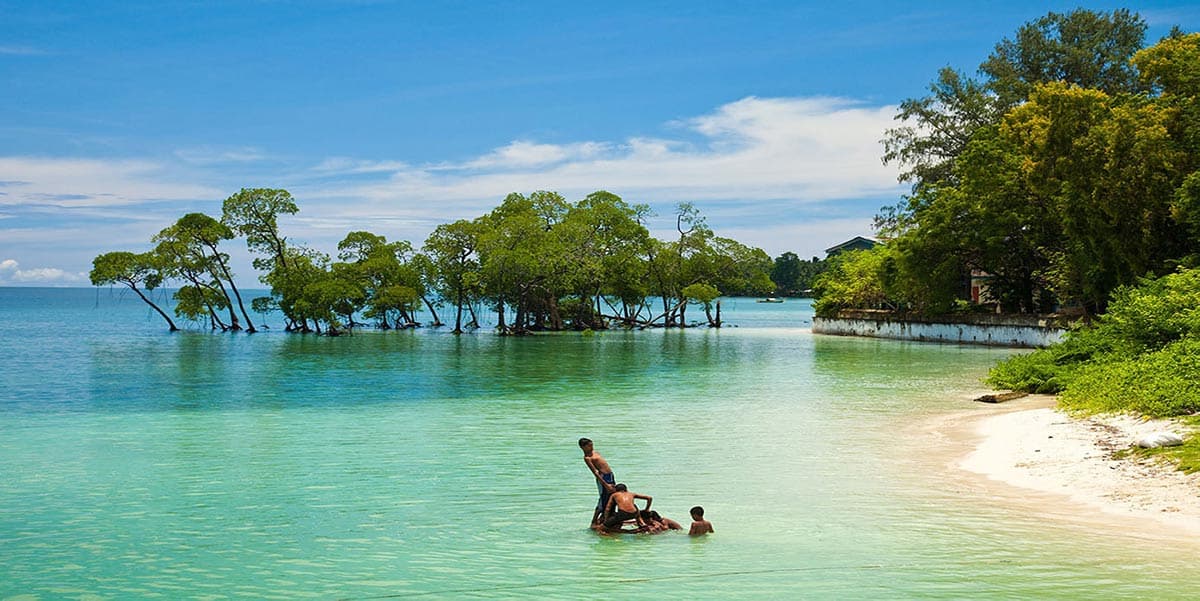 Looking for the best beach in Asia? Head to Radhanagar Beach in India. It's officially known as one of the seven best beaches on the planet. Located on Andaman Island, it features beautiful turquoise water and pristine white sand.The beach is plush too! Palm trees flourish on the coast so there are plenty of spots to grab shade while still enjoying the sun. The most popular beach activities are swimming, sunbathing and relaxing. Consider this a low key, chill stretch of sand. Since it's positioned halfway around the globe for many of us, check the temps before booking a vacation. Best times to visit are between October and February as the weather is most cooperative then.
40. Baia Dos Porcos: Brazil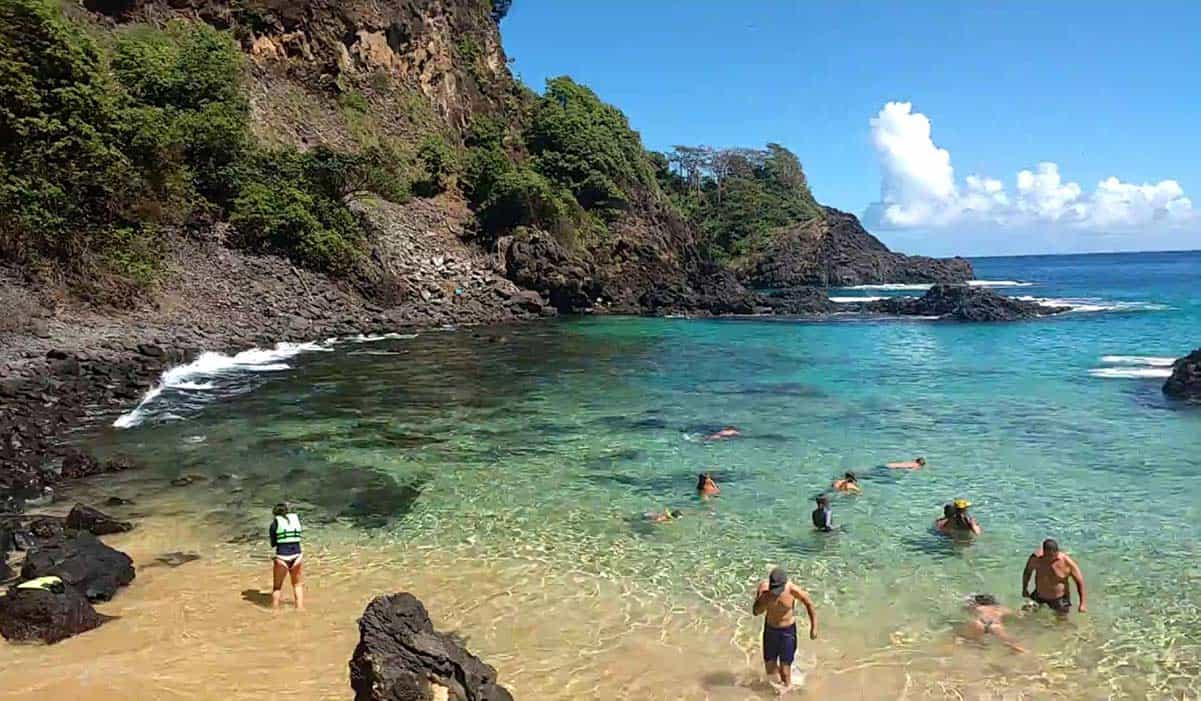 Bay of Pigs Beach in the exotic country of Brazil offers so much in the way of wildlife. Grab a snorkel and dive in to one of the many natural pools. There you will find starfish, sea urchins, and if you're lucky, sea turtles and stingrays! It's nestled into the north end of the island and the uber strict conservation laws ensure the beach remains pristine and mostly free of people. Of course, this could also have something to do with accessibility in the first place. To reach Baia de Porcos you'll have to hike the access trail from Cacimba do Padre. Once there, relax on the beach or spend time sitting on one of the rocks gazing at the iconic Morros Dois Irmãos, or "Two Brothers Hills." The other name for them is "Fafá de Belém," named for a Brazilian singer with very large breasts. When you are finished, hop in the water and enjoy the surf side. The spray from the surf crashing between the rocks is invigorating.
39. Ao Nang: Thailand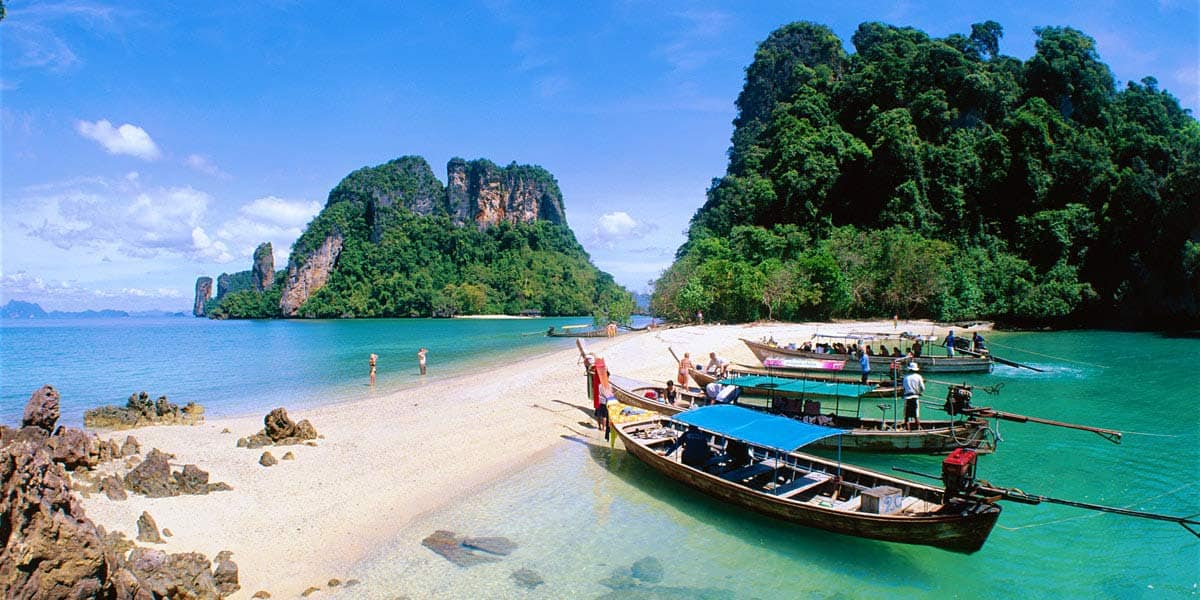 Thailand has a beach that is famous  for being ugly. Ao Nang has remained untouched, at least in the ways of development. So think wild, overgrown shrubbery with mounds of driftwood. Yet, people flock here as a sort of base camp for exploring the Karnst Islands. Most of them can be accessed from Ao Nang. And she is pretty in her own way. There are not too many places in the world where rich golden sand is skirted by a border of limestone. It's the interconnected yet not connected landscape vibe that keeps tourists and locals coming back. The area enjoys a thriving long-tail boat tour business of the surrounding islands. Rock climbing is offered at a few of them..
38. Playa Paraiso: Mexico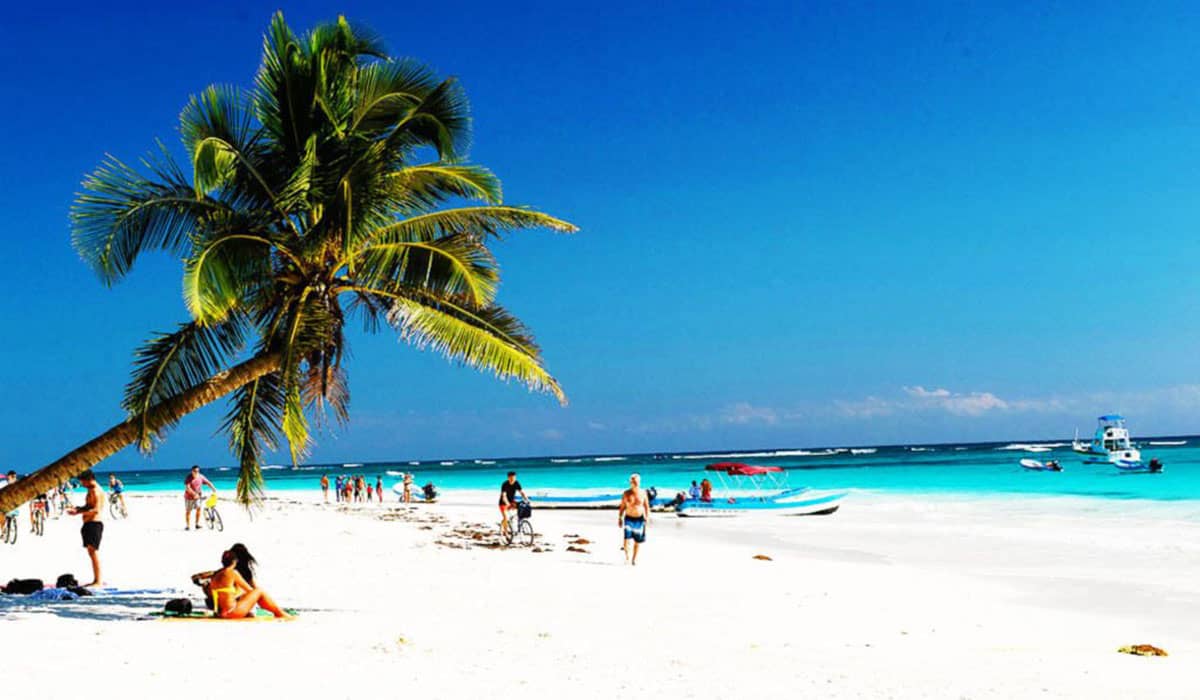 Playa Pariso ranked number one for "Best Things to Do in Tulum, Mexico." Daytrippers enjoy spending time at the new Playa Paraiso Beach Club, and vacationers love the resort scene. Playa is a busy beach! And what she doesn't make up for in seclusion is overcompensated with activity. There are plenty of things to do like scuba diving, snorkeling or just lounging about with hammocks, umbrellas and lounge chairs. Also, there are a couple of beach bars to make sure you have something fruity to sip while enjoying the sand and sun. Many people head to Playa Paraiso in hopes of folding in a trip to the nearby ruins. They are only a mile away so it's a no brainer. Also, don't forget to explore the Cenote Caves while you are there! You never know what you will find!
37. One Foot Island: Cook Islands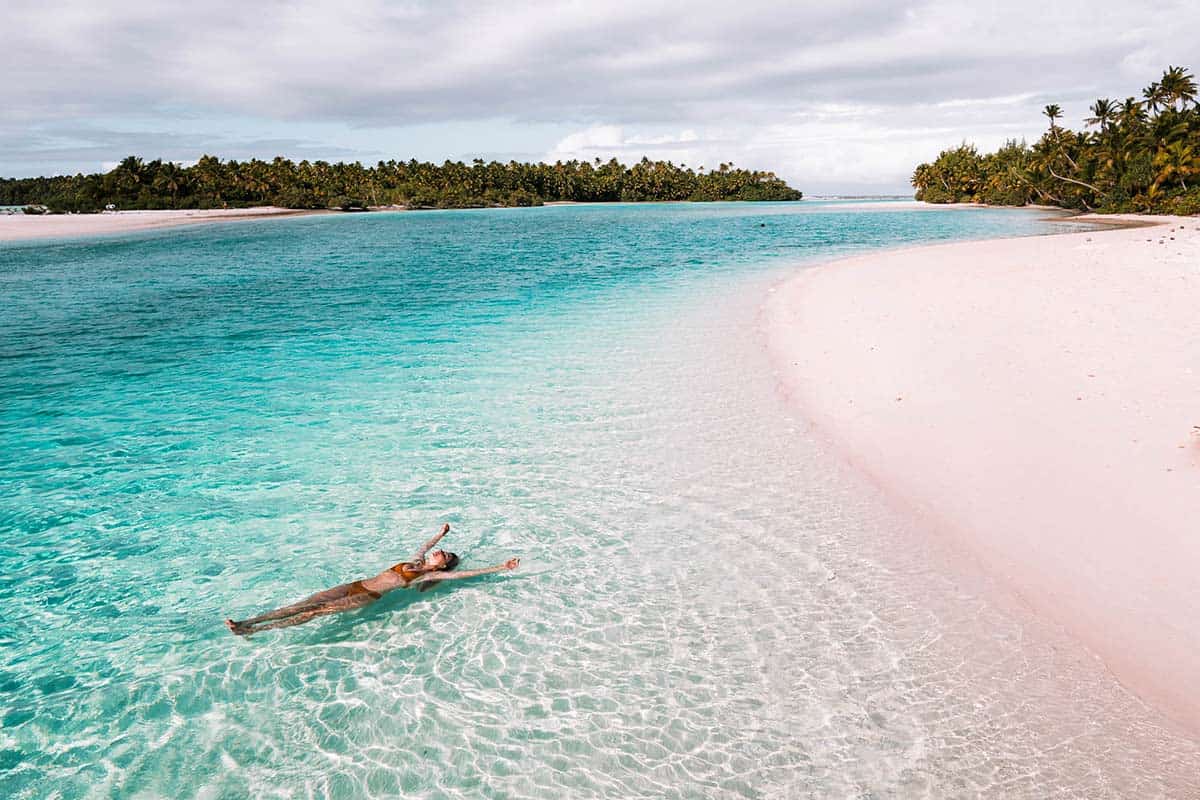 Want to know what a World Travel Award Best Beach winner looks like? Head to the Cook islands and explore One Foot Island Beach. It's been voted Best in Australasia for its powdery white sand, warm blue water, idyllic landscape and lush palms. Plus it has a cool backstory, although somewhat depressing. Legend says a chief forbade his people from fishing on the island. However, one day he spotted a man and his son trying to fish from the rocks. Subsequently, he ordered their death. In a panic, the man and his boy fled to One Foot Island to hide in a coconut tree. The chief eventually found the man and he swore he was the only one fishing. Ultimately, the chief decided they must've seen rocks that looked like a child and gave up search for the boy. He was left to wander the island alone. Since then it's been known as "Tapueatai", or footprint. Hence the name of the beach as well.
36. Hyams Beach: Australia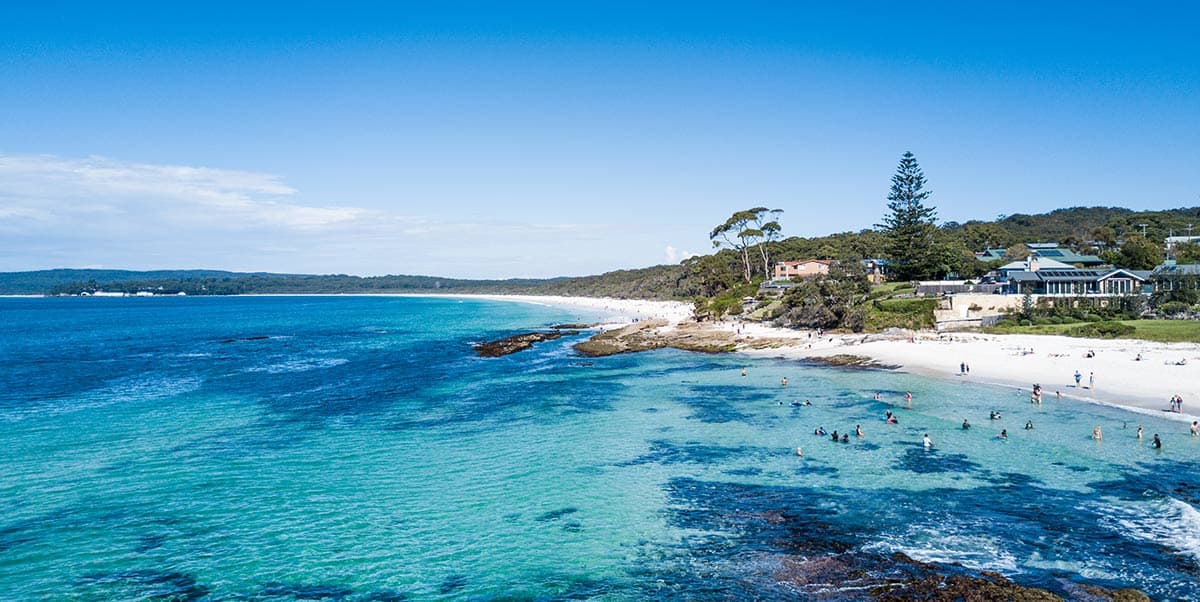 Hyams Beach is known for its incredibly white sand. In fact, it is said to have the whitest sand in the world, validated by their Guinness World Record title. And millions of people can vouch for Hyams Beach. it is one of the most crowded beaches during season. You can still find purchase, you may just have to head to the far end of the beach. Yet, do so and you can find a reward. Pods of dolphin are known to swim by at dusk. Savor the squeaky sand hike as you walk back. The Jervis Bay Region is home to many amazing stretches of coastline and Hyams is one of the best. It begs the question… Are you ready to pack up and move to New South Wales? We've always loved Australia. The natural beauty of Hyams Beach is a reason to fully commit.
35. Shoal Bay: Anguilla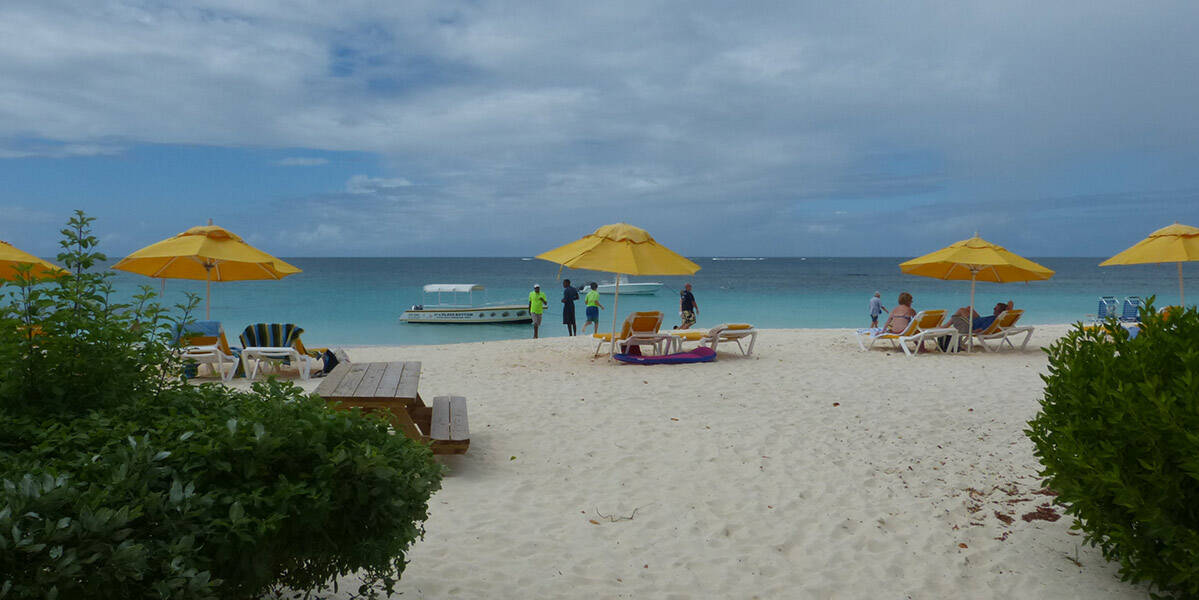 Visit Shoal Bay and instantly understand why it ranks as not only one of the top beaches in the Caribbean, but the world. Of course, she features incredible turquoise water. Just watch any Pirates of the Caribbean movie and you quickly discover this is one of the greatest natural features of the area. Yet, there's also the pinkish sand. Not true pink like we saw with  Pinks Sands Beach, but there is a slight hue that makes you wonder and question. It's just gorgeous. Shoal Bay is small too. At only two miles long you can walk the entire length at a comfortable pace and see all the beach has to offer. Kayaking, diving, distance swimming and snorkeling are common activities. Shoal Bay is a true destination beach.
34. Trunk Bay: US Virgin Islands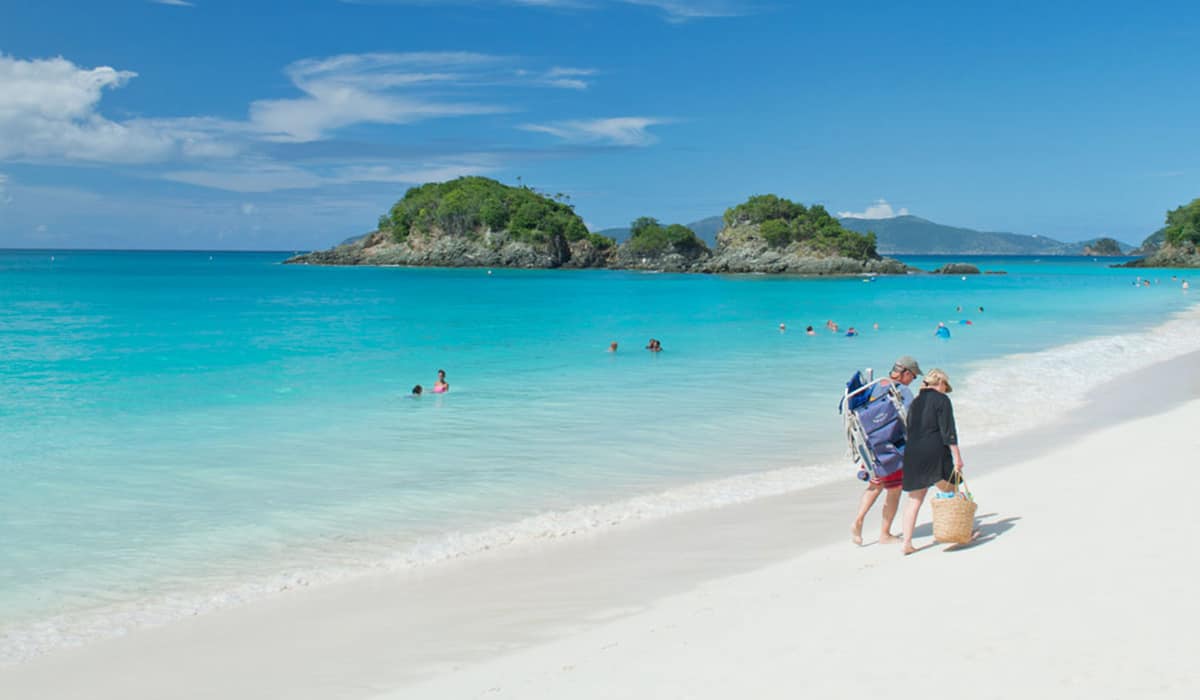 Fifty years ago, Laurence S. Rockefeller donated Trunk Bay, along with its beach, to the National Park Service. It is St. John's most visited beach and has been voted one of the best beaches in the world by Conde Nast Traveler magazine. Get ready for beautiful gleaming white sandy beaches, towering coconut laden palm trees, true aqua blue water and activities like sunbathing, swimming and snorkeling. For better privacy during crowded seasons head west (left as you look at the ocean from the beach). At the end you will find a small stretch of beach. While it isn't as sunny as the rest, it is the best private space as far as public beach real estate is concerned. You'll be glad you made the walk!

33. Cala Mitjana: Spain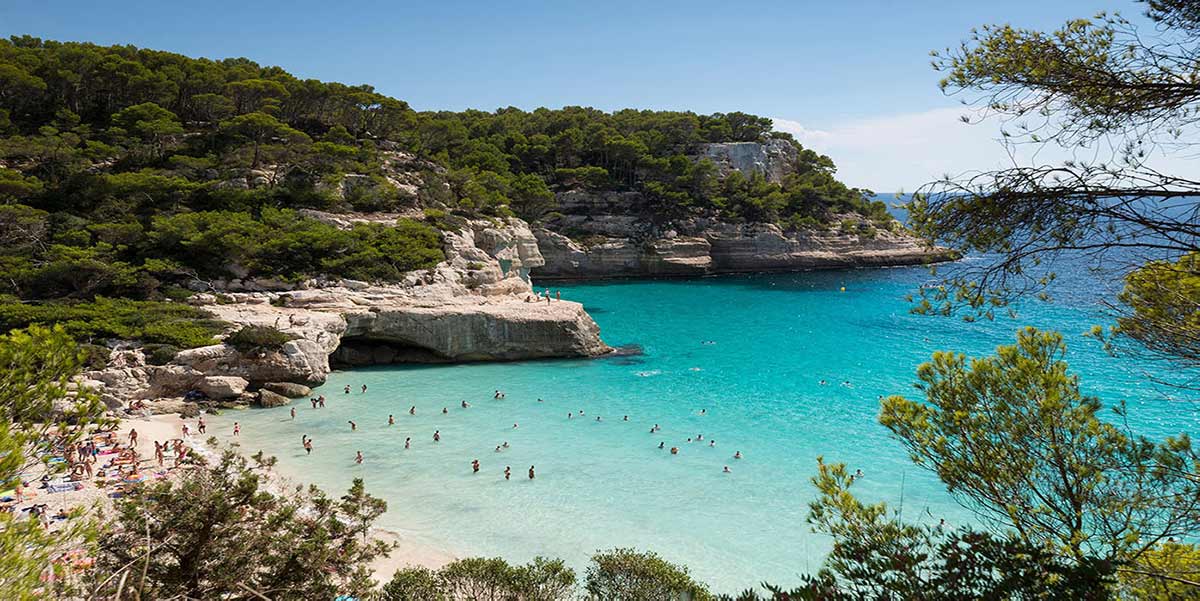 This is a truly spectacular beach. Cala Mitjana can be found between Cala Galdana and Cala Trebalúger and is considered to be Menorca's most beautiful beach. The reason has to do with the natural beauty. Mitjana features high cliffs all around which offer spectacular views if you can manage the climb. Post a pic and watch your social media feed explode! The trick is getting there. There is only one car parking area and it fills quickly during summer months  The easiest access may be by sea. Locals and tourists often kayak, jet ski or boat into the cove. There are no beach rentals or water activities here which suits most people just fine. The natural scenery is awe inspiring.
32. Maya Bay: Thailand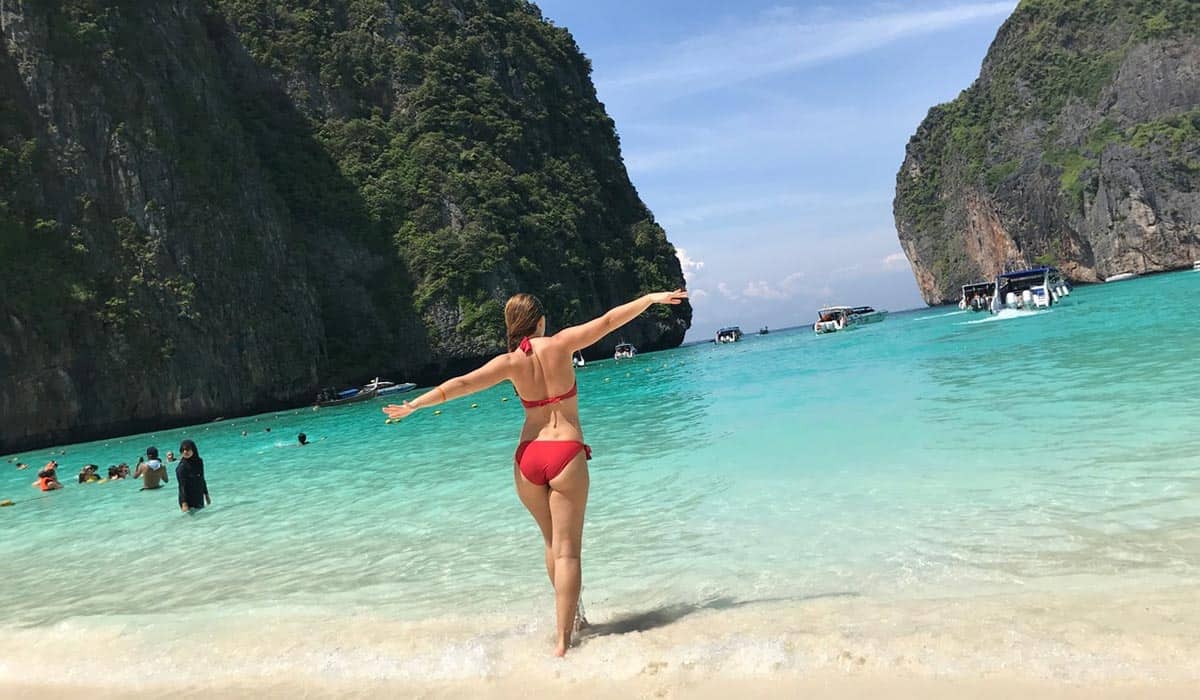 Made popular by "The Beach" starring Leonardo DiCaprio in 2000, Maya Bay is another beautiful cove. Unlike Mitjana, Maya features cliffs that are much taller and more sheer. The result is a beautiful shallow pool perfect for wading, swimming and sunbathing. It's also off limits until 2021. According to Songtam Suksawang, director of Thailand's National Parks Department, it's needed to allow the natural resources to replenish. Maya Bay has already been closed for one year and will undergo reviews every three months at the end of 2020. Why is it closed? Coral decimation. No worries though. Thailand has already planted more than 10,000 coral plants to help rejuvenate the popular tourist area.
31. Lanikai Beach: USA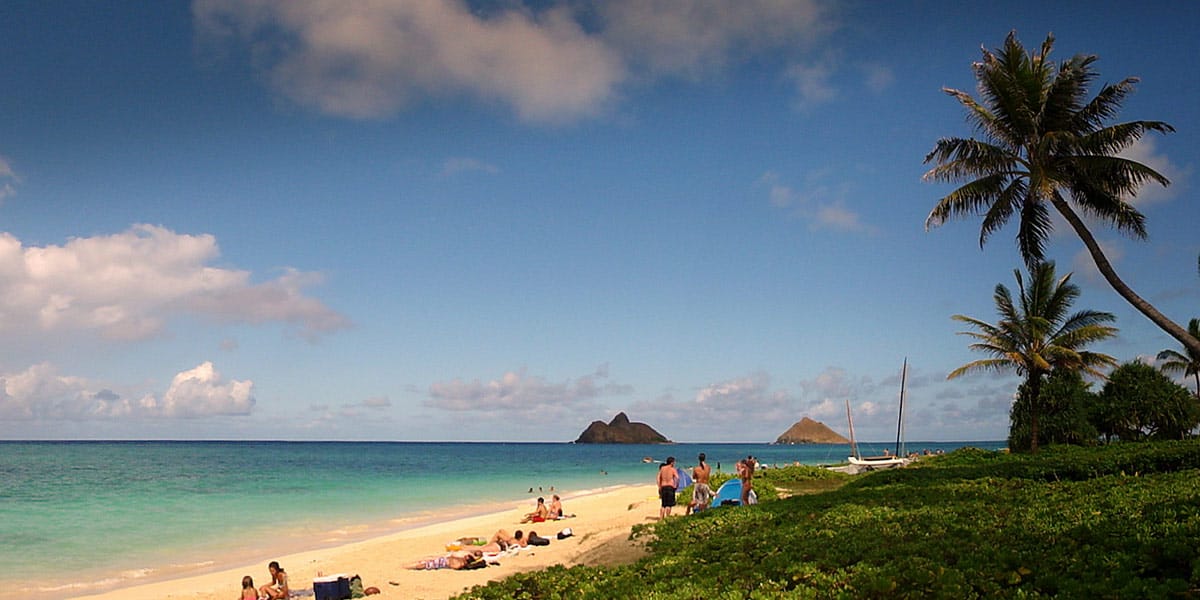 Consistently voted "Best Beach of Oahu", Lanikai is a stunner. The beach has also ranks as one of the most beautiful in the world and the beach is as beautiful as the ocean view! Lush vegetation, palm trees and other islands create an incredible scene no matter where you look. No wonder Lanikai translates as "Heavenly Ocean." There are several public path access points that drop you right down to the beach. For a spectacular view take the Lanikai Pillbox Hike in the early morning before sunrise. It takes about 20-30 minutes to reach the top. Your reward is one of the most epic sunrises you will ever see. Definitely worthy of a social media post!
30. Pig Beach: Bahamas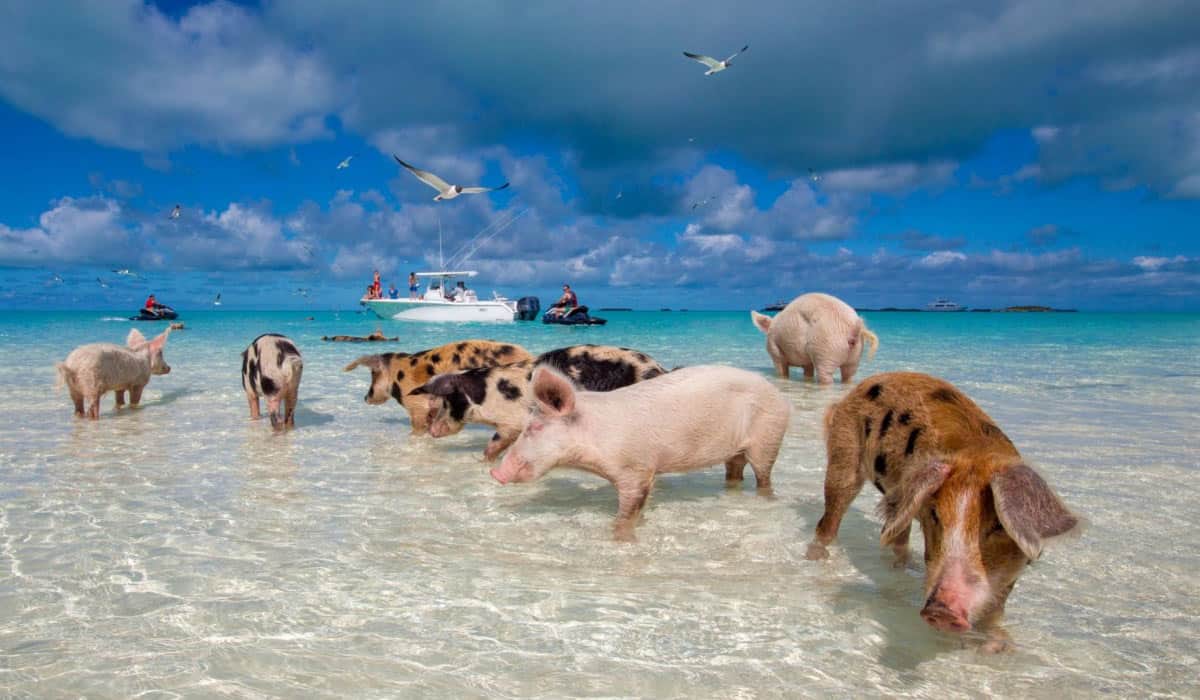 Head to Exuma, Bahamas to find Pig Beach. Yep, they roam wild and free. Exuma is an  uninhabited island made popular by the local feral pig colony that lives there. Interacting with the pigs is encouraged, Visitors can swim with them as much as they like. As for how they got there, island officials have no clue. One theory is sailors dropped them off planning to come back and cook them. Another theory suggests they were shipwrecked and swam to the nearest island. Whatever the case, there are now about 20 pigs and piglets who call Pig Beach home. Seems like uncultured swine might be a compliment here!
29. Boulders Beach: South Africa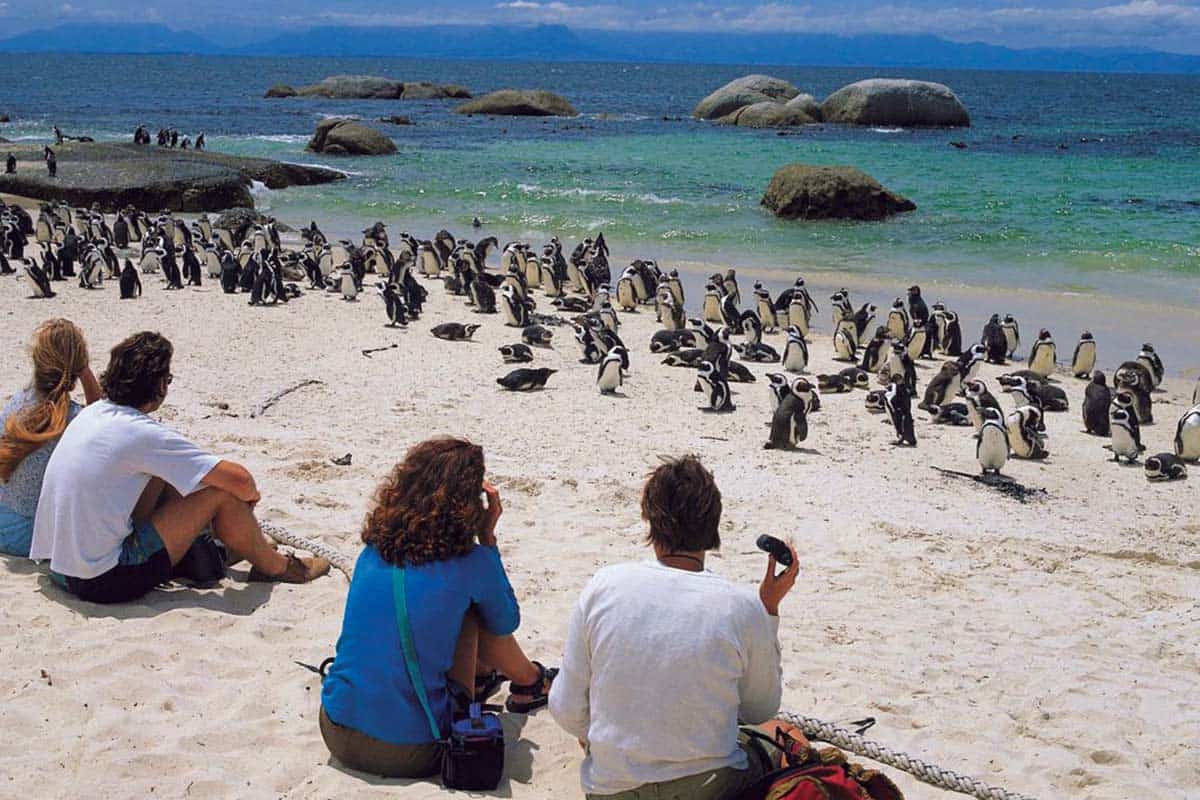 This beach gets its name from the inlets created by nearby granite boulders in the ocean. However, most people go for the penguins. They live there and are simply adorable. You can't touch them though. Penguins have really sharp beaks and will use them to defend if they feel threatened so the park's rule is hands off. That's easier said then done since many of them come within touching distance, but the is enforced by park staff. Yet perhaps the best thing about Boulders Beach are the crowds. Due to an R65 regulation fee, many locals opt not to go since there are so many other beaches they can access without paying a regulatory fee. This makes it one of the most visited beaches in the world by tourists, and it's the only place you can get up close and personal with South African penguins!
28. Blue Lagoon: Fiji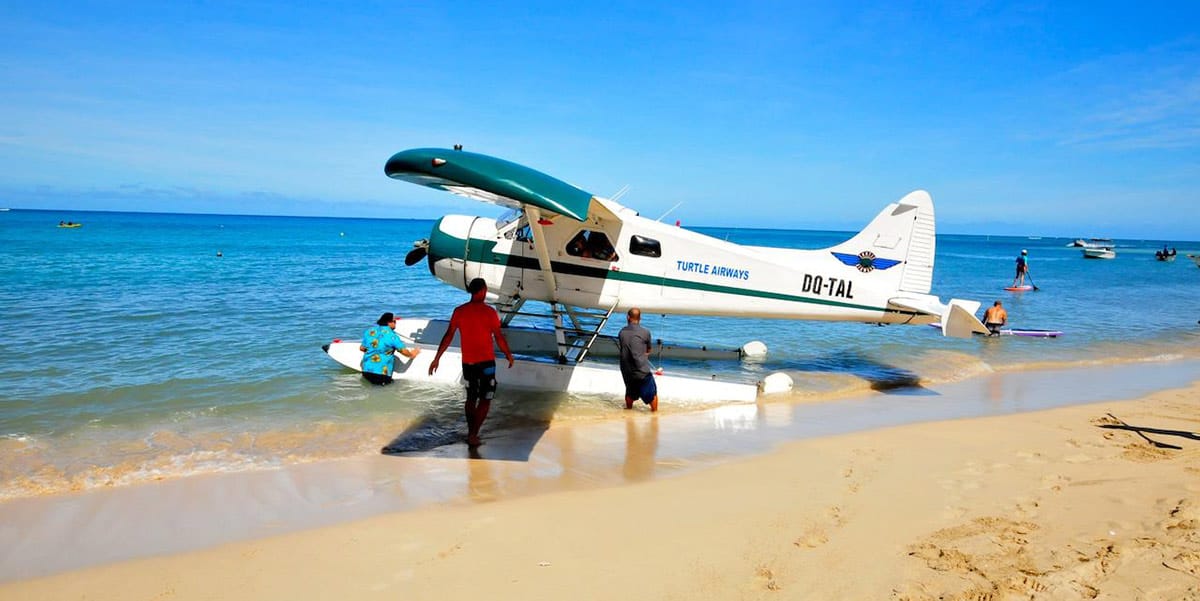 Tourists and locals flock to Fiji's Blue Lagoon beach for a number of reasons. For starters, the beach evokes shear untouched beauty. She is all natural, shaped by the tides and fed by the skies. Second, Blue Lagoon Beach is remote. To get there you will need a boat or plane. Finally, the sand and water are sublime. Dip your toes or dive in, the water is always perfect. Yet, many hold the best view of the beach is the one experienced on the flight over. Many tour groups offer trips to the blue lagoon by seaplane. The approach is spectacular. Guests are met with emerald peaks that give way to mangrove swamps, inlets, lush vegetation and a swirl of beautiful blue water colors . Once on ground explore the idyllic coves and crystal clear waters for a once in a lifetime experience!
27. Grand Anse: Grenada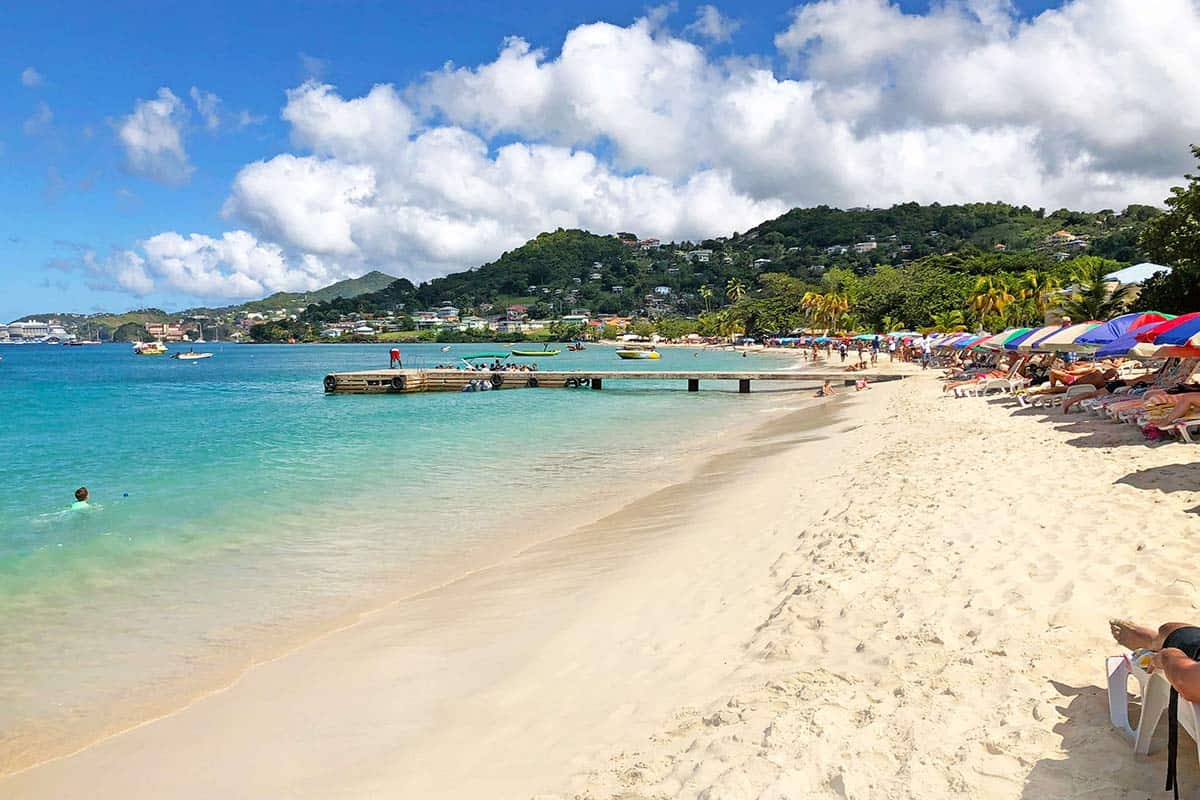 On the westward, leeward side of Grenada sits two miles of the best white sand on earth. Grand Anse Beach boasts one of Grenada's best spots for swimming, snorkeling and soaking up the rays of the sun. If scuba diving is your thing head to the dive center. They organize dives at nearby Bianca C, Shark Reef, Hema 1 and Grenada Marine Park. There are plenty of other watersports available as well. Of course, you can always opt to go for a leisurely stroll through the vendors market and see what souvenirs await. The best option might be to stake an umbrella in the sand, find a lounge chair, and kick back with your favorite fruity drink.
26. El Nido: Philippines
On Palawan Island is a municipality known as El Nido. Their beach is world famous. It's most famous for its beautiful coral reefs and white sandy beaches. The steep cliffs in the background are the Karst cliffs. El Nido serves as the gateway to these cliffs, located in the Bacuit archipelago. A unique feature of El Nido is several of the local resorts feature sustainable living environments and were constructed from sustainable living materials. The ultimate trick is getting there. You can hop a plane to Puerto Princessa, then take a six hour bus ride for $15. Yo ucan also get there by boat, but may end up seasick by the time you hit the sand because the weather can wreak havoc in the Philippines. The easist thing to do is buy a $0 plane ticket and fly right to Lio Ariport. Most major Philippine towns offer flights to Lio. From there, the beach is only a 20 minute ride away, in the comfort of a pedicab.
25. Long Beach: Canada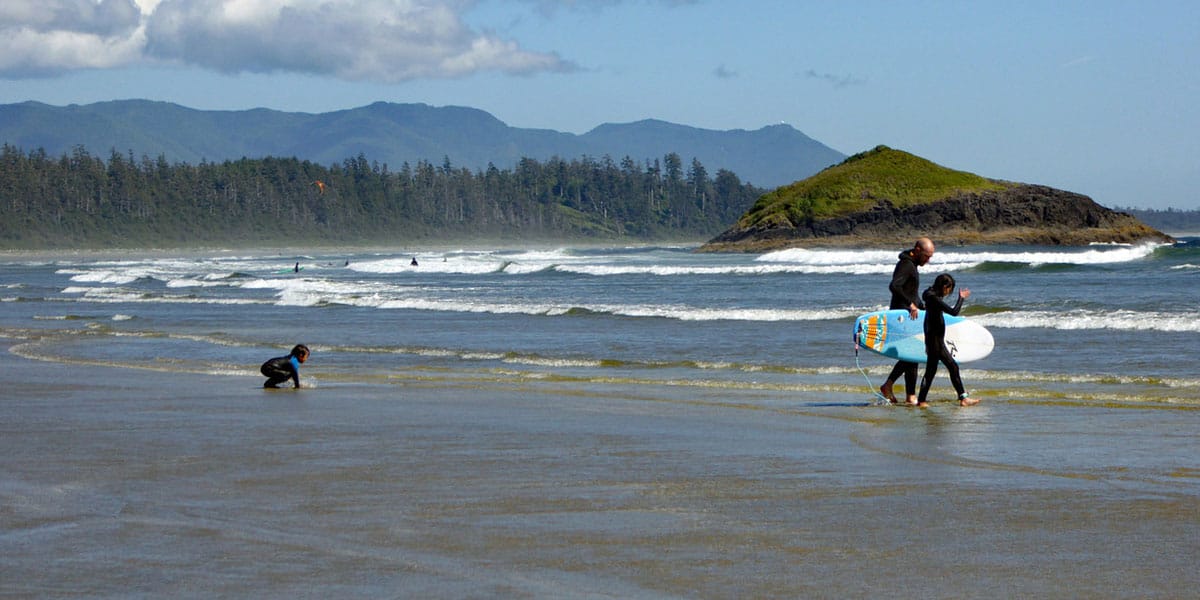 Long Beach in Canada (not California) offers so much for everyone. Visitors find swimming, wake boarding and horse back riding on the beach to be favorite activities. The scenery is spectacular with mountains in the background and islands full of lush vegetation. Beyond the natural beauty and pristine environment lies one surprise for tourists and locals. You can drive on Long Beach. Yep, just like those old crowded photos of Daytona Beach, in Florida, Canada offers up the same thing. Of course, you can tour the town and find endless treasures in the local shops. If you want to rough it, nearby campgrounds offer ample space for doing just that.
24. Muri Beach: Cook Islands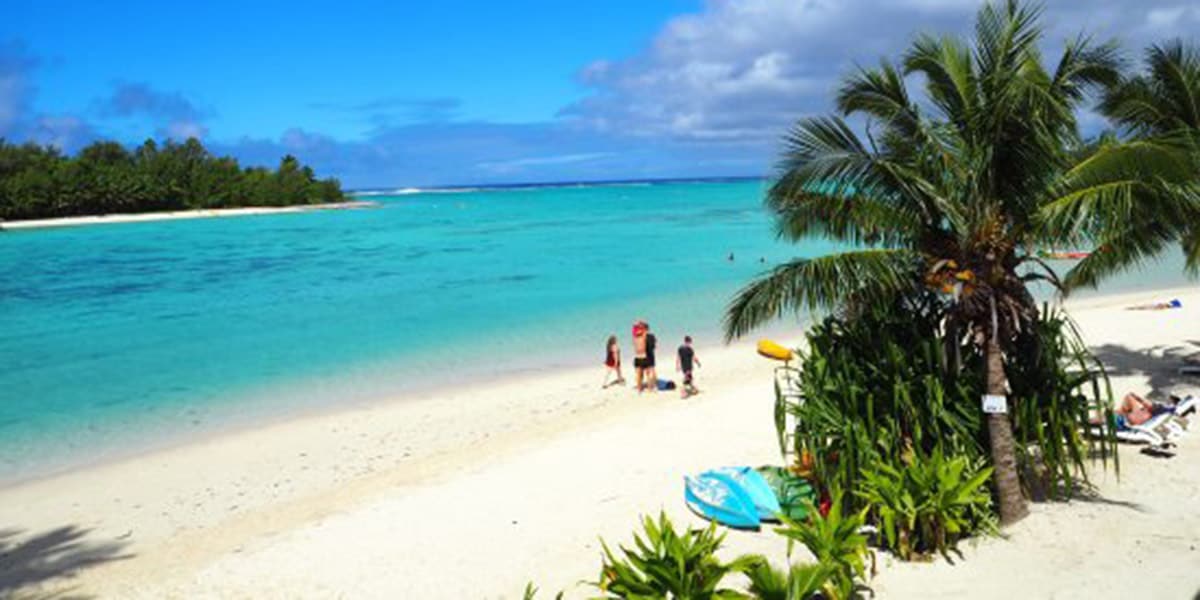 Think you might be great at stand up paddle boarding? You can give it a whirl at Muri Beach. Located in the Cook Islands, it is regarded as one of the most beautiful beaches in the area. Many people love the glass bottom boat tours offered by nearby resorts. You can spy multiple wildlife and even get a chance to take a dip in the water and swim with them! The tour also offers lessons in coconut tree climbing! For that matter, book one of the jungle tours and explore all of the jungle wildlife the island has to offer. Get wild with a little bit of kite surfing and wind down the yday with a trip to the night market. There is so much to do in Muri Beach!
23. Los Roques: Venezuela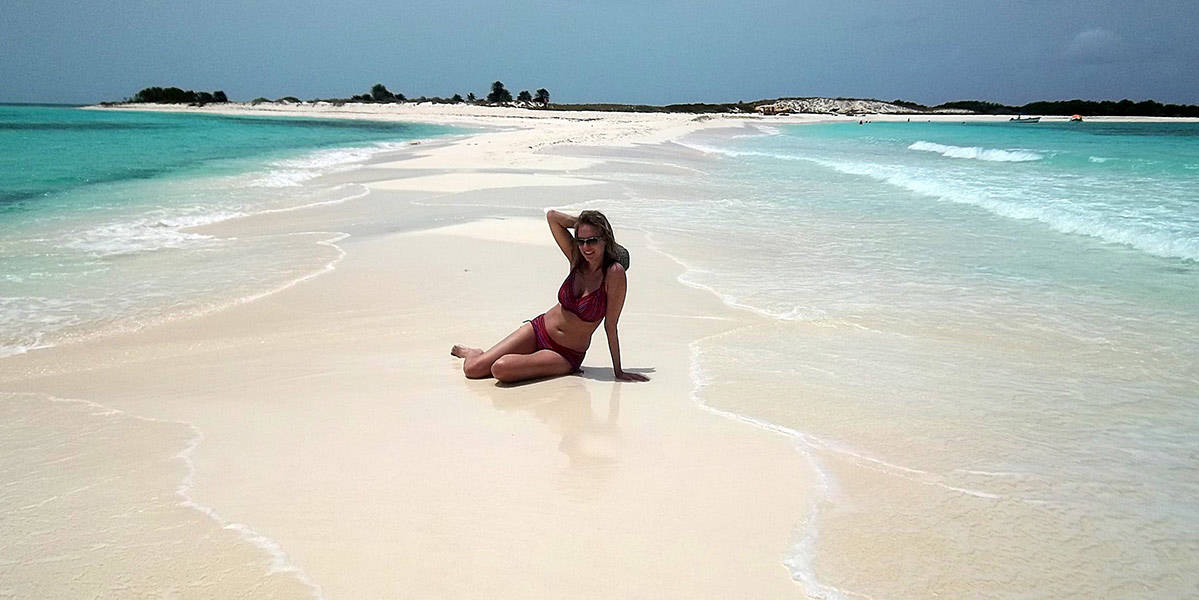 Los Roques was so beautiful she was declared a national park by Venezuela. Part of an archipelago, she is one of 50 small islands. Many people come with their friends who own yachts, or other small water craft. However, if you don't have a rich friend you can still enjoy the beach. A flight to Gran Roque is the first stop. Form there, a catamaran or some other smaller boat will ferry you to one of the other places. The reason for this? Gran Roque is the only island that is inhabited, and as such, the only island with an airport. So if serene and peaceful are where you find balance, put Los Roques on your bucket list.
22. Saltwhistle Bay: St. Vincent & Grenadines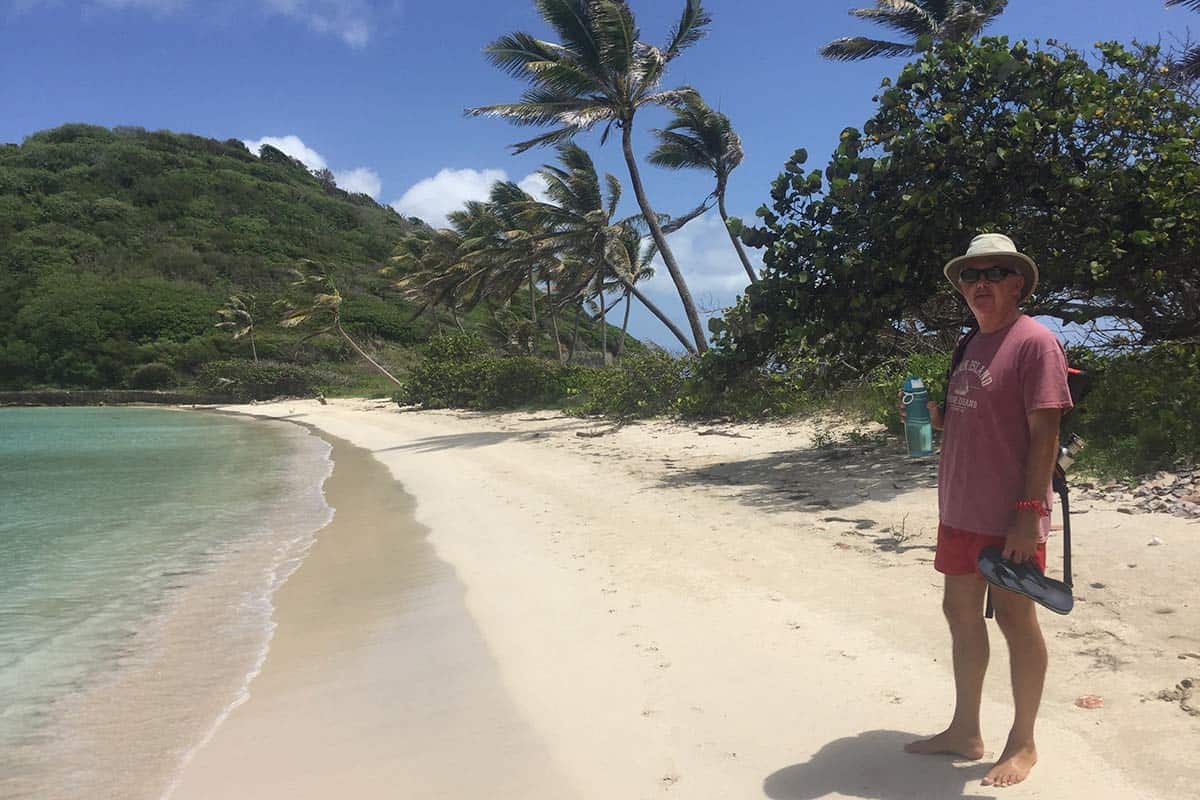 Slat Whistle Bay is known for its blindingly white stretches of sand. Palm trees dot the landscape, but there is another tree that might surprise you. Grape trees thrive on the island and contribute to the lush surroundings. The view is serene and breath taking. If your ears happen to pick up chatter or hear something out of place, trek up to the main part of the island a bit. You will find vendors peddling wares to whoever will listen. Some of them even come to  the beach so you may need to head north. There you will find the Saltwater Bay Club. it's a private affair, with plenty of yachts and such, but the beach areas next to the club offer respite from timeshare salesmen. Of course, the scene makes dealing with vendors a minor annoyance. This place is heaven on earth.
21. Cala Goloroitze: Italy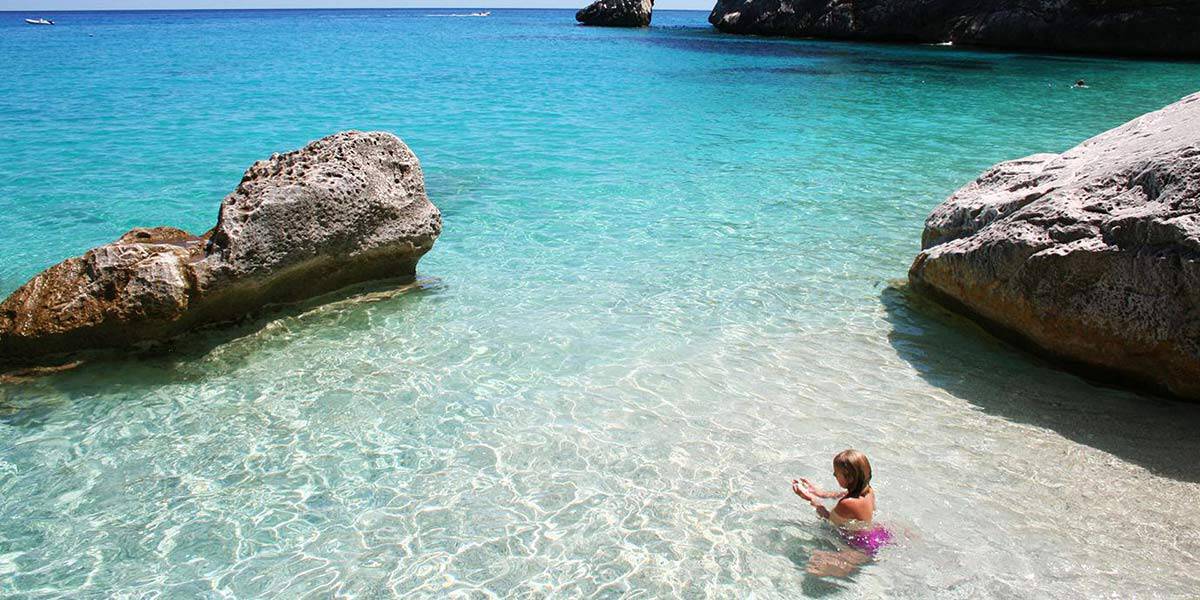 In the town of Baunei, Italy sits a gorgeous stretch of coastline known as Cala Goloroitze. Sandwiched between massive cliffs, the beach can only be accessed by a long, strenuous hike. To be honest, it's not for the faint of heart. Teh entire hike is three hours long. Your reward is the pebble strewn beach created by a landslide in the 1960s. You can also choose to drive part way, cutting hike time in half. The climb down is the hardest part, but it's all worth it the moment your feet hit the sand of one of Italy's most picturesque beaches. The turquoise waters are vibrant and inviting. Just be sure you come prepared as there are no amenities on the beach.
20. Half Moon Bay: Antigua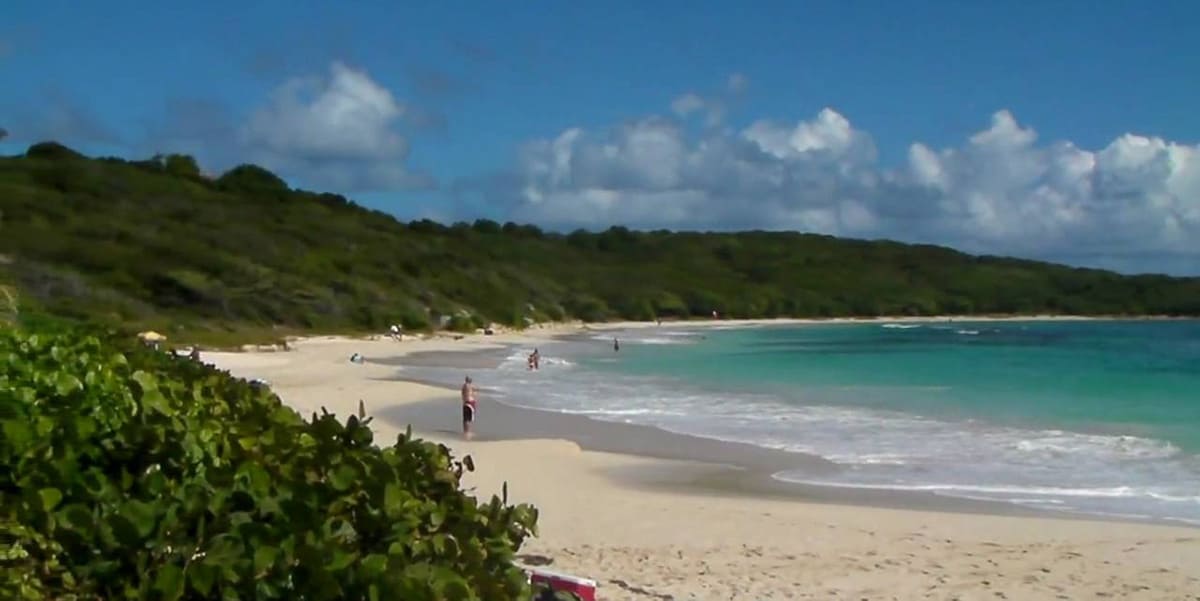 Half Moon Bay lives up to its name. The crescent shaped beach features 132 acres of gorgeous oceanfront sand. The shape makes it easy to see your neighbor from just about anywhere on the beach. The sand is pinkish, which works astonishingly well with the gorgeous azure water if we do say so ourselves. Plus, the reef helps to keep the water mostly calm. this is good because Half Moon Bay faces the Altantic. She can be fierce at times. Yet, people come here who are looking for a balance between seclusion and over crowded spots. You can always find a place to stake your umbrella at Half Moon Bay. It's national park too, so be sure you explore the entire area. Should you get hungry there is a concseeion stand on the beach to help you out.
19. Île aux Nattes: Madagascar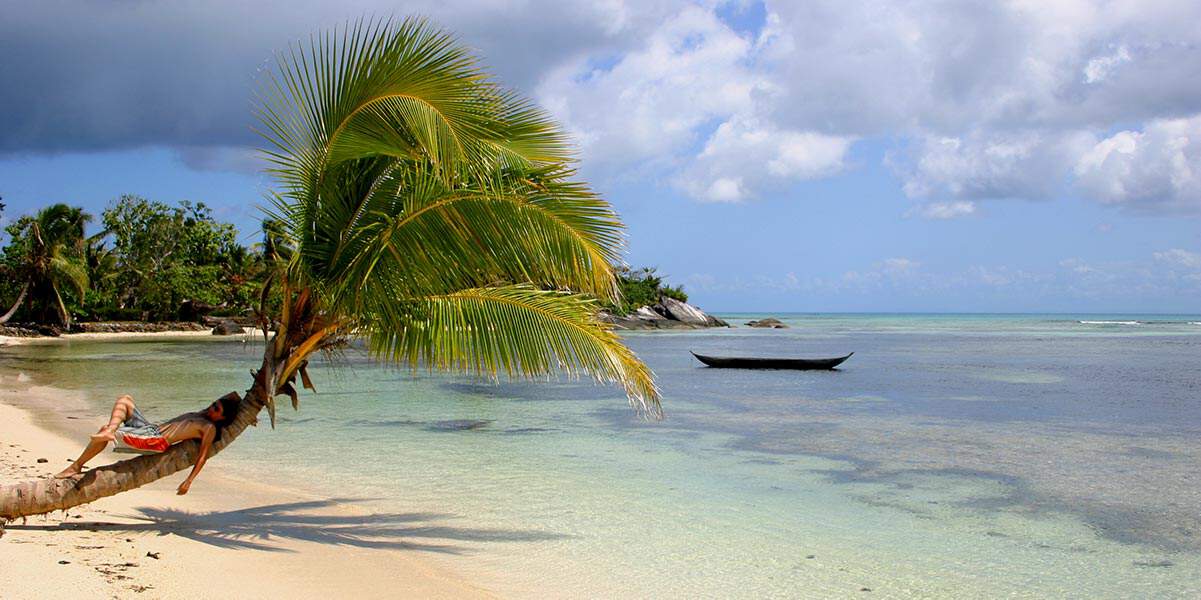 Locals call this beach "Nosy Nato". It has quickly become known as paradise to residents of Madagascar, up-seating longstanding favorite "Nosy Bee". It's not hard to understand why either. Île aux Nattes is the stereotypical tropical beach. Some would say the plays the part too well. Palm trees overhang the beach to provide shade, the reef breaks up the water and provides great pops of color and wildlife encounters for snorkelers. and the white sandy beaches are too die for. The trick is getting there. The beach is only accessible through a small channel off the southern tip of Ile Sainte Marie. And before you think you can walk across, think again. It's deeper than it looks. Pay the paltry fee for the ferry canoe.
18. Lucky Bay: Australia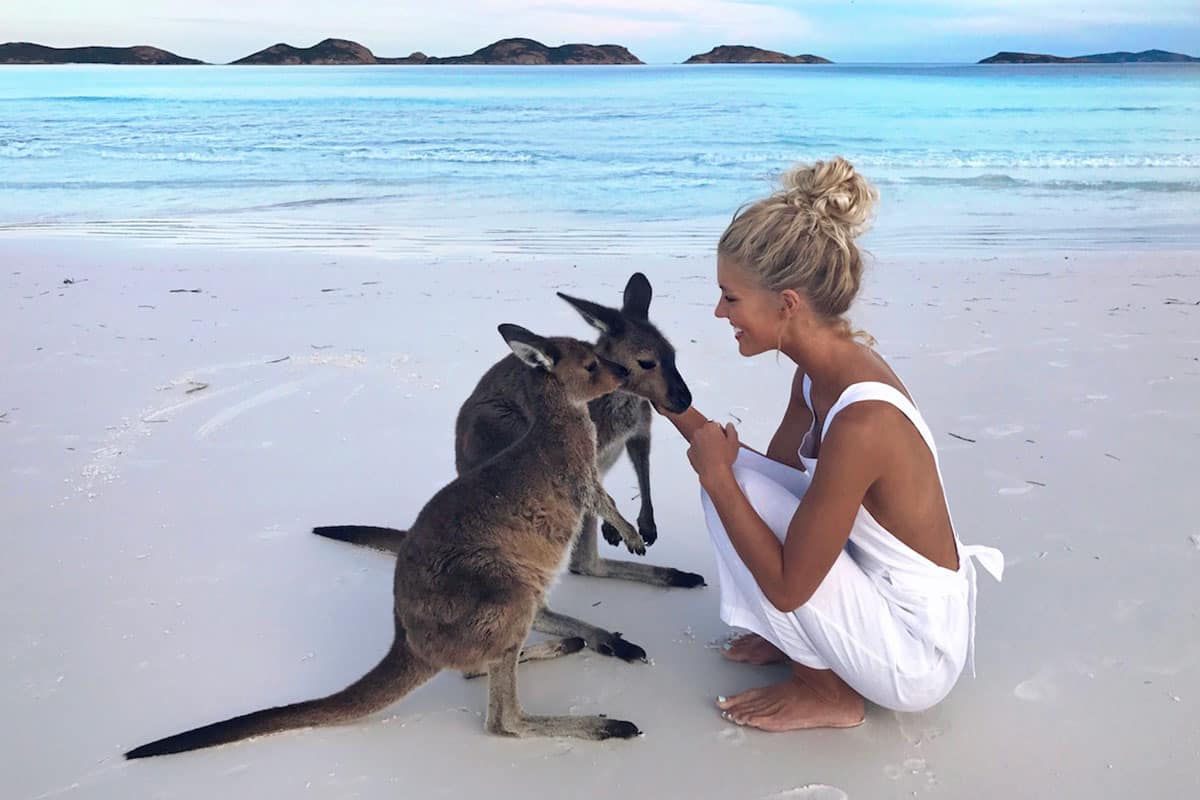 Lucky Bay is known as Australia's whitest beach. It's one of a long string of beaches in Cape Le Grand National Park offering stunning views of the Recherche Archipelago. The beautiful water and ideal swimming conditions draw thousands each year. The best part about this beach? No crowds. So, book a charter and enjoy a mostly people free experience. Kangaroos inhabit the island and like to get up close and personal. Also, there are plenty of hiking trails that offer amazing views of the island and surrounding archipelago. If you want to spend the night check in with the campground. They have solar heated showers and toilets. This will ensure you have no time limit on your strool around the moonlit bay.
17. Dhigurah Island: Maldives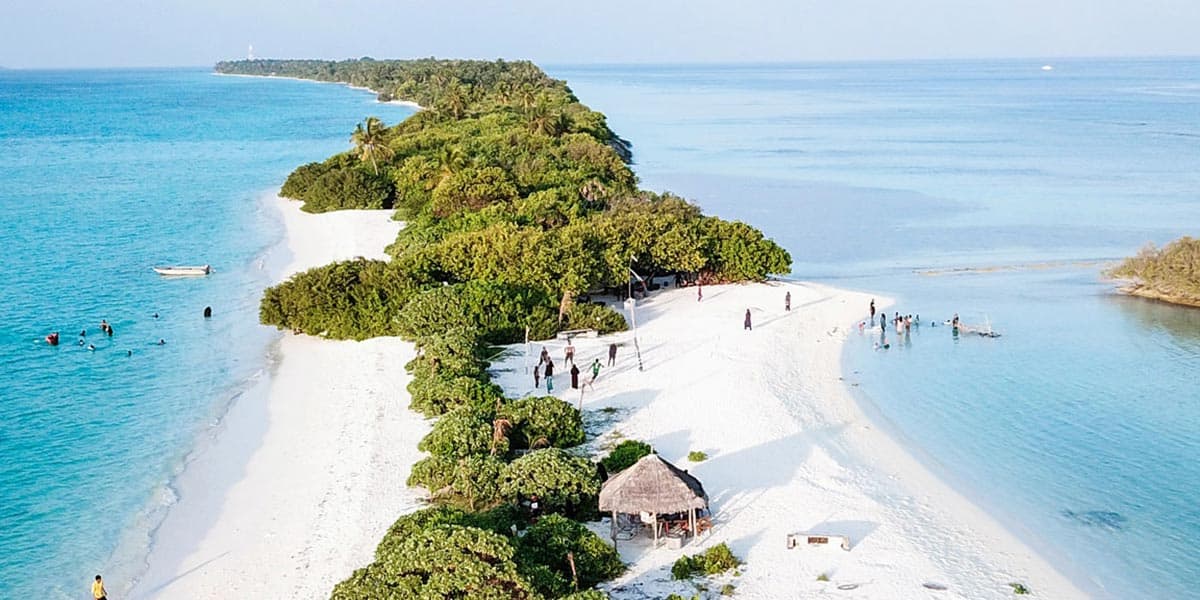 Welcome to a beach and diving paradise. Dhigurah Island: Maldives could be considered one stop shopping for thrill seekers and vacationers. Those seeking sand and sun can simply enjoy the green oasis in the middle of the Indian Ocean. If adventure is more your game, try diving with whale sharks. They inhabit the area and are just one of the amazing sea creatures you can spot diving, or snorkeling for that matter. The most unique feature of the beach is its long shape. The sandy portions get so narrow in some portions that you might think it would break off. It's idyllic, awe inspiring and NOT available on Fridays. That's the one day locals are permitted to toake a day off and have a picnic. No swim suits are allowed. If spotted, you will receive a $100 fine. Yikes!
16. Flamenco Beach: Puerto Rico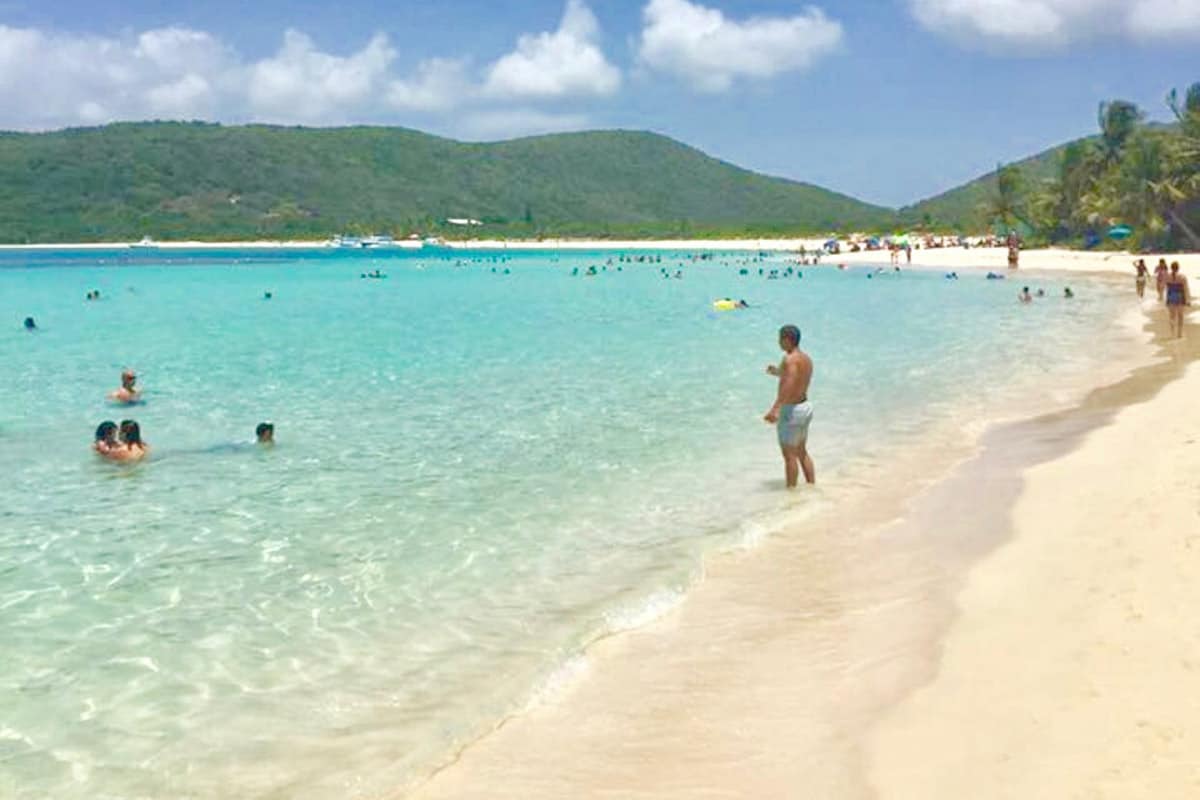 Head to Flamenco Beach for the best public sand in Puerto Rico. The beach on the island of Culebra is known for its white sand, stunning beauty, epic swimming and dive sites! Walk the beach and you will find yourself moving a mile around in a horseshoe shaped manner. However, the mile walk is totally worth it! Getting there will give you that secluded feeling. Flamenco Beach sits 20 miles off the northeast tip of Puerto Rico. People go there for what you don't find on Puerto Rico. There are no resorts, casinos, restaurants, theaters or wild night life. It's pure raw beauty. However, don't fear. Food is available. During the day there are vendors in the parking lot to help you out.
15. Kaputas Beach: Turkey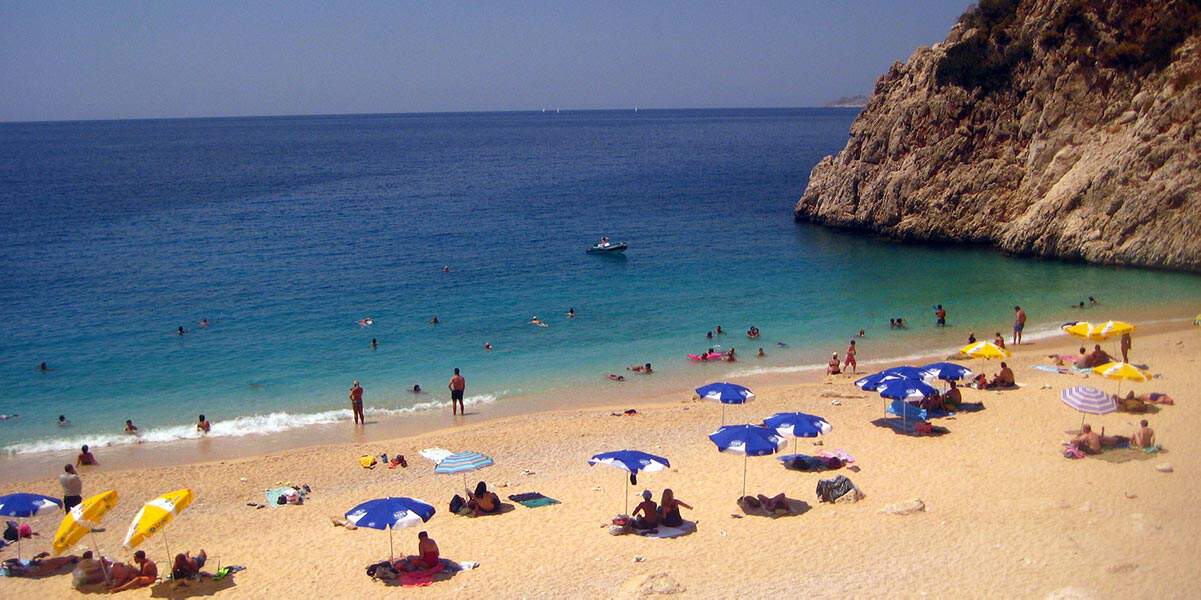 Look down a steep gorge at golden sand in one of the Mediterranean's most beautiful beaches. Found in Turkey, Kaputas Beach is a stunner. Driving on the cliffs you might miss it entirely. The only clue is a small sign and parking lot which read "Kaputas". That's how you access the beach. Stop in, pay the parking box and begin the trek down the many steps to the beach below. Also, pay attention to an ordinary sign featuring five items at the top of the cliff. it contains information about the Five Wonders of Antalya Conservation Project. It's a conservation effort by Turkey. The area contains rich wildlife that Turkey aims to protect. They are even storing seeds in a seed bank to ensure future propagation. Kaputas is so much more than a beach!
14. Reynisfjara Beach: Iceland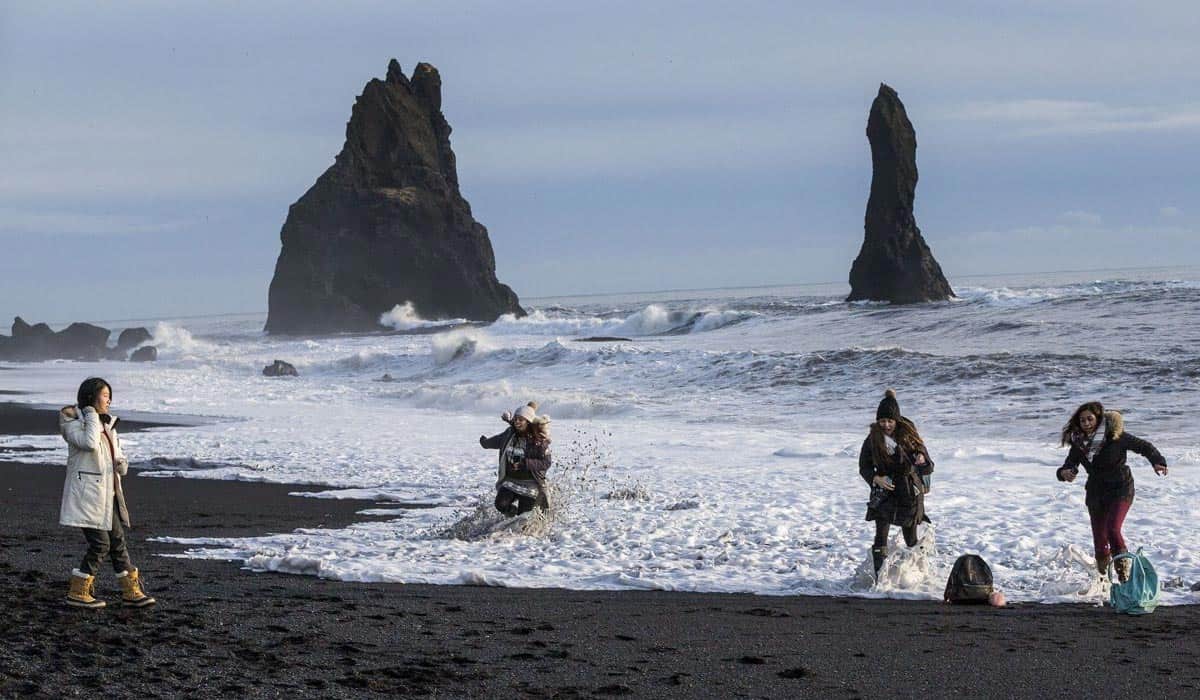 Tourists flock to this beach located beside the small fishing village of Vík í Mýrdal for one reason, black sand! Reynisfjara Beach is one of Iceland's top destinations. The enormous basalt stacks look amazing. Speaking of black stacks, the beach was featured in an episode of Game of Thrones. Know in the series as "Eastwatch by the Sea" it is where guards of the night's watch keep look over the wall. And if you visits Reynisfara, be careful. Her fierce tidal waves are about as dangerous as  an episode of GOT. However, the cave is a must see. The scenery is surreal and geometric at times, but totally worth it. People don't travel here to sunbathe, they come to pay homage.
13. Tunnels Beach: USA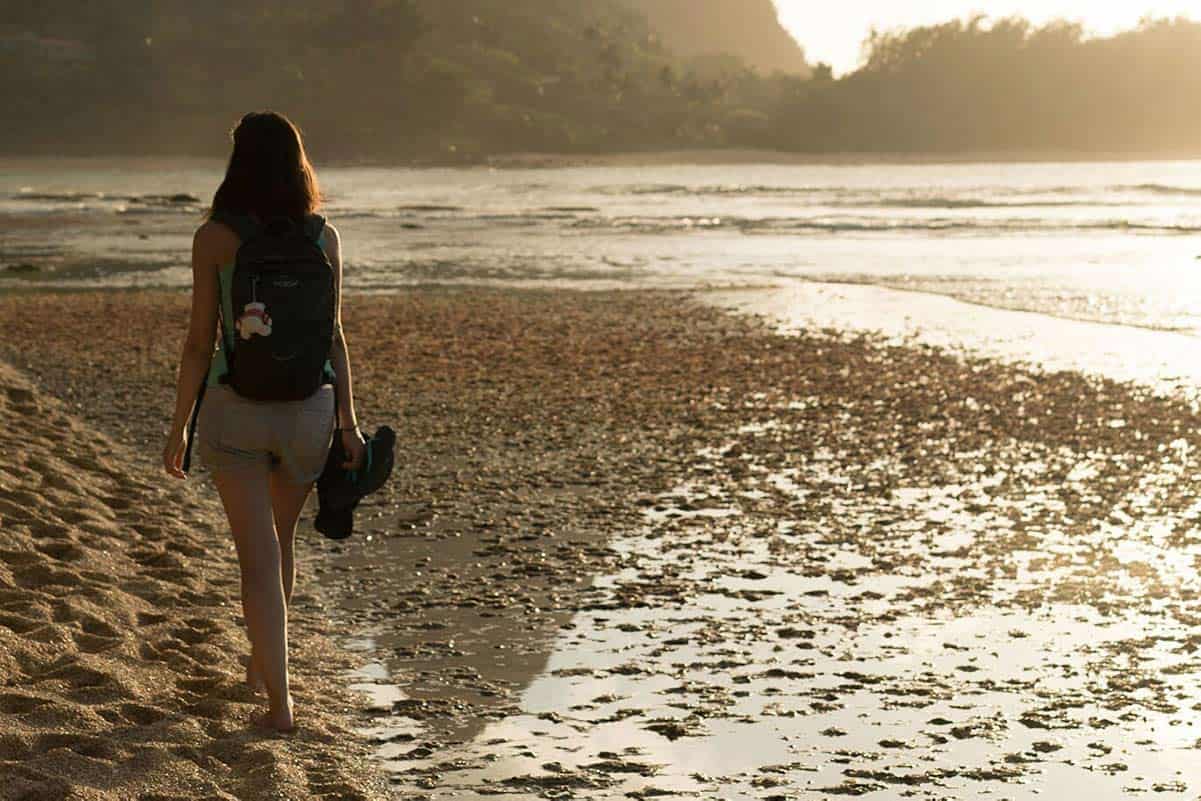 Snorkeling in Kauai doesn't get better than Tunnels Beach. While snorkeling you could stumble upon sea life, sea caves, sea turtles, and if you're lucky, a monk sea turtle! Toward the west are a beautiful cluster of jagged, lush peaks that flank the beach. The scenery makes a trip worth it even if you don't snorkel. Backed by the Waianae Mountain Range and Makua Valley, your eyes will find plenty to do. And if you surf, even better! Tunnels beach is one of  Hawaii's top surf destinations. Head to the beach in the morning to view dolphins. They like to eat early! A trail at the northwest tip of the beach beckons a nice hike. You won't fins a lack of activity at Tunnels Beach.
12. Île aux Cerfs: Mauritius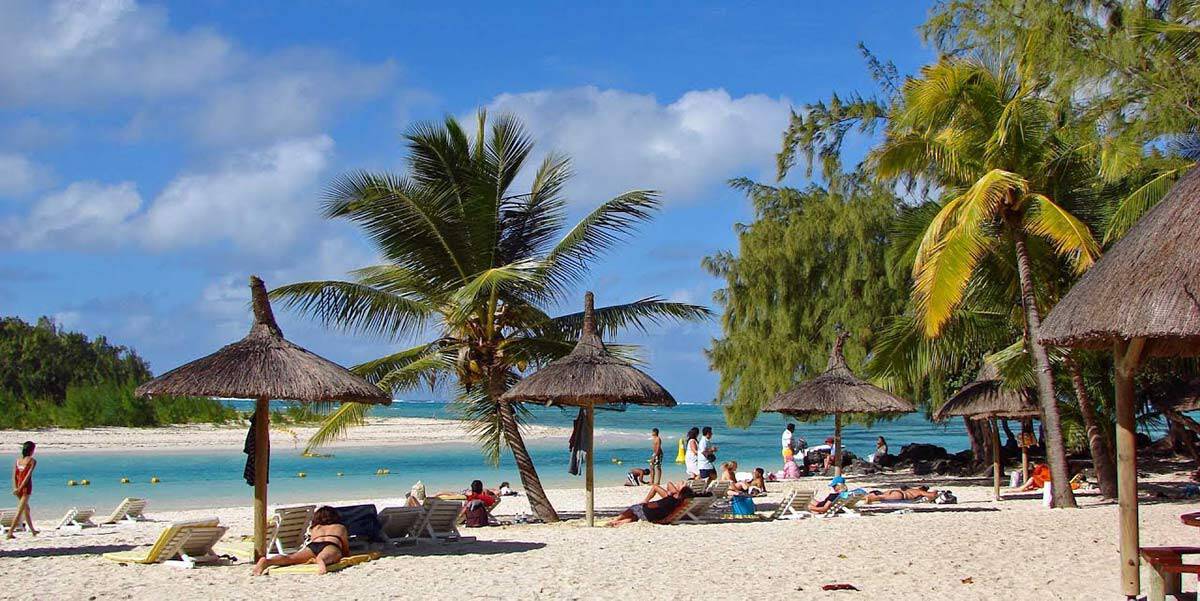 Known as Deer Island (even though deer have long left the area) Île aux Cerfs offers much in the way for families and tourists alike. There are many water sports to be found (think kayaking, snorkeling and paddle boarding) and the way the beach is laid out makes keeping an eye on the kids easy. Inlets offer shallows for fun splash and play kids areas. Sunbathing is ALWAYS in fashion and if you want to try something different, there is a golf course further in. Yet, most come for the snorkeling. The coral reef offers so much wild life to take in.
11. Champagne Beach: Vanuata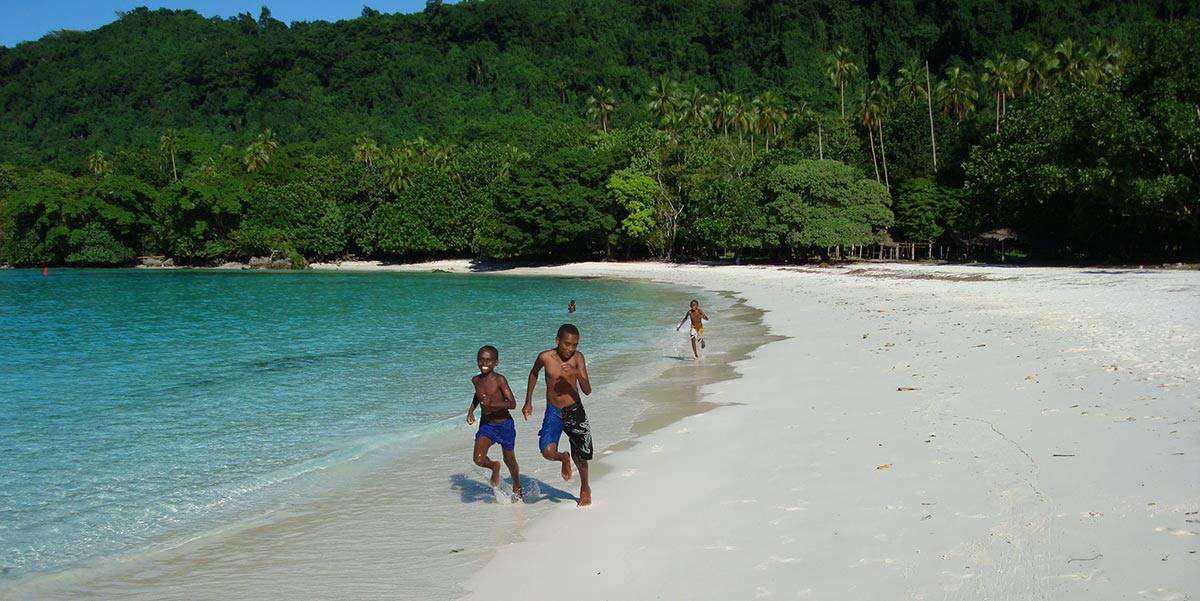 located on the island of Espiritu Santo in Vanuatu, Champagne Beach is a true show stopper. One look at the crystal clear waters and powdery white sand and you can almost hear the score to South Pacific playing in your head. Those quickly vanish when you see cows aimlessly wandering around the beach. It seems strange at first, but after a few minutes it looks so peaceful. In addition, keep your eyes peeled for sea turtles. They love to pop up in the bay often. As for the name of the beach? It's derived from a fizz which appears during low tide as volcanic gas escape from rock. And remember, the entrance fee keeps most away so you should be able to enjoy the beach free of folk for the most part.
10. Fulhadhoo Beach: Maldives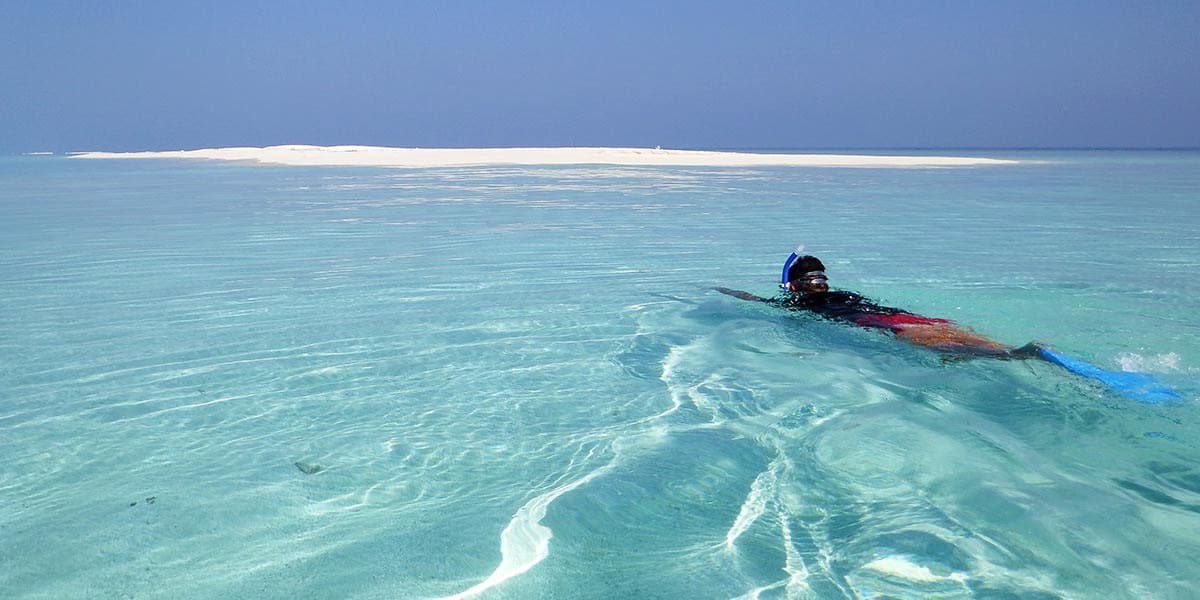 Fulhadhoo Beach is longer than it is wide, which means a constant sea breeze to keep you cool. This translates further into no mosquitoes, a welcome for for a beach in the Maldives! Many have described it as a lost paradise perched in the middle of the Indian Ocean. There is a small village of 250 or so people on the east end of the island, most of them involved in the local fishing trade. Visitors go to enjoy snorkeling and free diving. The island landscape looks almost primeval with lagoons and snow white sand creating a magical scene. Coral reefs abound and be warned. The dolphins and turtles are not afraid of humans so some type of interaction is almost guaranteed.
9. Elafonissi Beach: Greece
It wasn't that long ago Elafonissi Beach was known only to local inhabitants of Crete. However, when Trip Advisor named it one of the World's Top 25 Beaches in 2014, all of that changed. Today, everyone from young day trekkers and backpackers to sun worshipers and families hauling spades and buckets can be found. During high season it seems like the entire world is vacationing at Elafonissi Beach. So what makes it so special? The warm lagoon and shallow waters are part of the attraction. Plus, there's a sandbar that is submerged just underneath the water so visitors can enjoy the ocean but still stand u right. And while The beach is often dotted with umbrellas and lounge chairs, you can wade out to a small island and experience another world if you choose. It's completely remote, classified as a nature preserve and just as stunning as Elafonissi Beach. More than 100 rare plants and winter flowering plants can be found there, making it a true one of a kind nature spot.
8. Vaeroy: Norway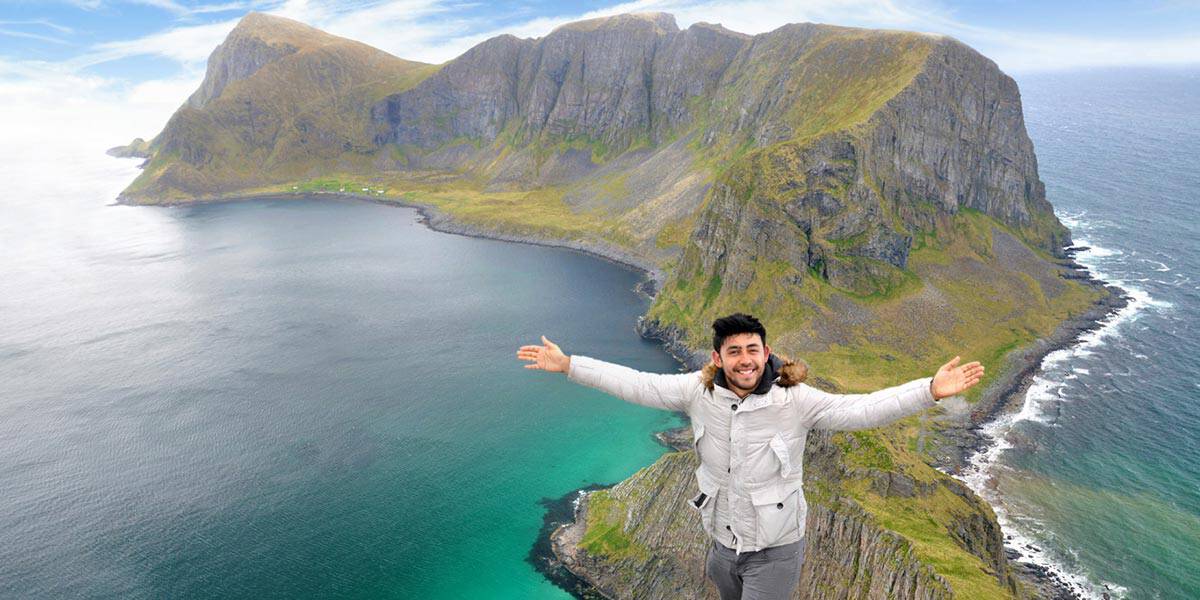 To experience the indescribable, travel to Vaeroy, Lofoten. Located in Norway, it's one of the most unique islands in the world. Since the gulf stream warms the waters, the climate is actually pretty mild. It's amazing that everything from mountains to cliffs, a cozy town and paradise beaches can all be found in a small Norwegian city. And while the beach takes top honors for beauty, it's the mountain trails that play a close second. Visitors hike them throughout the year to snap amazing photos that look as if they are standing on top of the world. However, the white sand and turquoise sea call visitors back to her side to explore everything the beach has to offer. Walk around a while and you will even spot a fisherman's house or two.
7. Turquoise Bay: Australia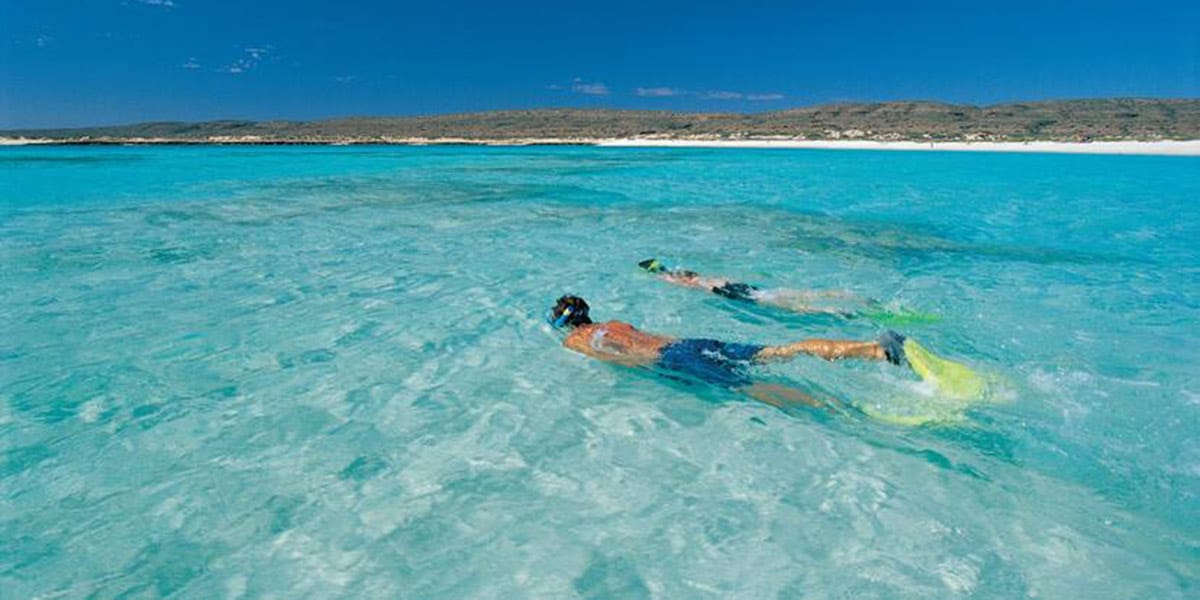 Known as Western Australia's coral coast, Turquoise Bay is part of the Cape Range National Park. That translation means pristine scenery, beautiful waters and gorgeous sandy beaches. Snorkeling, swimming and relaxing or popular tourist activities. However, it's advised that you be a strong swimmer because the bay is known to have moderate to strong currents despite the fact there is a reef present. Seems like the reef has a broken spot which lets in fierce ocean currents. However, if you do snorkel you will see beautiful coral, lots of squid, massive amounts of fish and plenty of turtles. In fact, there are more than 500 different species of fish in Turquoise Bay so you can literally see every color of the rainbow. Just remember, the stopping point for snorkeling is the sand bar. Venture past and you could be sweet an venture past and you might be swept out to sea.
6. Honokalani Beach: USA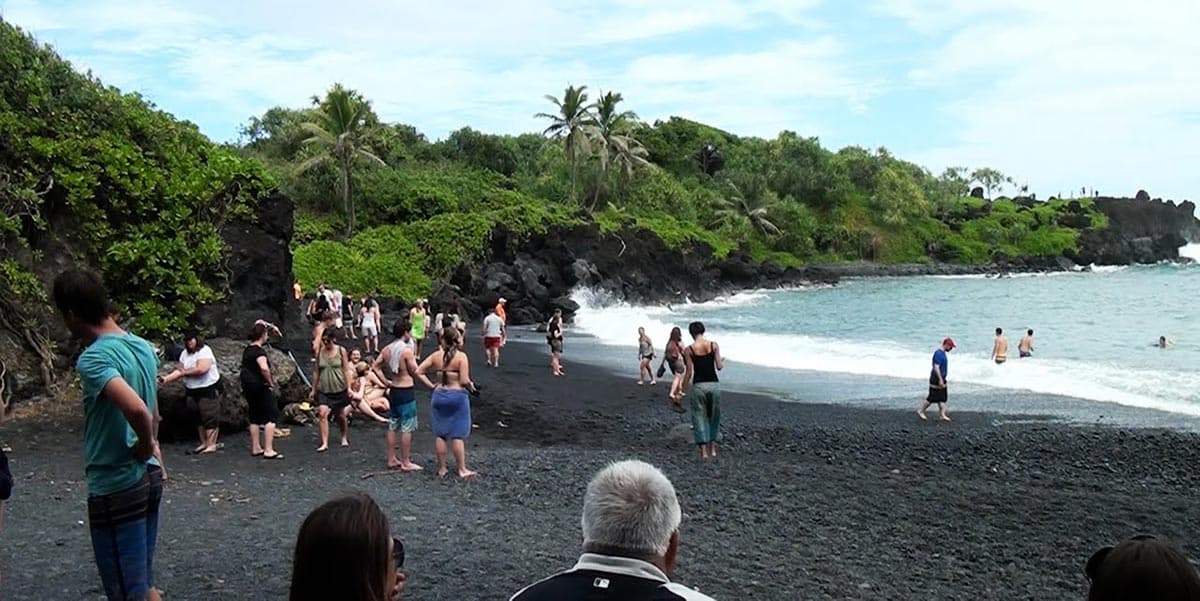 So if you don't want to travel to Iceland to experience black sand, you could always go to the black sand beach in Maui. Honokalani Beach is a popular tourist destination. Of course, the black sand is due to the volcanic islands which erode and become part of the coast line. The beach is a true paradise too, framed by vibrantly colorful tropical plants, tucked between massive black lava cliffs. It's the perfect photo op, made even more beautiful during the "golden hour" of light, as photographers call it. In ancient times, the people of Hawaii would collect large pebbles from the beach to use as flooring for their homes. And, that's probably the best activity you should stick to. Swimming is discouraged because the rip currents are simply too dangerous. Yet, to take in a true black sand beach, without spending thousands of dollars, Honokalani Beach is where you need to go. Plus, Travel Channel rated it as one of the World's Top 10 Emptiest Beaches, so you won't have to fight the crowds.
5. Cayo Coco: Cuba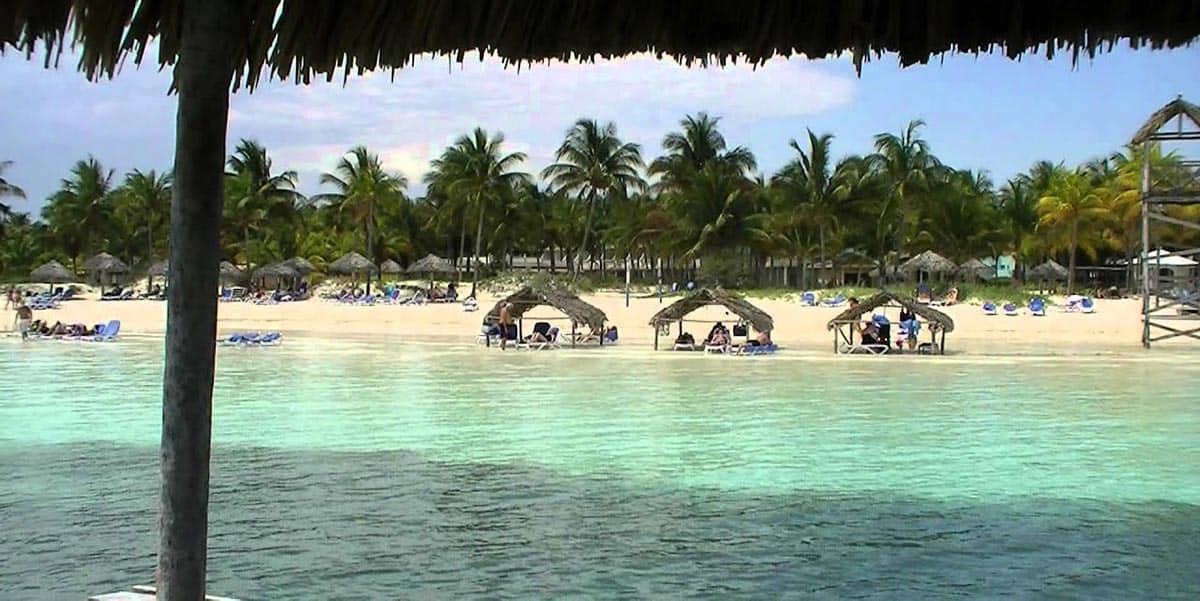 Head to a tropical island straight off Central Cuba and you will find Cayo Coco. Of course, it's world renowned for its beautiful white sand and colorful coral reefs. For seclusion, it's best to stick to the central or southern end of the island as the northern coast is littered with all inclusive resorts. Interestingly enough, before 1992 the area north of the Bay of Dogs was completely uninhabited. And while the bulldozers are still buzzing, the beach itself is worth a stop. Also known as the King's Gardens, it's a beautiful sliver of paradise a mere stones throw away from our southern most Florida key. Visitors say it seems to stretch on for miles and miles. That's a view worth taking in we would say.
4. Horseshoe Bay: Bermuda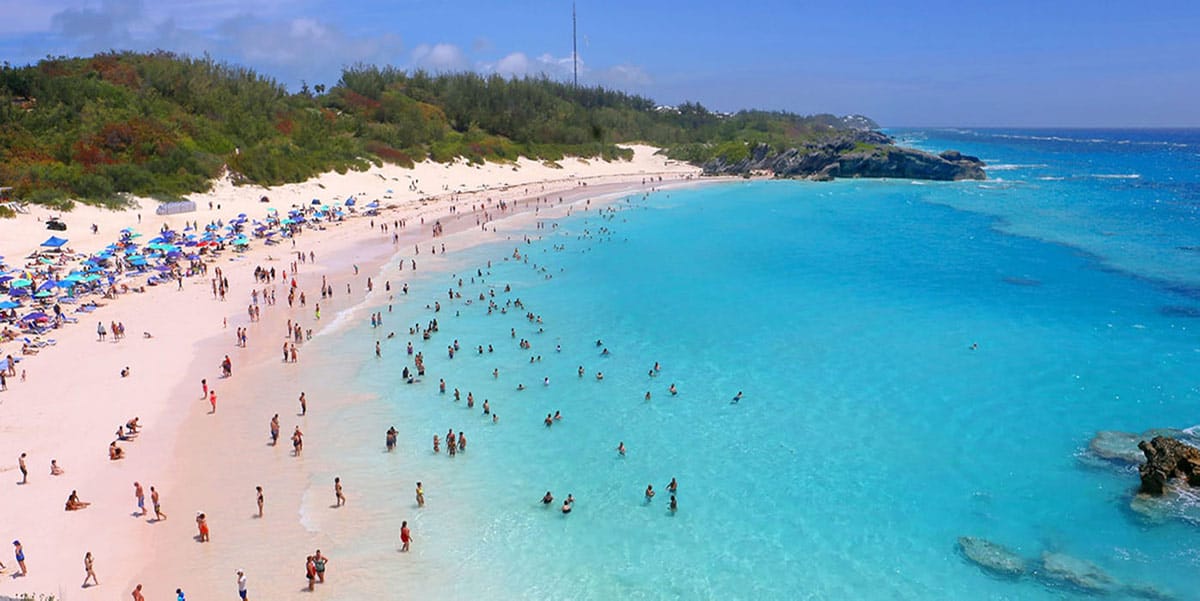 Swimmers, photographers, dreamers… they all end up at Horseshoe Bay. And when they do, it's crowded! Known as one of the most instagrammed beaches in the world, the crazy blue waters and pink sand are the main attraction. You can rent just about anything you need to relax or have fun on the beach, and the most popular activities include snorkeling and cave exploring. Visitors also like to climb to the top of the tallest rock for to score and amazing sunrise or sunset. there are plenty of walking trails and a lighthouse built in 1846 if you are daring enough to make the journey! For smaller kids try Port Royal Cove. That part of the bay is enclosed keeping big waves out.
3. Seven Mile Beach: Cayman Islands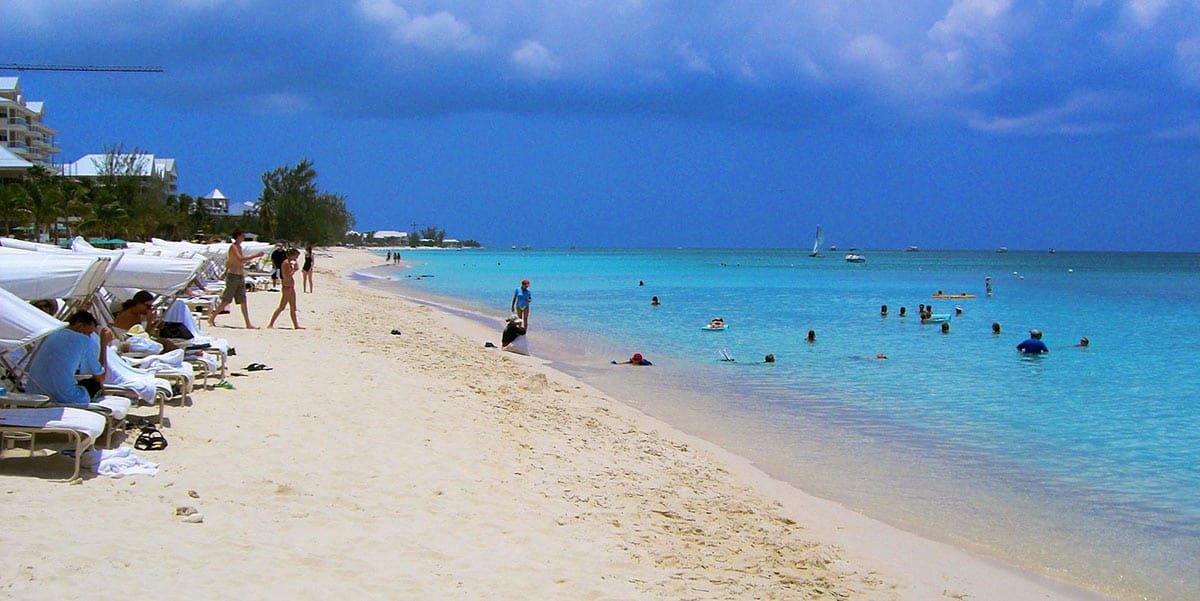 On the western end of Grand Cayman Island is a crescent shaped coral sand beach known as Seven Mile Beach. Caribbean Travel and Life Magazine named it "The Caribbean's Best Beach" and grabbed the 12th spot for beats beach in the world as ranked by MSN. Snorkeling, scuba diving (around Cemetery Reef) and parasailing are among top activities and if you want to work on your tan, there's plenty of room for that too! Need a drink? Amble up to one of the many beach bars and get instant adult refreshment. Seven Mile also plays host to a vibrant street market. One more thing. The beaches face due west so sunsets are simply amazing!
2. Anse Source d'Argent: Seychelles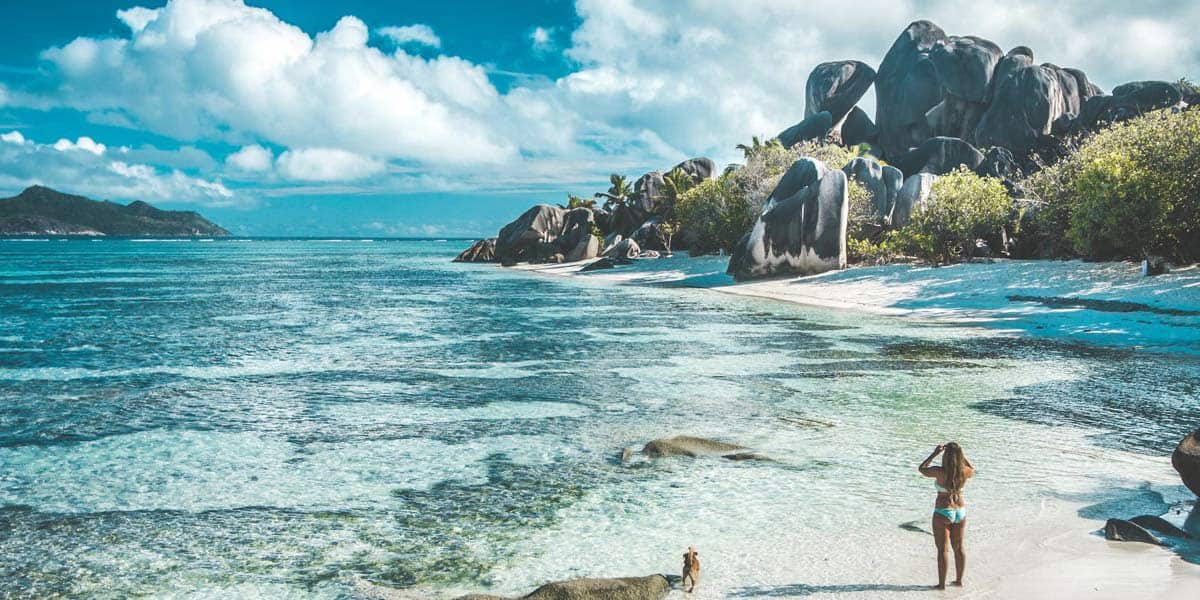 Anse Source d'Argent consistently ranks as the top beach in the world. Shallow emerald waters gently lap brilliant white sands. In turn she is shaded by coconut palms and backed by massively huge boulders. To access the beach you'll have to pass through L'Union Estate coconut plantation and pay a fee for access unless you want to try your hand at wading through vast watery expanses of unknown depth (not recommended). It is suggested you head to the beach in the early morning or late afternoon to avoid the crowds. However, if you find yourself amidst a throng of people in the afternoon. look for the refreshment hut. They sell fruit and drinks, and you can even rent transparent kayaks for hour of ocean fun.
1. Hidden Beach: Mexico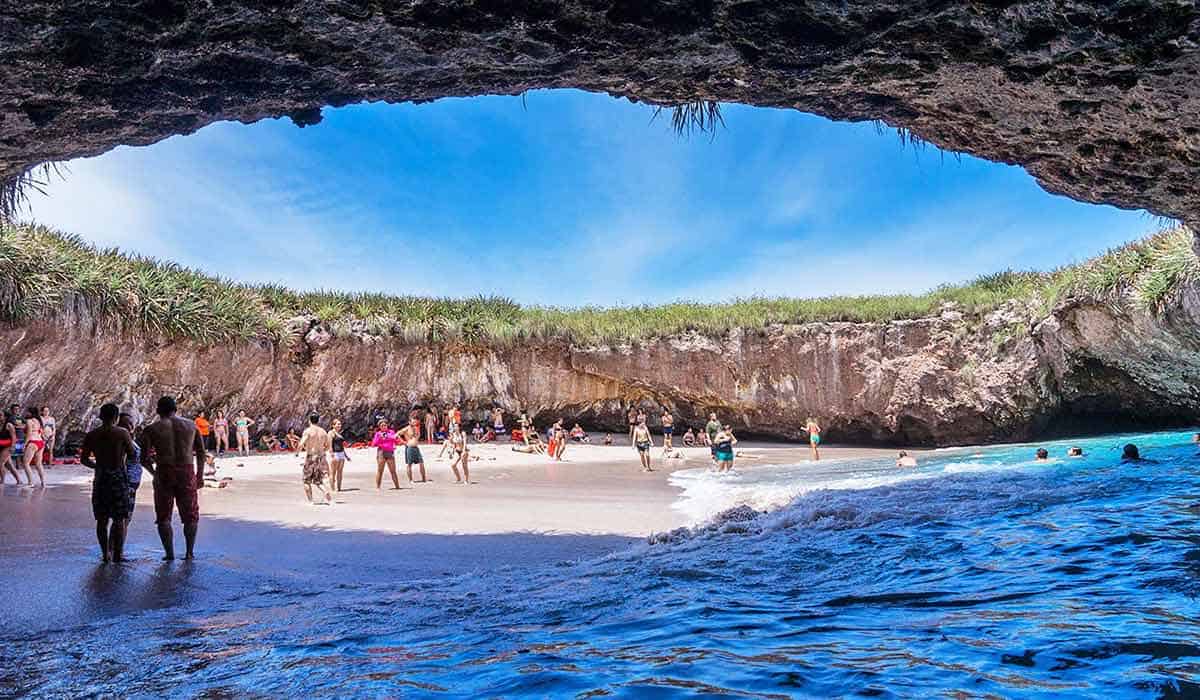 Think of a beach tucked beneath the surface of the island and you have an idea of the world's most romantic beach. Known as "Lover's Beach", this is the jewel of Mexico. To find it, simply head 22 miles west of Puerto Vallarta to the mouth of Banderas Bay. Part of the Marieta Islands, they were all formed when volcanoes erupted underwater. However, that does not explain the strange rock formations or Hidden Beach. The islands remain uninhabited to this day, but were used by the Mexican Military to test weapons on the early 1900s. It is though that Hidden Beach could be the result of a bomb test. Still, the beach is awesome. You access the shore by threading through a long tunnel. The roof is about 6 feet above the water's surface so you can kayak or swim in if you prefer.