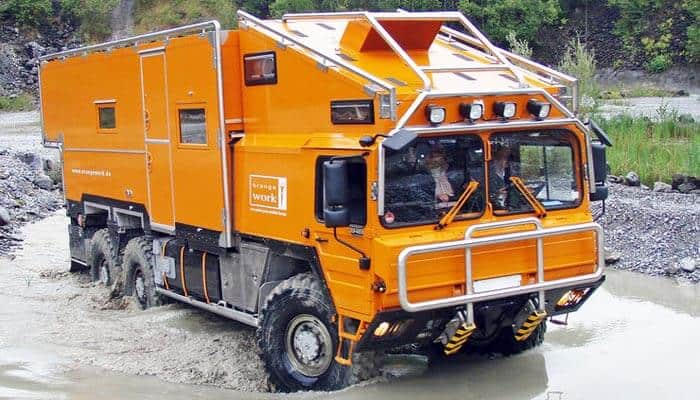 Welcome to the world's coolest RV post. Here we've compiled some of the absolute coolest Campers/RV's from around the world. To make sure you enjoy yourselves, we've also mixed in some of the most weirdest and wackiest custom camper creations ever seen. Be sure to stick around till the end, because we've saved some of the best for last. Hope you enjoy.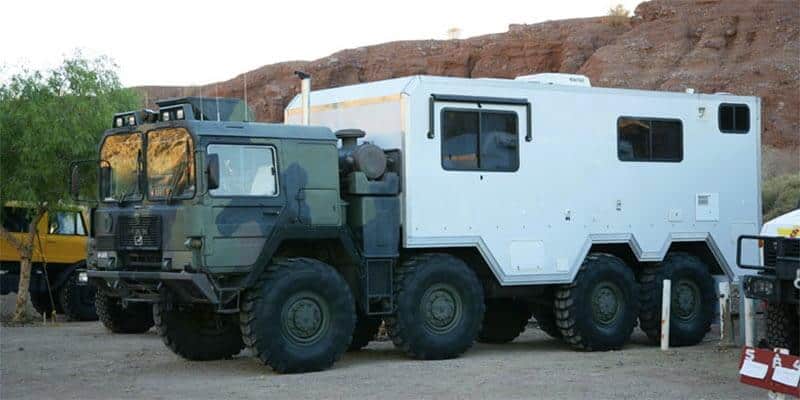 Equipped with all the creature comforts of home including a kitchen, bedroom and dining space, this war toy to RV conversion gets an A plus overall, despite the C minus for the two tone paint job. It can handle the most uneven terrain, and can also get you across the border with or without a passport. Of course, I guess you could always go back and put camouflage on the trailer, or paint the missile tractor white. Nah, go camouflage.
Up Next: More Cool RV's From Around The World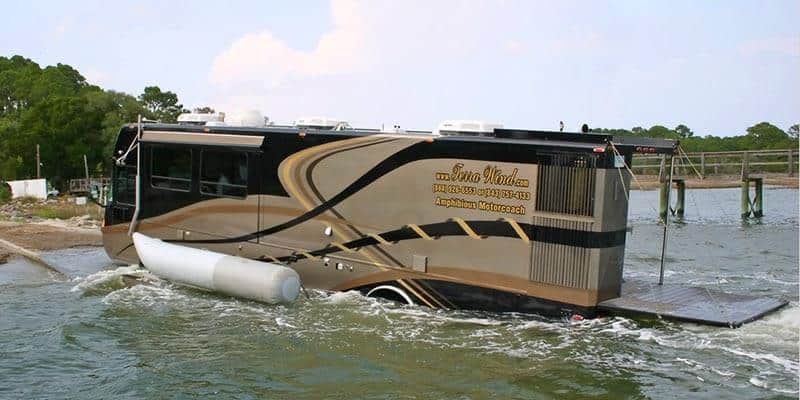 The team at Cool Amphibious Manufacturers International, better known as CAMI, is building one beast of an RV that gives new meaning to the term off-road. Right in the middle of a custom build, the motor coach/yacht known as the Terra Wind amphibious is poised to the ante so to speak. Yes, you heard me right. This motorhome is also trying to drive on the water, with the aid of 219 inch propellers. On land, it looks like your typical class A RV. It specs out to 42 1/2 feet long, 12 1/2 feet tall, 102 inches wide and weighs about 33,000 pounds. However, a few unique styling features do set it apart. For instance, there are sliding doors on the back of the RV, which give you access to a wonderful view on land, or water. The RV is also equipped with a swim deck that lowers much like a toy hauler ramp, and has a whirlpool tub as well. But wait, it gets even better! The Terra Wind will also have an optional trailer package that can be purchased, and yes the trailer floats. It will be able to carry a car and golf cart, or two jet skis (imagine floating on the open water with those in tow). Also, it's a party barge in itself since the flat roof is perfect for diving off of, or catching some sun.
Up Next: More Cool RV's From Around The World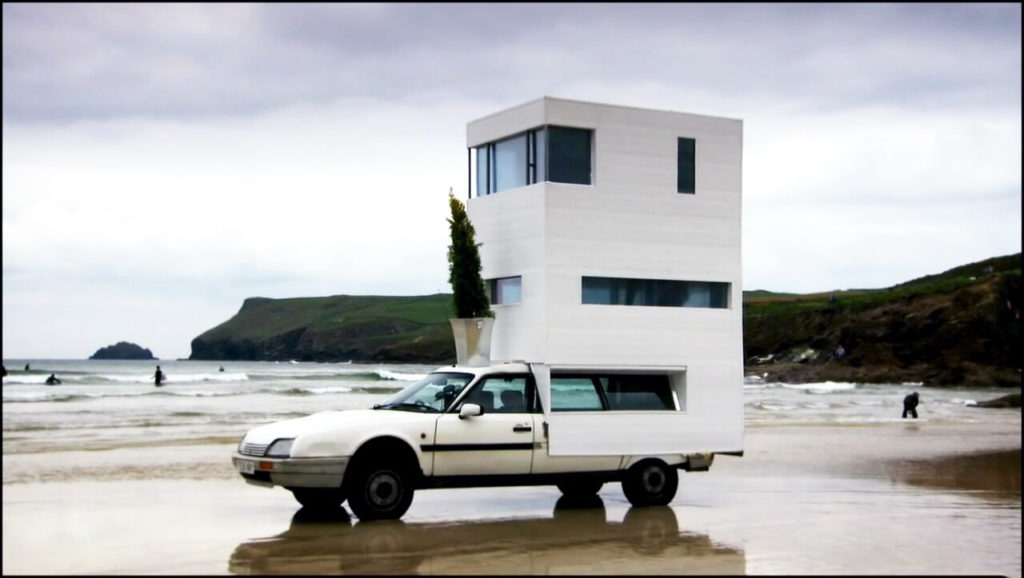 This funny modern looking RV, was designed and built by Jeremy Clarkson as a challange for an episode of Top Gear. This three story RV had a kitchen area in the lower level, Japanese contemplation are in the middle level, and a sleeping area in the top level. As nice as this RV looks, it ended up being a major failure being very top heavy and getting blown over by the wind. Near the end of the show, his partners also decided to play a joke on him and park the RV at the top of the mountain in an awkward position.  After trying endlessly to get it down. They later on decided to push it off the edge and say good bye.
Up Next: More Cool RV's From Around The World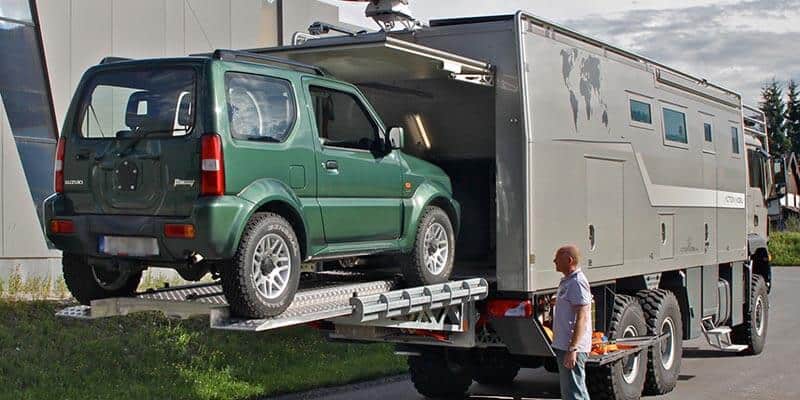 So let's say you don't want to be one of those run-of-the-mill type of RV enthusiasts who uses a tow dolly to haul your car. Well, you could always go with the badass Atacama. It's one of the world's premier RVs designed to carry your car inside. That's right, no more annoying pigtail to swing your car around in the back; your vehicle is stowed, safe and sound, inside. The team at Action Mobile has designed an RV that is certainly more than a rough-and-tumble car hauler. They are known for "sweating the small stuff" and the inside of this RV proves it. The kitchen area is large and features many of the modern conveniences you would find in your own home. They are probably more modern than what you would find in your home for that matter. The glass top stove, touch point dishwasher, and sleek stainless steel look lend an air of luxury to the rugged motorhome. It can accommodate four persons for sleeping, and hey, if you bring your in-laws and they get on your nerves, I guess you could always stick them inside a car stored in the back as "guest accommodations." Don't worry, the soundproofing is pretty good in the Atacama, so you probably won't hear them beating on the doors and windows to get out. Since this RV is designed to go deep in the wilderness, you can free them anywhere you choose.
Up Next: More Cool RV's From Around The World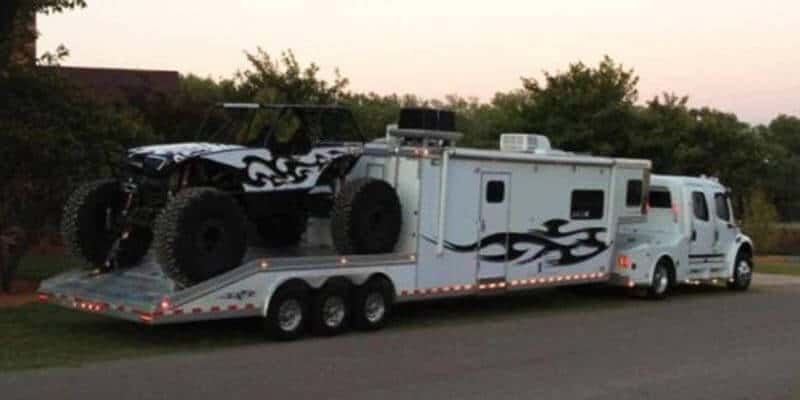 If this motorhome/toy hauler had a name it would be something like "Spike" or "Beast." Check it out. This is probably the world's first motorhome equipped to haul a vehicle that could in effect tow your motorhome. This elevates badass recreational vehicles to a new level. Imagine having the freedom of the open road, with the security of never getting stuck anywhere. If you do, simply unload your toy and pull your motorhome free. This fifth wheel style motorhome features similar styling to the next one on our list, while sacrificing a bit of space to make room for the vehicle to be towed at the rear. Also, we see another addition. Notice the three wheels underneath the ramp for the toy hauler? Those were placed there for one reason only… to accommodate all the weight of whatever toy you need to haul. Whatever the case, if you are an outdoor enthusiast who loves a few creature comforts, this could be the RV you have been looking for!
Up Next: More Cool RV's From Around The World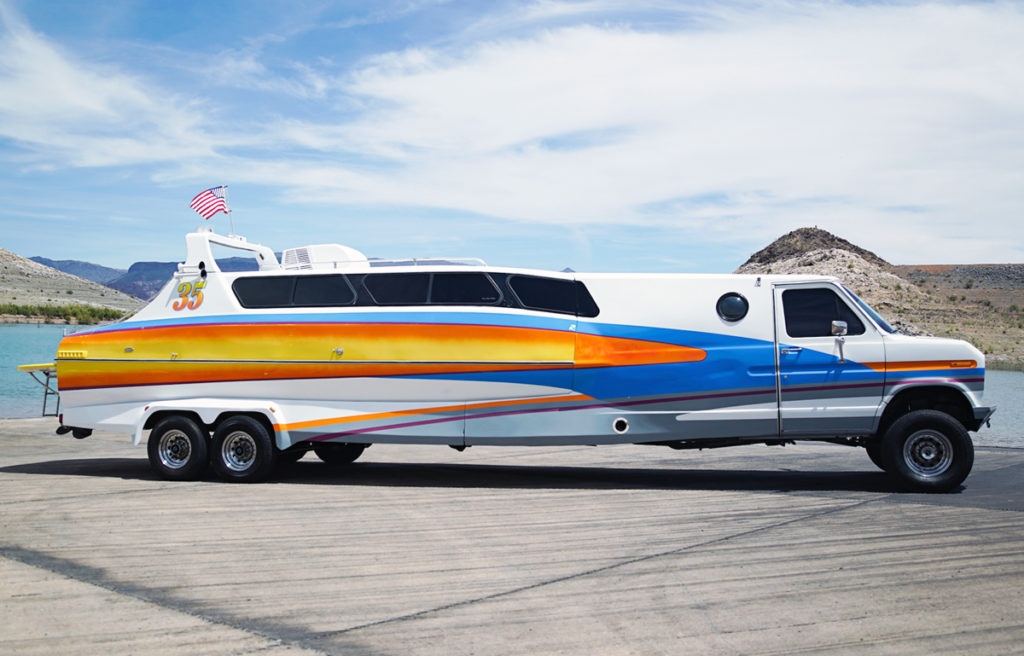 The 'Boaterhome' is a rare truck/boat that is based on the Ford Econoline van. It started off as just a concept that later on turned into a dream come true. This 'Boaterhome' is capable of speeds up to 100 mph on land and 40 mph on water. I know, it seems too good to be true; but the creator of this awesome boat RV made it a reality. It doesn't stop their, he is now working on a new boat/RV concept that will house a smart boat that can be controlled by your phone.
Up Next: More Cool RV's From Around The World
Okay, so this looks like a badass RV from the future. The fact that they named it "Futuria," further adds to the fashion forward styling. Featuring sleek, elegant designs and a side view pop-up window for showing off your luxury sportscar, this RV looks more like a semi then a typical motorhome. A walk through the inside will instantly make you feel like you are in some sort of luxury condo. Sleek leather seating and modern glossy wood furniture give it a definitive forward focused edge of style and class. The white, minimalist overhead lighting, sleek and stylish, complements the luxury motor coach even more. Take a trip upstairs and you'll find that the top of the RV doubles as a deck, complete with railing and a hot tub. The cab is superbly outfitted with racing style bucket/captain's chairs, equipped with navigation and all the other creature comforts you could hope for. You don't take the Futuria out because you need to go on vacation, or have the need to go cross country to meet family. You take this badass RV out simply because you can.
Up Next: More Cool RV's From Around The World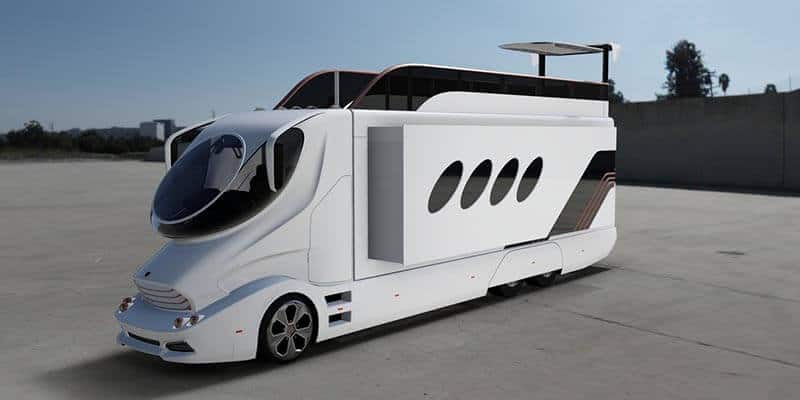 If you have an extra 3.1 million+ laying around, this badass RV could be yours. It's known as the eleMMent palazzo, and yes you have to spell it like that. It's essentially the best hybrid of a world-class sports car and motorhome that you will ever see. Inside, you can transform your coach into a sweet night life spot. There are two bars from which you can serve your guests drink of their choice, and a lift both flybridge lounge to let guests get a spectacular view of the outside world. The best part? When you're done with all of the partying and festivities you can quietly retreat to your bedroom below, and leave the noise upstairs. You even have a separate bathroom there so you can self contain in your own personal oasis. When the party's done and the guests are gone, simply dismantle the fly bridge with the touch of the screen. The graphic interface is sleek and easy to use. It's just what you'd expect from a $3 million badass RV.
Up Next: More Cool RV's From Around The World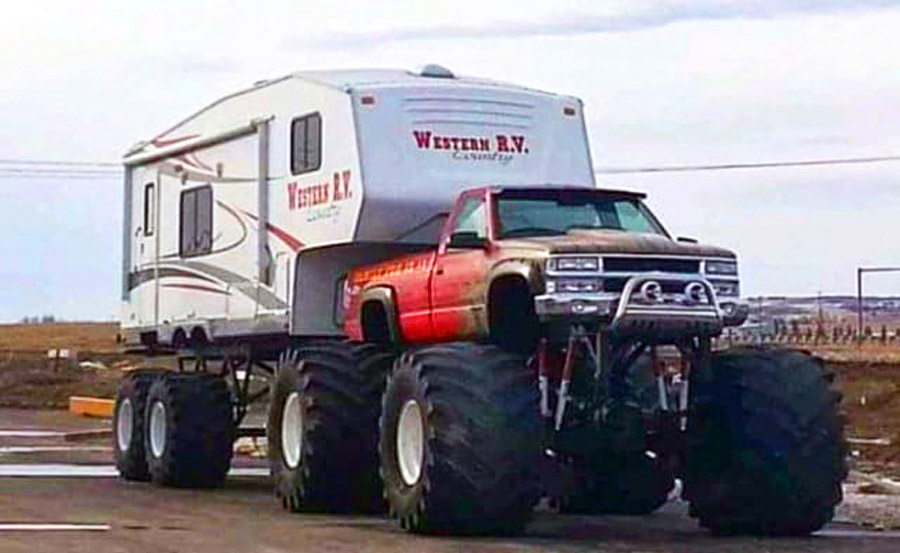 This Monster Truck/RV combo looks like the perfect combo for the ultimate outdoors trip. It may take quite a few fill ups, but this truck and RV combo could get you anywhere you want to go. Even the most remote locations in the world are reachable in this ultimate off-road machine.
Up Next: More Cool RV's From Around The World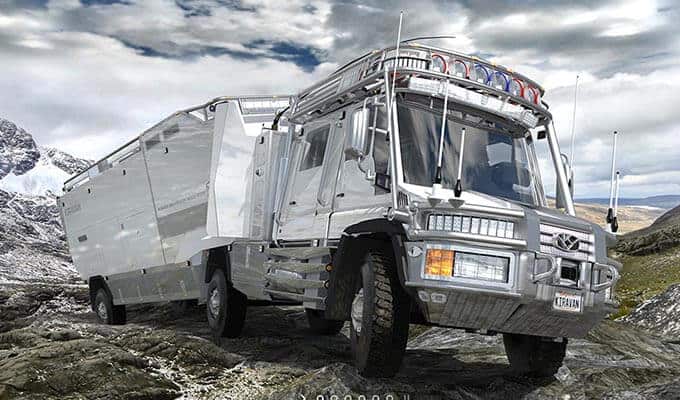 So Mercedes is billing this as the most badass camper ever built. We like to think of it politely as an RV on steroids. What you're looking at is the Mercedes-Benz Unimog Project. I know, I know, why can't you ever get these sorts of projects assigned to you at your job? Bran Ferran, chief designer and engineer responsible for this creation, modeled it to be a bit more kid friendly after his daughter was born. The goal was simple. They wanted to build a large scale global expedition system for exploration over land, scientific research, and of course still photography. To that end, the drivers cab is outfitted with more knobs, buttons and switches then the Apollo 13. That's badass enough in and of itself. The six cylinder turbo diesel, which Mercedes is known for with its cars, only furthers the narrative. The inside cabin looks much like something you would expect to see on the NASA spaceship, with an electronics bank filling one wall of the cabin. Yet, you won't feel a thing in this massive beast thanks to the Kevlar tires and suspension capable of tackling 45° slopes. It's perhaps the best way to drive in style while exploring the world around you. It doesn't get much more badass than that!
.
Up Next: More Cool RV's From Around The World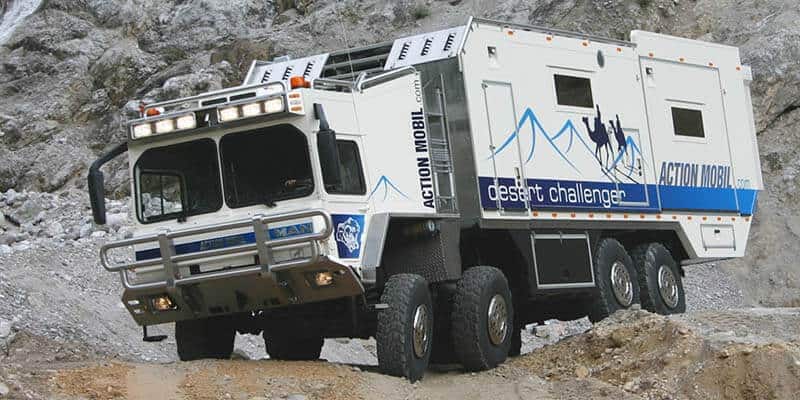 The team at Action Mobil does it yet again with the Desert Challenger. Looking at it can feel a bit overwhelming; understanding the technical details will make you pass out altogether. It's an astonishing 3 m wide, 12 m long and 4 m high. Supporting the massive beast within is a 600 hp colossal engine and a MAN KAT 1 A/1 8×8 chassis. If you think that sounds familiar, there's good reason. This frame was originally designed for one thing, carrying missiles! And while you may not be rolling into combat, you will certainly be well prepared. The RV has the capability of storing 2400 L of drinking water, 66 kg of gas and an onboard battery storage capacity of 1000Ah. So how much does it weigh? A measly 30 tons. What a small price to pay for rolling into the wilderness and living off the grid! You will live in style though. The leather and wood outfitted in the interior make the inside cabin feel warm and inviting. Hey, you can't be rough-and-tumble in the wilderness all the time!
Up Next: More Cool RV's From Around The World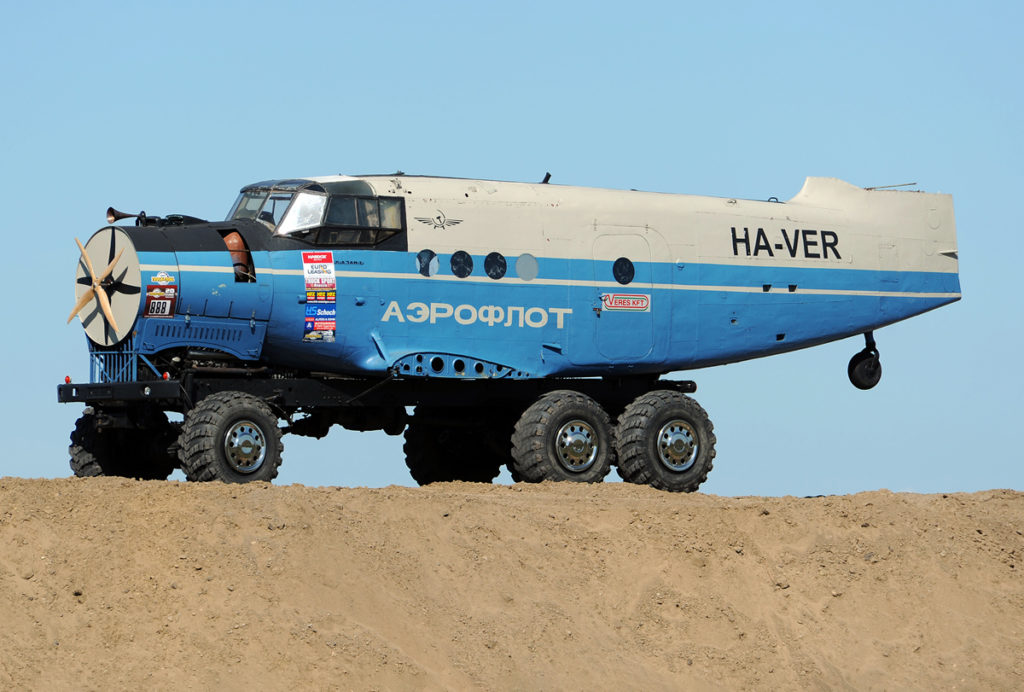 This airplane/RV combination brings a big truck to an even bigger plane fuselage. If you like camping, this definitely looks like the RV that can take you anywhere you could imagine. We could definitely see ourselves taking this to some very remote locations to get the best camping experiences ever.
Up Next: More Cool RV's From Around The World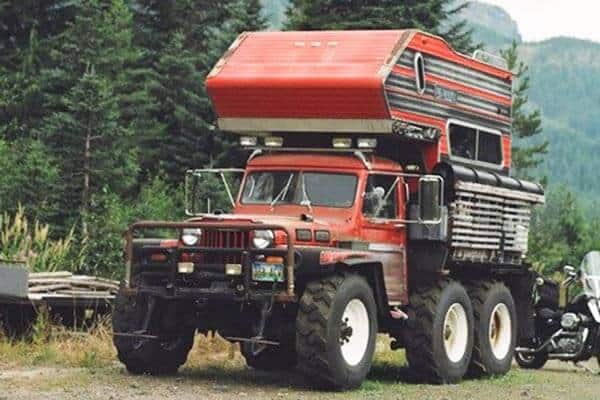 If you're looking for an affordable apocalyptic badass recreational vehicle, this one will fit the bill nicely. This has to be every high school or college boy's dream. It's an off-road 6 x 6 Jeep camper. The entire thing was built around a 1966 Willys Jeep truck. It was originally a four-wheel-drive vehicle, but was obviously converted to a 6 x 6. The camper is boss, too. It features 48 inch tires, direct from your favorite farm tractor. Also, don't forget the custom-built camper cab. That will give you all the living space you need. Of course, that's it, so plan on a solo trip, unless you and yours are quite skinny! If someone else decides to try and join you during the adventure, you can curse them out and scream so they leave, or choose the more rational option and run them over with your functional, rugged vehicle. I'm just saying, if I were me, I would not want to mess with myself in a 6×6 Jeep motorhome conversion.
Up Next: More Cool RV's From Around The World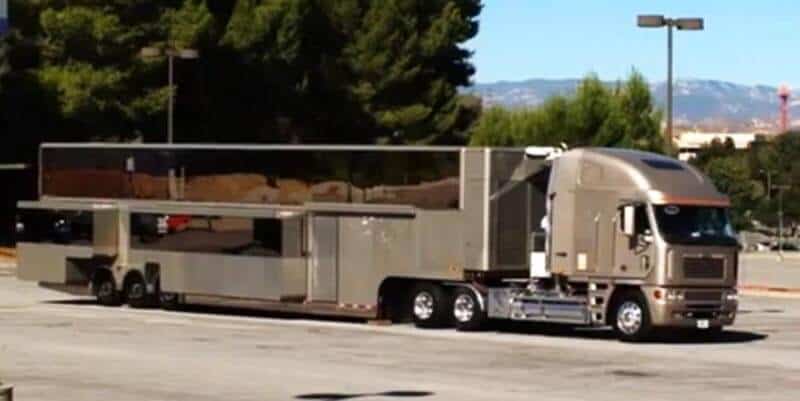 So what do you do if you are Will Smith and need something to tool around in during your offscreen time on set? The answer is this badass RV known as the Heat. It's a nickname given simply because nothing else compares to it. Essentially, it's a 1,200 square-foot motorhome that sits on 22 wheels. It has 14 flat screen television sets, a little more than $30,000 worth of leather, and just under $130,000 worth of technology. However, this trailer doesn't cost as much as the eleMMent palazzo, it will only cost you a paltry $2.5 million. Still short on cash? No problem. You can rent it out and experience all the Ciliberti and fame for yourself at a cost of only $9000 per week. Simply enter the trailer, touch a button and you will instantly transform the Heat into nothing short of a double decker mansion. There's a main lounge area, a kitchen outfitted with about $150,000 worth of granite countertops, as well as a lighted makeup mirror equipped with a TV. Topped off with a $25,000 bathroom, this badass RV is sure to make you feel like the king of your throne!
Up Next: More Cool RV's From Around The World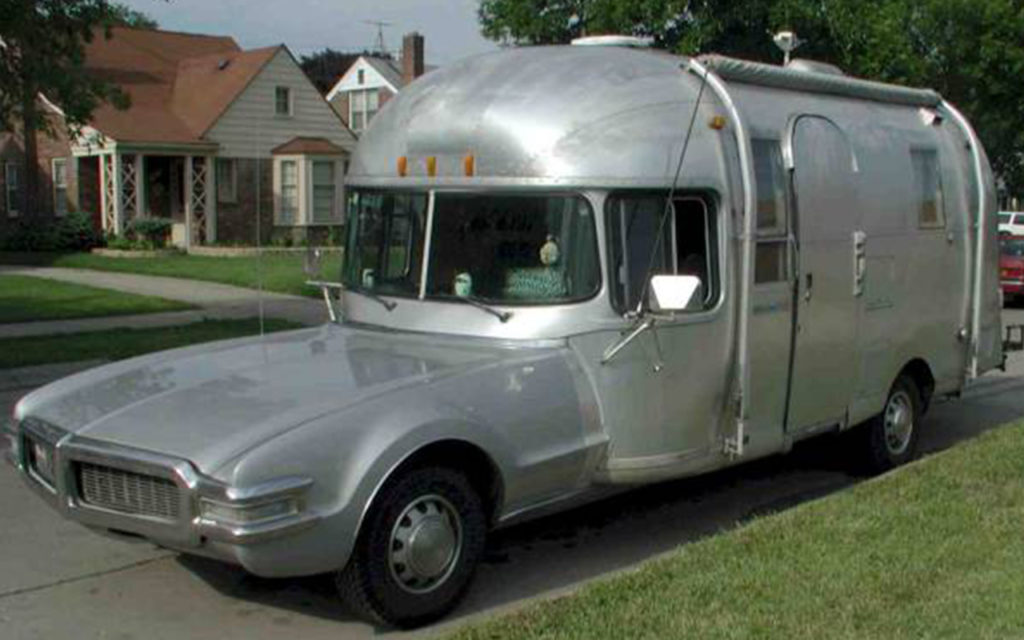 What a unique transformation we have here. It looks like someone decided to combine an older Cadillac with an Airstream RV. I guess they got tired of leaving the Cadillac behind when they went on vacation. They decided to take both things they like and combine them for an interesting and fun camping trip.
Up Next: More Cool RV's From Around The World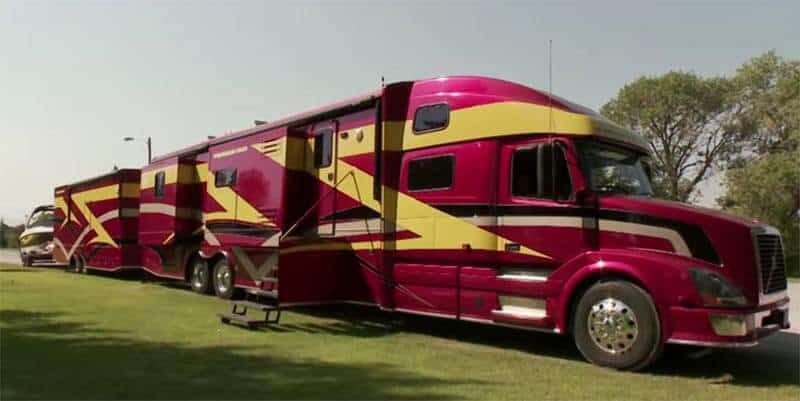 So how do you create a 122 foot long, massively outfitted, totally awesome RV? Simple, if you're Doug Tolbert. They say necessity is the mother of invention and he certainly proved it. The problem Doug had was traveling around the country without his toys. He likes to have play options on hand, and modern RVs just were not cutting it. So he did the unthinkable and created a monstrosity of his own. The main cabin is 52 feet long and features a secondary RV trailer that he can load down with whatever he chooses. Yet, it doesn't just stop there. He has a hitch on the RV trailer for his speedboat, giving him a total length of 122 feet when he gets his land train moving. The inside is equally impressive. The side slide outs open to increase the total living space to 400 square feet. That means you have enough sleeping room for eight people, and one incredible party! The only drawback is the length. I'm pretty sure it's not legal to drive a 122 foot long vehicle in some states. Other than that, party on Doug, party on!
Up Next: More Cool RV's From Around The World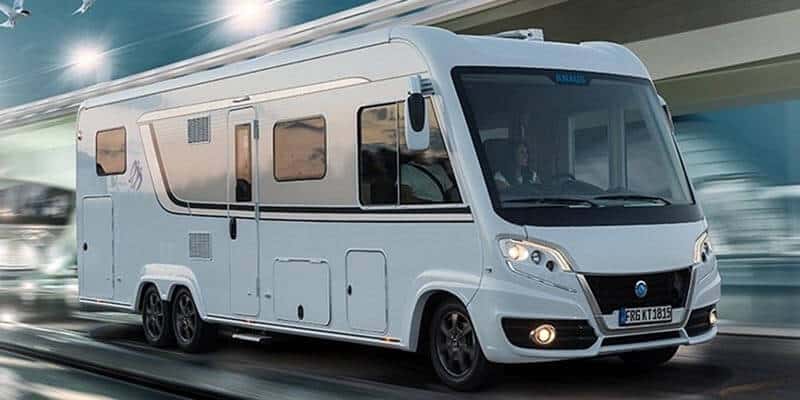 I'm not even sure how you say this name, but the Knaus Sun i brings badassery to the common folk like you and me. It's essentially a luxury penthouse on wheels, though it doesn't look it from the outside. In fact, it simply looks like a standard run-of-the-mill luxury RV. It has fluid lines and sleek styling with a minimalist flair. Yet, step inside and you get a horse of another color entirely. Built on the Fiat Ducato Premise of design and function, this badass RV is just under 30 feet long and weighs a little more than 8000 pounds. It features stiffened walls, roof and floor to ensure durability. There are two floor plan options available, and both offered sleeping for four people. The slate countertops in the kitchen are beautifully appointed with the nearest land luxury and elegance. They are further complemented and offset by the sleek stylistic leather seating, reminiscent of the Alcantara diamond pattern you would find in a luxury sports car like a Bugatti. Everything is accessed with the push of a button, including the retractable outdoor television, floor storage, alarm system and air conditioning. You can have the Knaus Sun i for just under $200,000. Yes, I heard my wallet scream, too, but sometimes that's the price you pay for that ask. If you want something as slick, stylish and awesome as this, then you won't mind shelling out the scratch for the experience.
Up Next: More Cool RV's From Around The World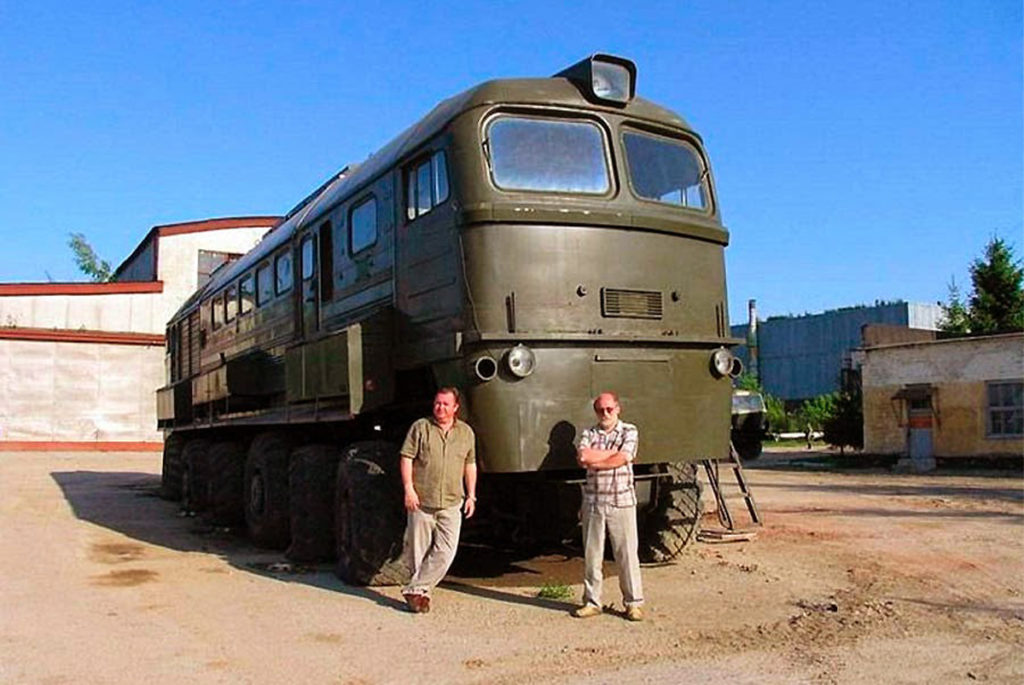 This Soviet off-road RV looks like it could survive a zombie apocolypse. Maybe it was used for military officers to get better sleep while at war or just to serve as a great movie truck to fight zombies. Either way this is another cool combination of a train and truck.
Up Next: More Cool RV's From Around The World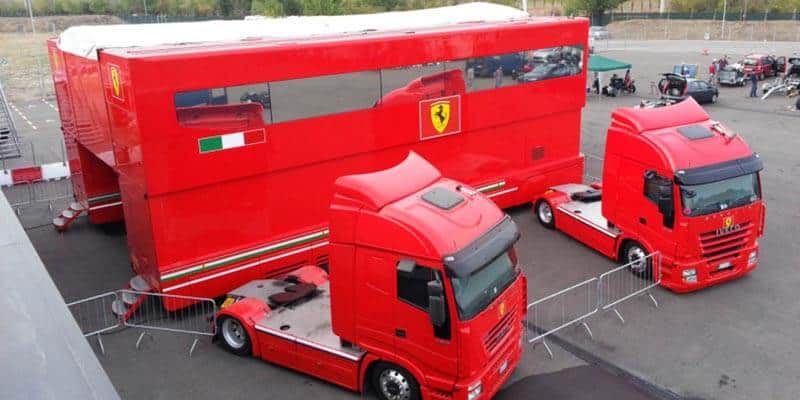 So the Ferrari racing team has a pretty sick RV. It's also up for sale. Even though they used it from 2003 to 2013, don't be fooled. This massive two-story recreational vehicle is decked out to the max. The most unique feature of this RV, or RVs as we should say, is how they operate. Typically, most recreational vehicles are strung together like one long daisy chain; and a second level might rise from the first to add height. They are usually long and tall, but never factor width into the equation much. Not so with the Ferrari RV. Both trailers can be joined together, after rising to a 7 m height, to comprise an area that is larger than 200 m². It's like having your own office condo/living quarters complete in one unit. In fact, that's exactly what it was for Michael Shoemaker and Fernando Alonso for many years. Now that their racing careers are finished, the motorhome is up for sale. Make sure you have deep pockets, though. This motorhome passed hundred thousand dollar land a long time ago.
Up Next: More Cool RV's From Around The World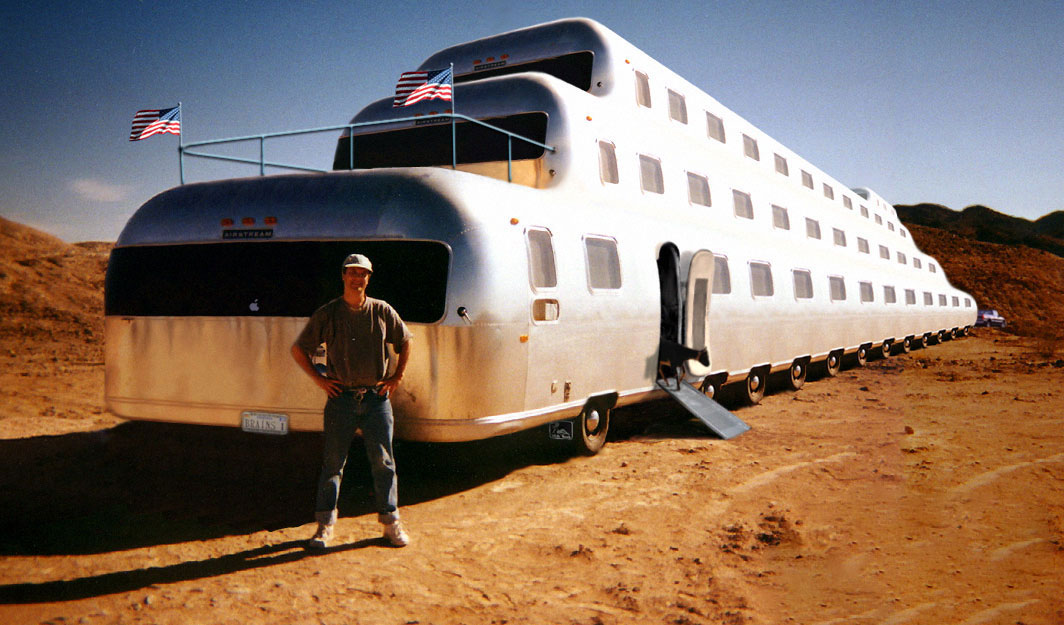 Now, this is a unique concept for a motorhome, a triple-decker RV with 24 wheels. We wonder how much it would weigh and whether those wheels would support it? Thankfully a Silverado is pulling it. I fully believe a Silverado could tug this behemoth or even something more extensive.
Up Next: More Cool RV's From Around The World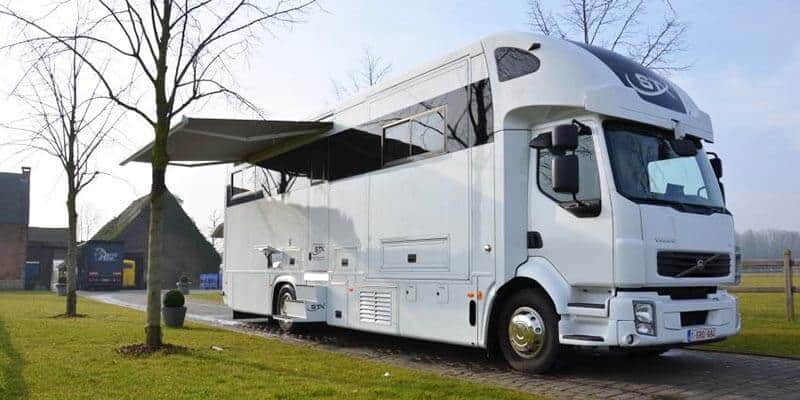 This motorhome by Stephex is one incredible concoction for sure. Featuring sleek styling, a nice side pop out awning, and a rear toy hauler opening for loading up your ATV or golf cart, this motor coach is a force to be reckoned with! The inside is a thing of beauty featuring sleek minimalist furnishings as well as a nice neutral color scheme of gray and white. All recessed lighting and a skylight for the master bedroom on the second level tricks this thing out to the max. That's right, I said a second level! If the height is too much for you, just come back down to the main level and enjoy the view from the side pop out. All of this luxury essentially creates a self-contained rolling studio apartment on wheels. Its like having all the the comforts of home, without the homeowners association and condo management fees. That's pretty badass right there, and we think the design team at Stephex did a phenomenal job!
Up Next: More Cool RV's From Around The World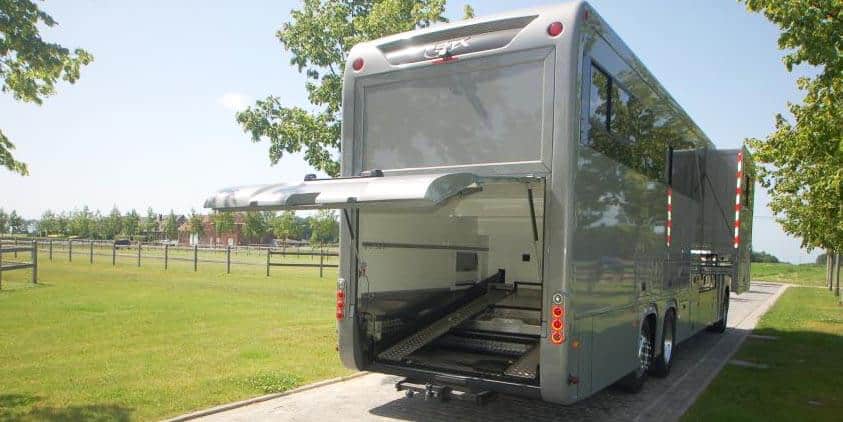 For a luxury mobile home that offers a personalized badass experience, you can't get any better than the Renault. It is designed by Stephex, who have certainly been around the track a time or two with RV design. Let's review the inside features which are laid out in the most efficient manner. The wrap around bar like seating in the dining area is just adjacent to the kitchen, and the interior is designed to have a seamless look when everything is closed up. It's sleek and stylish, and has surprise pop-ups like TV and overhead compartments scattered throughout the living space. Plus, as with any totally over the top RV, if you need to haul a toy or two, simply pop open the back and drive your vehicle right inside. Once you arrive at your destination, unload it and play all day before you retire at night in the lap of luxury. This killer RV has it all!
Up Next: More Cool RV's From Around The World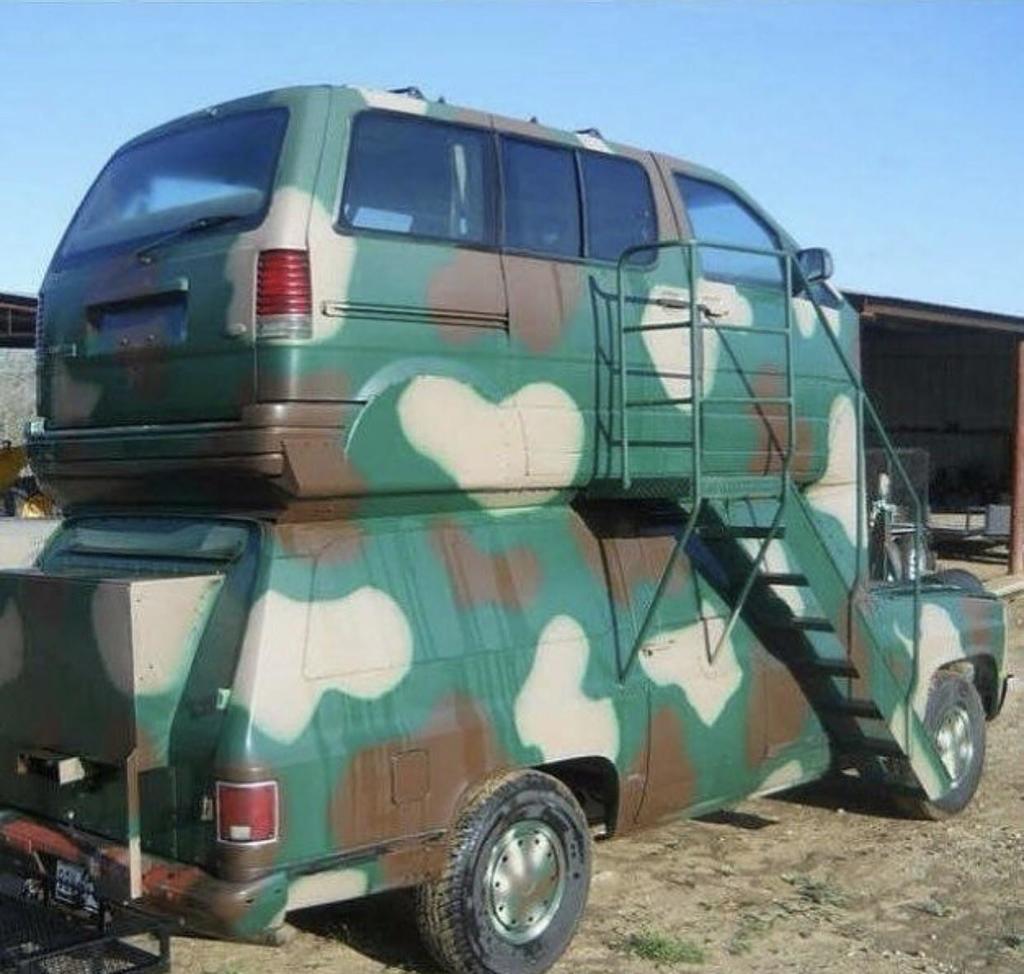 It looks like this conversion was created to keep work and sleep separate. They wanted to create a vehicle that you could work all day in, than go up stairs to go to sleep. Maybe the camo is so it can also be used as a mobile hunting blind. Either way, we love the creativity and simplicity in this conversion.
Up Next: More Cool RV's From Around The World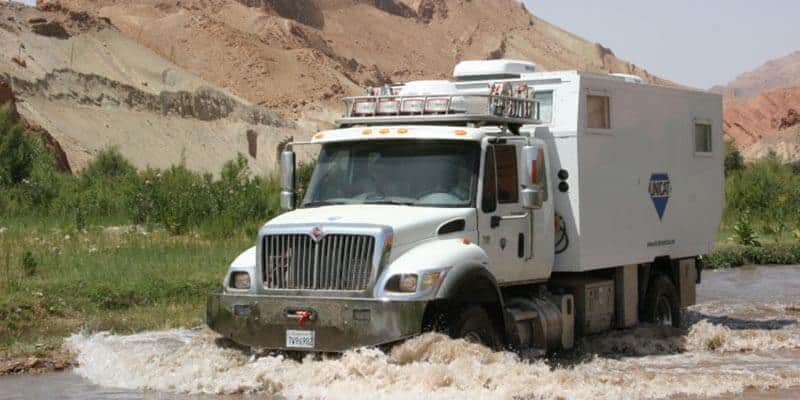 What can you get for $600,000 in the round of luxury badass motorhomes? The answer is the UniCat. It features certain stylings unique to German made engineering… like a custom queen size bed that is warmed solely by radiant heat! Also, the no-shake custom cut dish drawers come as a standard feature. In addition, it features four-wheel-drive and massive tires that you would see on other RVs, namely their smaller cousin vehicle, the EarthRoamer. Specs for the massively impressive UniCat include the following. It can haul a maximum load capacity of 35,000 pounds up an incline of 45°, and back. They can afford water 4 feet deep and go about 2000 miles without refueling. That puts gas mileage at about 8 miles per gallon at an average speed of 60 mph. All of that to say, you don't use the UniCat as an everyday driver. You only use it when you need to and it's designed to have amazing capabilities and those extreme situations. All things were factored in, including the teak wood floors which are self coiling and can therefore hold up to extreme changes in temperature and humidity. So, if you have an extra $600,000 lying around, a great use for it would be the UniCat, end of discussion.
Up Next: More Cool RV's From Around The World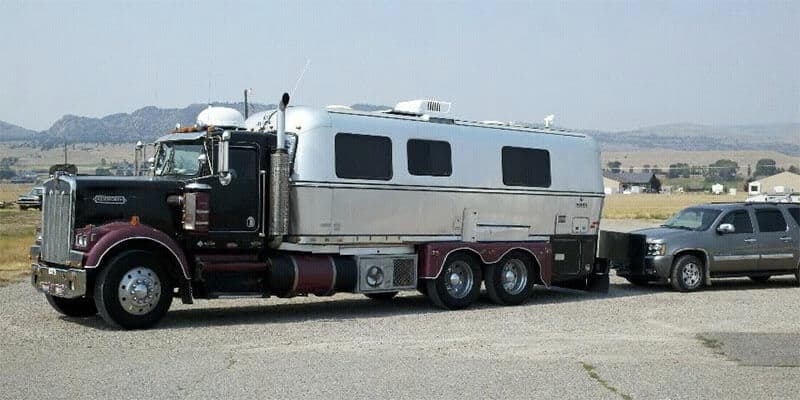 What do you get when you stack a nice Airstream on top of a semi truck? One completely insane motorhome, that's what. This is like an avian truck camper hopped up on steroids. The interior looks much like you would expect an Airstream to look, while the Kenworth semi looks the same as well. However, as you may notice, it looks like this Kenworth used to be an old towing truck that was modified to mount the Airstream on top of, and it weighs quite heavy, too, judging from the way the rear fender is pushing down on the back tires. Even better? A tow hitch makes hauling another toy or vehicle behind quite easy. Plus, since the length is approximately what a standard semi tractor-trailer would be, so driving this beast of an RV should be legal in all 50 states. You could play out your own Smokey and the Bandit scenarios with this one.
Up Next: More Cool RV's From Around The World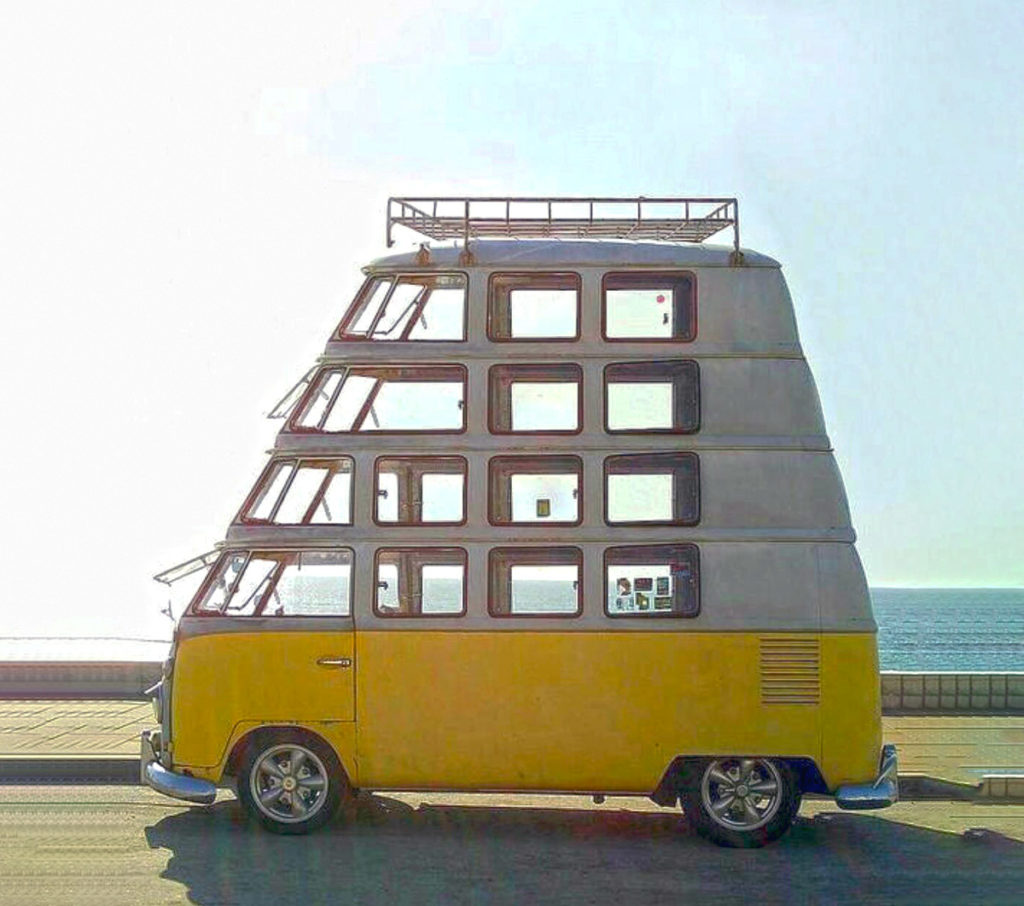 This conversion probably started as just wanting to gain a little more head room to stand up in the van. After they got finished with that, they decided that wanted more space for friends or pets so they kept adding and adding to finally create this odd but cool RV conversion.
Up Next: More Cool RV's From Around The World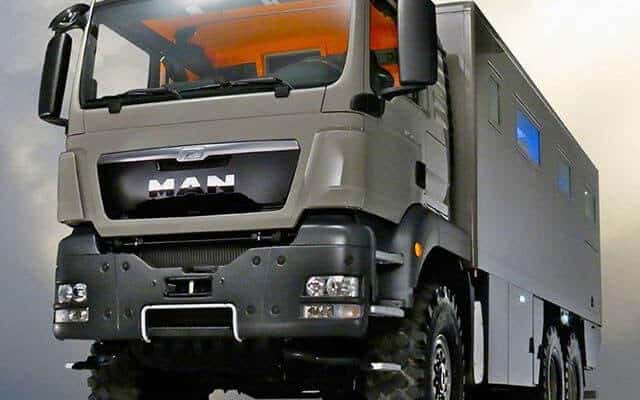 Looking for something to handle the latest on the apocalypse? Why not give the Global XRS 7200 a try? For just under $950,000, you can take this vehicle, made by off-road RV company Action Mobile, home with you. It has space on the back to mount your super bike and sweet living quarters inside as well. There's even a separate breakfast nook away from the main dining space to give you a sense of home away from home while you are mowing your way through the undead. What's more, the touchscreen interface makes operating the Global XRS 7200 easy and painless. If you need to get a status update, simply turn on your flat screen TV and pipe in some Wi-Fi through its Wi-Fi capable receivers to check any trouble spots. The bottom line is this… when it all goes to hell and back, this is the RV you want to have with you!
Up Next: More Cool RV's From Around The World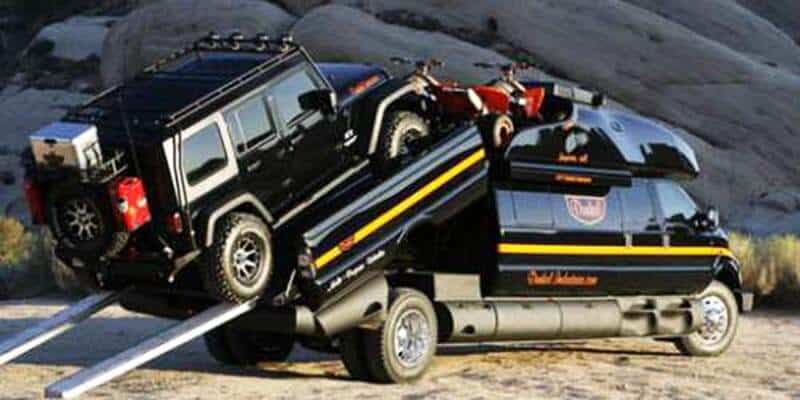 Usually, F-650 RV conversions don't translate that well. Yet, the Dunkel Industrial Vehicle Luxury 4×4 is certainly an exception. The foundational principle of the transformation was quite simple – create a custom RV that possessed "unlimited versatility." We would say it seems like they succeeded. This toy hauler, as it is known, is outfitted with a military grade off-road 4 x 4 system, as well as a fully operational hydraulic bed that can be tilted to load and unload ATVs, jet skis or other vehicles. Nothing was left to speculation, either. For instance, the built-in storage containers also double as camp seating; there is a custom fold-down stairwell, an RV inverter, Cummins 3200 Onan generator, three winches and an air ride chassis system that is completely separate from the cab itself. The most surprising thing is that it only has two axles. It's so huge you would expect it needs a third, yet it just goes to show what you can do when you try to create something that is badass and outperforms any other run-of-the-mill recreational vehicle.
Up Next: More Cool RV's From Around The World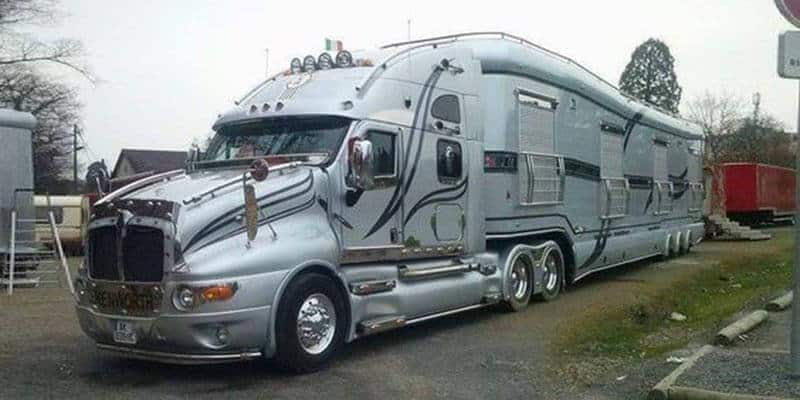 Okay so technically this one does not qualify as an RV, but it's not like this is the first luxury RV trailer we have seen on this list. What you're looking at is a motorcoach made by Luxury Foretravel. Here's the kicker. These luxury travel trailer RVs can run anywhere from a few hundred thousand dollars to more than a million. Think $1.2 million in fact. The reason you get one of these is because you love the road, or own a sports racing team, or one of the horses from the Kentucky Derby, or have more money than you know what to do with. No matter the case, the accommodations are always plush and inviting. It's one thing to hop across the country staying in hotel after hotel every night. It's quite another to take your home away from home with you, never be without the comfort and familiarity you are accustomed to. The price tag is steep, but some would say it's well worth it. Plus, if you already have a fancy Kenworth T2000 semi truck laying around your garage anyway, investing in a million-dollar plus travel trailer may not seem like such a bad idea. You can block out the world, order in, and simply climb into the cab when you are ready to head down the road toward your next destination. There's something to be said for being rugged, yet refined.
Up Next: More Cool RV's From Around The World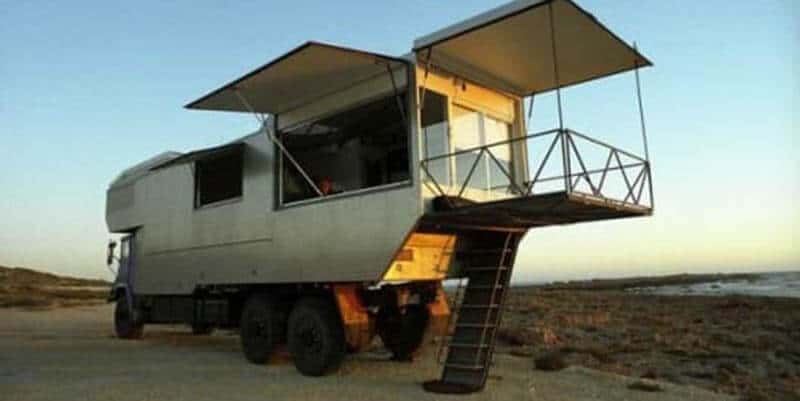 Don't let the looks of this RV fool you. You're looking at one of the most geographically unchanging 6×6 luxury motor homes ever to grace the face of the planet. You could traverse the globe in this monstrosity, and be at home no matter where you are. This is actually a General Motors concept mobile home. The idea is to combine off grid living, with digital connectivity just about anywhere. It gives new meaning to the term digital nomad, and yet it is now a reality. You can get all of the modern conveniences in a wilderness setting with the Wothahellizat. It's equipped to give you a three-month stay anywhere, that's the amount of supplies it's capable of holding. Plus, it is powered by a Perkins 6354 turbodiesel, so durability isn't an issue. The transmission is an Eaton five-speed synchro gearbox, completely rebuilt. Tech on a 3300 W solar inverter and a Honda 1kva generator as a backup, and you have everything you need to safely enjoy a prolonged stay anywhere. The price tag for this Australian dream RV, $263,000.
Up Next: More Cool RV's From Around The World
I know what you're thinking, does this even qualify as an RV? Well, it certainly looks recreational, and there is a vehicle attached, so I would have to say it does pass the litmus test. However, we have not had an appearance of an RV hauled by a rat rod. This is completely over-the-top and certainly qualifies as badass. You have to wonder what the inside looks like, and how the layout is maintained. Is this RV designed for living, camping or just for looks? I doubt seriously that it's a parts trailer. It seems like an awful lot of time and money wasted just to come up with a cleverly designed trailer to pull behind your rat rod. Nope, I believe these people are in it for the long haul (pun absolutely intended). They are probably Grease Monkey nomads and their little rat rod RV helps feed the addiction. Imagine the challenges of driving this, though. A massive semi motorcoach is hard enough, but one pulled by a low-profile rat rod takes it to a completely different level. It would be hard to go through any fast food drive-through, pull into the parking lot that has one of those little dip entrances, and park in general. This looks like it might be more suited for a cruise in with an overnight stay. One thing is for certain though, I bet these people could care less. Once you are addicted to rat rods, gasoline and engine components, it becomes a part of you… Literally as this picture would suggest.
Up Next: More Cool RV's From Around The World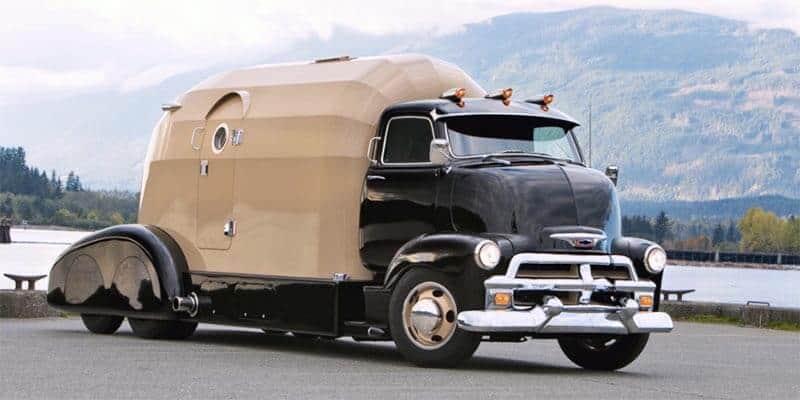 Take a look at this outrageous RV. Designed around the frame of a 1930s Bowlus Road Chief, it was inspired by airplane design. However, here's a twist. Rather than seek an airplane company to help with the design, the creator sought the help of a local boat builder to craft the cabin after the popular airplane styled Airstream RVs Wally Byam built when he purchased the bankrupt Bowlus Company. The entire structure is mounted to a 1930s model GMC truck. All local shops and craftsmen were used to help create this RV, which really helps keep the price down. Yet, for all of its pomp and circumstance, ferocity and vintage styling, you might notice the absence of one major component. Take a look at the camper itself. There are no windows to speak of, save the one in the door. That could drive you crazy depending on who you are. However, if you are the proud owner of this RV, then you will drive it regardless just because you can.
Up Next: More Cool RV's From Around The World
If you have a 1940 COE fifth wheel RV and are looking to do a conversion on it, take a head nod from these guys. Look at the lines on this yellow motorcoach. It's absolutely beautiful and elegant, he gets out in an aggressive manner, too, with its lowered front fender and covered rear truck fender. All the silver on the hubcaps makes the entire piece pop, and the windows have lines that echo the curves and fluidity of the overall design. Particularly interesting is the split window at the front of the truck, definitely something you find on older vehicles. And don't forget the chrome bumper that rest just about a foot off the ground. You don't find those every day in your local parts shop or salvage yard. To complete the look, we have some chrome detailing on the side that leads your eye all the way to the big ground in the back, equipped with a shark fin for streamline efficiency. The ground feelers at the rear add to the effect, and also finish off the piece completely to make this one epically insane RV.
Up Next: More Cool RV's From Around The World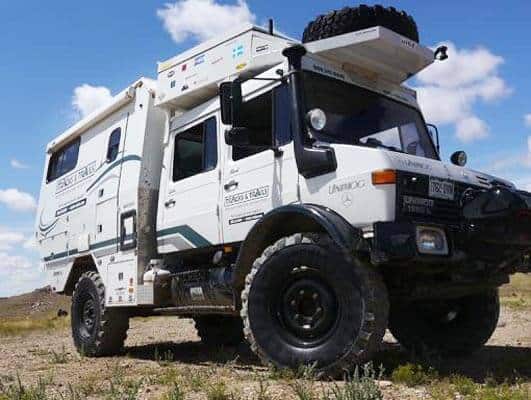 Well we saw one similar to this earlier on our list, but this Unimog Powerhouse Coach takes the cake. This is one of the most technologically advanced fifth wheels on the planet, and it's green to boot. The furniture installed on the inside is very sleek and modern, yet also appears to be somewhat sterile too. This echoes the green team and makes the RV appear to be easier to clean. Also, on the backside of the RV there is a private residential entrance for the family, which is nice when parties are being thrown and you need to retire for the evening. The counter tops throughout the coach are all made from a brand-new product that consists of petroleum free resin and recycled paper. Everything used to build this epic RV was made with 100% non-toxic building materials. Furthermore, in keeping with the theme, space was considered to make space a non-issue so to speak. Everything in the unit model is laid out efficiently and decidedly. It's the ultimate dance of efficiency and design. That's how this one made it on our list. That, and it could run over just about anything that stood in its way!
Up Next: More Cool RV's From Around The World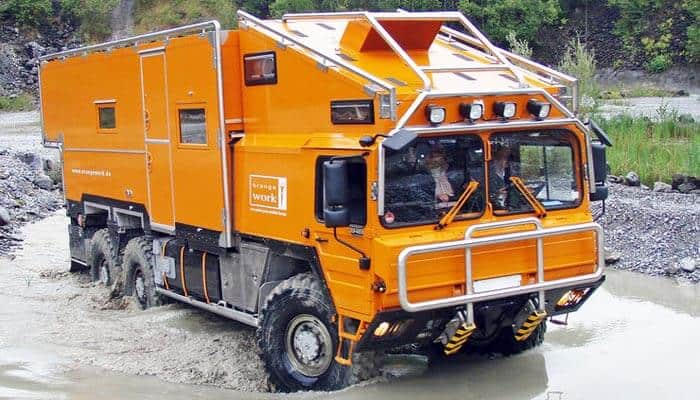 There are many words for this one, it's kind of a what you see is what you get type situation. For starters, it's orange and massive. Plus, being German, you can pretty much bank on the fact that the design is solid. This is a state-of-the-art all-terrain, multipurpose badass RV the likes of which you will rarely see. A few interesting things about it, besides the interior. It's pretty standard as far as living quarters ago, minus the fact that it's designed to keep you off grid for about two months should you choose. Now, back to the exterior. Look at the driver's cab for starters. It's very forward and definitely gives you a clear view of what you are running over. In fact, if you will look closely you can see that the drivers actually sit in front of the tires, which is the case on many luxury RVs. Also, the headlights are not exactly where you would expect them to be. There are a row of fog lights up top while the main lights are mounted underneath a vehicle to illuminate a clear and direct path. Topping off the RV is a set of metal scaffolding that can be used to climb, mount and observe from the roof of the RV. If you need to be somewhere when it all goes south, this is a good place to be. Plus since it's orange, most people would confuse you for a city municipality and go their merry way.
Up Next: More Cool RV's From Around The World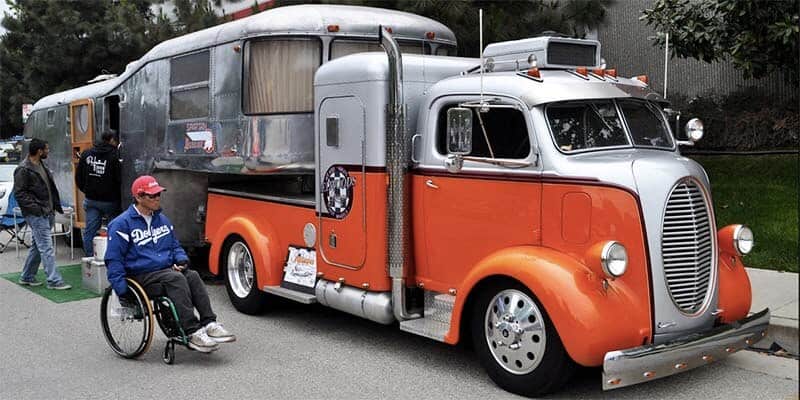 Let's continue to talk about 1938 Ford CEO EEs and Elwoods Garage Spartan Custom Mansion hot Rod travel trailer, shall we? It seemed after classic Harley-Davidsonesque design with its orange and silver color scheme and black pinstripe down the side. The custom travel trailer makes this RV a standout for sure. Notice the nice shade that spans the front three windows giving the user ultimate privacy when need be. After all, it would be a shame to wake up prematurely on a sunny day with all of that light streaming in through the front travel trailer window. Beyond that, check out the AC unit on top as well as the speaker system mounted to the top of the cab. It's a thing of beauty. A few interesting things about this RV. The front body of the 1938 COE was actually lengthened by about 6 inches, the steps and fenders are all handmade, it features a 383 Chevy vs Edelbrock intake and carb, all the bumpers are handmade, the 100 gallon fuel tank is handmade, and the chassis was reworked from a P 30 Chevy step van. Oh, and don't forget the transmission, it's a 4L80 with an E brake attached. What am I trying to say exactly? A lot of attention and care went into making this RV, and that makes it badass-worthy in and of itself.
Up Next: More Cool RV's From Around The World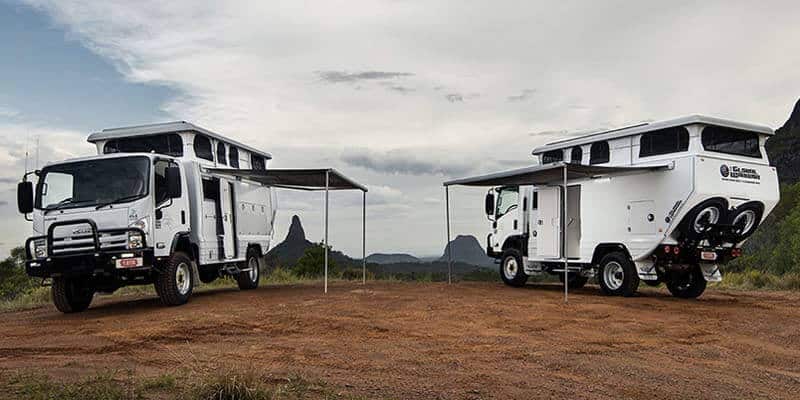 Looking for something cool to do with an Isuzu? Why not give this little creation, designed by the folks at ATW, a try? Known for making vehicles that can trek where need be, when need be, this beast is no exception. It features a double-decker platform system, with the second level rising from the top at the push of a button. Access is gained via a main entry point, and there are three storage compartments on the side for easy access to whatever you need. You can also mount a couple of tires or a bicycle to the back of the RV to get in and out of tricky situations should you get stuck. However, with an All Terrain Warriors vehicle, you have a superior engineering and design end-product, coupled with two years of research and development. All of this produces a monster that can't be beat. It's one of the few truly international recreational vehicles featuring parabolic suspension and multi-terrain negotiation. At the end of it all, you can still enjoy hot and cold running water, a comfortable bed and kitchen as if you were in your very own home. No wonder it is so popular among Mega RV enthusiasts.
Up Next: More Cool RV's From Around The World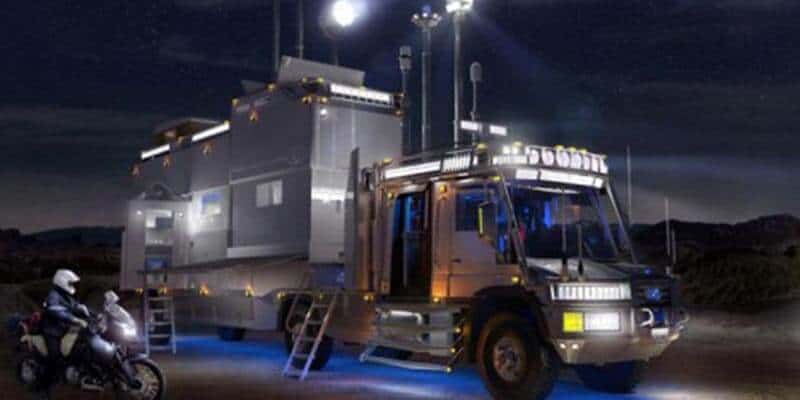 One of the most impressive mobile homes to ever grace the planet, the Kirivan uses cutting edge technology to create the best hybrid of luxury motorhome, and zombie high-tech apocalypse hideout. There are enough lights on this thing to probably be recognized from outer space, all utilizing high-efficiency LED lighting. The interior and exterior of the cab can be lit with a nice contrasting blue to provide ambience, and the massive towers of responders and receivers mean you should be able to get access to anything, from anywhere. Should you get stuck, might I suggest you strap something to the two tow hooks located at the front of the vehicle and pull yourself to safety. Once righted, or out of the muddy hole, you can make your way to your next destination, let out the steps upon arrival, and enjoy your humble high-tech abode while the world wastes away around you. Even though it's four years old, Kirivan still remains one of the most badass RVs of all time.
Up Next: More Cool RV's From Around The World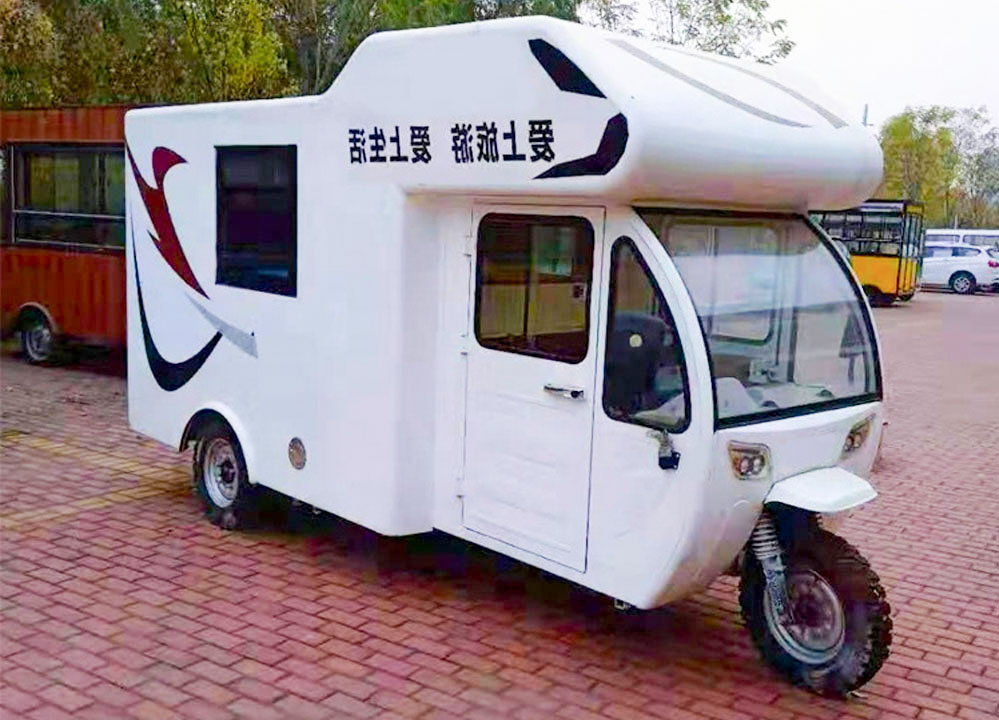 This Tiny RV can be found on Alibaba and purchased from the Chinese marketplace. It goes for $4,800 to $6,200. The vehicle is quite small and can be potentially dangerous since it only has one wheel in front. On the other hand, this is electric vehicle reaches 72-96 miles on a single charge. However, its max speed is only 25mph, so we encourage readers to stay off the highway. Still, inside, it has an electrical outlet, a table that converts into a bed, storage space, and wood flooring. Not bad for such a little package, but you might want to go camping solo with this one.
Up Next: More Cool RV's From Around The World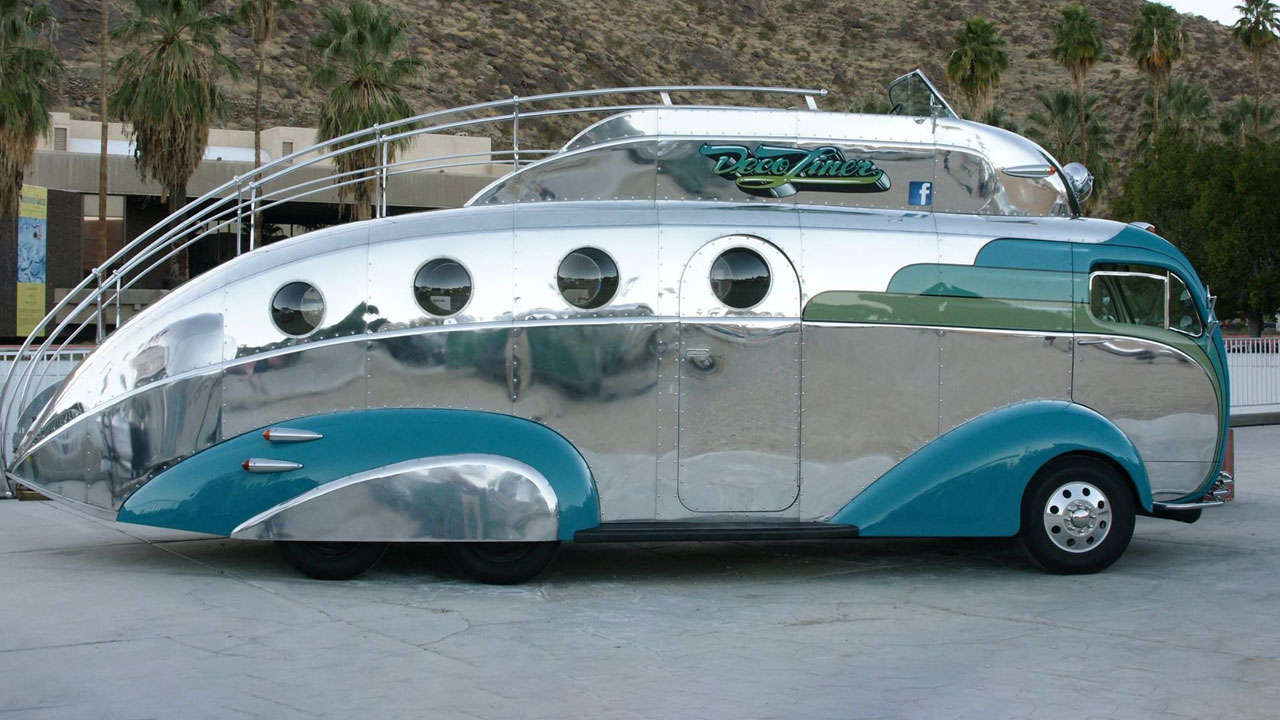 Custom car maker Randy Grubb is responsible for the DecoLiner. He built the vehicle using the chassis of a 1973 GMC motorhome. He wanted the styling to be something like the fictional sci-fi character Flash Gordon might drive, and we think he succeeded. It is a double-decker RV with the ability for the driver to steer from the roof. Grubb put $100,000 in this vehicle and 6,000 man-hours. He sold it for $500,000. If we had that kind of money drop, we'd think it would  be worth it!
Up Next: More Cool RV's From Around The World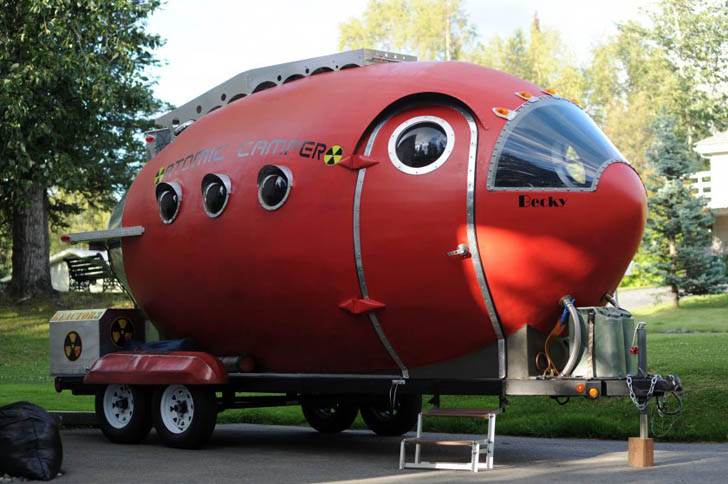 Alaskan resident Bill Guernsey built this at his home while recovering from a plane crash injury. This camper looks like something out of a 1950s B-movie and comes equipped with a kitchen, shower, and bathroom. Guernsey said that the theme is a reflection of growing up in the Cold War. He used bentwood, paper-mache, and glass fiber for the ribs. Other pieces included jatoba and tigerwood for the interior and copper, aluminum, and plywood. After completing this camper, Guernsey sold it to new owners who regularly post pictures on Instagram. Guernsey said the next project he wanted to make was a 24-foot zeppelin camper.
Up Next: More Cool RV's From Around The World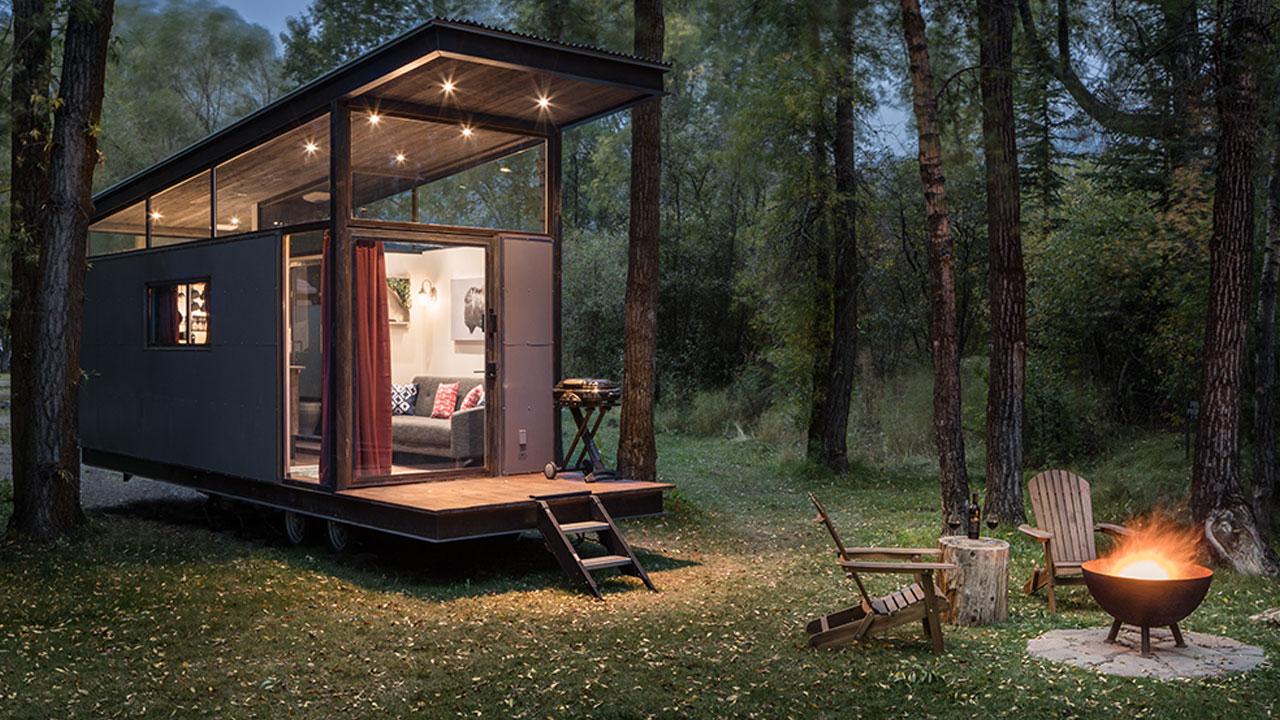 RoadHaus Wedge RV is made by Wheelhaus. This Salt Lake City, UT company specializes in tiny/modular homes. This is one of their smallest home/living spaces at 240sqft. It is large enough for a couch or meeting table. The RV is made from a steel frame and comes equipped with a kitchen, bedroom, bathroom, and an outdoor deck. Prices start at $87,000, so definitely an investment for luxury.
Up Next: More Cool RV's From Around The World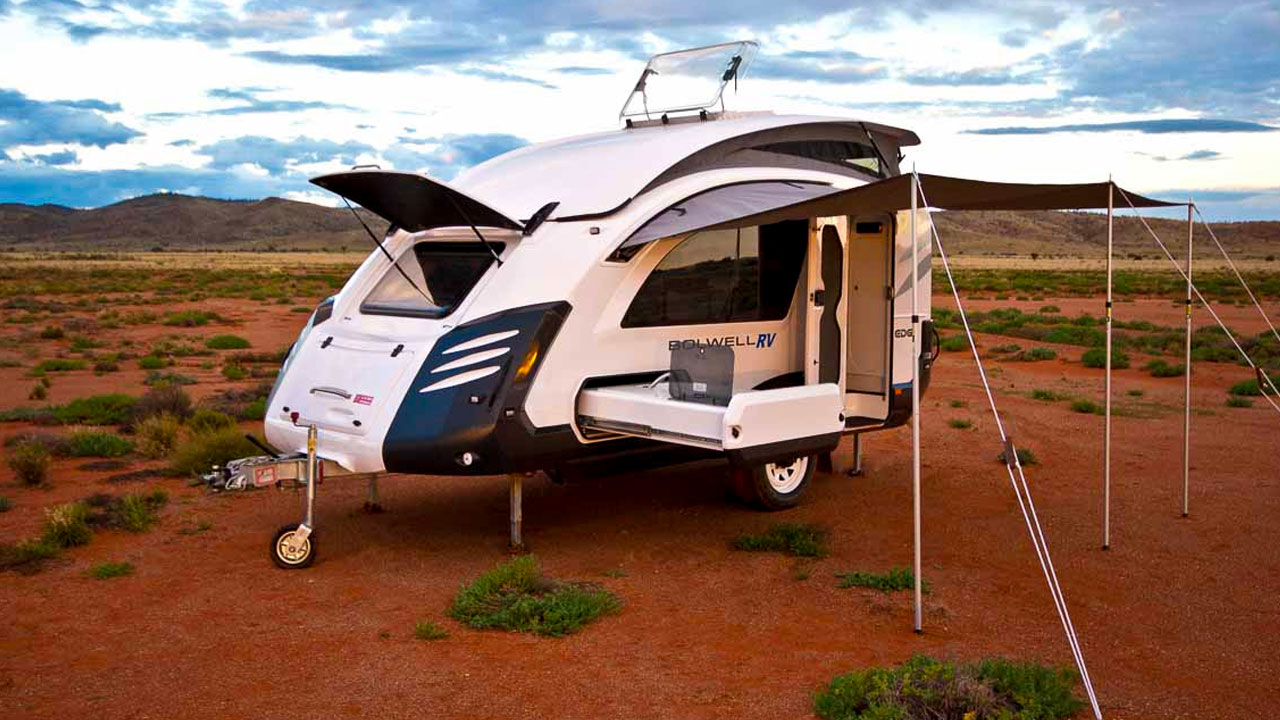 This is the Edge by the Australian company Bolwell RV. They made it with security steel mesh and composite plastics. The RV comes with an extendable kitchen for outdoors plus one for inside. It has enough room for a full queen size bed plus an audio-visual system for entertainment. The engineering team built it from the ground up to make it easy to tow and go off-road.
Up Next: More Cool RV's From Around The World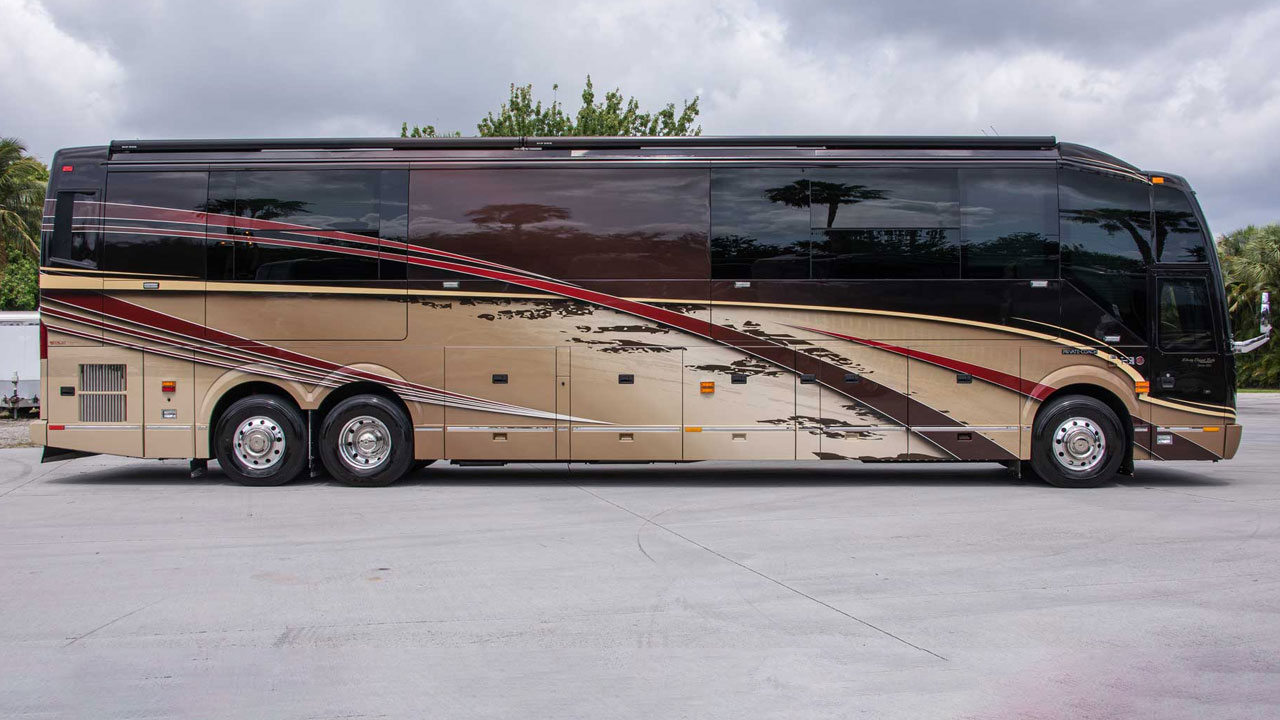 This is the 2015 Elegant Lady #787. The RV is a custom vehicle built by Liberty Coach using a Prevost H3-45 shell. It contains heated flooring, plenty of electronics, exterior LED Lighting. Kim Konigseder and Dean Loucks designed the exterior and interior. The cost of this RV is around $1,000,000.
Up Next: More Cool RV's From Around The World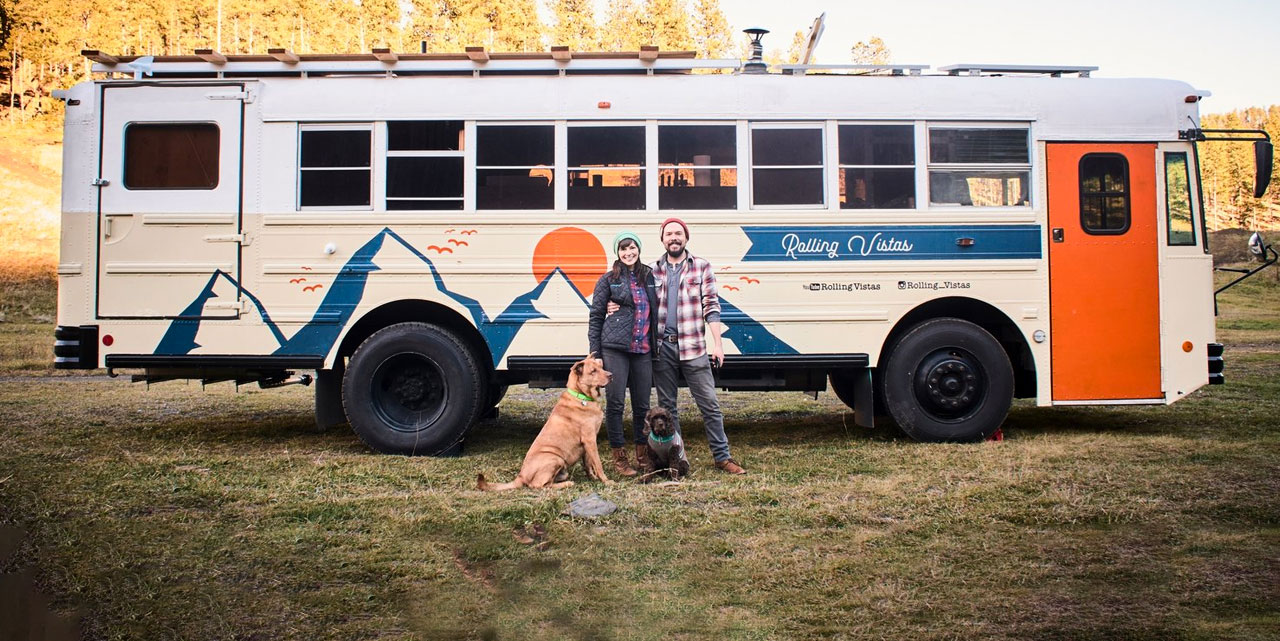 A new trend in motorhomes is the Skoolie. They are school buses renovated to function like RVs. The process involves scraping the interior and adding running water, bathrooms, and other amenities like beds and living spaces. The one in the picture is "Rolling Vistas." It belonged to a couple who sold everything to convert the bus into a cabin and hit the road. Eventually, they sold it and downsized it to a van which they also put up for sale.
Up Next: More Cool RV's From Around The World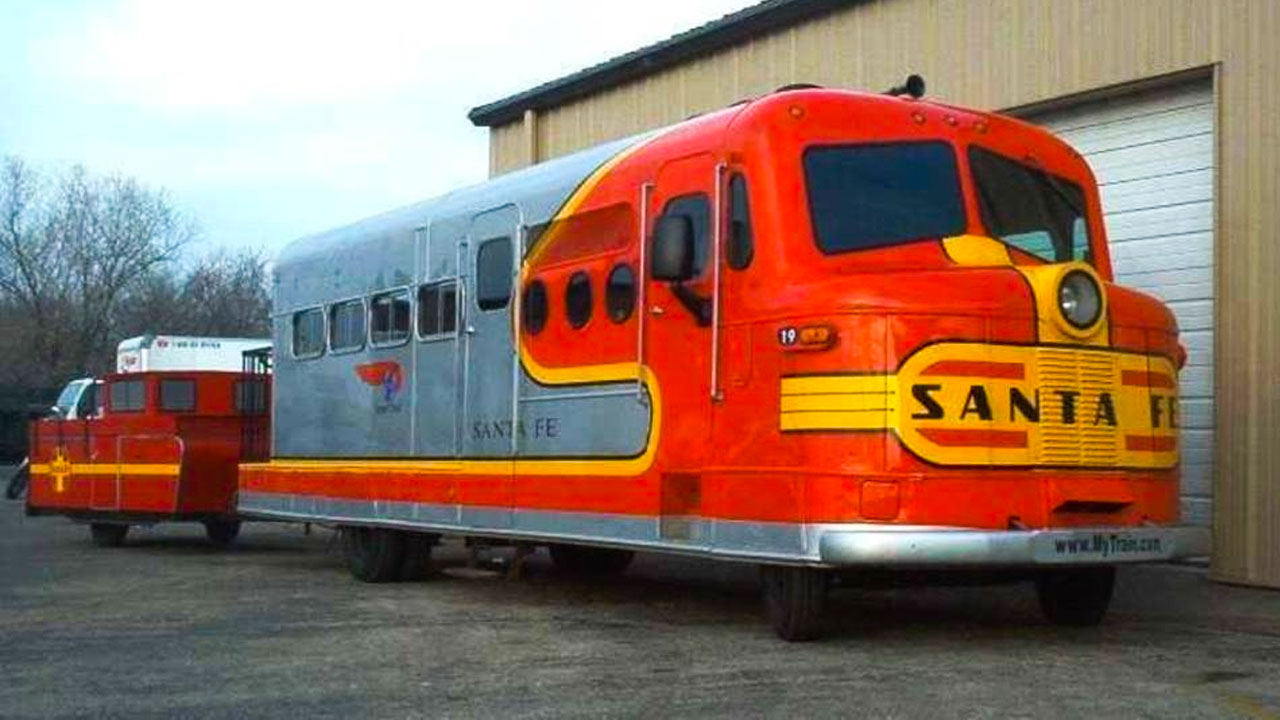 This vehicle is the Super Chief. It is a bus converted into an RV with an exterior made to look like a train. The team built it for the 1948-49 Chicago Railroad Fair. It is now available for parades and parties. We think it is definitely one of the most unique Skoolies around.
Up Next: More Cool RV's From Around The World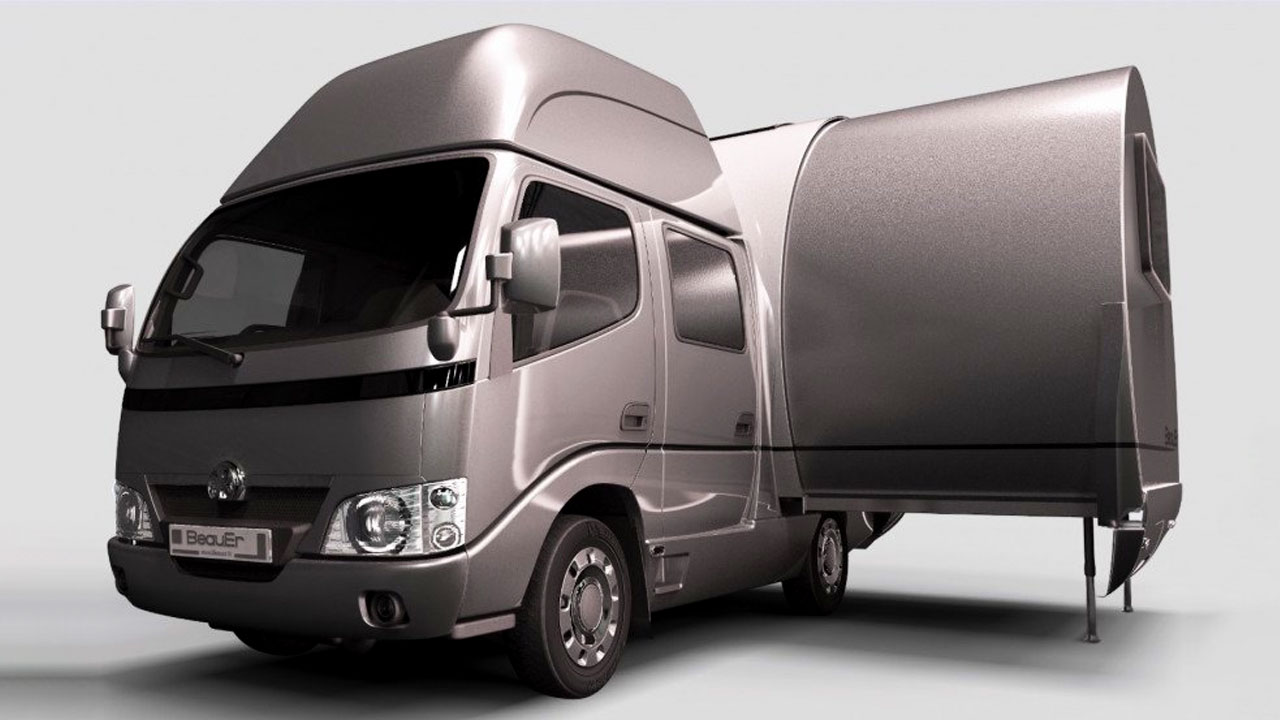 The France-based company Beauer is working on integrating their telescopic camper technology into a van. It is called 3XC. The van will expand 3x its size with enough space for a bedroom, bathroom, kitchen, dining room, and living room. If you are looking for something compact to drive but more spacious at your destination, this might be the right RV for you. Hopefully, we will see this become a reality soon.
Up Next: More Cool RV's From Around The World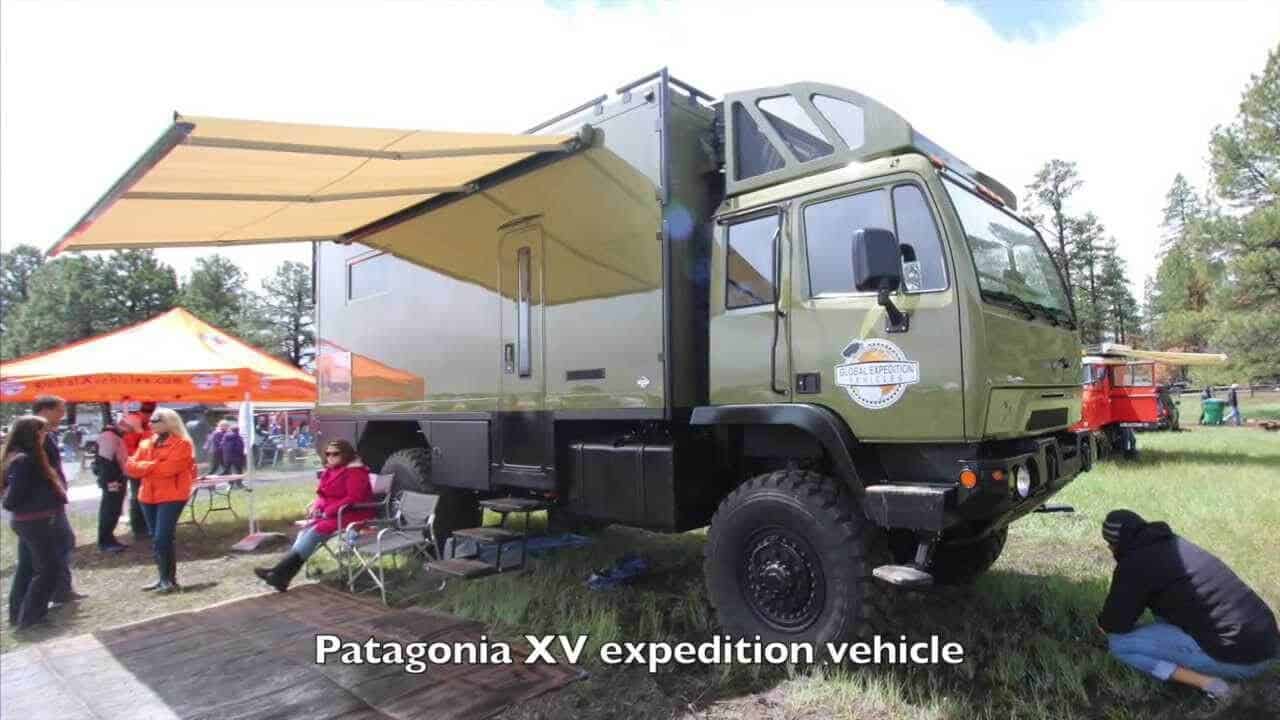 Lastly, how about this RV by Global Expedition Vehicles? This beast is perfect to stay mobile and off-the grid for long periods of time. It comes with features like a 75 gallon gas tank and a central tire inflation system. If that's not enough, how about heated hardwood floors? That's right. This beautiful RV is made for rugged luxury. That raps up our list of the 300 coolest RVs on the road. We hope you enjoyed the list. Now check out a list of
30 Ridiculous RVs
.